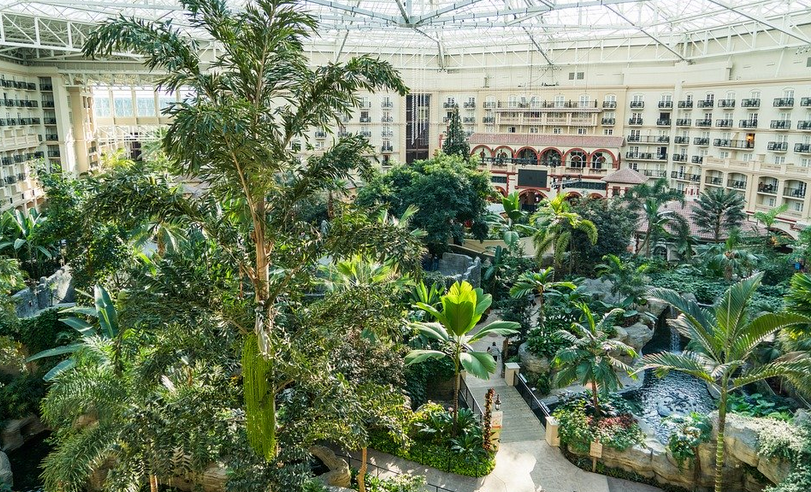 Staying at the Gaylord Palms Orlando
When visiting Orlando there are many hotels to choose from. I have
stayed at the Animal Kingdom Resort in a room overlooking the Serengeti which was quite fun if the animal wish to participate and come near to your room that hotel had great restaurants that were very pricey. My husband found a great deal at Hampton Inn with two rooms for $65, which is a great bargain, but I wanted something a little more adventurous, so I selected the Gaylord Palms Resort. I absolutely loved everything about this hotel.
Romantic Property to Stay
The architecture is very Romantic and Castle like inside with arches, columns and domes! This hotel boasts of four great restaurants. One of the restaurants is on a real sailboat in a Key West setting in the middle of a beautiful manmade lake. The setting is very laid back and quite romantic. The Restaurant is called Sunset Sam' s Fish Camp.
The towering mast of the 60-foot sailboat Gaylord is the landmark for Sunset Sam's. A tropical oasis of island excitement, the menu features a creative fusion of Floridian and Caribbean favorites, including the freshest seafood prepared to your specifications. Sora is an Asian inspired restaurant that was packed with people sipping on exotic drinks. I did not have the privilege of eating at Old Hickory Steakhouse, however, from what I have heard; you'll find a serious menu in the tradition of the best world-renown steakhouses. Inside, guests congregate over retro cocktails and enjoy the highest quality Certified Black Angus aged cuts. The restaurant seemed like they had a good menu.
Where to Eat
My favorite Restaurant was Villa de Flora. If you like Mediterranean cuisine this is the Ultimate. This "European market" is set in a grand dining room of an old-world mansion. Chefs stationed at six kitchens invite you to sample their culinary creations. A seasonal market-inspired menu features meals from the countries of the Mediterranean – France, Italy, Greece, Spain, and North Africa. The night we visited was a night in Spain so the buffet was arrayed with exotic dishes reminiscent of Europe and Spain. My husband loved a delicious chicken in a sauce with olives and mouth watering tender Prime Rib and Pork Tenderloin off the carving station. I loved the Coconut Shrimp and Calamari with their own unique dipping sauces. There was also made to order Pasta Bar with Alfredo, Pesto and Marinara choices. I also adored the Shrimp Bisque and Tomato Basil soups. There was also an extensive salad bar for vegans and unlimited bread and pungent cheeses. For the Grand finale the dessert bar boasted of several excellent choices such as Tres Leches, Flan, Bread Pudding, Chocolate Brownie, Apple tarts, Cheesecake and make it to order Ice-cream Sundaes and more. For $29.99 per person I felt this Buffet was a bargain not only was the quality of meats premium but the taste of the food was fantastic too!
Wedding Bells at the Gaylord Palms
While I was at the Gaylord there were several weddings taking place as well!
We got a wonderful room with double beds that were quite nice, but the true highlight of this hotel was the Atrium that has a lot going on inside in addition to great restaurants in which to Dine. In a serene garden setting in and under air conditioning, there are majestic cascading waterfalls falling into ponds with huge Coy fish. There are beautiful souvenir shops, apparel stores, convenience stores and specialty stores that feature Ice Sculptures and Wedding Cakes.
Many Animals and Plants
However, I enjoyed watching the Alligators sun bathing and swimming in the freshwater. I was surrounded by some kids that shared my enjoyment for the nature walk. Although the Alligators were babies and teenagers, they were a lot of fun to watch. I also watched the many turtles swimming. Then I walked into a little shack of the nature trail that housed snakes in aquariums and more turtles and a baby alligator. It was really wonderful to see families with kids getting together around the nature trail enjoying themselves.
My husband and I checked out the Fitness room which was fully equipped and no extra fee for using it. After having Dinner at Villa de Flora we walked around the Hotel and went outside and checked out the sauna/Jacuzzi area and the oversized adult pool and Children's pool with a crazy looking slide for kids. We then saw people playing miniature golf and we asked them where they got the golf clubs and balls they told us it was by the bar…again at no extra charge. We played 9 holes of miniature golf and finally went to bed at midnight!
The next morning we had Sunday Brunch at Villa de Flora, again, we were not disappointed! We indulged in a scrumptious breakfast buffet that had so many choices it is too numerous to mention. The made to order Omelet station made me a fantastic Omelet with salsa and sour cream over the top (Mexican Omelet)! This hotel offered so much to see and do that the only temptation is to stay in the hotel and not see the rest of Orlando. I enjoyed staying there very much and plan to stay there again when we go back to Orlando. The service at the Gaylord Palms Resort was great and we had a memorable visit with lots of scenic photos!
Gaylord Palms Resort
www.gaylordhotels.com
6000 W Osceola Pkwy
Kissimmee, FL 34746-4414
(407) 586-0000
Story By Shakira McNamara