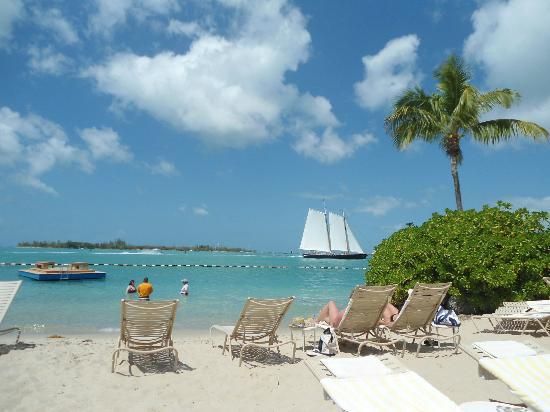 Key West is a tropical vacation destination located at the southernmost point of the Florida Keys. Known for its clear blue waters, white sandy beaches, and vibrant nightlife.
Key West has so much to do and see to make a decision on what to do is a hard decision indeed. My husband and I drove down from Fort Lauderdale…a scenic four-hour drive! On our way we stopped at a beautiful beach in Key Largo called Founders Park and ate our delicious picnic lunch that we packed. We saw people swimming and having a lot of fun. After an hour of eating and relaxing we got back on the road heading for Islamorada to visit Theater of the Sea. When we arrived at Theater of the Sea we purchased tickets and embarked on seeing live Dolphin Shows. The Dolphins here performed tricks that I had not seen at other facilities in the past and I enjoyed the show a great deal. The seating arrangement was very intimate and the atmosphere was extremely laid back and relaxing. We also saw a Sea Lion show and took an exciting ride on a boat that took us down a salt water lagoon while the Dolphins performed tricks around and inside the boat. Then we took a walk up the nature trail, which was quite exhilarating. Refreshments and snacks were readily available while in the facility and when we exited the park we bought souvenirs in the gift shop.
We finally arrived at Key West and we checked into our Hotel called Hotel Key West. This hotel was very comfortable with a beautiful pool in the middle and a nice restaurant on the property. We then went to see the most popular tourist attractions. We rode the Conch train into town. We first visited Shipwrecked Museum where we enjoyed incredible story telling that took us back centuries explaining how treasures were salvaged at Key West when ships sunk near its shores. Many a fortunes were made when brave divers saved both lives and treasure from sunken ships. We saw wonderful artifacts on display that showed the great culmination of historical preservation of these ancient treasures that would be lost if it were not for these brave salvage divers. The highlight of the visit was to climb to the top of the observation tower of this building. Once at the very top you could see all of Key West. Tons of funs…high heels not recommended or if afraid of heights!
We then visited the Little White House where President Truman would stay when he visited the Keys. It was considered the Past Presidents "home away from home" and historians believe it brought him great pleasure to "de-stress" to relax in the Keys. We embarked on a very informative and well guided tour which included an 8 minute video presentation of President Truman's' life and this beautiful house still decorated and restored exactly to the time when president Truman inhabited the home. We were told that high ranking government officials and ex-presidents stay in this house when they come to visit the Keys. I would say this was one of my favorite tours in the Keys because of its rich history and educational value.
We then visited the Mel Fisher Museum, which was similar to the Shipwrecked Museum, but had a great deal more artifacts on display but in my opinion the Shipwrecked Museum was twice the fun.
Then we walked back to the Key West Aquarium. I love Aquariums and I have been to over 12 different ones, but this one by far was so unique. We got to feed baby sharks, hold and pet them. We got to feed huge full grown sharks in open air not in a building, which made the feeling more authentic. When you witness how the sharks can smell the chum (a mixture of freshly dead fish and blood) in the water and to see how quickly they attacked the pole that held the dead fish like a lure was surreal. There were many children in the aquarium and most of them were having such fun they did not want to leave. This aquarium is very old and historical; the entire feel is rustic and so very different than most modern aquariums….I was not disappointed. I watched kids hold and touch Sea urchins, sponges and Star fish unsupervised, some parents used this time to bond and interact with their kids, and it was so much fun to be a part of the entire experience. The highlight for me was to see the three legged large sea turtle rescued. He was so happy and children tried to pet him. There were other turtles there but he was the star because of him being different. This aquarium also had a pond that had many species of fish including the largest fish I have seen in captivity "the Goliath Grouper!"
We were getting hungry so we had an early dinner at the exquisite Pier House Resort & Spa. The Restaurant known as the Harbour View Restaurant did not disappoint. We sat down on the outside patio, which overlooked breathtaking views of the Gulf of Mexico. There were two bars in which to indulge. One on the outside, which was packed with people sipping on scrumptious drinks, and an indoor bar that was beautifully decorated. I ordered Conch Chowder Bisque (which was to die for) and spicy delicious Chicken Quesadillas, and my husband ordered Swordfish over Risotto that was seasoned to perfection and challenged one's palate with a range of flavors that is uncommon. This meal was truly unforgettable. We walked around the well manicured grounds of the Pier house and made ourselves a promise that when we returned to Key West we would stay there. As we walked around we passed the pool area that seemed to be an adult only pool. We noticed the staff setting up for a wedding over looking the Gulf of Mexico.
We left the Pier house hotel and tried to catch the Key West Trolley but we were unsuccessful as it was 5:00pm and the seemed to have left. We walked and caught a taxi and tried to get to the Hemmingway House. When we arrived we found out they were closed for the day. I guess they closed at 5:00pm too. We ran out of time! However, the fun and festivities was just beginning at the Square in Key West where acrobats and other entertainment came out just as the sun was going down. We stayed around to witness the breathtaking sunset. Before we returned to the hotel we stopped at a rustic looking bar along Duval Street, center of all the action. My husband had a beer and I had a frozen drink while we were entertained by an unknown entertainer that sang popular songs that you would expect to hear in the Keys. The decoration in this bar was quite unique as every square inch of wall was covered by business cards, which caught everyone's attention.
We returned to our hotel and were quite exhausted from the day's activities. The next day we sat by the pool and soak up some rays of sun before we returned to Fort Lauderdale. On the way back to Fort Lauderdale we stopped for lunch at the No Name Pub in Big Pine Key, which was once rumored to be a Brothel. It is a very popular Pub that has been around a long time off of Long Key. It was very tricky to find even though we had researched its location of mapquest. We eventually asked a Police Officer and he was kind enough to show us the way. We ordered Chili, their famous Pizza and a blackened Grouper sandwich. I think one would come to this Pub more to drink than for the food. Once again this Pub was renowned for its rustic charm. Its walls were covered with money and many people signing their names and messages on the money before affixing it to the wall. We had a great time and would recommend stopping there at least one time to see what the fuss is over…it is like nothing else you have ever seen…a pub in the middle of no where! Well it would be a fair assessment that a day is not nearly enough time to spend in Key West, however, we did have a fabulous time and got to see some great highlights the area had to offer. To get more travel information for Key West, Click Here for Expedia.com Help
By Shakira McNamara