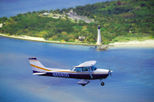 If you are vacationing to Miami and you want to see some of the best mix of activities and scenery anywhere, you simply can't pass up the exhilarating Miami Air Tour activity. Have you ever wondered how you could possible see everything Miami has to offer in the span of a day?
Well if you are looking for a fun filled, exciting and cost effective activity, the Miami air tour activity may be just what your looking for.  With several different air tour options and even a customizable tour, where you may outline where you would like to see specifically in South Florida. This tour gives great versatility and efficiency in seeing the great city of Miami and having a lot of fun while your doing it. It seems like it would be a blast to do!
I have not done this tour yet but take a look at this video, and tell me if this doesn't look like a lot of fun.
Hope you guys liked the video, we would love to hear what you think of this activity. Is it something you would consider doing?   Since I have not done this tour yet, I would love some feed back from someone that has done this Air Tour.
Untill next time,
God Bless,
Johnny