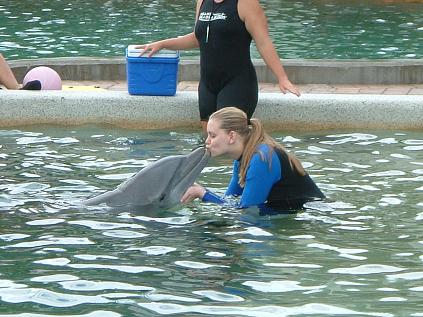 Hey Guys,
I'd love to share with you a really great activity that is good for the whole family.  If your coming to Miami and your thinking to yourselves whats a great clean family filled activity that everyone can enjoy and no one will forget. Then my friends, what you need is a dolphin interaction activity. Dolphins activities have always been popular since their advent back in the late 1960s where it became a  more public known activity.
Today dolphin interactions have improved from the 1960s, from petting and touching dolphins, to interacting with them in shallow water, to doing a full dolphin swim with the dolphins. You can believe that a dolphin interaction is that kind of activity that builds and reinforces heartfelt memories between you and your family and friends. Check out this video..

With dolphin swimming facilities in Key Biscayne, Miami, you can choose between just simply watching these dolphins jump through hoops, and exhibit amazing feats of acrobat skill and technique, or you can do  a famous dolphin encounter activity which you will actually be in the water with multiple dolphins and get a chance to swim with the dolphins Miami. But wait, if you really feel like going all out you can try the dolphin swim adventure, where you physically get to hold on to the fin of the dolphin and the dolphin will pull you through the water from one end of the pool to the other.
Each dolphin type program come at varying costs and package orientations, making it very versatile and flexible for all people. This is by far one of the best activities that can be done in the great city of Miami. Find out more info for swimming with dolphins and get  one today. Dolphins are loving playful creatures, that live to interact and play with their human counterparts.  Its simply a guaranteed wonderful time with these adorably cute , warm and loving creatures.
We would love to hear from you.  Have you ever done a swim with a dolphin experience?  Until next time,
God Bless,
Johnny