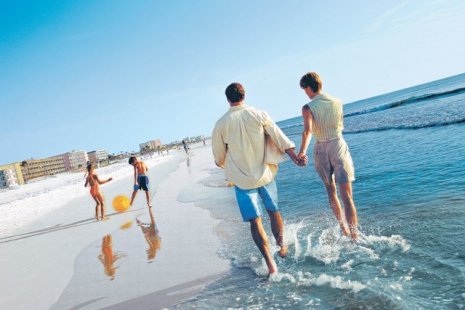 Daytona Beach is the first place I came to when I left the cold North East and headed south to find my new home. I enjoyed my time in Daytona Beach, which is one of the few places to drive on the beach in Florida. Here is a promotional piece from VisitFlorida which I am posting so you can get a feel of what Daytona Beach is all about….
Race the speedway, golf the LPGA course, or just kick back on the sand in Daytona Beach.
Enjoy everything from surf and sun to exciting family attractions in Daytona Beach, one of Florida's most versatile vacation spots.
The excitement begins on the beach, which spans nearly 23 miles (37 km) from Ormond By-The-Sea south to Daytona Beach and Ponce Inlet. At low tide, the beach can expand up to 500 feet. Whether you prefer a natural setting with dunes and sea oats or more activity with oceanfront shopping, dining and entertainment, there is a beach that is right for you.
If you dream of riding the waves, the smooth sand and Atlantic surf combine to make this one of the best surfing spots on the East Coast. The area on the north side of Ponce Inlet is a favorite with the local surfers. There are plenty of surf shops in Ormond Beach, Daytona Beach and Daytona Beach Shores that rent equipment and offer lessons. In addition to surfing, you'll find a host of water activities including canoeing, ocean kayaking and parasailing.
Accessing the beach with a car or rented beach buggy is a fun and distinctly Daytona Beach experience. Of the 23-mile beach, 11 miles are available for driving with pedestrian-only zones located at various intervals in between. But don't expect to exceed the leisurely 10 mph speed limit.
The area's love affair with all things automotive began in the early years of the 20th century. Its gentle slope and long stretch of hard-packed sand were ideal for racing, and between 1903 and 1935, no less than 13 auto racing records were set on the beach. Today, speeds up to 200 miles (322 km) per hour are common at Daytona International Speedway, where the Daytona 500 and Pepsi 400 NASCAR races are held annually. In addition, race fans can revel in their favorite sport at the speedway's year-round, interactive motorsports attraction.
If you're seeking a back-to-nature experience, stop by one of the local parks or nature preserves. The area's waterways entice many to enjoy a leisurely boat cruise along the Halifax River. The Atlantic Ocean and the Halifax River also provide anglers a variety of fishing opportunities year-round. From the estuaries and the surf to deep-sea charters, local guides provide all that is needed to pull in the big catch.
Daytona Beach also boasts a variety of historical attractions and fine museums specializing in art, science, history and nautical and marine life. Be sure to stop by the Smithsonian-affiliated Museum of Arts and Sciences, the acclaimed Southeast Museum of Photography and the Marine Science Center during your visit. A full cultural arts calendar brings world-class exhibits and theater to the area's many arts facilities. Biennially, the area hosts the renowned London Symphony Orchestra during the Daytona Beach International Festival. Other cultural fetes include the Daytona Beach Symphony Society's Winterfest in January and the Halifax Art Festival in November.
For some, "picking up the pace" may mean an exhilarating day of shopping in the historic downtown or new oceanfront shopping and dining district, venturing out to sophisticated night spots or playing a round of golf. The LPGA International with its two premier 18-hole golf courses offers a top-notch golfing experience. Daytona Beach's award-winning Florida Tennis Center is a superb facility for the game's enthusiasts. Kids and kids-at-heart can also enjoy an afternoon of fun at the area's family-friendly attractions such as Daytona Lagoon water park and Speed Park Motorsports.
Daytona Beach's world-famous motorcycle events take place in early March and October. Both festivals welcome motorcycle enthusiasts proudly riding their customized machines. It's a great time for people watchers, too. As with most seaside destinations, spring break brings college students and families with school-aged children to bronze themselves on the warm, sunny sands in March and early April.
Whether you prefer soaking in some rays on the gorgeous white-sand beaches, high-speed laps around the Speedway or exploring the area's colorful history and culture, Daytona Beach offers an incredible variety of vacation options. For more information < Visit Florida Daytona >

Hopefully this entices you to check out Daytona Beach on your next Florida vacation. Can anyone out there can add some comments about your favorite hotels and restaurants in Daytona area. I would love to hear from you!!
God Bless,
Johnny