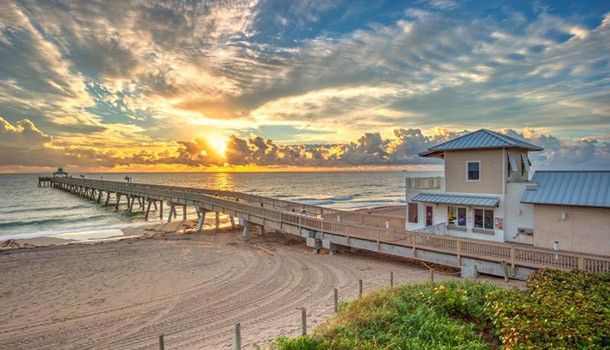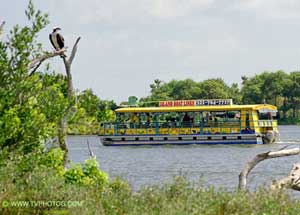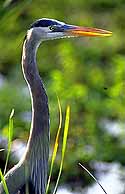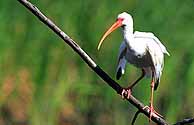 The East Coast of Florida may not be on many travelers' list of "Places to Visit in my Lifetime", YET! To a wide range of audiences the east coast of Florida means Daytona Beach, one of the most famous beaches in the world. An increasing number of adventurers, though, are finding reason to visit this area, rich in ecological and historical diversity.
I grew up here, in a small town called Rockledge, Florida; 25 miles from the beach, Cocoa Beach that is. Rockledge is approximately 30 miles from Cape Canaveral, home of the Space Center and I Dream of Jeanie. My adolescent days were about Disney excursions, water skiing in the Indian River, and lots of lounging on the beach.
Recently I began to hear and read about the growth of ecotourism in Brevard County. Finally, my curiosity was peaked. I was suddenly ready and eager to learn more about my home. So off I went, back to Rockledge, miles and miles from my current home in Colorado to experience a series of eco and adventure related activities near my hometown. I was anxious to learn that there's more to the area than Disney World vacations. Ready, set, go!
My first excursion departed not far from my parents' home in Rockledge, with Island Boat Lines in Merritt Island, Florida. I pulled into the sand covered parking lot as the skies opened up! This converted "Colorado girl", minus umbrella, scrambles out of the car with a soon to be soaked notepad, and runs towards the entrance of Banana Breeze, a casual restaurant on the shore of the Banana River in Merritt Island. I wondered if I was in the right place. I asked myself, "Is this where the boat docks?" It was indeed. Completely soaked, I stepped on board the boat. "Okay, now this is a tropical adventure," I thought once I found a spot to sit on the boat. I proceeded to wipe off the sheets of water on my legs, arms and face. The boat was chock full of teachers. It was their last day of school and they were there to blow off steam, I believe. Island Boat Lines serves schools in the area quite often. John Shaffen, a Pre-K Special Needs Class teacher wrote Penny to say, "Thank you for the opportunity to let these kids enjoy the Banana River, a place that is not easily accessible to them."
I sat up front in order to learn from J.B., the captain of the boat. Jimmy Buffet was playing in the background as we shoved off the small docking area. The huge drops of rain cascading in front of the boat ironically reminded me of the large flakes of snow I had just seen in Denver the week before. Think Key West, and you can imagine what my views were like as we pulled away from the dock. The back area of the restaurant is an outside patio covered in sand, with white patio chairs, and umbrellas, overlooking the water. These sites were, indeed, reminiscent of the Florida Keys.
Penny Flaherty is a native Floridian, former Miss Florida USA, owner of the Island Boat Lines, and affectionately known as "The Boat Lady. Penny enthusiastically came over to greet me and didn't stop smiling the entire time we backed out through narrow channel out to the cruise area. It seems she has a reputation for having an everlasting and infectious smile. Penny maintains a small and colorful fleet of boats, christened with names such as the "ISLANDER", "SUNSHINE" & "MISS FLORIDAUSA.
Our cruise takes us from Merritt Island to the Thousand Islands of Cocoa Beach, an area I never knew of while living in Florida. As we cruise towards the beach, I spot brown pelicans diving for lunch. The rain cloud breeze as we move across the water was invigorating, like that cool spring air I feel as I roll down the mountain on my mountain bike in Colorado.
Palm trees dot the shoreline to the north of us; mangroves blanket the Cocoa Beach shoreline. Captain J.B. told me that it is unlawful for people to touch the mangroves. The plant species helps to protect small and young fish from predators. They hide in the roots along the shore until they are big, or brave, enough to come out. The bushy plants also protect the shore from wind erosion. "Wow. I had no idea," I proclaim. Captain J.B. continued to share his knowledge. I learn that there are red, black, and white mangroves. Roots that flare up upwards from the plant are characteristic of the red mangrove. The black mangrove has dark leaves, and the white mangroves have no distinguishable roots. Captain J.B. points out a line of dead mangroves to the left, where branches rise from tiny gray swells. The captain explains this death occurred from a Florida winter freeze. How fragile they are!
As we move along the Cocoa Beach shore blue herring fly past and above us. J.B. tells me that the blue herring's wingspan can reach 7 feet! Fortunately, they seem to be thriving here. We also were awarded the chance to view white ibis, a great white egret, and ducks with their ducklings, as we floated up the river. Then, someone spotted a dolphin. We peered out over the glassy water and finally notice the fin. Unfortunately, it wasn't playtime for this dolphin. We watched as the beautiful creature faded back under water.
Along the way we also had the chance to view a variety of greenery and wildlife. In the way of foliage we saw banyan trees, Australian pines, and majestic coconut palms. Wildlife sites included blue herring nests, a raccoon, green herring, osprey (once endangered), swallows, very small terns and finally, manatees. We were able to spot the manatees thanks to the kayakers who were sitting still in water while they stroked the manatees. We got close enough to see the manatees roll around in anticipation of more caressing. Did you know that manatees eat 60-80 pounds of sea grass per day, that their teeth rejuvenate after they've worn them down, that they grow up to 13 feet in length and 3,000 pounds in weigh, or that they can hold their breath for 8 – 10 minutes underwater? I sure didn't!
It was fabulous to learn about the landscape and history of the area, as well as the wildlife. In the 1800's the Ais Indians were home here, before the settlers came through. A fantastic resource for learning more about the background of Cocoa Beach and the Banana River is the Florida Historic Society's Museum in Cocoa Village, Cocoa, only a few miles from Cocoa Beach.
In addition, to her riverboat eco-tours, Island Boat Lines offers a Port Canaveral and Historic Cocoa Village Transfer. The tour picks up passengers from Cocoa Village, where there is an abundance of dining and shopping, and transfers to Port Canaveral where passengers are provided a 1-hour tour of the Port.
Penny, and Island Boat Lines, is a shining star on the East Coast of Florida! Penny confirms what any passenger can is sure to interpret through their visit with her. She says, "I have learned to get through my life by having passion in my ideas, sharing my ideas with everyone I know, and then doing it big." Indeed she has, and continues, to share. Today, Penny serves on many important committees including, Visit Florida, Brevard Cultural Alliance, Space Coast Office of Tourism, and the Charter Captains Association, among many others.
As far as "doing it big" Penny continues to step up the plate. Island Boat Lines has recently obtained a 99-foot paddleboat used in an MGM movie starring Denzel Washington. The boat will be christened "M/V Indian River Queen" is being refurbished in the style of the old-fashioned paddleboats. Once completed the boat will house a historical photo gallery, with vintage photos of Brevard County and its waterways. The staff onboard the "Queen will dress in the style of the early 1800's. The Indian River Queen is scheduled to begin operating this Fall 2003 for groups, weddings and private charters, and Spring 2004 for daily excursions.
Island Boat Lines
Penny Flaherty
http://www.islandboatlines.com
321.794.7717
Get More Information on This Adventure!!!
Experience adventures like the one found in this article and others by using TropicalAdventure.com Vacation Planner. Simply fill out our Vacation Planner form and you will receive FREE information about this activity and others that you may be interested in. Click below to sign up.