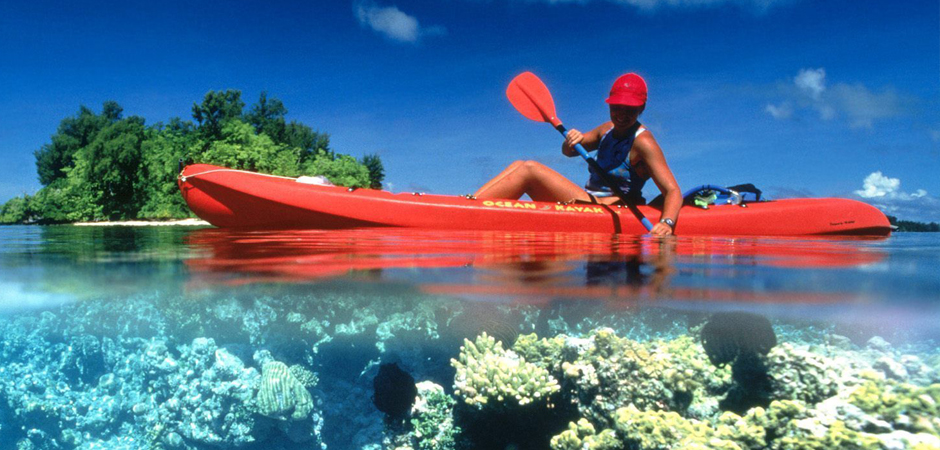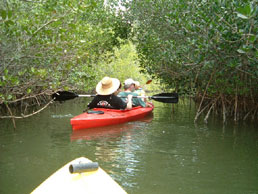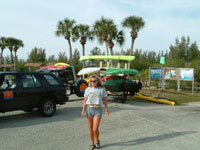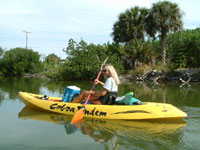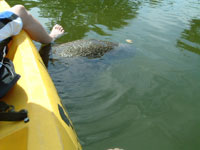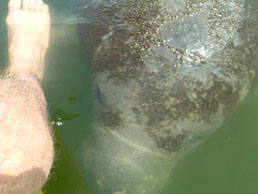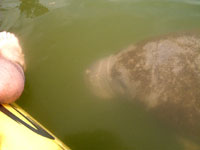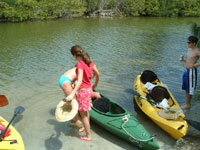 When thinking about Cocoa Beach, Florida it's easy to imagine the beach, space launches, and surfing, but it's a little more difficult to visualize kayaking in some of the most abundant wildlife estuaries in Florida. I certainly never imagined that Cocoa Beach could offer such an experience, until I learned of Cocoa Beach Kayaking Guided Nature Tours. Their tour has it all…a great tour guide, easy paddling, scenic rivers, and best of all, great wildlife.
Kathleen, our guide, met us at Ramp Road Park. This three-acre neighborhood park offers two boat ramps, picnic facilities, a fishing dock, and a lighted tennis court. Florida Sportsman Magazine has ranked the park one of the state's best fishing spots. The fishing dock and picnic facilities overlook the beautiful Thousand Islands, which are owned by the city. The city is working towards preserving the Thousand Islands in their natural state for future generations to enjoy.
At the park our happy guide introduced herself and prepared us for a 2-1/2 hour tour. Kathleen's tee shirt said, "Body by God", but it should have said, "Body, Attitude, and Customer Service by God". Kathleen provided us with everything needed for an adventurous and safe day. First, she supplied all participants with polarized sunglasses, hats to protect our faces, and plenty of sunscreen. As we and lathered up and prepped ourselves with the proper equipment, Kathleen got our kayaks ready for us to board. Kathleen gave an interesting safety and educational briefing before we entered our kayaks into the water.
Once in the water, Kathleen tested our motor skills by having us practice with our paddles. She reminded us this tour was not a work out but a leisurely and educational experience. This was reassuring since I have been on kayaks before with friends and it always seems to turn into a race. Kayaking with novice paddlers is never fun when the kayaks swerve all over the river. Kathleen had only one person paddle in each of the two man kayaks. In my vessel, my 16 year old nephew did most of all the paddling. I got to relax and absorb the scenery.
Once leaving Ramp Park, Kathleen led us out into the Banana River. The Banana River is a shallow lagoon, 30 miles long and 3 miles wide, between Merritt Island and the Cape Canaveral barrier beach, which separates the river from the Atlantic Ocean. The river is connected with the Indian River lagoon by channels at the North and South ends.
This first part of our kayaking journey took us through the Thousand Islands. As we paddled down the river, Kathleen described the different mangrove trees that lined the banks of the river. The trained eye can spot all three types, red, black, and white. These trees are tropical plants that have adapted to loose, wet soils, salt water, and periodic tidal submersions. The mangrove trees trap and cycle various organic materials, chemical elements, and important nutrients in the coastal ecosystem.
We encountered plenty of wild life along the river. Kathleen told us about the unique Indian River dolphins that are indigenous to the Banana River. My expectations were to see dolphins, but to my pleasant surprise we soon met the distant relative, of the elephant. Yes, that's right, the distant relative, of the elephant…and they live in the sea. It's the manatee, of course.
West Indian manatees are large, gray aquatic mammals with bodies that taper to a flat, paddle-shaped tail. They have two forelimbs, called flippers, with three to four nails. Their head and face are wrinkled with whiskers on the snout. The average adult manatee is about three meters 9.8 feet long and weighs between 800-1,200 pounds. Manatees are gentle and slow moving. Most of their time is spent eating, resting, and in travel. Manatees are completely herbivorous. West Indian manatees have no natural enemies, and it is believed they can live 60 years or more. Many manatee mortalities are human-related, and occur from collisions with watercraft. There are approximately only 3,000 West Indian manatees left in the United States.
As we floated along there continued to be plenty of wild life, especially birds, but at one point on the river, we were confronted with homes lining the banks of the river. At this point Kathleen had a choice of going straight down the river or right down a canal where the homes were situated. You wouldn't expect to find anything interesting where the homes where but Kathleen knew we would find the manatees there. These lovable creatures have summer homes in these canals and many other areas around Cocoa Beach. I've seen manatees before but learned quite a bit from Kathleen, as she provided many fascinating details about them.
Kathleen had us paddle to a section of the canal where a group of about six manatees where hanging out. As Kathleen is a sanctioned manatee researcher for the state, she tracks them on paper and sends it to the state for record keeping. She was very conscious not to disturb them and made sure that the manatees could come to us but we couldn't approach them. We waited patiently and at first they didn't seem to pay much attention to us. In fact, they passed us by and went out to the open canal. We started to head out to continue on our journey. Then, all of sudden, Kathleen spotted a manatee coming our way to check us out. We stopped, and sure enough this huge manatee came right up to our kayaks. Kathleen said with a smile, "It's Pumpkin Head", a manatee she has befriended in the past. Pumpkin Head was an incredible ambassador of good will. She hung out with us for almost 20 minutes. In fact, she approached each and every kayak and let us take incredible close up candid photos of her. This was, with out a doubt, a high light of the trip. After Pumpkin Head investigated our kayaks she headed down the canal and we continued on our journey.
The 2-1/2 hour trip flew by. After our manatee encounter our time was about up. We started to head back to Ramp Road Park. On our way back down the river, we stopped on one of the Thousand Islands for a break. After refueling with cool water we paddled back to the dock. We finished the paddle down a Mangrove tunnel that lead to the Ramp park docks. Can you believe we ran into another pack of manatees swimming up the river? It was a great day for manatees.
Once back at the dock I noticed that no one was totally exhausted from the paddle, and everyone was quite invigorated, thanks to Kathleen. She left the pace up to everyone's ability that day.
As we said our goodbyes, Kathleen told me an interesting fact. She provides internships for young and inspiring naturalists. She has them focus on aspects of her tour, plant life or animal life, and lets the intern learn about it and teach it to her participants for a week. This is an inspiring offering, and an excellent reason to contact Kathleen.
The cost of the kayak nature tour is $30 per person and you'll need to call ahead because space is limited.
Get More Information on This Adventure!!!
Experience adventures like the one found in this article and others by using TropicalAdventure.com Vacation Planner. Simply fill out our Vacation Planner form and you will receive FREE information about this activity and others that you may be interested in. Click below to sign up.