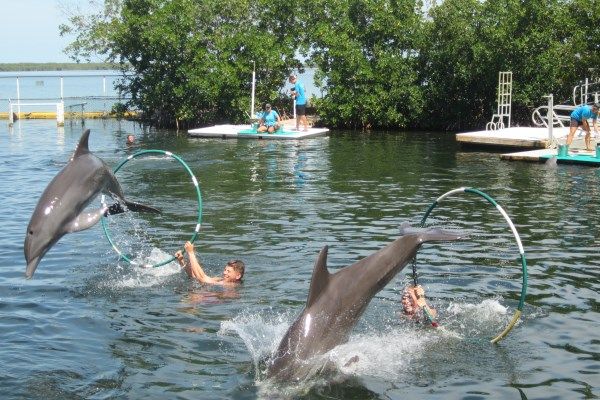 Taking a vacation is so difficult sometime but has to be done to refuel our
bodies from the day to day stress we all have. My wife and I took an escape to swim with dolphins in the Florida Keys. I am so thankful we took the time out of our busy schedules as a south florida wedding photographer and my wife as an accountant to do this and enjoy a day together. Swimming with these peaceful creatures was relaxing and rejuvenating. I had planned this for several weeks as a surprise for my wife. We had not traveled anywhere for quite some time. So, why not try in our own backyard?
We are Florida natives living in the Fort Lauderdale area and was thinking about staying at Pelican Cove Hotel which is a really nice resort next the dolphin facility. But it seems that there is so much to do, and so little we have done to appreciate this wonderful state we live in. After much thoughtful consideration, I decided that swimming with the dolphins in the Florida Keys would be just the thing for my wife and I to enjoy it together. We set out early in the morning and drove for about an hour and a half down to the Florida Keys. It was actually a relaxing drive. We listen to some of our favorite music (80's, Bob Marley, Chris Tomlin, etc). It also gave us an opportunity to chat and catch up on things.
The Dolphin Facility is at mile marker 84.5 on Islamorada in the Florida Keys. They open daily around 9:30 in the morning. We arrived about 11 the clock and casually set foot into this quaint Caribbean hideaway.
When we arrived at the facility, my wife quickly deduced my plan. She was totally elated and excited to swim with the dolphins! Upon entering the facility we were swept away into a magical land of ocean themed, colorful artwork, souvenirs and stylish clothing. We felt welcome with the pleasant island atmosphere. We checked in and were given more than enough information on how to best enjoy our day. Before our dolphin swim we had time to view some of the other attractions and activities. The staff was professional, courteous and quite informative about marine life. There were multiple presentations we watched and were simply fascinated. In one such presentation the educator was actually hand feeding sharks! She also explained the impact on the environment from people not being responsible with their garbage and other ways some are harming the local habitat.
We took a short break and ate at Nicky's Grill located in the heart of the
complex. Afterwards, we strolled around the property. We watched the dolphin presentation in the main lagoon. It is simply enthralling to watch these gifted animals with such spectacular abilities. During the dolphin presentation in the main lagoon, a few children had the privilege to interact with the Dolphins during the show. It was very charming to see the joy beaming from their little faces as they met these gentle and loving animals.
Soon, it was our time for our swim with the Dolphins experience. We were full excitement and expectations as we entered into the dolphin's swimming pool. Our trainer, Kate introduced us to our newest marine mammal friends, Sherri and Mona. Their soft smooth skin is pleasant to the touch. Atlantic bottle nosed dolphins are intelligent and energetic creatures that are quick to learn and love to play. These gentle, loving creatures warmly greeted us into their ocean home. Soon we were all smiling watching the aquatic acrobatics of our two new friends, Sherri and Mona. We each had turns socializing and swimming with our Atlantic Ocean hosts. A sweet and gentle dolphin kiss awaited us. Then, each dolphin gave us tender hug. Next, we experienced the amazing dorsal fin ride. How completely exhilarating! Holding on to the Dolphins dorsal fin while they swim swiftly across the pool is a breathtaking experience. To be so close to these powerful animals, yet feel their gentleness and grace. It was inspiring and electrifying! Swimming with these beautiful animals was a peaceful pleasure.
After our and once-in-a-lifetime dolphin encounter we wanted a little time to rest before driving back home. We went to "Lagoon Beach" and rested on the sandy shores taking a little cat nap. Lagoon Beach is a great place to sunbathe, cool off, take a refreshing dip into the Atlantic waters, and/or snorkel with a variety of beautiful tropical fish. There were chase lounges and towels which were graciously provided by beach staff. It was a much needed rest from all the day's excitement and activity before we headed back to Fort Lauderdale.
So, that is our recap of our day excursion to swim with the dolphins at Theater of the Sea in Islamorada Florida. I highly recommend for all the local Floridians to visit this fabulous park and discover the joy and the bliss of interacting with these majestic mammals. These dolphins are absolutely beautiful creatures. They are loving, protective and gentle. They are so friendly and intelligent. Sharing the water with these amazing creatures was a memory my wife and I will never forget. We will return again for another day of adventure to swim with the dolphins in the Key Largo area!
Swimming with the Dolphins in the Florida Keys Informaiton
By Curtis Copeland