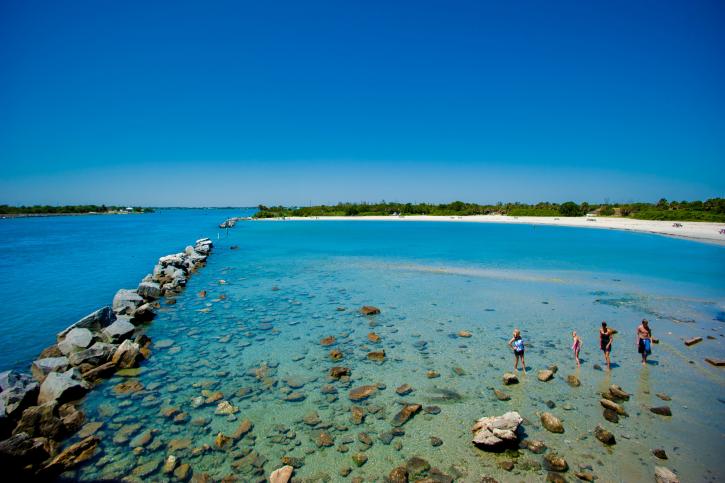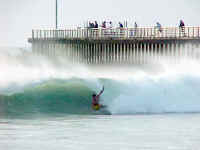 Located 15 miles south of Melbourne Beach is one of Florida's most popular parks. Famous for it's prime surfing and fishing, Sebastian Inlet State Park has something to offer everybody. If you are not the next Kelley Slater (professional surfer), the park offers picnicking, swimming, boating, snorkeling, scuba diving, camping, bird watching, hiking and biking. There are even two museums for the history buffs that wish to visit the park. This park is the final destination for over 500,000 tropical adventure seekers every year.
Sebastian Inlet Park has so many visitors each month that the park administrators decided to keep the park open 24 hours a day, 365 days a year. The park is based on what used to be a barrier island. A man made inlet that connects the Atlantic Ocean with the Indian River Lagoon now divides the island.
The inlet creates fantastic fishing for all types of fishing freaks. Beach, inlet and river fishing are available all in one park. The jetties extending into the Atlantic Ocean are often the hot spot for large catches. Sebastian Inlet Park does provide a boat ramp for offshore fishing. Popular fish include snook, pompano, snapper, flounder and grouper. During the fall, blue fish, sheepshead, and mackerel are popular along with crabs, clams, shrimp and lobster.
Through out the year each season has it's own focal point at the park. From turtle nesting to tropical bird watching, the park can be visited several different times in the same year and offer a totally new and different experience. Under water, the seasonal changes also bring new and different diving experiences for those who enjoy wildlife of an aquatic nature. The Fishing Museum and McLarty Treasure Museum offer historical sites and information in case the weather does not fully cooperate with your outdoor adventures.
Famous for it's surfing and fishing, Sebastian Inlet State Park has a host of other recreational activities for the adventure lover in you.
Get More Information on This Adventure!!!
Experience adventures like the one found in this article and others by using TropicalAdventure.com Vacation Planner. Simply fill out our Vacation Planner form and you will receive FREE information about this activity and others that you may be interested in. Click below to sign up.