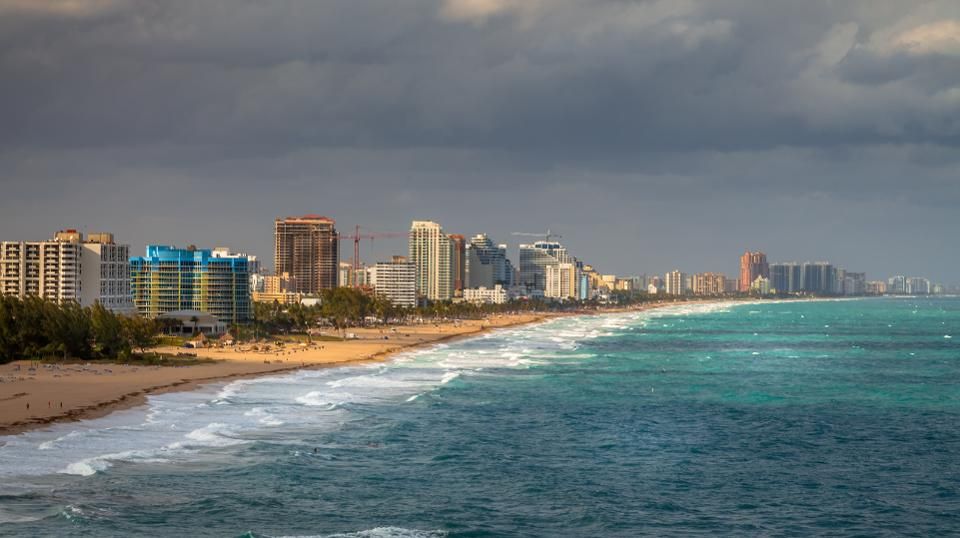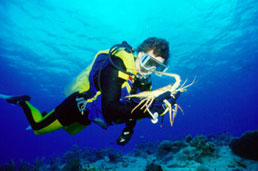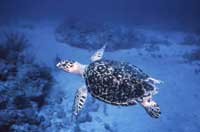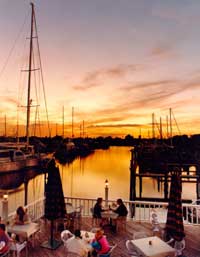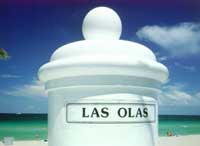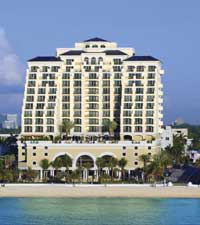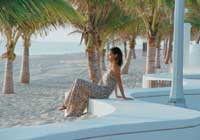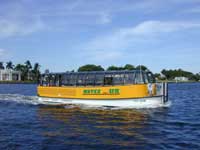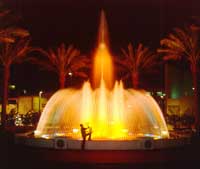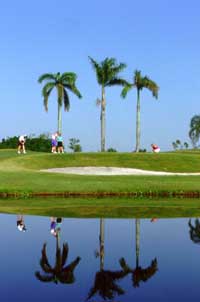 Without losing any of its original vitality, the city of Fort Lauderdale has grown up and along the way become a sleek, dynamic oceanfront community. Gone are the days when this was a small provincial town attracting college revelers during spring break to the Fifties hit refrain of where the boys are. Nowadays, all of that has given way to a city primed for the twenty-first century, where the elites of business, society and international leisure lifestyles mingle easily along with discriminating travelers of every stripe who have discovered the many merits of its location, weather, and choice of activities. In the process, a new energy has emerged: one that ranges from booming marinas and pristine beaches to world-class downtown shopping, museums, galleries and a revived and still expanding assortment of hotels and resorts.
The Lush Life by land and water 
While Fort Lauderdale's style and substance have evolved over the past decade, today's visitor will find an urban environment still largely defined by water. That includes not only the miles of beaches that have brought generations of travelers, but the extensive canal system that makes waterfront living or just moving about a significant factor of life here. For those planning to spend major time by, on or in the water, the good news is that nearby shores are also among the most pristine to be found anywhere on the eastern seaboard. In fact, since 1999, the city has been awarded the Blue Wave Beach certification, the highest designation given out by the Washington-based Clean Beaches Council for responsible beach management. This includes the sands along such communities as Hollywood, Dania, Deerfield Beach, Fort Lauderdale itself and Pompano Beach.
Creative management and smart entrepreneurs also make water sport a diverse and affordable activity. Scuba diving, for instance, is plentiful for those who plan to explore the nearby depths. Within 20 minutes of shore, there's the 2-mile wide, 23-mile long Ft. Lauderdale Reef, a very successful example of the state's artificial reef program. Created from sunken houseboats, ships and oil rigs sunk down to evolve into a habitat for fish and other sea life, this man-made safe harbor serves to augment the delicate natural reefs and even stems beach erosion. For outfitters that can get you out quickly into all the underwater adventure, rely on the experts at Lauderdale Diver (1334 S.E. 17th St. Causeway; Tel: (954) 467-2822) or 1-800 654-2073), PADI affiliated, who can arrange dive charters throughout the county, plus non-package reef trips; you can also rent scuba gear extra; or try Pro Dive, (515 Seabreeze Blvd., Tel: (954) 761-3413 or 1-800 776-3483) located at the Bahia Mar Beach Resort, which is a PADI facility and the area's oldest diving facility; rent your scuba equipment here to bring along on the 2-hour snorkeling trip or suit up with your own gear.
The region's unusual landscape allows for plenty of opportunity to diverge a short way inland and experience the fragile tropical ecosystem, from the Everglades The River of Grass to the beauty and wonder of the butterfly to sea turtles nesting on shore. Whether you are a nature lover yourself or have younger family members along, an operator like Billie Swamp Safari (www.seminoletribe.com) is ideal for getting you out into the Everglades atop an airboat or swamp buggy. Along the way, view alligators and a variety of water fowl in their natural habitat, and you can even opt for an overnight stayover in a native Chikee hut. At Butterfly World(www.butterflyworld.com), witness metamorphosis in living color as thousands of butterflies from around the world glide and soar amid this unique aviary's lush botanicals. Or, if you want to observe an always fascinating ritual of nature at the shoreline, take time to observe the sea turtles laying their eggs on the adjacent 23 miles of beach during most of the summer months. Also you can not miss the swim with the dolphin tours in Fort Lauderdale, where you get picked up from your hotel and have a chance to swim with the dolphins.
The other side of the city's land attractions, of course, is its diverse outdoor athletic opportunities. While golf has always been a key part of South Florida's draw, the game has also made expanded in Fort Lauderdale with locations like Dolphin football team owner Wayne Huizenga's new $30-million Raymond Floyd-designed super exclusive Grande Oaks Club. While premier resort locations, such as the Westin Diplomat Resort & Spa with its own 18-hole golf course, allow you to tee off without having to get there, the city and nearby beach towns also have a long list of golf clubs and public fairways that make the effort of getting out on the greens a very simple one. The other perennial outdoor classic, tennis, similarly has a variety of options that make taking to the courts a simple affair. Again, high-end resorts like Lago Mar Resort and Club have their own on-site courts, but there is plentiful access elsewhere to year-round tennis venues including the Jimmy Evert Tennis Center in Fort Lauderdale, the Red Clay Court Facility in Coral Springs and the Palm-Aire Tennis Facility in Pompano Beach. Check ahead for golf and tennis venues and contact information on day rates at the Greater Fort Lauderdale Convention & Visitors Bureau online at www.sunny.org.
For those who simply want to do their activity in a less structured but no less dynamic manner, put on your rollerblades and experience the surfaces along the 1.5 mile promenade of Fort Lauderdale Beach, voted among the top ten places to skate by Rollerblade, Inc. Greater Fort Lauderdale also offers a variety of parks with aggressive equipment for the adventurous skater or cycler as well as scenic trails for getting in shape or simply cruising around. The area's scenic bicycle routes include Hollywood Broadwalk, Fort Lauderdale Beach Blvd. (SR A1A from SE 17th Street N.), Parkland, Weston, El Mar Drive in Lauderdale-By-The-Sea, Rio Vista and Coral Ridge sections of Fort Lauderdale.
A potent new mix of nature and glamour
Simply making your way around Fort Lauderdale itself by water is part of the pleasure of getting about, since you can sit back and let someone else do the navigating as you soak in the resplendent history of the area reflected in many of the homes along the water's edge. The town's famous Water Taxis are growing into sleek, 70-passenger Water Buses featuring both indoor and outdoor seating areas with an atrium-like roof that allow you the full panorama of passing mansions and moored yachts. A variety of routes within the local waterways, stops at or near local landmarks and history, along with multi-day rates make the Water Taxi a genuine bonus. Not to mention the many funny and colorful anecdotes provided enroute by some of the taxi escorts, who seem to know everything and anything about the people and events who have formed part of the passing landscape. In fact, a ride with the Water Taxi provides some fascinating insight into the the composition and dynamics of present-day Fort Lauderdale as you get to observe that secluded mansions and high-rise towers are not the only type of Florida retreat favored by wealthy residents and elite foreign magnates. This elite is just as closely connected to the water in its own way as much of the rest of the city is not only at the sea's edge, but along the maze of some 300 miles of inland waterways that weave through the urban landscape. In fact, there are some 44,000 registered boats and an excess of marinas and boatyards, all of which makes the Greater Fort Lauderdale area the destination of choice for luxury yachts, while also making it into the Venice of the South.
As to where to decide to stay, whether you regard it as a destination in itself and need the works in a full-service spa resort or just seek the basics in comfortable accommodation, Greater Fort Lauderdale is in a state of boom growth that has already produced something for any discriminating traveler. With more than 610 properties already operational and still more in the final stages of construction including upcoming additions to the five-star range like The St. Regis Resort, Spa and Residences, the Q Club Resort & Residences (Tel: (305) 461-8300), and W Fort Lauderdale Hotel and Residences finding the location, facilities and on-site package that complements the Fort Lauderdale experience is practically guaranteed.
Already leading the field at the elite end of the spectrum is Starwood Hotels' sumptuous The Atlantic, a 123-suite hotel and condo, aptly named for the many breathtaking ocean vistas that can be had at almost every point–whether from your hotel balcony, from your table at the gourmet beachfront restaurant, or from your private cabana at the oceanfront pool (Tel: (954) 567-8020). One unique personalized feature of this contemporarily elegant resort appreciated by travelers arriving from a long flight is the check-in: arriving guests are met by Atlantic ambassadors' at the door and shown to the living room-like area of the lobby accented with cool marble and subdued lighting where you are served a fresh herbal drink and lavender-infused, chilled towel to revive you. While you relax on the couch and your check-in information is completed at the front desk, hotel features ranging from the in-suite facilities to the two restaurants, and extensive spa facilities are outlined for you. It's a welcoming and personal touch in a relaxed but elegant environment that sets the perfect tone for staying in Fort Lauderdale.
GREAT FORT LAUDERDALE FAST FACT FILE
Getting there/Getting around: 
Air: Fort Lauderdale/Hollywood International one of the fastest growing American airports, minus the gridlock. Provides nonstop service to more than 30 U.S. cities, Canada and the Caribbean. A total of 34 scheduled airlines provide service with 595 flights per day. Just 7-10 minutes away from most city locations.
Tri-Rail – A 67-mile commuter line links Broward, Palm Beach and Miami-Dade counties, with free shuttles to the airport. Tel: (800) TRI-RAIL.
Water Taxi/Water Bus – Hop aboard one of Water Taxi's boats and step ashore at major stops along the waterways. All-day unlimited service passes are $5. Bulk ticket packages and charters available. Tel: (954) 467-0008.
Further information on commercial and city services/venues/events:
Greater Fort Lauderdale Convention & Visitors Bureau
100 E. Broward Blvd., Ste. 200
Ft. Lauderdale, FL 33301; Tel: (954) 765- 4466
Website: www.sunny.org
Get More Information on This Adventure!!!
Experience adventures like the one found in this article and others by using TropicalAdventure.com Vacation Planner. Simply fill out our Vacation Planner form and you will receive FREE information about this activity and others that you may be interested in. Click below to sign up.