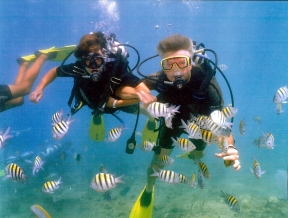 You may love music and water, well there is a festival for you in the Florida Keys on July 10th where you get to scuba dive/snorkel and play your favorite song under the beautiful Florida Keys waters.
I saw the post from the Lower Keys Chamber of Commerce.  It reads…
LOWER KEYS UNDERWATER MUSIC FESTIVAL TO DIVE INTO "WATERLAND" JULY 10th. Looe Key, Florida Keys – Divers and snorkelers might encounter "Alice in Waterland", the "Cheshire Catfish" and their fictional friends beneath the sea during the 26th Annual Underwater Music Festival, set for Saturday, July 10th, in the Lower Florida Keys.
The quirky underwater concert takes place at Looe Key Reef, an area of the Florida Keys National Marine Sanctuary approximately six miles south of Big Pine Key. Each year, the subsea songfest draws as many as 600 divers and snorklers to explore the colorful diversity of marine life that characterizes continental America's only living coral barrier reef. < Read More >
Would you do something like this? Or have you done this before? I would love to hear from you.
God Bless,
Johnny