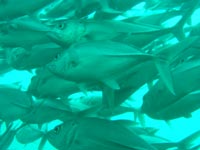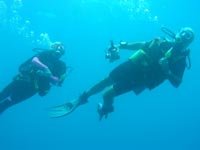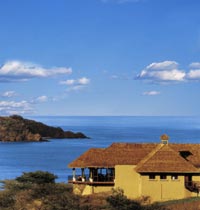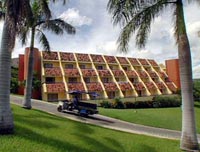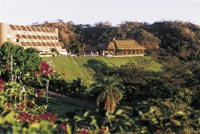 A few years back Costa Rica was virtually unknown as a destination for scuba diving. Suddenly it is being applauded for its variety of marine life. New facilities along the pacific coastline are now offering first class dive boats and fully stocked dive shops. Divers can have the excitement of truly virgin diving in areas never before explored.
Most of the scuba diving is located on the northwest pacific coast of Costa Rica in the Gulf of Papagayo and is surrounded by an abundance of dive sites, most of which are accessible within a thirty minute boat ride. Local dive sites offer white tip reef sharks, giant schools of grunt, yellowtails, spotted eagle rays, turtles, stingrays, angel fish, octopus, sea horses, starfish, frog fish and many species of eels. There has been sightings of whale sharks up to 35 feet long on numerous occasions, as well as, spinner dolphin, humpback whales, pilot whales, orcas, false killer whales and schools containing hundreds of Mobulas and thousands of cow-nosed rays.
Average visibility ranges from 40 ft. to 60 ft. with possibilities of up to 80 ft. Scuba diving is around volcanic rock formations and rock pinnacles. There is very little hard coral, but there is black coral, soft coral and orange cup coral that opens up at night. There is an abundance of life among the rocks which can be seen on both day and night dives.
Night dives are consistently a favorite and begin with a relaxing ride during which you will experience a sunset unlike any other. The dive itself offers you the chance to explore the micro life, along with very large puffer fish, nudibranchs, gigantic slumbering parrot fish, lobster, tube worms and sea horses. In addition to the marine life you can take the opportunity to extinguish your lights and play by the light of the phosphorous, which can create quite a light show. The cup coral, open at night is stupendous.
Also offered are long-range dive trips to both the Catalina and Bat Islands. The best months for scuba diving the Catalina Islands are December through April, where schools of Manta rays with wingspans from 14 ft. to 20 ft. have been seen along with numerous white tip sharks and occasional bull or tiger shark. This site is also known for the large schools of mobula rays and cow-nosed rays. The Catalina Islands are considered a slightly more advanced dive due to stronger currents and surge.
The relaxing cruise to the Bat Islands is a worthwhile trip year round, weather permitting. However, March through November are the optimum months for this long range trip. Here you might see the impressive 8 to 14 foot Bull sharks, schools of cow-nosed rays, eagle rays, and an occasional Manta ray, along with the ever present varieties of larger schooling fish: rainbow runners, horse-eye jacks, spade fish, pompano, snapper and wahoo. This is a challenging dive, but well worth the extra effort. You may be lucky enough to see a sailfish or a marlin on your safety stop.
Some additional information you might find useful. Water temperature from mid-May to mid-December is generally from 75°-78° at depth and a shorty, .05MM or 3MM suit are usually sufficient. From mid-December to mid-April, water temperatures vary from day to day, with thermoclines causing temperatures to dip to 72° at depth so you will want to bring a full 3MM suit during this period (5 MM if you are easily chilled). The outside temperature at the beaches is 85° to 90° year round. The rainy season runs from May to November, with these months providing some of the best scuba diving as the seas are flat calm. The local scuba diving is located in a protected Gulf and does not have rivers draining into the water and visibility is not adversely affected by the rain. In fact, visibility is often enhanced as the rain settles the plankton and rich nutrients that are abundant in Costa Rica waters.
Accommodations at Playa Hermosa are at Villas Sol, Hotel & Beach resort. Villas Sol is located on a hill overlooking the Pacific Ocean in the northwest area of Guanacaste province, Costa Rica. Playa Hermosa is a large, beautiful, safe beach and has received the coveted blue banner for safety and cleanliness.
Playa Hermosa is four hours by car from San Jose and Juan Santa Maria International Airport via the Pan American Highway and 25 minutes from the Daniel Oduber International Airport near the town of Liberia.
The resort is made up of 54 double rooms in the hotel and 108 two and three bedroom villas, steeped on the side of the hill in back of the hotel. The rooms have central air, private balconies, two queen beds, micro fridge, coffee maker, hair dryer, phone, cable TV and security safe. The Villas have central air, private patio (34 units have their own private dipping pool), queen beds, double beds, single beds, complete kitchen, cable TV, phone and a large living and dining area.
There are three new Toyota 12-passenger trams to take you around the grounds, beach, restaurant, mini marts, tour office and reception desk.
Two swimming pools are conveniently located near all units, restaurants and bars. The largest swimming pool is 200 feet long with a swim up bar and a full restaurant and snack bar.
La Bahia is the main restaurant and bar and sits perched on the hill with the best Pacific Ocean view in Costa Rica. The food is wonderful and you have a view of the beach, ocean, boats, islands and a gorgeous sunset.
Packages are available that include scuba diving and adventure tours for individuals and groups and you may choose a plan with just breakfast or an all inclusive plan with three meals daily and alcoholic and soft drinks from 12 noon to 12 midnight.
The resort is very secure with checkpoints from the main road, beach and 24-hour roving patrols. It is a great place for families with children as there are lots of activities such as basketball, volleyball, ping- pong, snorkeling & scuba diving. There are monkeys, iguanas & parrots on the grounds and tide pools to explore around the rocks at both ends of the beach.
There are daily dive trips and adventure tours from the tour office for horseback riding, tree top canopy, river rafting, river floats, puma refuge, wildlife refuges, bird watching, water slides, volcanoes, hot springs and spa.
Come to Costa Rica For The Natural Beauty…Stay For The Adventure!
Bill Beard's Costa Rica Scuba Diving & Adventure Tours
Toll free: 877 853-0538
Phone 954-453-5044, Fax 954-351-9740
www.billbeardcostarica.com
Get More Information on This Adventure!!!
Experience adventures like the one found in this article and others by using TropicalAdventure.com Vacation Planner. Simply fill out our Vacation Planner form and you will receive FREE information about this activity and others that you may be interested in. Click below to sign up.