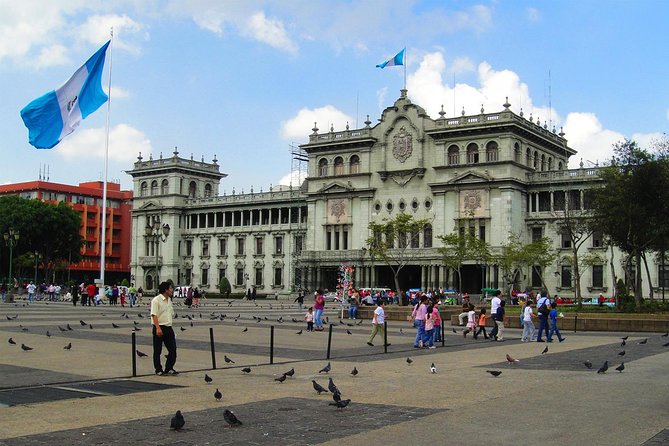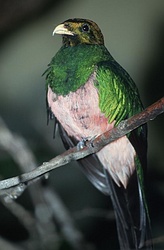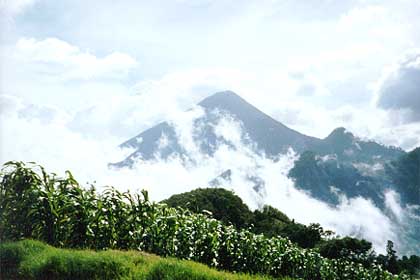 Today's Guatemala
"Guatemala" means the land of many trees. Indeed, it once was just that. Today, pine, oak, and fur trees have been cleared and replaced with farmland, in most states. The northern third of Guatemala, or Peten, remains a vast, sparsely settled region of swamps, hardwood forests, grassy plains, and jungle; wild boars, jaguars, and monkeys, but is also arguably threatened. A local logging program that has been in place for the last 12 years has had fervent support from many U.S. environmental agencies because it is thought to educate rural community members on responsible forestry. The program has had Guatemalan government support also, probably based mostly on economic factors. Until now there has been minimal concern for the Maya ruins, El Mirador, in Peten. Richard Hansen, an archeologist from UCLA, is now bringing attention to the issue of conserving the ruins. Hansen is trying to gain financial support for the development of a luxurious eco-lodge near El Mirador, which would bring logging in the immediate area to a halt. Hansen's goal would be to preserve the ruins, the forest, and employment for locals, via tourism jobs. Whether this happens or not is still to be determined. Meanwhile, Outside Magazine says that 95% of the people in Peten are against Hansen's efforts, and the country continues to run its sustainable logging program and reap the financial rewards of its timber through the global market.
A Brief History
Guatemala's history is all about the Maya. Mayan ruins "centers" were spread across Peten until the 9th century A.D.
The Mayan, whose writing system was the most advanced in the Americas during their time, left their mark via hieroglyphic writing, sculptures and a progression of pottery. The Mayan lasted the longest and the left the most signs of their existence of any culture in Central America. Their kingdom lasted from 1000 to 300 B.C. One of the most impressive signs of the Maya is their building development. Today, we know that the Maya didn't use wheels in the practical sense, but carried such stones as limestone on their backs, to create massive structures, such as the temple pyramids in Tikal.
The Maya built elaborate cities just about everywhere on most any kind of terrain. In addition to buildings, Maya eventually mastered crop engineering, turning swamps into flourishing fields yielding corn, yams, ramon nuts, and forest fruits.
Other cultures that flourished in other parts of Mesoamerica were the Toltec, Olmec, and Mixtec. Today, the people of Guatemala include Ladinos, Indians, Red Caribs, and Black Caribs, the history of which is quite intricate.
An interesting history fun fact…the currency of the Maya is thought to have been cacao beans.
The Areas of Guatemala
Guatemala City, aka, "la capita" is "la central" to many travelers; a base camp of sorts for seeing the many sites spread throughout the country, including Indian villages. Visitors should consider spending some time in Guatemala City to learn about the government before exploring the rest of the country.
Western Highlands
The Western Highlands are the most densely populated of the areas of Guatemala, and is home to most of the Indian population. Adventure enthusiasts seek out the peaks of the Sierra Madre and Cuchumatanes. The area is temperate, near tropical valleys, and lined with volcanoes along the Pacific coast. It is here, 65 kilometers west of Guatemala City, that Lake Atitlan lays, surrounded by volcanoes. In the Western Highlands travelers can venture up mountain roads, through villages along the lakeshores, and into valleys abundant with trees, streams and communities. These routes present visual gifts of plateau vistas featuring corn and wheat plantations, whitewashed adobe houses with red tiled roofs, and people dressed in traditional clothing.
Pacific Lowlands
Costa Sur, a highlight of the Pacific Lowlands, sits along the southern coast of Guatemala, with volcanic black beaches along the Pacific Ocean. Rivers abound in the Lowlands, more than 50 kilometers inland.
Temperatures are over 100 degrees Fahrenheit at any time of the year in the Lowlands, which makes for a lush environment with elaborate vegetation, huge trees, flowers, tropical birds and vibrant colors. Cattle herds and sugar cane fields abound as well.
The Lowlands offer important archaeological sites, and displays of vestiges of pre-Columbian civilization.
The Caribbean Lowlands
Northeast of Guatemala City are the Caribbean Lowlands. The long valley of the Motagua River runs through fields of cattle and banana all the way to the Caribbean at the border of Honduras.
The personality of the Caribbean Lowlands can be described as…rain, rain, and more rain. Thanks to the rain, these Lowlands boast green, hilly terrain, and the Coban Canyons where dammed up lakes resides. Rivers that flow above the surface in one area disappear under the earth's surface and then rise again. What a performance!
The "Garden of the Eden" of the Alta Verapaz highlands are a must visit. They are a gorgeous display of lush grounds and abundant wildlife. The area is home to the white nun, one of a dozen species of orchids found in the forests there, and the quetzal, the national bird of liberty.
Tikal
You must not visit Guatemala without experiencing the culture, history, and engineering marvels of the Maya. Tikal, located above dense jungle northeast of Flores, is known as the greatest of all classic Mayan cities.
The Mayan ruins in Tikal were restored beginning in the 1950's. It's a special treat now to be able to get to the ruins with relative ease.
National Parks
Even though it is known that the Guatemalan government's conservation efforts might be less of a priority than their attention to foreign investment, is has been a topic of concern at times in Guatemala. There is an organization working full time towards protecting the biological diversity in Guatemala. The organization is called the Defensores de la Naturaleza, which owns and protects the Reserva de la Biosfera de Sierra de las Minas. Thankfully, there have been some National Parks established over the years.
Maya Biosphere Reserve was founded in 1990 and includes many protected areas, including Tikal National Park and Rio Azul National Park.
Parque Nacional Lachua is located 418 kilometers by car from Guatemala City and includes a subtropical rainforest with mahogany, breadnut, and ceiba trees. Raccoons, coatis, peccary, and macaws are among the species of wildlife found in this park.
Parque Nacional Rio Dulce is a park based around the river that flows into the Caribbean. It covers 80 kilometers of land. Visitors may have the opportunity to observe mollusks, tapirs, alligators, manatees, spider monkeys, and turtles.
Other parks include the Pacaya Volcano Park and Lake Atitlan Park.
Adventure Activities
Scuba Diving
Scuba Diving in Guatemala's lakes, as well as the oceans off the coast, can be an unforgettable experience. Guatemalaweb describes one excursion, "Lake Atitlan is a fantastic place to have your first diving experience or if you are a experienced diver you will also be impressed with the lake's great visibility and the light special effects in the visited zone. For an unknown reason the volcanic underwater realm in this area makes you feel you are flying in another planet, this is truly an ancient magical unique place in the world."
Rafting
Though rafting is a fairly new activity in Guatemala, trips down river today are well organized by local guides. You can take on several rivers throughout the country, including the Usumacinta River, the longest river flowing through "towering centenary trees tangled with vines and alive with spider monkeys and darting macaws," as described by the Guatemala Guide by Paul Glassman. This Class II-III river passes by Maya ruins.
Fishing
If you're a fisher, you can fish in the lakes of Guatemala, but don't expect too much sport. Tarpon does enter the rivers inland from March to June, in the Rio Dulce especially. On the contrary, the Caribbean waters will offer more of a challenge. You can try your reel at catching snook, tarpon, snappers, barracuda, tuna, mullet, amberjack, oysters, crabs, shrimp, turtles, and mussels. On the Pacific side, fisherman can find yellow and black tuna, wahoo, snappers, bonito, crevalle jacks, roosterfish, dorado (sailfish), and further off shore…mahi mahi. Tropical Adventure's Guatemala outfitter, Sailfish Bay Lodge, proclaims, "Guatemala has gained an international reputation as having one of the highest concentrations of billfish, in particular Pacific Sailfish – year round."
Sailing
You can sail on such bodies of waters as Lake Izabal and Rio Dulce.
Mountain Biking
Biking is a fulfilling way to see some beautiful backcountry while not disturbing the environment, and enjoying clean air and getting some great exercise in the meantime. Mayan Bike Tours says, "Leave the noise of cars and other motorized vehicles behind you and enjoy an adventurous ride with incredible views along paths wedged between wide fields and volcano ridges. Or take a more leisurely ride through local villages and coffee plantations." Mayan Bike Tours offers a 6-day mountain biking trip through the Altiplano Circuit, at 3,000 meters.
Volcano Climbing
Pacaya Volcano is the most popular volcano to climb. Located south of Guatemala City, Pacaya is a hard and precarious climb, and it is suggested that you hire a guide to summit the mountain.
Caving
You can visit Mayan ritual sites, impressive rock formations, and wildlife in Guatemala's cave system. Mayan Bike Tours offers cave tours in Rey San Marcos, where religious rituals where held by the Kechi Mayan. There are numerous other caves to explore, among them the Lanquin Limestone Cave.
Planning Your Trip to Guatemala
Entrance into Guatemala
Obstacles to entering Guatemala should be minimal today, despite the countries' history of placing obstacles in the way of visitors, such as entry bribes, thievery, and altered visas.
Lodging
Visit Tropical Adventure's Sailfish Bay Lodge, located on a barrier island between the Chiquimulia canal and the Pacific Ocean. The property is close now named Puerto Iztapa, colonial Spain's first Central America seaport. Visit http://www.tropical-adventure.com/cgi-bin/choose_location.cgi to find out more about the Lodge and how to visit.
Prices 
Guatemala is a very affordable place to travel. Meals average $4 or less; lodging averages $5 per person for a double room. You could budget $10 per day in Guatemala if you put your mind to it. The currency is the quetzal (named after the national bird).
Shopping
Shoppers can find some great and unique gifts in Guatemala. You can find hand woven clothing and Indian textiles, heavy woolen blankets, jewelry, antiques, and pottery…for cheap. Remember, bargaining is acceptable at markets, but not in stores, which usually have fixed prices.
Taxes for goods and services are about 10%. Hotel taxes add 10%, and the airport exit tax is $20.
Tipping
You should tip 10% in restaurants (based on good service, of course). Give hotel porters a quetzal, and maids just a few. You don't need to give guides a tip…they get enough commission.
The Climate
The "dry" season in Guatemala lasts from October through late April, normally. This "summer" season offers up warm and sunny days in the highlands. Nights are clear and cool. Bring layers and a sweater for this season. April is the warmest of the months in the highlands with 85 degree or higher temperatures in the afternoon.
The rainy season starts at the end of April. Be sure to bring a raincoat and umbrella shortly after April. Nevertheless, you will still have the chance to swim, walk and sightsee during this time, so bring your swimsuit, hiking boots, or comfortable shoes, sunscreen, and insect repellant.
Kids
Traveling with kids in Guatemala should be entered into with a great deal of planning. Although kids may enjoy the bus rides more than you, they will want to touch and feel along the way, which should be replaced with their own toys from home. Along with toys, you should bring books, changing supplies, baby foods, and sunscreen. Consider staying at a decent hotel, since you might spend more time there than you think. Beware of sun exposure and the children's' eating habits while in Guatemala.
Safety
Although travel through Guatemala is usually safe, it's always good to take precautions. Here are some tips on keeping safe in Guatemala:
You should check with your embassy to see about safety in hiking alone in a particular area. The Guatemala Tourist Commission can provide a pamphlet on safety in the country also.

Use only authorized taxis.

Leave valuables in a safe in your hotel room.

Lock your doors.

Do not travel after dark.

Basic Courtesies
Some general courtesies to follow while in Guatemala are:
Say "Buenos Dias" (good day) or "Buenos Tardes" (good night) in small towns.

Greet the driver while getting on and off a public bus.

A light handshake is good.

Dress down.

Use a moderate tone of voice in public places.

Ask for permission to take photos of locals, if you think it might be intrusive.

Avoid taking photos of religious rituals.
Overall, Guatemala offers an affordable, accessible travel destination of unique history and cultural and biological diversity.
To fish, boat, or sail in Guatemala, click here and visit Sailfish Bay Lodge to book your trip.
Get More Information on This Adventure!!!
Experience adventures like the one found in this article and others by using TropicalAdventure.com Vacation Planner. Simply fill out our Vacation Planner form and you will receive FREE information about this activity and others that you may be interested in. Click below to sign up.