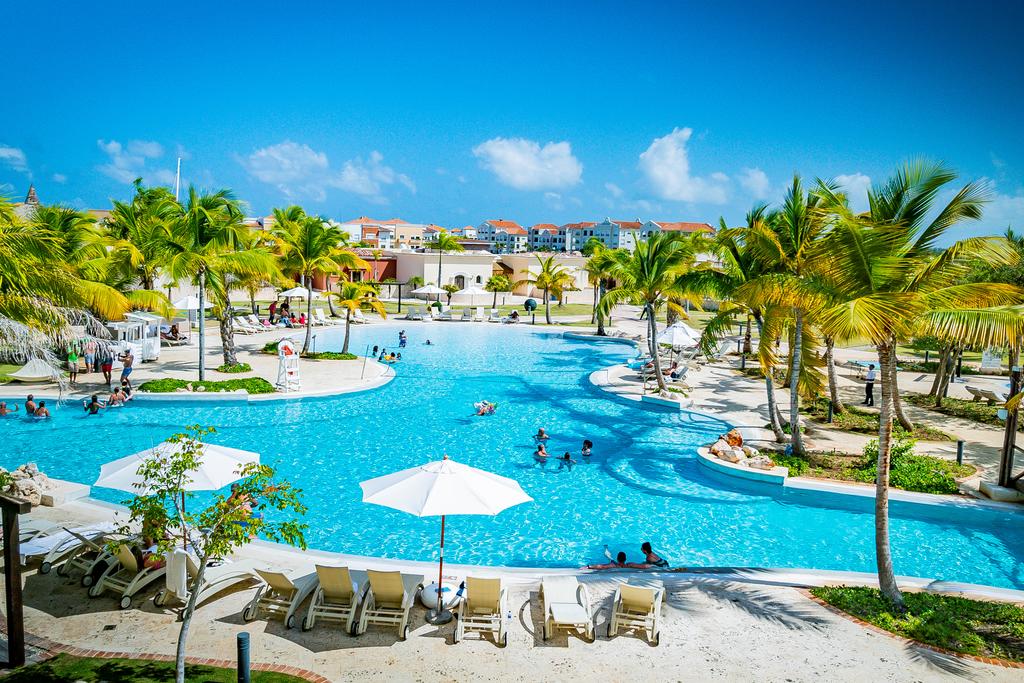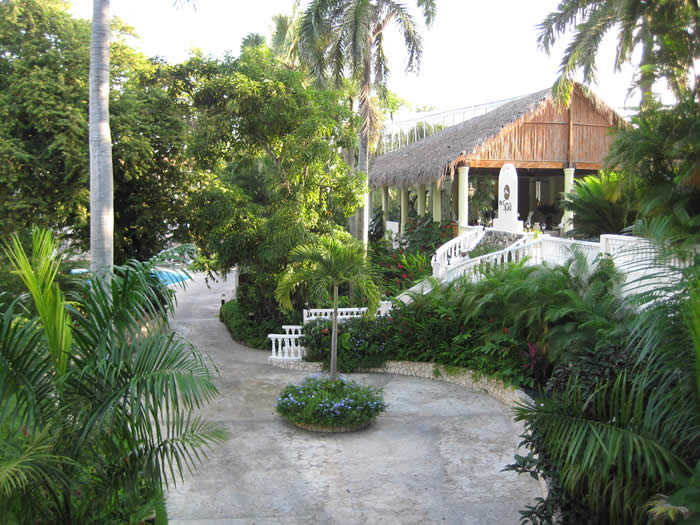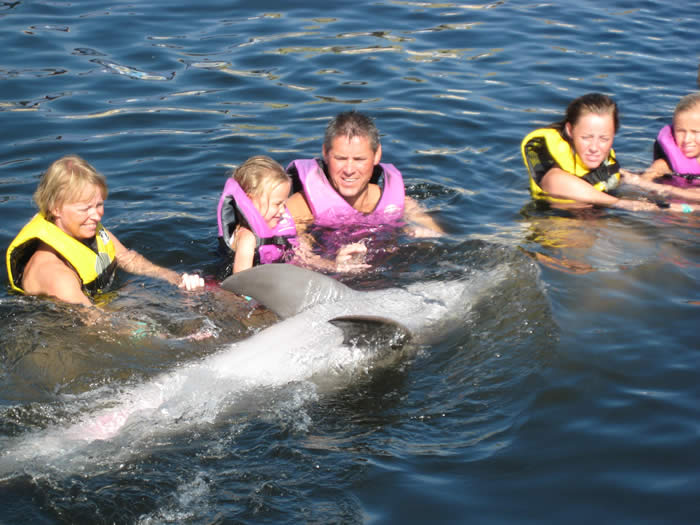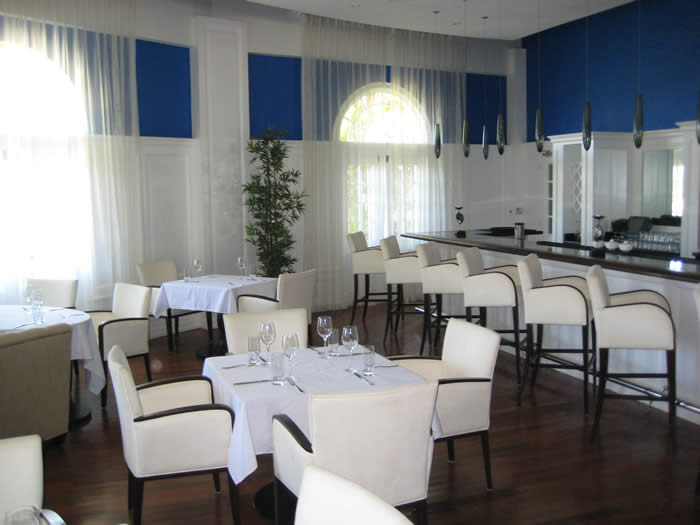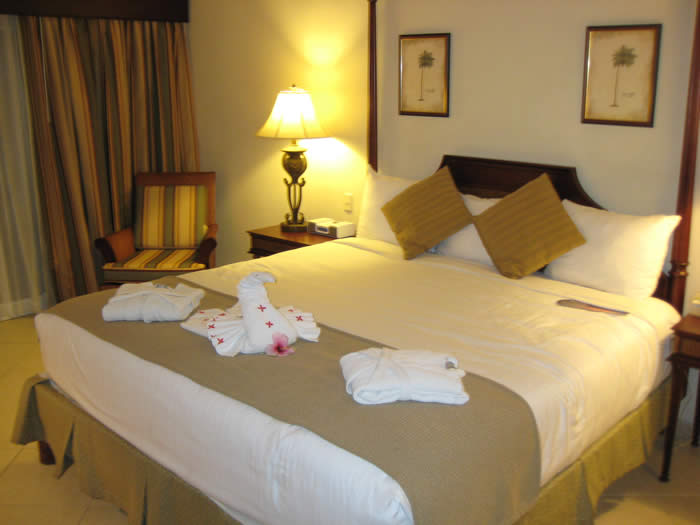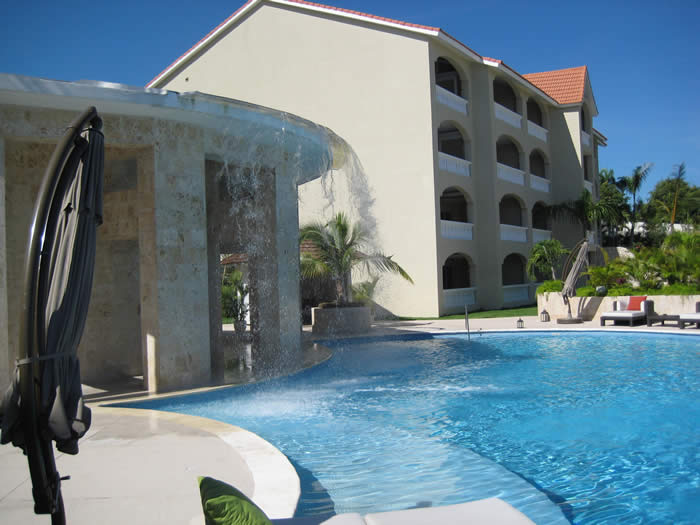 Flying into another country has its challenges, not knowing the area, the language, and the culture, you will put to ease once you meet the Dominican people of Puerto Plata. I flew into the Puerto Plata Airport and had a transportation service pick me up, Hola Tours, at the airport. The driver was really friendly and drove me to my hotel, a $40 fare and $60 roundtrip. Since I was coming here to swim with the dolphins in Dominican Republic, at Ocean World in Confresi Beach, I needed to stay close by the facility, in a safe and comfortable all-inclusive hotel. They recommend Sun Village and the Bungalows and I was not disappointed. Upon my arrival at the Sun Village Lobby, you are astounded at the Grand Lobby, high ceiling, with roman columns and balustrades everywhere. After checking in, the hotel is divided into the Sun Village Resort and the Bungalows, owner operated rentals. 
The Sun Village All-Inclusive Resort is where I stayed and is the main resort, where most of the food, amenities, activities, spa and pools, are. The amenities included are the Business Center, Currency Exchange, Bell Captain, and Guest Service Desk. I needed all of these at one point or another, the business center is where the Internet and fax equipment are. Most Caribbean countries Internet is not included in the room but at least they have it if you want to pay $5 a ½ hour, which I did. You may not need local currency, but if you do they have the convenience of a currency exchange. The guest service attendants are the staff who helps you the most, with what is going on at the resort and the local area, get to know this person once you arrive. They do speak multiple languages which helps all types of guests.
You may not need to leave the resort at all because the activities are plentiful, with a great beach and volleyball court. I love volleyball, so this was perfect for me. Many people on my travels seem to have the same affection for the beach like I do, but there are also many pools for everyone's taste. Adult only pools ensure no screaming children and a time of true relaxation, yeah!! If you have children, send them to the Kids Club where they are supervised and have a great pool of their own which includes fun slides, showers and toys to please every kid. The Spa pool is available for those people that love to meditate and have peace, quiet and tranquility. What would a resort be without a Jacuzzi and this place has one right on the beach. Can you say r-e-l-a-x-I-n-g… jump into the Jacuzzi and then run into the ocean for a dip, this of course is my favorite combination. Don't forget the first class Spa to get aromatherapies massage and to help your body relax during your stay. You do need to pay extra for the spa services, but it is worth it.
Food is what most people talk about when they travel, "what am I going to eat and when am going to eat it" well you don't have to worry here. You can eat whenever you want, from a buffet hall, for Breakfast, Lunch and Dinner to Ala Carte restaurants. If you are not used to an All-Inclusive Resort, most resort have a big dining area, where all the guest of the hotel can eat buffet style. Then they also have an a la carte type restaurant where you get to pick items off a menu but there are no additional charges but you feel like you are in an exclusive by reservation only restaurant. Sun Village has 3 excellent a la Carte restaurants, Malibu, Citrus, and the Lemongrass. All with different menus and ambiance. The a la Carte restaurants are only open for dinner and you need to make reservations in advance to get in.
While staying here, you can stay in either a Master Suite, a Spa Room, a Presidential Suite, and or Bungalows, type rooms or accommodations. All again with different amenities and prices for each type of room. With the base price from $139 per person and up, you have many options for your budget and type of services you want. For person or groups that want top of the line rooms, you can stay in Bungalows, which is a separate suite style accommodation, restaurant, bar, and pool area. This would be a perfect spot if you want more privacy and premium services.
I really enjoyed staying in the Spa Room because I had my semi-private pool, Jacuzzi; the gym was next door, the rooms were really large and spacious. I was near the beach and short walk to all the restaurants. The one thing I am sure you will be impressed with no matter where you stay on the property it has impeccable service and well manicured landscaping. I did not want to go home.
This resort is also down the street from the Swim with the Dolphins programs, scuba dive with the dolphins, sea lion encounters, and Bravisimo the brand new nightclub and Las Vegas Revue show which is the main reason I came to the Dominican Republic. You can walk to these great attractions. Of coarse, your guest service director at the hotel can help you with sailing excursions, white water rafting in the mountains, snorkeling, and so much more which I plan to do too. Sun Village is perfect for weddings, honeymooners, families, and couples that need a get away from the day-to-day grind of life and just relax with the Dominican style, beauty, grace, and services.
Contact Information:
Sunvillage Resort & Spa 
1 Paradise Drive
Puerto Plata, Confresi Beach
Dominican Republic
Toll Free Phone: 1-866-970-3377
Get More Information on This Adventure!!!
Experience adventures like the one found in this article and others by using TropicalAdventure.com Vacation Planner. Simply fill out our Vacation Planner form and you will receive FREE information about this activity and others that you may be interested in. Click below to sign up.