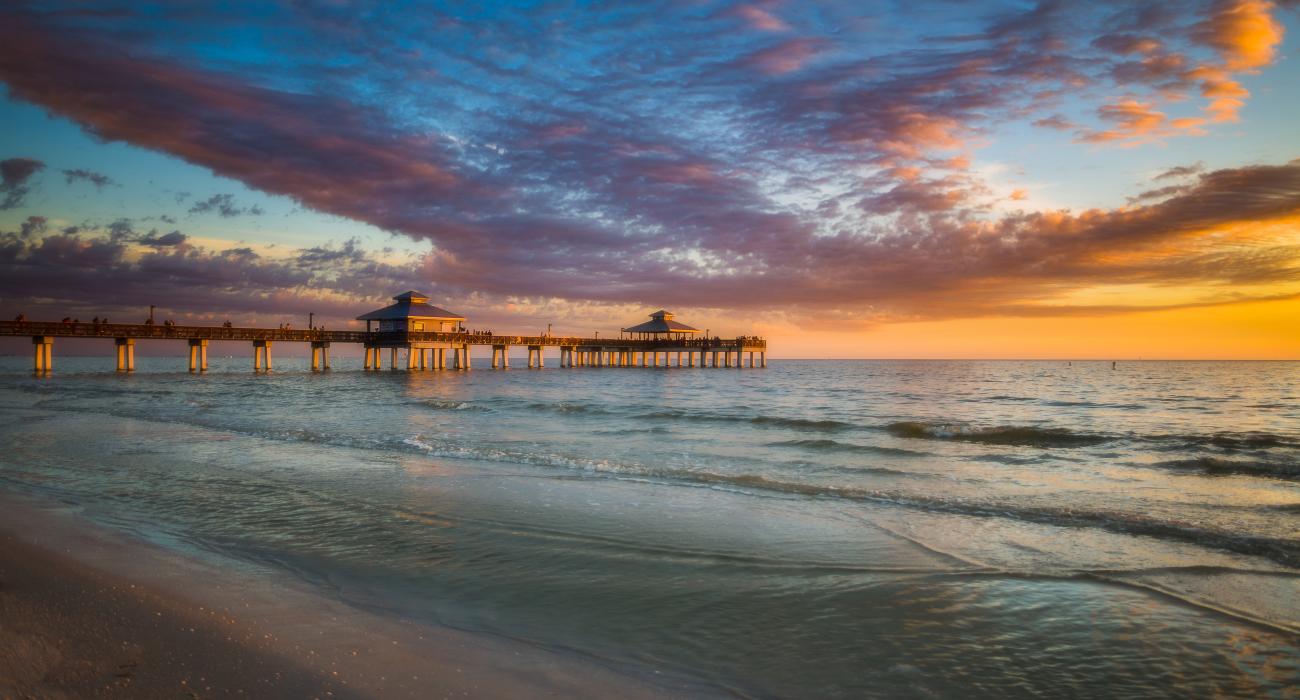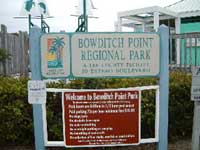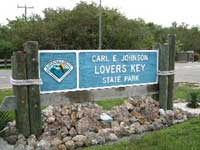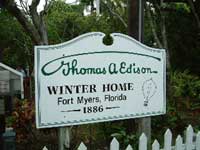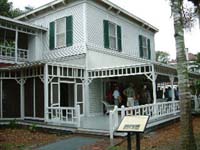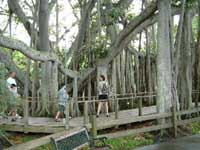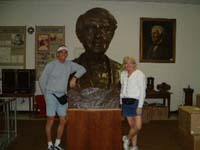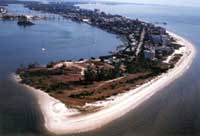 From my home in Ft. Lauderdale a day trip to the west coast of Florida is satisfying. Our first trip to the Ft. Myers area allowed us to explore some of the best attractions around, Thomas Edison and Henry Ford's house, Bowditch Point Park, and Lover's Key State Park.
The Thomas Edison and Henry Ford house was an enjoyable start to our day, but finding it was a little difficult. There weren't any signs off I-75, the main North/South highway on the west coast, so I had to guess where to exit. Now I know. Your best bet is to get off at Anderson Avenue heading east. Anderson turns into 867 South, which takes you directly to the Edison/Ford house. The road to the house is lined with magnificent palm tress, and the sign to the house is so small you're likely to miss the house. Keep your eyes open and look for the signs.
Once on the grounds, we were more than ready to get out of the car for a walk around. A tour of the grounds must be done with a guide. A ticket is purchased at the check-in desk. A huge Banyan Tree stand majestically at the entrance. What a sight to see! The guides said some Banyan Trees in India grow up to 1 mile wide. Incredible! The landscaping and grounds are well kept, with many different species of plants that Mr. Edison was sure to experiment with. There is also a big forest of Bamboo on site. The bamboo leaves make a soothing wind chime sound when they brush up against each other.
At the museum we had an opportunity to learn a great deal about Mr. Edison. Did you know…Thomas Edison was one of the most prolific inventors of the nineteenth century? He is credited with the development of the first practical incandescent lamp (1879), the phonograph (1877), and the world's first central Electrical Power Station (1879).
Edison was born in Mila, Ohio, on February 11, 1847. When he was fifteen, Edison became manager of a small telegraph office. Soon he devised ways of improving the equipment. At twenty-one, Edison received his first patent for the stock ticker. In 1871 he established his own manufacturing company in Newark, New Jersey. By 1878 Edison had begun experimentation on an electric lamp. On October 21, 1879, he succeeded, using a carbonized cotton tread that glowed for forty hours.
Throughout his life Edison received over one thousand patents on inventions like the kinetograph (an early motion picture camera), ore separation and a nickel-iron-alkaline storage battery.
After spending a few hours exploring the home, we sat down in a shady picnic area to enjoy our packed lunch of sandwiches and drinks. For those of you who prefer to "eat out", they also have a concession stand on the ground.
The Edison and Ford Homes are superb and interactive ways to learn about the history of a couple of fascinating men. See below for a Schedule for the Edison and Ford homes. From the Edison and Ford homes, we headed south on 867 to Ft. Myers beach. This road takes you directly to the beach. It's about 1/2 hour drive to the beach from the homes. Ft. Myers beach has a peaceful atmosphere, not overly touristy, with pleasant looking buildings. We had a feeling of being in Martha's Vineyard.
We made our way to Bowditch Point Regional Park. The west coast of Florida has some of the most spectacular sunsets. We were looking forward to the sunset, but unfortunately, the day was overcast. The park is a situated on the tip of Ft. Myers beach, and overlooks the ocean and the inlet. The locals say this is a great location to watch the sunsets. As we peered out over the water we realized we were almost alone, with only the white, squawking sea gulls among us. The park had plenty of parking, bathrooms, and Bar-b-que pits.
The Bowditch Point Regional Park is open from sunup to sundown. For more information, contact Lee County Parks and Recreation at (941) 463-1116.
The Bowditch Point Regional Park is located at:
50 Estero Boulevard
Fort Myers Beach, Florida 33931
From Bowditch Point Regional Park we continued south on the 865, Estero Boulevard, until we came to Lover's Key State Park. Lover's Key State Park is large park made up of smaller islands including Black Island, Lover's Key, Inner and Long Key. This 1616-acre area features canals and tidal lagoons fringed with mangroves, which support an array of fish and other aquatic animals.
There is plenty to discover at this park. You can hike the nature paths to the pavilions that overlook the Gulf of Mexico, or to the large deserted beaches. There wasn't another person in the park that day. They also have a kayaking guide in the park. You can rent kayaks and paddle through the park, from the inlet to the Gulf. It was a special treat to find this pristine property still available to the general public, right next to a seaside building development.
Lovers Key State Park is located at:
8700 Estero Blvd.
Ft. Myers Beach, FL, Florida 33931
(239) 463-4588
The Ft. Myers area has plenty to do for the beach, nature and history lover. We were pleasantly surprised with its beauty. Next time we look forward to discovering Sanibel Island and Captiva Island, which are both in the Ft. Myers area. These islands are some of the most beautiful areas in Florida, from what I've been told. That's another Tropical Adventure for yet another active day.
Get More Information on This Adventure!!!
Experience adventures like the one found in this article and others by using TropicalAdventure.com Vacation Planner. Simply fill out our Vacation Planner form and you will receive FREE information about this activity and others that you may be interested in. Click below to sign up.