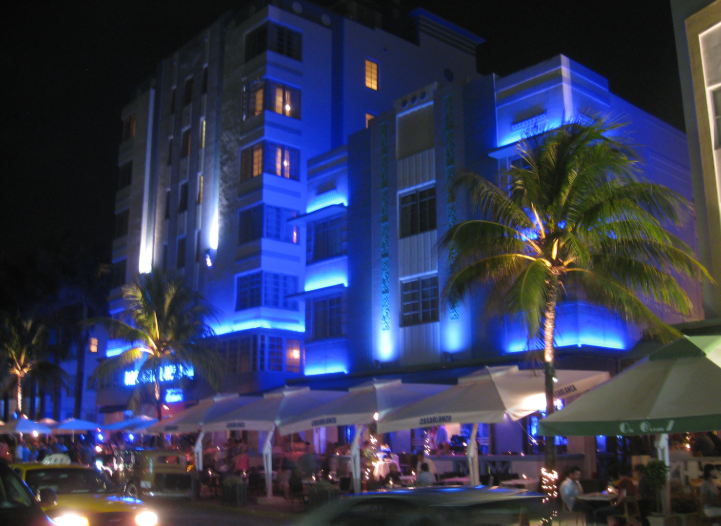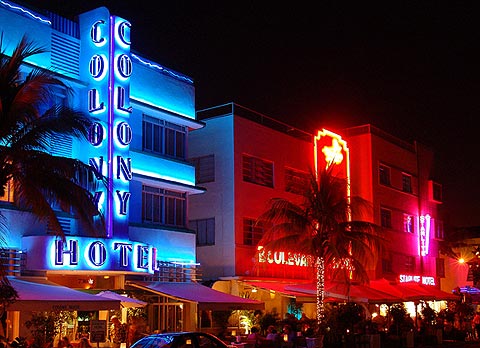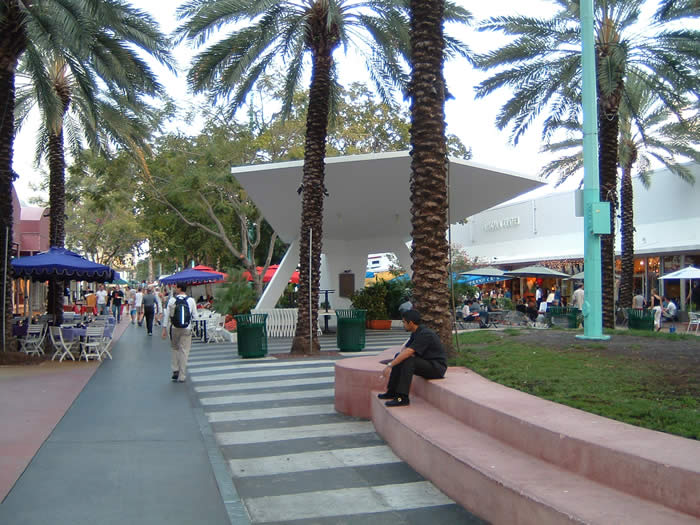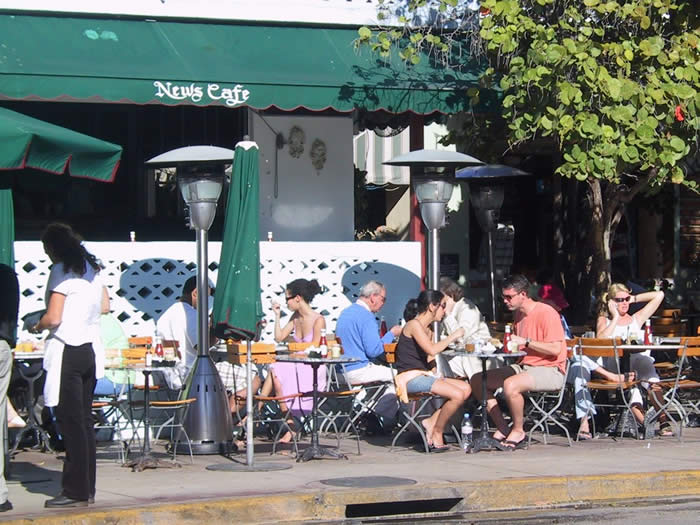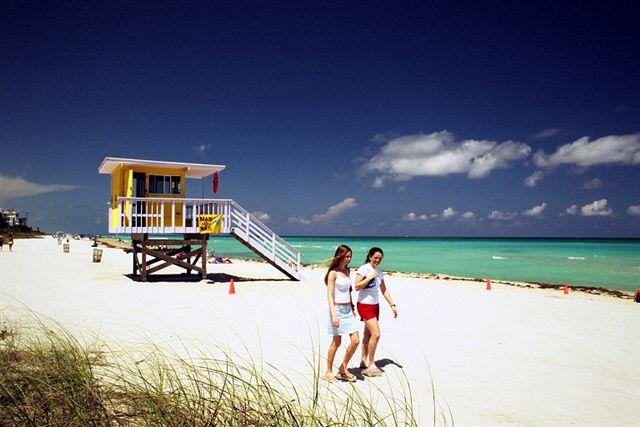 s a recent college student, of course, I went away for spring break one year. My roommate's and I looked for a sunny and warm destination to get away from studying and South Beach Miami was an obvious choice for us. My college had Spring Break at the end of March and the weather in the North East was still chilly. My girlfriends and I were ready for some fun and sun in South Beach Miami because it has an interesting history, plenty of things to do, and great places to stay and eat.
Miami is the only major city in the United States founded by a woman, Julia Tuttle, who was a local citrus grower. It's amazing that the population of Miami in 1896 was just over 300 people and today Miami and its metropolitan area grew to nearly five and a half million residents in just 110 years (1896-2006). The city's nickname, The Magic City, comes from this rapid growth. Winter visitors remarked that the city grew so much from one year to the next that it was like magic. South Beach has numerical streets, which run east west, starting with First Street and the largely pedestrianized Lincoln Road (between 16th and 17th). It also has 13 principal Roads and Avenues running north-south, which, from the Biscayne Bay side, are Bay Road, West Avenue, Alton Road, Lenox Avenue, Michigan Avenue, Jefferson Avenue, Meridian Avenue, Euclid Avenue, Pennsylvania Avenue, Drexel Avenue, Washington Avenue, Collins Avenue (Florida State Road A1A), and Ocean Drive. I would suggest getting a map upon arrival that outlines some local attractions and gives you a basic knowledge of the streets so you can walk around.
There are many fun activities and things to do in South Beach Miami but the first thing we did was slip into our bikinis and hit up the beach and warm weather! The beach was filled with people and was the cleanest beach I have ever been to. Its sand was whiter than most beaches I've been to and the water was pretty clear. We decided to rent two beach chairs that were so comfortable. I felt like I was lying on a bed at the beach. There were a lot of attractive people relaxing and swimming at the beach. After resting, we were very eager to play a game of volleyball with a couple of cute boys that spotted us on the beach. It was actually a close game but they won by 2 points. We were on the beach right across from the Gianni Versace House on 1116 Ocean Drive, which was the place were the famous designer Gianni Versace was murdered. The city has allowed for the mansion in 1997 to be converted into a member's only club. The house is also available for private events. The mansion is definitely a sight to see.
After a day at the beach, we would clean up and find other activities to do in the area. We enjoyed window-shopping a lot and walked over to Lincoln Road Mall. Unfortunately being a college student didn't give me a lot of time to have a full time job, so I could not spend any money but just window shop. It was fun walking by Versace, Nicole Miller, Armani and other stores located on Collins Avenue Fashion District. Another reason why I visited South Beach was because I wanted to try out modeling in a different market outside of New York. So, everyday I visited certain agencies with my pictures including Next, Ford, Irene Marie Agency on Ocean Drive. Other South Beach Miami fun thing to do is to take the Miami Duck tour which is a unique way to sight-see Miami's Parks, Art Deco and Espanola Way. Also you can swim with the dolphins from South Beach, which I could not do this time.
A lot of my friends that work at clubs in New York City used to work at clubs in Miami so our nightlife was out of control fun! I would suggest checking out private beach parties at Niki Beach, located on 1 Ocean Drive, during the afternoon or at night. A few clubs that are definitely worth checking out are Mansion located at 11235 Washington Ave, and Cameo located at 1445 Washington Ave. These three places were my favorite; however, the regular bar scene was a lot of fun too and a lot less expensive than paying admissions for entering these elite clubs and drinks within. The two bars I would recommend are Senor Frogs and I absolutely loved the crowd at Laundry bar, on 721 Lincoln Lane. At this bar you can enjoy a drink while doing your laundry and nothing is better than clean clothes and flirting with locals who know their way around and let you in on local hotspots.
Now that I enticed you to have fun in the sun in South Beach Miami, I'm sure your wondering about traveling to get here and how to get to your perfect spring break accommodations. For travelers who are traveling by plane there are two airports you can choose. The Miami International Airport is 10 miles west of Miami Beach and has all major domestic and international carriers. The other airport is Ft. Lauderdale/ Hollywood International Airport and is 25 to 30 miles from Miami Beach and all most major domestic (all discount carriers fly to Fort Lauderdale only) and some international carriers serve this airport.
For a cheaper ride to your destination in South Beach, I would suggest using a "Shared Taxi/ Shuttle Service" which costs around $18 per person. The shuttles are located right outside the baggage claim area with no need for reservations. If you take a personal taxi the cost ranges from $24-$52. The initial rate is $2.50 and $.40 for every 1/6 mile and there is a flat rate from the airport to Miami Beach based on the 5 different zones.
Depending on your budget there are a variety of hotels to choose from. Miami Beach International Travelers Hostel located at 236 9th street, phone number 305-672-2137, and rooms start at the low cost of $32 a night. Other hostels to check out are the Clay hotel and hostel, Jazz on South Beach Hostel in Miami and South Beach Hostel. However, if you are a few girls traveling alone, the security and safety at hostels may not be worth the cheap bargain. I would suggest staying one less day and spending the extra money on a nicer room but that will be a choice you need to make. We stayed at the Beacon Hotel on 720 Ocean Drive, phone number 305-674-8976 at $140 a night and got the cheaper room because we shared a bed. The Clevelander Hotel was also reasonable choice. When traveling I like to check out package deals on expedia.com and orbitz.com.
When deciding where to go for spring break, you can be a little lost but this review of my spring break in South Beach Miami should help you start making your traveling plans for this destination. I totally recommend Spring Break in South Beach Miami because of the warm weather, beach activities, food and hotel accommodations were excellent, the partying, and the beautiful people. What more could a student seeking a spring break destination ask for?
Get More Information on This Adventure!!!
Experience adventures like the one found in this article and others by using TropicalAdventure.com Vacation Planner. Simply fill out our Vacation Planner form and you will receive FREE information about this activity and others that you may be interested in. Click below to sign up.