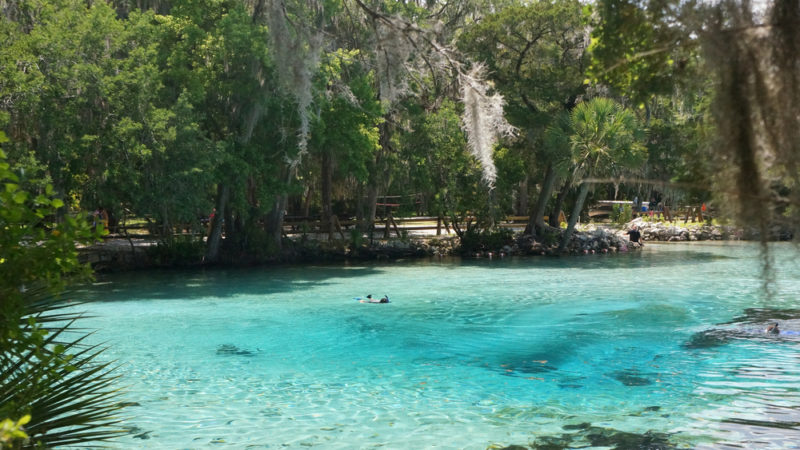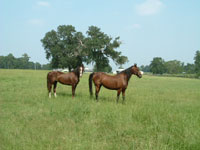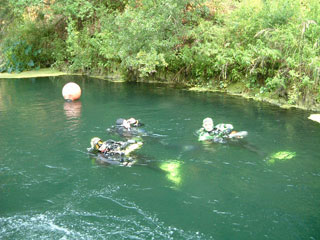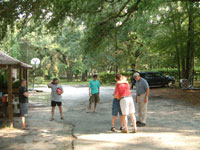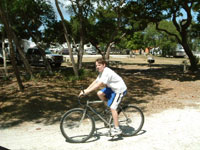 Contrary to a great deal of native Floridian's belief, many tourists view Florida as a place of intrigue. They think of it as a tropical destination just made for relaxation and entertainment. As a native Floridian myself, writing about the state has helped me to realize that all of the beauty, history, and mystique that attracts and beholds visitors was staring me right in the face when I was growing up. Now, I find myself learning about seemingly unlimited special places, things, and individuals throughout the state.
Most recently, I have discovered Ocala, a significant city in Marion County Florida, with a population of 46,453. The word Ocala is thought to be a derivative of a Timucuan Indian term meaning fair land, or big hammock. A drive down Fort King Street of Ocala provides a confirmation of this definition, and a glimpse at the incredible background of the city.
History
Fort King, within the city limits of Ocala, offers a window into the history of the city.
Archaeological efforts are ongoing, with the goal of revealing sensible and significant findings that tell the story of the city's past. So far, we know that Fort King was built before the Second Seminole War of Florida, which took place between 1835 and 1842.
Exploring the city will demonstrate the maturity of the city, with umbrellas of 100-year-old trees, along with gorgeous old Victorian homes renovated with grave consideration.
At the same time, a more intimate visit of the city will reveal the vigor and rawness of the place, with dogwoods and azaleas lining the roads, and fresh water springs and luminous rivers nestled in quiet spots. While the visual sites are one way to enjoy Ocala, partaking in the activities are yet another. When thinking of being active in the outdoors, think of the Ocala National Forest.
Ocala National Forest
The Ocala National Forest is the most heavily visited of the three national forests in Florida. It's a natural wonderland boasting a diverse ecosystem, with huge live oaks and palms standing tall and proud. In addition, the pine scrub ecosystem found in the forest is known to be the largest continuous forest of its type. The landscape rolls on and on with coastal lowlands, and various types of wetlands including rivers, springs, swamps, lakes and ponds. These wetlands provide much entertainment and adventure in the Ocala National Forest. People come from all over to canoe and kayak in the waters.
The climate in Ocala allows for outdoor activity all year round. When visiting Ocala you can look forward to hiking, canoeing, bike riding, swimming, camping, and much more.
Hike
Although mostly flat, the Ocala National Forest offers visitors some rewarding hiking. The Florida National Scenic Trail passes right through the park and provides encounters with yellow longleaf pine forest, deer, fox squirrels, and many species of birds. The trail is part of a 1300-mile route that wanders from Gulf Island Seashore near Pensacola to the Big Cypress National Preserve near Miami.
Canoe
For seven miles, Juniper Creek meanders through the Juniper Prairie Wilderness, amidst prairie ponds and pristine wetlands. Before becoming a typical slow moving Florida river, the first 2 _ miles is narrow, only about six feet max, so some skill is required before shoving off. The trip starts at Juniper Springs Recreation Area and ends at the Highway 19 bridge. For those less inclined to paddle, the creek is also fantastic for swimming and camping. No matter what you do near Juniper Creek, you will be blessed with a landscape comprised of palms, cypress and hardwoods of all kinds.
Bike
How about a bike ride through a tropical paradise? That's what you'll get in Ocala National Forest. There is a 22-mile curvy bike trail. Take it from south to north and you'll encounter a natural treasure, Alexander Springs Recreation Area, with millions of gallons of warm luminous water awaiting a plunge. Its here that adventurers can also snorkel and scuba dive and expect to be entertained by tropical fish and underwater foliage. When the day is done, check out the amphitheatre, buy some groceries at the beach, and then retire to your camping spot within the recreation area.
Wildlife
There are many opportunities for Ocala visitors to view wildlife. There are over 400 species of birds within the forest, as well the unique burrowing owl, bobcats, and the elusive Florida Panther. There are more than 20,000 whitetail deer residing in the forest. To get up close and personal with animals, visit the Doe Lake Horsecamp located in the Seminole District and head out onto the 100 miles of horseback riding trails on one of their beautiful horses.
Aside from the many adventures one can have in the Ocala National Forest, travelers can enjoy an exceptional level of solitude in the forest before they venture back into the hustle of town.
Downtown Ocala & Horse Drawn Carriage Rides
Renovations to downtown Ocala have brought commerce back to life. The town square is now alive with restaurants, art, shops and businesses. The nightlife is blooming also, with plenty of options for dining, socializing and events. For a bit of nostalgia, horse drawn carriage rides are available on Friday and Saturday evenings by Ocala Carriage & Tours, a company dedicated to taking visitors for a ride to remember, on trolley or carriage, through first-class horse farms where riders will encounter Thoroughbreds, Tennessee Walkers, Paso Finos and Quarter Horses, to name a few.
The hour-long journey will demonstrate why Marion County is considered the "Horse Capital of the World". The tours are great for anyone. "Family's love our tour, as the grandparents, parents and children can all venture out of the carriage along the route to visit, pat and take pictures of the horses, in their natural environment," states Mary Garland, owner of Ocala Carriage & Tours. Their celebration style tours include a complimentary bottle of champagne. Arrangements can be made for couples to be picked up from their home or hotel and taken by limo to the company's location to begin their carriage tour. Afterwards, the couple is taken to dinner for an evening of romance. Mary says, "Roses can be ordered for that special romantic setting and rings have been delivered via miniature stuffed animals, bears, or horses."
Ocala Carriage does their part to help protect the environment by taking a carriage, instead of the car, to the store for groceries. After the recent hurricane, they use the horses to move the fallen trees and pull some unlucky people out of the mud.
Ocala Carriage offers a discounted rate of $22 per person for groups of 10 or more people. Senior are honored a rate of $20 per person.
Diving
Another fabulous reason to visit Ocala is to visit Hal Watts and The Grotto, a NAUI Technical Training Facility. Hal uses the "Forty Fathom Grotto" to certify scuba divers in Open Water Certification and referral certification dives. His caters to many levels, starting with beginners. The grotto is an area in a spring, which extends 240 feet deep.
In addition, Hal offers underwater-guided tours. "There are thousands of 30 to 50 million years old (give or take a few years) sand dollar and sea biscuit fossils to see while exploring the beautiful limestone walls or caverns, underwater platforms at 7′, 15′, 30′ and 60′, making teaching classes safe, fun and easy. The Grotto is not open to the general diving public, hence, there is plenty of room to teach," states the Grotto's web site.
Hal provides the necessary equipment, manuals and gas mixes at his facility. He is passionate about he does and is flexible when it comes to scheduling courses just for you. Private instruction is an option, and they also offer a discount of 10% when you enroll in two or more classes.
Eco-Tours
Mike Tracy is a certified eco-tour guide who runs Lazy River Cruises, located right outside of Ocala. When you travel with Captain Mike you have the option of coasting down the Withlacoochee River, Rainbow Springs or Lake Rousseau. What you don't have the option of is encountering plenty of wildlife, including alligators, turtles, eagles and falcons. The voyage takes boaters through Indian country. The area is much as it was when the Native Americans thrived there, greatly undeveloped.
Captain Mike boasts cruises for all tastes. In addition to wedding, sunrise and sunset cruises, champagne proposal and moonlight cruises, Mike will also customize a river cruise just for you. When asked what his most memorable trip has been, Mike says, "There are so many but one of my favorites is when we were coming back from a tour and we saw a Great blue heron and we had seen several that trip. This one was focused on something in the water so I turned off the motor and drifted in his direction. I told everyone to watch this one it looked like he was going to get a fish and at that moment he dove his head into the water and pulled out about a 1lb bass it was still alive and wiggling on the end of his beak. We watched to see what he was going to do and he shook the fish gently trying to get it to the end of his beak. He finally got it to the end of his beak and he threw it towards the bank. The fish was jumping around on the bank and was ready to jump back into the river so the heron walked over to the fish and picked it up with his beak and threw it up into the wooded area and a red-shouldered hawk flew out of a tree and grabbed the fish. Not one person that day had a camera."
Captain Mike also ensures that he does his part environmentally. His participates in the adopt-a-shore program every year, along with a rainbow springs river clean up, and wildlife rescue. Mike also does his daily duty of pulling fishing line out of trees.
Captain Mike offers a drawing for a free trip each month and presents coupons in the local newspaper. There are also group rates and a package available. The package includes a stay at a local bed and breakfast.
Dining
Mary of Ocala Carriage suggests the restaurants Golden Hills, Pinstripes and Carmichaels. She can make reservations for Ocala Carriage clientele. Captain Mike offers a different perspective and says, "There are several great restaurants in the area but my favorite is Stumpknockers on Hwy 200. It is an old guesthouse that has been turned into this rustic restaurant. Great food, great service and great value for the money."
Lodging
There are many hotels in the Ocala area. If you feel comfortable with a chain, choose from Ramada Inn, Hilton, or Courtyard by Marriott. If a local lodge is more your style consider Seven Sisters Inn, Ritz Historic Inn, Country Inn & Suites, Heritage Country Inn, Inverness Place B&B, or Dinnerbell.
Ocala is a marvel existing in a small space of Florida that seems immensely large, with its tremendous natural outdoor wonders. Lets hope it stays this way, with the help of local residents and business owners. Hopefully, they understand what a special place Ocala is, and will continue to keep it as special as they can.
RESOURCES
Ocala National Forest
http://www.southernregion.fs.fed.us/florida/
Visit web site for directions, maps, and information on park areas.
Silver Springs
5656 E. Silver Springs Blvd.
Silver Springs, FL 34488
352-236-2121
http://www.silversprings.com
Marion County Museum of History
307 SE 26th Terrace
Ocala, FL 34471
(352) 629-2773
Ocala/Marion County Chamber of Commerce
http://www.ocalacc.com
Visit web site for information on more things to do when visiting Ocala.
Ocala Carriage & Tours
Mary Garland
352-867-8717
http://www.ocalacarriage.com/
Get More Information on This Adventure!!!
Experience adventures like the one found in this article and others by using TropicalAdventure.com Vacation Planner. Simply fill out our Vacation Planner form and you will receive FREE information about this activity and others that you may be interested in. Click below to sign up.