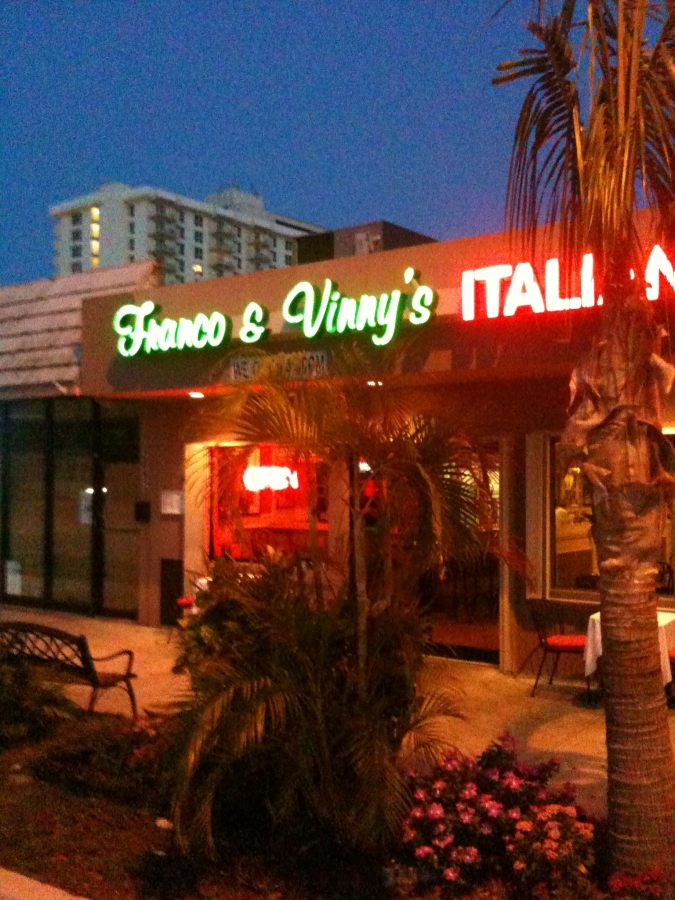 My wife and I went to a local Italian restaurant, Franco and Vinnys – Pizza Shack, which is on Sunrise Blvd and and near A1A.  I used to go to this restaurant in the early 80's and used to really enjoy the homemade meals and decent pizza.
So it has been a long time since I have been there, I would give my experience a B+ and the food a B. The waitress was really friendly and she did well.  We ordered 2 salads, fried calamari, and chicken parmigiana, 1 coke and 1 ice tea. The dinner we split. The food prices were a little on the medium/high side, not cheap for the atmosphere because the dinner room is very casual. Since I was there in the 80s, they have updated the decor a little with titles and a little marble. We spent $50 without tip.
The Food was good, salad was simple with a nice/sweet balsamic dressing. The calamari was a good portion and good. The Chicken parm had a nice marinara sauce on it, the breast was fresh, but the flavor was a little on the bland side. The pasta that came with it was simple and not a big portion. I am glad the dinner bread were there to help fill us up. The bread was really tasty.
Pizza Shack Inc
2884 East Sunrise Boulevard,
Fort Lauderdale, FL 33304-3318 (954) 564-9522
< Map>
Have you been there? What do you think of this place?
God Bless,
Johnny