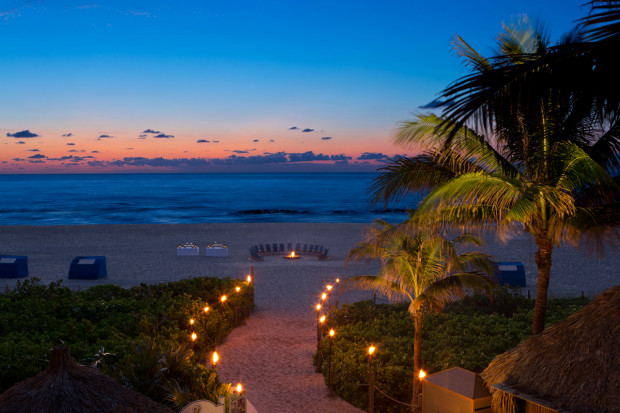 Nestled between the Atlantic Ocean and the opulent city if Riviera Beach, Singer Island offers visitors and residents a charming blend of beautiful natural landscapes and upscale accommodations, it's a vacation spot you should consider coming to. One of the best kept secrets in Florida and just a short drive from the Palm Beach communities, the island (well, sort of island, there's water on only three sides) provides myriad activities for both adventure seekers and beach bums alike.
Outdoor Fun Just Got Funner
There's your ordinary state park, and then there's John D. MacArthur Beach State Park. Take your family here only if you want to have a blast.
You can fish, snorkel, swim, kayak, hike through beautiful nature trails, bird watch and have a picnic. Oh, you can also scuba dive and discover vibrant tropical sea creatures of the Gulf Stream.
See How the Other Half Lives
If you aren't filthy rich yourself, you can at least see how they live. Hop aboard the water taxi offered by Sailfish Adventures and take a narrated sightseeing cruise of historic Palm Beach to view the magnificent homes of the Palm Beach elite. For those who can't handle all of that opulence, they also offer cruises on Thursdays that provide a very entertaining arts and crafts show as well as a sunset celebration.
Enjoy Some Maritime Fun
Spend a day at the Palm Beach Maritime Museum and tour the restored "Kennedy Bunker," a bomb shelter that was built for President John F. Kennedy. You can also explore an historic coast guard station at the southern end of Peanut Island, relax on the outdoor deck, play horseshoes on the lush lawn, or just shop for little keepsakes in the nautical-themed gift shop.
Peanut Island = Party Island
What would you do with 79 beautiful acres? On Peanut Island you can do just about anything. This is an island where families go to swim and have a picnic, campers go to set up their tents and cook over open fires, and partiers go to chill out with a cooler full of beers and some old Jimmy Buffet tunes. And the nice thing is, there's room enough for everyone. The island has an open channel to the sea and a paver-lined path that circles the entire island. Add to this a fishing pier, artificial reef and campground and you have a lovely excuse to play all day long.
The Vacation That Roared
Just outside of Singer Island is Lion Country Animal Safari, Florida's only drive-through safari and walk-through amusement park. Spend the day with your family or friends exploring the thoughtful landscapes in search of over 900 animals. Feed the animals, enjoy 6 fun rides, slip and slide through the water sprayground, eat some good food and take in a little shopping. This is definitely one of those destinations that has something for everyone.
Dolphin Swim Tour
You may not think you can swim with dolphins in Singer Island, really you can not but there is a tour service that will pick you up from any resort on the Island and give this opportunity. This pick up service is unique because it will take you from Singer Island to Miami where you can actually get into the water with the dolphins and get to swim with them, a real crowd pleaser!
Play Ball!
Or at least watch other people play it. Roger Dean Stadium Complex is the only stadium in the United States that hosts four minor league
teams: The Jupiter Hammerheads, The Palm Beach Cardinals, The Gulf Coast Marlins, and The Gulf Coast Cardinals. It's also the only stadium in Florida that hosts two major league Baseball teams annually for spring training: The Miami Marlins and The St. Louis Cardinals. Take in a night game and enjoy one of the greatest games ever invented.
There are so many wonderful things to do on and around Singer Island, you may never want to leave.