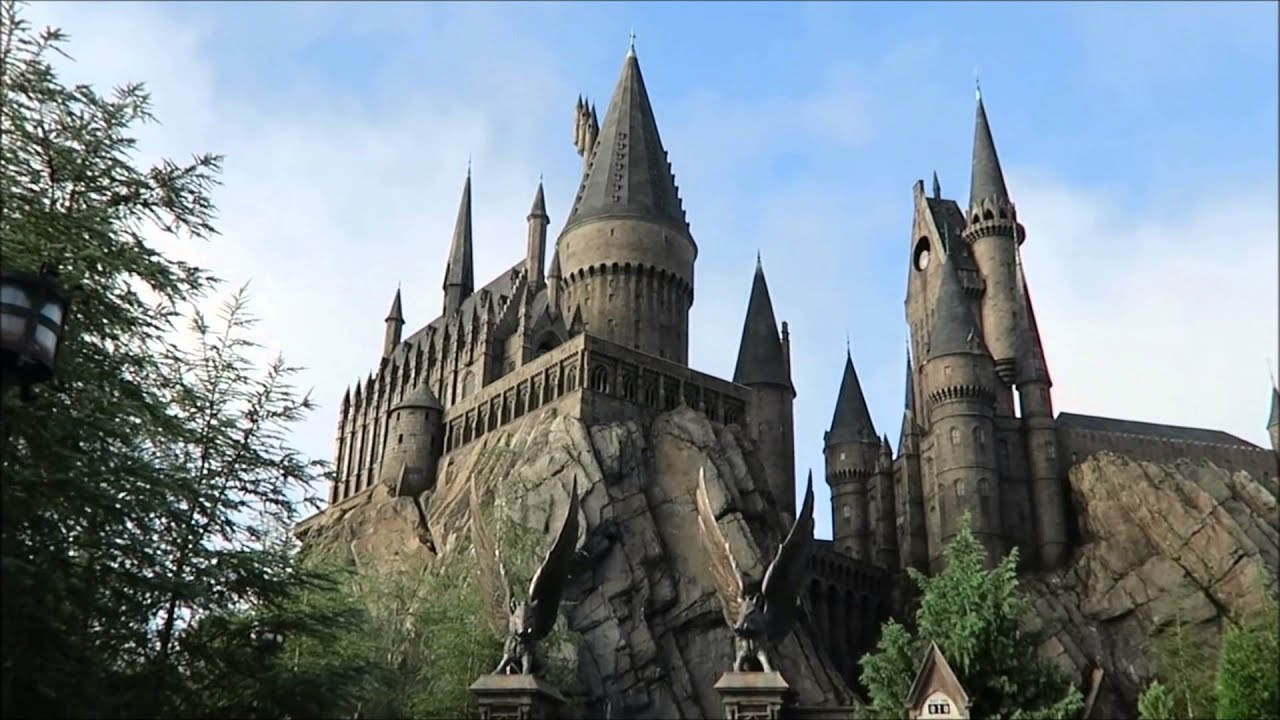 The actual world of Harry Potter is towards the extreme back of Islands of
Adventure Universal Studios, upon arriving there we saw a frosted village of snow that covered each and every building to fully reenact every possible detail seen in the movies. Every store, every ride, every restaurant, every activity, was fully authentic and true to the movie itself. My girlfriend and I can both confirm this as we are both watched in the movies several times and had a very high expectation for this park. It was no shock to see that every store has a line of about 400 to 500 people. These numbers are not exaggerated. And each ride had a similar value; please take note that this is starting at the earliest possible time when the actual park itself is not open till 9 AM. However what must be duly noted is that the creator is of the wonderful world of Harry Potter have incorporated miraculous and extremely ergonomic and efficient methods of crowd control that make waiting in line essentially a breeze. This is more evidence in the waiting for the rides to Harry Potter than in the shops.
Our first endeavor was to embark on the terrifying yet thrilling Dragon challenge. This ride was previously known as Dueling Dragons, which was a popular and still very well known ride to this day. The line for the Dragon Challenge is more easily described as a maze of people all excited for what is about to come. Once on the ride, your first part of the ride you climb a steep mountain and each level of increasing elevation is only followed by even more height and elevation. Up and up you go until the mist and clouds are literally at your head, please note that this is an effect of the park, you are not actually in the clouds. After arriving at the top of the mountain still waiting in the maze that is the line we entered, the actual inner activities of the ride itself, after finally waiting about 45 minutes we were the next in line, my girlfriend had my hand and she turned to me and said "I'm very scared please make sure to not let go while were on", I turned to her and said but "I won't be able to hold your hand if I fall off ", in which she slapped me. Despite this comic relief we entered the Dragon challenge, as many of you might know that I'm more familiar with the wonderful world of Harry Potter there are two dragons to choose from, we chose the Hungarian Horn Tail over the Chinese fireball due to the rumors of its lesser intensity. We were strapped in and ready to go, the rides slowly started to move forward with each others hands and held their breaths as we knew that we were about to fall probably 165 feet, as he got closer we saw the edge coming and I look to my girlfriend and I set out and with that we plummeted 200 feet at around 60 mph in a death-defying spiral that cannot be fully described by mere words. At the end of the ride began to slow down I remember only very little which include a lot of yelling, some good some bad words and a lot of crying out to God. We cannot tell you how the Chinese Fireball compares to the Hungarian Horntail because truthfully we did not go back, fearing for our lives, but ultimately we can say it was a lot of fun.
Next up on the list was the ride called the flight of the Hypogriff. This ride
entails a lot of aesthetic beauty and was meant for smaller children, at a much slower intensity level than the Dragon Challenge ride, which is right up our alley. The ride was still very fast moving at 40 mph and did have many very tight turns and sharp drops. However we can safely say nothing compares to the Dragon Challenge in terms of excitement and thrill. Next up we decided that we needed a break from all of the action, and decided to do a little shopping.
My girlfriend and I roamed from shop to shop only to be bombarded by an endless supply of people. After approximately a 40-minute wait for each shop we were able to see all the goods and items that are well known to the Harry Potter films. In the end after all of our shopping my girlfriend ended up buying a $40 T-shirt that had the Mystery of Magic emblem on it, a $25 picture frame and several postcards for a dollar each, she also decided to buy her boyfriend a lovely Griffindoor hat, which I was very appreciative of. Last but not least the highlight of the Harry Potter World, was the ride known as the forbidden journey. For many of you diehard fans this is the ride you of all been waiting for, the quintessential and purest form that relives the movie itself. The Forbidden journey takes you in an epic voyage through Hogwarts, the renowned school that Harry Potter grows up in and learns to master his skills. What really makes this ride unique and stands out from every other ride not only Islands of adventure but in the entire universal, is that they have incorporated the actual wait time, that is the time you take to actually get to the specific ride itself, as part of the overall Castle.
The line to the ride to the Forbidden Journey was about 4 miles long once
again this is not exaggerated. Mile by mile as you get closer more and more details are revealed to you about Hogwarts. Just as in the movie you enter through the gates you go up the long stairwell, and you finally answer the school itself, each partition of the line represents a new rooms and areas within Hogwarts, bottom line the wait itself to the ride is as much fun as the ride itself which is very hard to do in a place like universal. After about an hour of waiting we finally reached the end of the last we entered a shiny room of mirrors and dark Dungeness candles and monuments, and were finally asked the board to device, in this case a flying bench. As the ride began to slowly move we were both riddled with excitement and anxiety. The ride itself can be compared to an endless movements of ups and downs and sharp turns, side to side shifts and extremely sharp drops and shaking, as the ride commences there is a video screen on every inch of the wall, that shows Harry Potter himself guiding you through and giving you the tour of Hogwarts. But it's not that simple, while you are on your flying bench and he is on his flying broomstick. You are to be chased by every single villain ever to play the stories of Harry Potter. This included the dementor's werewolves, the undead death eater's zombies, and every other crypt filled character in the novel. Needless to say it is one of the most thrilled intensive rides in all of universal. At the end of the ride we were fully satisfied and couldn't wait to do it again, we ended up doing it several times over, and the pictures came out amazing.
After a full day of rides fun shops and other activities, we decided to take our one splurging event and go to the three broomsticks, which is the most popular restaurant in Hogsmeade. My girlfriend and I decided to split a dish of fish and chips, one delicious butter bear, 2 cups of water, and the truffle chocolate dessert. Surprisingly the food was enough to fill us both, but needless to say we were not stuffed. However a very important note to those of you reading this with intensity, please do not try the frozen butter bear, as it's frozen texture does not allow you to actually appreciate the drink as much as the unfrozen kind.
After we finished our time in the Wonderful World of Harry Potter, it had fulfilled every desire we had about Harry Potter and his stories. Overall it was a great experience and one that will never forget, we do encourage all of you to go to Orlando and experience the magic of Universal Studios and Islands of adventure, it is without a doubt an experience of a lifetime and one that you will not soon forget.
Story By Tarek Khaleel