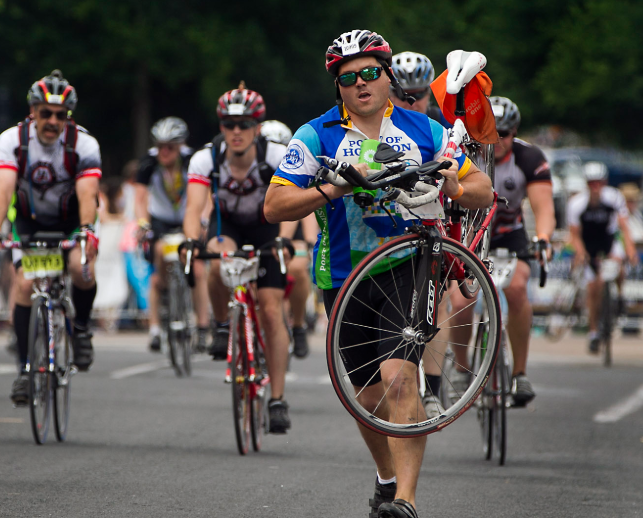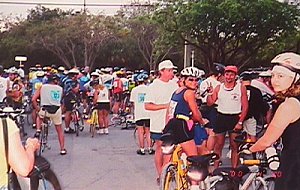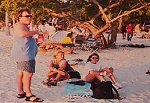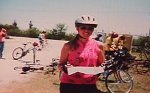 One riders' account of the 2000 Multiple Sclerosis 150 Bike Ride
---
Well, I'm tired, I'm sore, but I DID IT! 75 miles yesterday – what an accomplishment, my longest distance to date. And then, 75 more miles today!
Having just started biking again last August, I'm glad to be back on top of two skinny tires. I was originally introduced to cycling as a kid and road with the Ann Arbor Bicycle Touring Society through the rolling hills of Southeastern Michigan on weekends and during the summer. I'm 29, now, and the chance to participate in the MS150 was just what I needed to kickstart me back into the sport. I still ride primarily on weekends, as work keeps me at the office during the week. So, seeing the advertisements for the ride, training, and gathering sponsors, has kept my off hours full in recent weeks.
At the starting line the organizers got us motivated by having us chant "I – am – crazy" in unison. There were over 900 of us out there in our brightly colored jerseys either proving to ourselves we could do it, showing how dedicated we were to the cause, or both!
Back on my comfy couch, and finally off that cycling seat, I'm reviewing the highlights of the trip;
REST STOPS!
There were lots, they were well stocked, and the volunteers were wonderful! They kept us motivated, hydrated, and well fed. Each stop, 14 in all, had a different theme. From wild jungle animals to a Hawaiian luau, the fruit selections and music matched the decorations and spirit of the crowds that gathered to refuel.
BEACH PARTY!
The band sounded great – we danced in the sand, right on the beach, and twisted out the kinks from the day's ride. The waterfront location was picture perfect and we all applauded the beautiful sunset at the closing of day one.
OTHER RIDERS!
What a fun bunch! Yes, we are all a bit on the crazy side to consider 150 miles of riding a fun filler for those precious few weekend day's off, but put that spirit in a group of 900 plus riders, their families, and friends, and it's a recipe for a kickin' good time. We shared riding stories, tips, and kept each other from giving up. Keep on pedalin'!
THE ROUTE!
From tropical Miami MetroZoo to the beaches of Key Largo, we were treated to a well designed route with safety and comfort in mind. The rest stops were in all the right places and the course was well marked with police officers and volunteers at any questionable intersections. In South Dade county we saw old Florida homes, tropical groves, farmland, and plenty of beautifully landscaped nurseries. Our trip through the eastern Florida Keys took us through a tiny fishing village and over the much dreaded Card Sound Road bridge. I missed seeing any alligators, but did get glimpses of colorful birds, lazy horses, contented cows enjoying the South Florida sun, and serene fish swimming quietly through the roadside canals.
For anyone who has thought about spending a weekend bicycling, just for the sheer fun and craziness of it, the MS150 ride is a definite hit! The coordinators and volunteers were tireless in making all the logistics possible, keeping us informed, and most of all, motivating us to have an incredible experience! The funds we were able to raise for the Multiple Sclerosis Society will help their efforts immensely. In the end, we all benefited by donating time, money, special skills, or just one very tired set of legs!
Get More Information on This Adventure!!!
Experience adventures like the one found in this article and others by using TropicalAdventure.com Vacation Planner. Simply fill out our Vacation Planner form and you will receive FREE information about this activity and others that you may be interested in. Click below to sign up.