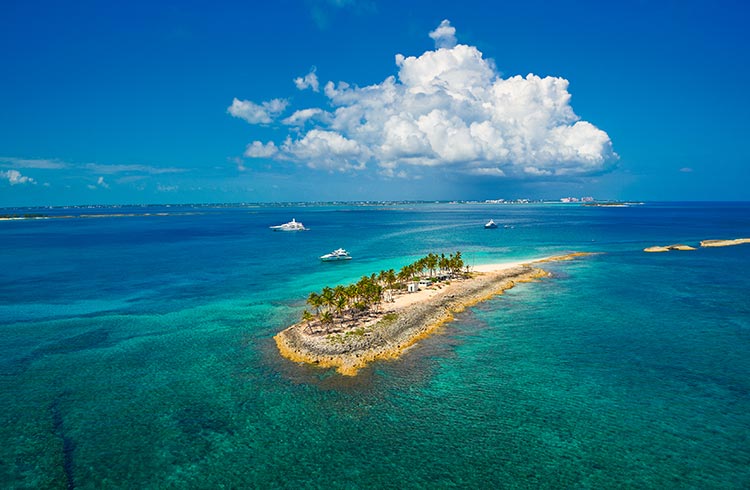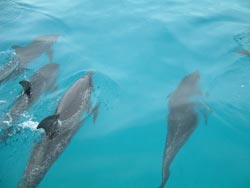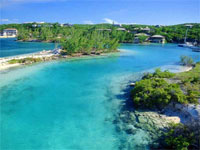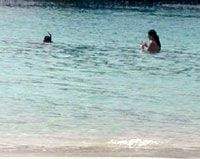 The Bahamas are steeped in history, rich in tradition, and teeming with life. Nassau, the capital city of the Bahamas, has propelled itself into the modern era as a king of commerce, industry and communications while still maintaining its old world charm via its well-kept colonial architecture, markets, and local events.
The city is the largest on the islands of the Bahamas, with a population of more than 150,000. Located on the island of New Providence, and linked via bridge to the magical Paradise Island, Nassau is where one can discover pristine beaches, fancy hotels, a hefty casino, and entertainment to match that of Las Vegas.
History
The captivating history of the Bahamas resembles that of most other Caribbean islands. There were pirates; there were Indians; and there was Columbus.
About 7,000 years ago, the Siboney Indians inhabited the islands of the Bahamas, surviving on conch and fish. The Arawak Indians, also called Lucayans, from South America followed. Unbelievably, the Lucayans rose to a population close to 40,000 by the late 15th century, until Chris Columbus arrived. As a result, the tribe was exterminated quickly. Then, there were the people of Abacos, who survived for years by pillaging ship wrecks off shore of the Bahamas.
Nassau was founded in 1656 and was actually ruled by pirates in 1700. Edward Teach, a.k.a. Blackbeard, commandeered Fort Nassau as his residence while consistently angering the British Royal Navy until Woodes Rogers, a former privateer, was named Royal Governor of Nassau in 1718. He gave pirates a break, by providing them pardons in exchange for ceasing their operations. The only exception was Blackbeard, and about nine other swashbucklers. The government finally caught up with Blackbeard, killing him in the waters off of Virginia in June 1718.
The people of the Bahamas are proud of their history and how far they have come. From oppression to celebration, the residents of the islands manage to honor their background in various ways. They hold festivals, set up exhibits and, of course, organize numerous guided tours. Bahamians are very welcoming to tourists. They want you to join them in their lifestyle. They want to spread the knowledge of who they are and what they've come from.
There are some incredibly unique historic facts about the islands. According to www.BahamasGateway.com, "a stromatolite limestone reef on the eastern shore of Exuma is considered the oldest evidence of life on earth?" How about this…"there is said to be nearly 500 Spanish galleons resting in the waters off these islands?" They are both true, quite enticing, and seem to "tell the tale" of the islands.
Today, Nassau boats one of the major port-of-calls in the Caribbean, where enormous cruise ships from all over the world sail into everyday. From piracy to tourism, Nassau has come a long way in gaining economical status in the Caribbean.
People
Interestingly, approximately 85 percent of Bahamians are of African descent. Loyalists and Eleutheran seafarer descendants make up the rest of the white population.
Although the culture is made of a varied people, English is the main language of the islands. The Bahamians are known for their friendliness and love of music, entertainment, and religion.
The Bahamas have even developed their very own tourism program designed to highlight the amazing people of the islands. Developed by the Ministry of Tourism, their "People to People" program offers creative plans for helping visitors learn the real ways of the Bahamians. Anyone interested in joining the program is arranged a personal visit to a families' home for a meal, to a church service or social function, or on an exciting sight seeing tour with an interpreter, among other events.
Demonstrating just how the Bahamians are tourism friendly, more than 1,000 volunteers offer their time for the People to People program, in Nassau alone. The Ministry does a thorough job of screening volunteers, and matching them with visitors or similar interests, age groups, and professions.
Things to Do, History, Adventure, and More…
Stay a week, a month, even longer, and you won't run out of things to do in Nassau. There is plenty of duty-free shopping opportunities. Look for crystal, china, leather, emeralds, and more. While you are still fresh and energetic, visit the International Bazaar, located beside the Royal Oasis Golf Resort & Casino. You'll find a collection of shops and restaurants there.
When you have satisfied your shopping bug, head out to explore the many historic and cultural sites in Nassau. Built in 1788, Fort Charlotte demonstrates just what Nassau was all about in its infancy, detailed by its moat, dungeons, and revealing view over the island.
Just a short walk from the Water Tower is a unique architectural feature. The Queen's Staircase is a stairway made of stones, with 65 steps representing each year of Queen Victoria's rule. The staircase climbs 102 feet to Fort Fincastle and the Water Tower. During your ascent you can enjoy a waterfall that cascades alongside the staircase down to a shining pool at the bottom. Rainbows often appear through the glistening waters.
For more lessons in the curious Bahamian history make your way to Royal Victoria Gardens, Pompey Museum, Roselawn Museum, or The Cloisters.
Nassau is kind to wildlife and nature lovers. The Crystal Cay Marine Park is a first class underwater park, which displays a space age design outside, and a lesson of the island's beginnings inside. Built around an existing reef, guests can ponder a variety of exhibits both above and below the surface.
To see and learn about the native flora of Nassau, consider a visit to The Retreat, the home of the Bahamas National Trust, where you can take a self guided bird watching excursion.
For close encounters with wildlife stop by Adrastra Gardens, a privately owned zoological garden where you are sure to see the endangered Bahamian parrot, monkeys, sloths, and the national bird…the flamingo.
There are many interactive options for adventure in Nassau. Swim with the dolphins at Dolphin Encounter, home of Flipper, or stay dry on the Seaworld Explorer, a "semi-submarine", which actually floats above water, but offers a large undersea observatory, placing callers five feet below the surface. It turns out to be a perfect location to view rays, turtles, barracuda, and even sharks.
If you yearn to do some sports fishing there are numerous options. Check out Chubasco Charters. Captain Mike Russell will venture with you onto the deep blue water on one of his four magnificent boats, and end the day by grilling your catch of the day for you. Also, try Born Free and Captain Philip Pinder. Captain Phil offers it all – shark fishing, sightseeing, cruising, and snorkeling.
Diving and snorkeler enthusiasts will find themselves in heaven amid the waters of Nassau. There are shipwrecks galore off the coast in shallow and deep water. Spanish treasure ships lie among coral reefs and caverns in the deep clear waters. Bonefish, barracuda, sharks, eagle rays and much, much more bring life to the wrecks. When it comes to shipwreck sites and diving, there is so much to choose from that one should look to an expert source for assistance. That expert would be Stuart Cove's Aqua Adventures. The owner, Stuart Cove, has been diving in the Bahamas since the 70's. Today, he has dive programs for all levels and abilities, from introduction programs to dives that put adventurers eye to eye with Caribbean Reef Sharks. Snorkel trips and the new SUB aquanauts are fabulous way for beginners to get underneath the sea…no experience necessary.
If birding is your thing, check out Bahamas Outdoors. Owner Carolyn Wardle will lead you on a intriguing tour of some of Nassau's wetlands, or the precious Bahamas National Trust Reserve. For a more athletic day, set aside a half day to partake in Carolyn's off-road bike tour through forest, mangrove creeks, wetlands, and the historic town of Adelaide. Carolyn is a certified ecotour guide by the Ministry of Tourism.
You can not forget about the swimming with the dolphins in Nassau. You would go to a private island called Blue Lagoon where the famous film of the same name was filmed. If you have time on the island, you need to try this program.
The night life is hopping in Nassau. You should try Bahamen's Culture Club behind the Astoria Hotel, City Limits Disco, or Club Waterloo.
Climate
The climate in the Bahamas is outstanding, a tropical paradise. You'll encounter the best weather between December 15 and Easter. Keep in mind though, that the "off season" is fabulous too, and rates are sure to be lower.
Getting There and Then Getting Around
Fortunately, the breathtaking Bahamas is only a short excursion away. Nassau is easily accessible via major US airline or cruise ship. There are direct flights from many major U.S. cities. Check the TropicalAdventure.com for travel and bargain packages via tour outfitters.
Once you're there, it's a cinch to travel around. The roads are paved and well maintained. Seek out Bay Street, the main highway that flows east to west along the beach, and you'll be in great shape. If you rent a car, be prepared for honking, speeding local motorists. They don't adhere to the speed limit of 40. Traveling around the island by bike might be a preferred, more peaceful means of travel for some visitors. Cycling around the island is easy. The terrain is flat, for the most part. A day of cycling is most rewarding when you arrive at your final destination…a sugar-white sand beach, with gentle blowing warm winds and invitingly blue water.
Accommodations
Don't set your expectations too high when it comes to places to stay in Nassau. It is expensive to keep a place up, due to high import costs, so many hotels become outdated very quickly. The weather beating that buildings take in the Bahamas also contributes to the wear and tear of hotels.
One thing you can expect is to have many choices in locally owned small lodges. Bed and breakfasts an excellent choice in Nassau.
The Parliament Inn, a historic small hotel from the early 1930's, is conveniently located on Parliament Street, close to the shopping at Bay Street, and Victorian Gardens.
Paradise Paradise is an amiable hotel on the beach. The moderate rates are even more attractive when you consider the access to a peaceful beach, and daily bicycle tours are included in the price.
You can also expect that between December 15 and Easter hotels book fast, so make your reservations early.
Cuisine
The Bahamas serves up an eclectic blend of cuisine, no matter where you are on the islands. You'll find food from around the world, but never pass up an opportunity to dine on the fresh local seafood, spicy local meats, or the season's best produce.
Dine at the Buena Vista Restaurant, one of Nassau's top spots for an intimate setting and delicious French cuisine. The menu offers veal, rack of lamb, and beef dishes.
For a more casual atmosphere, try Passin' Jacks, located on East Bay just east of the Paradise Island Bridge, on the top floor of the Nassau Harbor Club. With great views, and even better fresh seafood, Passin' Jacks is one of the locals' favorites. Try the cracked conch, or the fresh boiled grouper.
Influenced by the American South, Bahamian cuisine is a great choice for meals at home too. Visit www.islandflave.com for delicious recipes.
Legend or Myth, You Decide
There is a legend that says that there are creatures roaming the forests of Andros in the Bahamas. The Bahamas Travel Net site says, "Andros, the largest island in The Bahamas, is said to be the home of chickcharnies. These elfin, birdlike creatures have piercing red eyes, three fingers, three toes and a tail, which they use to hang from trees. Chickcharnies live in the forest and build nests by joining two pine trees together at the top. Since a large, three-toed, burrowing owl lived in these forests until its extinction in the 16th century, it could have been the inspiration for the legendary chickcharnie. When sightseeing on Andros, carry flowers or bright bits of cloth with you to charm these mischievous creatures. Legend says if you see a chickcharnie and show it respect, you'll be blessed with good luck for the rest of your life. Be careful not to sneer at it, however, or your head will turn completely around!"
With its pristine beaches, festive culture, and inviting year-round climate, the Bahamas has established itself as a favorite destination of travelers from around the globe. Visit TropicalAdventure.com Quick Adventure Search today to arrange your vacation in Nassau.
Get More Information on This Adventure!!!
Experience adventures like the one found in this article and others by using TropicalAdventure.com Vacation Planner. Simply fill out our Vacation Planner form and you will receive FREE information about this activity and others that you may be interested in. Click below to sign up.