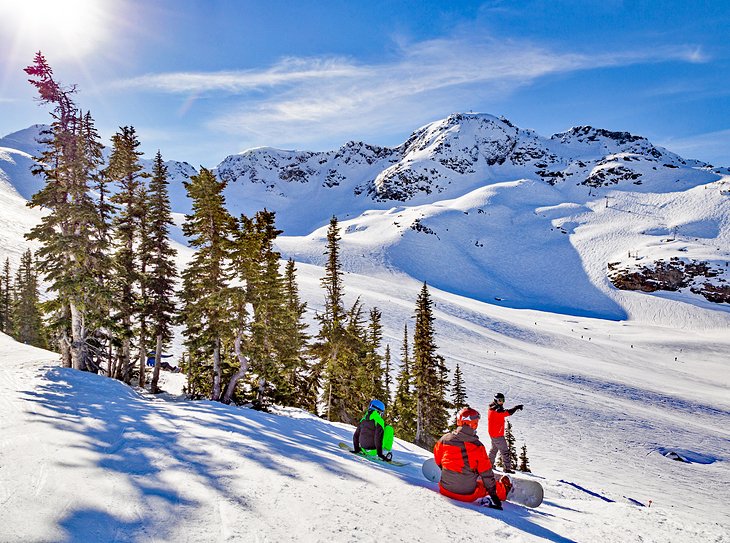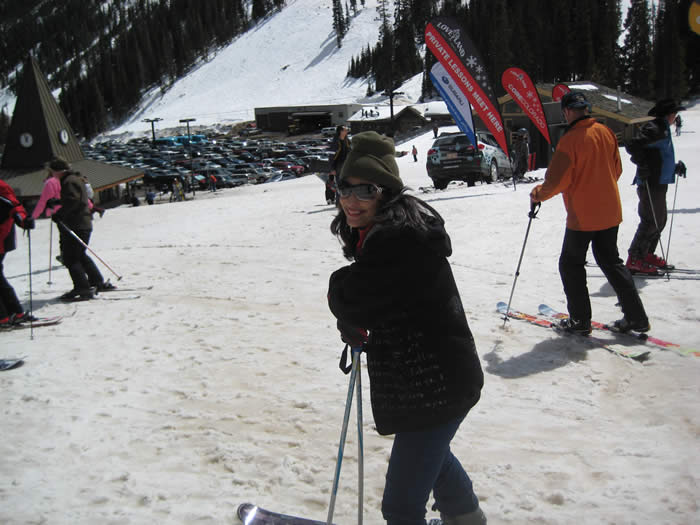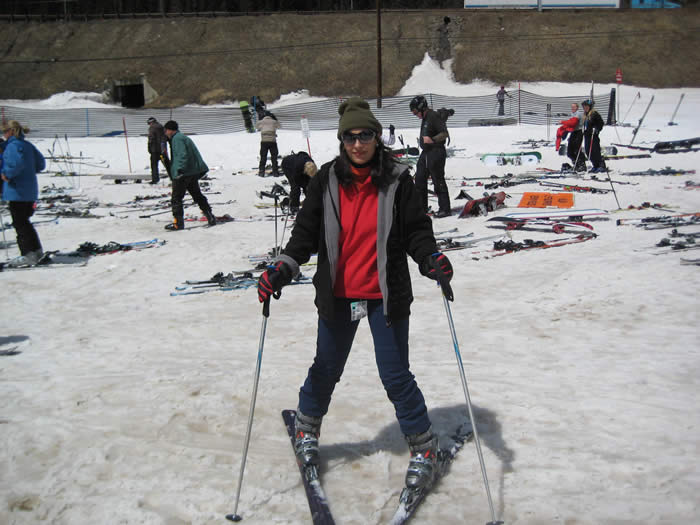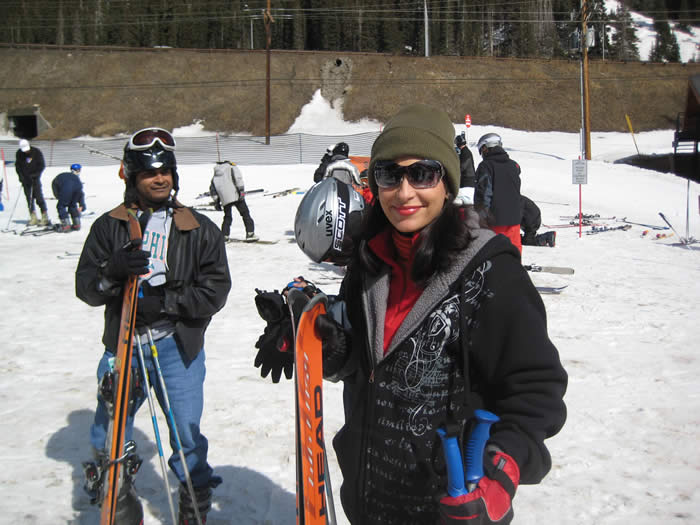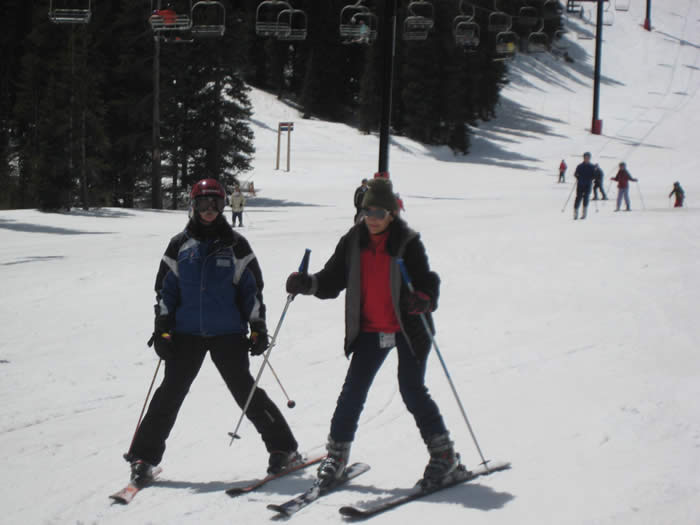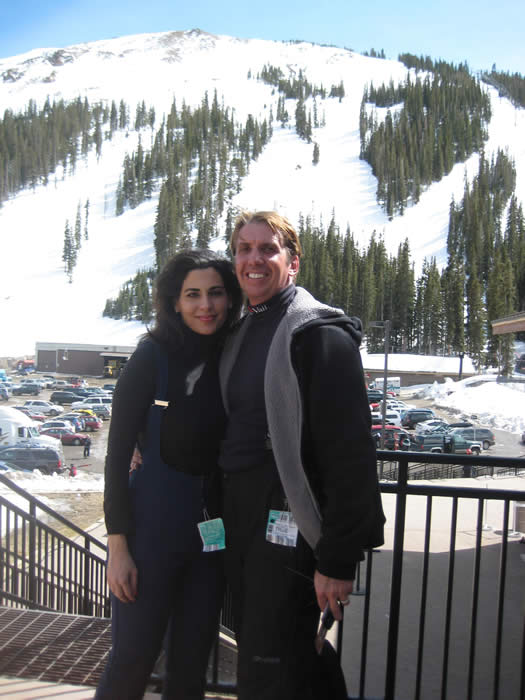 In April I went on a business trip for my office and visited Denver Colorado. While in Denver my husband and I decided to go skiing. We chose the Loveland Slopes because it was less than an hour and a half from where we staying in Denver
My husband is a very patient guy, but when he suggested he would teach me how to ski, I said No! Instead I went to a beginner's level 1 ski Training class in Loveland and I met a great teacher and Mentor Lennard who worked for the Loveland facility.
Lennard who we lovingly called 'Flash' put the five people inour class at ease. We spent 30 minutes on flat snow making figure eights with our snow boots just walking in snow. Then we learned to put on one ski in an easy 5 step motion and made figure eights using one ski and one boot, although it was an awkward feeling it sure helped when you fell on the slope! Then of course we made figure 8 with both skis on!
Then it was time to get on the slopes. Well, being from Jamaica and never seeing snow before, I was enchanted to see the Majestic snow covered mountains. We approached the Ski lift which came around at a brisk speed. When I say timing and coordination is everything this was the most challenging part of the whole experience as I got in front of ski lift and looked behind me to grab the handle bar and sit on the chair quickly before I missed it. The first time I tried I let out a Scream for mercy as it was very scary!
However, hovering over the slopes at a high altitude was indeed breathtaking as I took in my surroundings while in a serene, peaceful, and relaxed mood while riding up the moutain. After a few minutes it was time to get off and terror struck my heart again. The ski lift kept the same speed and I had to ski off the chair as the lift kept putting more and more skiers on the mountain. I felt a lot of pressure getting off the lift and as you may have guessed I fell on my rear. It was not pretty, but no one was laughing, infact several people came to my rescue including Flash to get me out of the way for others to get off without colliding into me.
Once I got back on my feet in my skis, I was ready to ski down the bunny slopes. Well from where I was standing, it looked like a Black Diamond Slope (the most difficult slope to get down because of how steep the angle of the descent). I practiced my breaking and slowing down on the mountain, also known as snow ploughing. When I felt I had that mastered, it was time to proceeded to go down the slope. At first, I was going too fast and got so nervous. My mind was thinking so hard what to do and how to steer my skis so I would not fall over the cliff of the mountain. With all these thoughts, I decided to fall and not kill myself. At least, that what I thought.
Falling in the snow is actually a very fun experience. On the Loveland slopes everyone was very respectful. On one occasion, when I fell a female skier came by and helped me to retrieve my skis. I finally made it down the slope with my ski trainer by my side most of the time. It was a great deal of fun and quite exhilarating to feel the wind on my face as I went fast down the bunny slope.
I went up the slope another time with my ski instructor and made it down the slope only falling 5 times on my second try. My ski trainer discovered that my skis were too short for my height and when he traded his longer skis for my shorter skis it was like a match made in heaven as I maintained better balance and speed and I didn't fall after the switch. Then it was time for a sumptuous lunch. Skiing works up a hefty appetite so beware. Remember to eat a meal before you start skiing or you could faint because it is a very active athletic sport that uses many muscle groups of the human body. The cafeteria had a variety of choices from salads to juicy Chili dogs with melted cheese. I ate chicken tenders, a coke and French fries.
For the Grand finale I went back up the slopes with my husband, I was a little more nervous going up with him and leaving my instructor behind. However, this time I did much better and I picked up more speed as my confidence level had been boosted. My husband kept his distance so not to put any unnecessary pressure on me, and I am proud to say I only fell once going down the slope. It was a vast improvement on my third time down and I would encourage anyone discouraged by the challenges of skiing to keep trying until you improve. As the professionals say "practice becomes perfect." I would say this experience was as exhilarating as swimming with dolphins and I look forward skiing again. There are many similarities of speed and an adrenaline rush between skiing and swimming with dolphins and I would recommend both to put on your bucket list!
Get More Information on This Adventure!!!
Experience adventures like the one found in this article and others by using TropicalAdventure.com Vacation Planner. Simply fill out our Vacation Planner form and you will receive FREE information about this activity and others that you may be interested in. Click below to sign up.