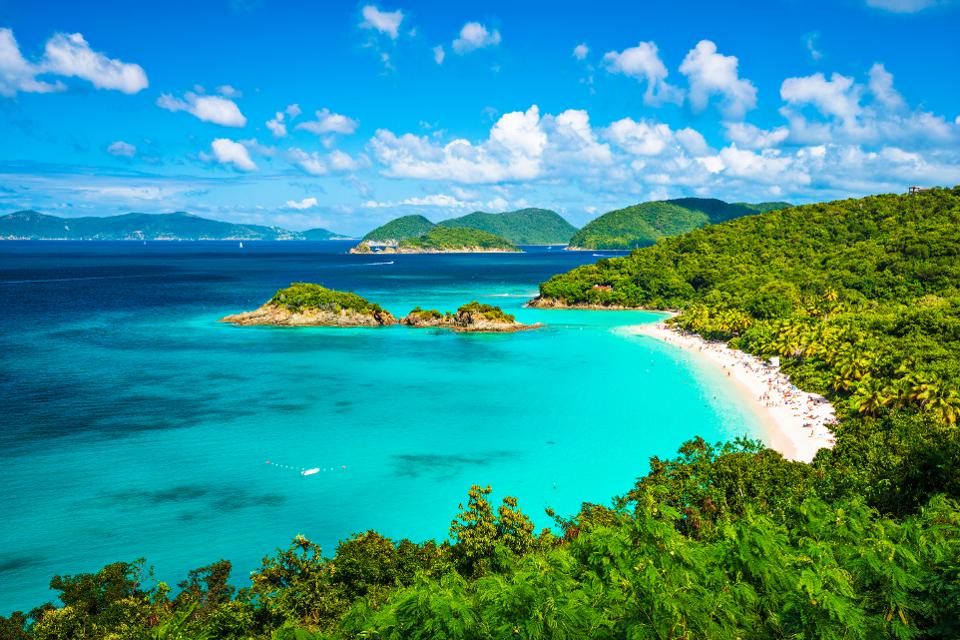 50 miles east of Puerto Rico stands 100 plus islands covering 1,000 square miles. Only a few of those100 are actually inhabited. There are a few that I'm sure you've heard of; the US Virgin Islands.

Chris Columbus named the islands on his second voyage to this "New World", in 1493. According to National Geographic, the Virgin Islands were named after the legend of St. Ursula. Following Columbus' discovery, 17th century Dutch cattle farmers called "boucaniers" became the first Europeans to settle. They made their living by supplying passing ships with cured meat. During the Colonial Era, the Danes secured the western islands of St. Thomas in 1665 and St. John in 1684. The Danes bought St. Croix from the French in 1733, and then sold it to the US in 1917. Today, the islands of St. Thomas, St. John, and St. Croix make up the United States Virgin Islands. There is, indeed, a reminder of the Danish Colonial area in St. John and St. Thomas, via the beautiful architecture. 
St. Thomas
Today, the capital of the US Virgin Islands is Charlotte Amalie on St. Thomas. The city is cosmopolitan; a major cruise ship destination. The Danish West India Company traders laid the foundations for the fortune that is St. Thomas today. Where Charlotte Amalie is today was once a watering hole for merchant pirates, even Blackbeard (Edward Teach), who died in 1718. Over the years, the city has harbored silk, gold and guns, and is one of the most populous islands in the Caribbean. The Danish Colonial architecture is well preserved at St. Thomas.

Around St. Thomas you can find many unique sites. The Virgin Islands Museum at Fort Christian resides within the former jail cells of the Fort. The Museum displays historic exhibits, bush medicine and colonial furnishings. Near Government House on Kongens Gade travelers can find the 99 steps to Bluebeard's castle, a stone watchtower with outstanding views. The St. Thomas Synagogue, built is 1833, is a surprising treat. This facility was home to the island's first Jewish congregation where refuges from Dutch Sint Eustatus exiled for their involvement in the arms trade during the American Revolution.

For the sporty traveler, sailing for a day, scuba diving, snorkeling, golf, kayaking, nature tours, snorkeling in the mangrove lagoon marine sanctuary, and sports fishing are all an option.

One of the most unique activities on St. Thomas is Coral World, a huge underwater observatory with an 80,000-gallon reef tank display located along the northeast coast of the island. Visitors will have a chance to see stingrays, a predator tank with a 360-degree panoramic theatre with views of the ocean bed. The touch pool and the rescued baby turtle exhibit are fantastic for the kids, as are daily talks by marine experts and feeding sessions at the baby shark pool.
Near by, you can take a short ferry ride from St. Thomas to swim with the Dolphins in Tortola. A great day execursion and an unique attraction for everyone.
St. John
St. John, population 3,500, is a 2-mile ferry ride across Pillsbury Sound. The island is an unspoiled land of beauty and life, with two thirds maintained as a national park and biosphere reserve dedicated to conservation of the tropic environment, thanks to Laurence Rockefeller. The wealthy man donated the first chunk of land in 1956 to the U.S. National Park, undoubtedly to also protect his own piece of heaven, the Caneel Bay Resort. The island was used to grow sugar cane and cotton during the Colonial era.

St. John is covered in dense woodlands, rolling hills, sandy bars, and an alluring irregular coast, and making for some of the best beaches in the Carribbean, especially on the north coast. Honeymoon Beach, Caneel Bay, Hawksnest Bay (formerly Trunk Bay), and Cinnamon Bay are amongst the most attractive beaches. From Annaberg Plantation adventurers can take a self-guided tour around slave cabins, old Dutch windmills, boiling rooms, and store houses. There are three 1,000-foot peaks to view and visit, with 22 different trails to explore. There are guided tours available also. Tropical Adventure's tour operator, A Walk in the Park, can also help travelers organize treks. Visit Reef Bay sugar mill ruins, with detours to petroglyph sites decorated with rock carvings from Arawak Indians.
A 5,650-acre marine preserve, along the north coast of St. John, provides excellent snorkeling opportunities for the water enthusiast. Along the less accessible south coast an abundance of marine life can be seen, and is a great place to take underwater photographs. At Saltpond and Lemeshur Bays, parrotfish, angelfish, tangs, grunts, rays, snappers, jacks, and tarpon might be seen along the reef or the sandy bays. Mangrove nurseries help the marine life thrive in this area. The nurseries provide safe, nutrient rich waters in the coastal swamp.

For bird watchers, the Francis Bay Trail is the place to be. Just around from Maho Bay, the trail has a boardwalk leading out to the mangroves where herons, Western Indian whistling ducks, pintails, teals, sandpipers, and many other water birds visit to feed. Speaking of marine life, a special snorkeling treat in Trunk Bay offers a 225-yard self-guided trail with underwater signs highlighting individual coral reef features. Snuba, a combination of snorkeling and diving with air pumped from the surface is offered here.

St. John is a fantastic family destination. Pam Gaffin of Family Fun.com says the island is for "Robinson Crusoes of all ages."
St. Croix 
St. Croix is worth a trip. The island's pretty, quaint towns are chock full of shopping deals (to compete with St. Thomas) and more interesting sightseeing opportunities, than St. Thomas. St. Croix lies 40 miles to the south of St. Thomas and is the largest of the USVI at 82 square miles. The island is a former sugar island with mountains in the west and flat, fertile plains in the central district. While the island certainly benefits from agriculture and tourism, it also depends on its huge supply of oil and its popular souvenir spirit, Cruzan Rum.
There certainly is plenty to do for the tourist. Buck Island Reef National Monument is located 5 miles off Christiansted, the capital city of St. Croix. Buck Island is uninhabited and well known for its excellent reef snorkeling and diving. Corals can grow up to 30 feet tall! Walking trails are available on dry land around Buck Island.
The St. Croix Aquarium, although closed on Sundays, is a big hit all other days of the week. The aquarium offers first hand introduction, and interaction, to local marine life. Interestingly, the owner collects the exhibits and releases them back to sea after a few weeks.
Explore the 17-acre St. George Village Botanical Gardens, laid out amongst a 19th century sugar plantation, which was built on the site of a pre-Columbian Amerindian settlement. Visitors travel along a marked trail through the gardens, viewing more than 800 species of tropical plants, including a rain forest and cactus garden.

Guided bicycling tours, day sails, golf, horseback riding, sport fishing, and heritage tours are offered on the pristine island of St. Croix.
Get More Information on This Adventure!!!
Experience adventures like the one found in this article and others by using TropicalAdventure.com Vacation Planner. Simply fill out our Vacation Planner form and you will receive FREE information about this activity and others that you may be interested in. Click below to sign up.