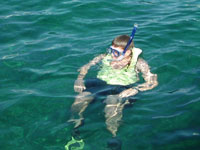 The Florida Keys is one of my Top Ten favorite places to go in Florida, from the funky store, great food, and affordable accommodations. The Florida Keys is about the ocean and bay, so if you love water, this is the place to come to.
A lot of people know the Keys for scuba diving, but I would have to argue that it also is great for snorkeling in Key Largo. Key Largo is the main spot because of John Pennekamp Coral Reef state park.
Read this story about Key Largo Snorkeling and why I love this activity and place.
Have you gone to Key Largo? What is your favorite place to stay? Favorite Place to eat?
Johnny