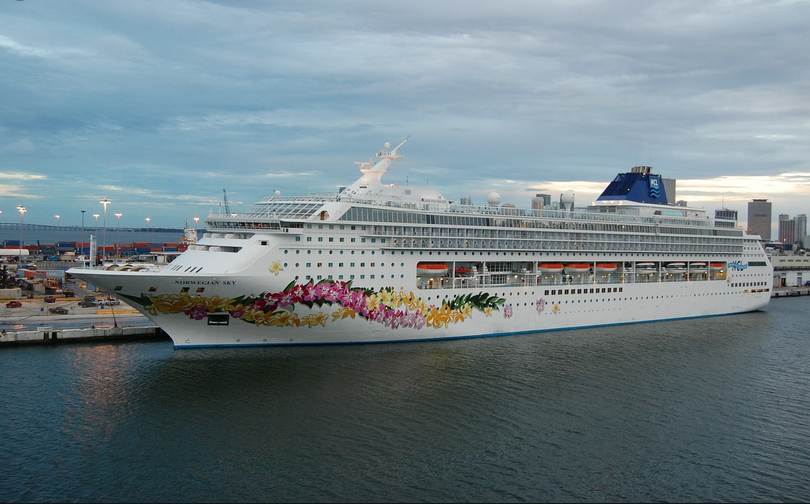 Taking a cruise vacation is really popular in Florida and Miami is one of the busiest cruise ports in the world. I had a chance to take a cruise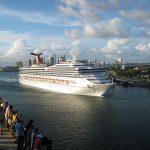 from the Port of Miami and able to chronicle my experience upon my cruise ship, the Carnival Glory. Driving to beautiful Miami was the start of the experience, it was an easy drive down I-95 south and quickly we arrived to the Port of Miami. We had a shuttle that brought us down from Ft Lauderdale, a city 40 minutes North of Miami. Many guests fly into Ft Lauderdale because the discount air carriers fly there, like Southwest, Jet Blue and Spirit Air. Once we arrived at the Cruise dock, we were a little confused when we got off the van what to do next but the luggage stewards were very friendly and picked up our bags quickly. We did need to ask them what to do next and they instructed us. It was a little tough being a newbie cruise person because you can tell that others knew what they were doing and preceded forward without hesitation, kind of like going to an airport for the first time to check in.
Getting Ready for Your Cruise Vacation
One thing about the bags, you need to make sure you tag your luggage properly when you leave your home, otherwise you won't get the bags at your room on the ship. You need to do everything online before you leave your home. You get the boarding passes and bag tags online and it is your responsibility to print the material before you get on the cruise ship and have your luggage properly tagged.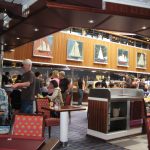 That being said, checking in for the cruise ship is similar to going to the airport and checking in on a plane. There will be someone that will ask for your documents, passport and paperwork. Then you proceed to security, which is much easier than an airport security, just put the hand luggage on the conveyor belt and walk through the scanner. You don't need to take off shoes or jewelry and no frisking of the body.
You are asked to board the ship 2 hours early so that you can enjoy the lovely buffet faire that is waiting on you. After the buffet, you head to your room to see what it looks like. The bags were waiting at the room entrance for us to wheel in and unpack. As soon as you are settled in your room, this is an announcement, which is mandatory for all passengers to be on deck. There is a drill and we are informed of the ships safety precautions.
After the safety drill, we headed back to our rooms, where we are greeted by our room steward. Who was very pleasant and made sure we got into the room without any problems. They gave us room keys at the check in and the keys are similar to hotel keys, a key less swipe cards. However, your room key is more than a regular key; it is also your payment system throughout the ship. You don't need any cash because the card is connected to your credit card. So if you want to pay for drinks, items, shore excursion, and any other purchase it would be done through your room key.
Everyone Onboard Your Ship
We unpacked our bags, in our interior room. We were on a budget and took the interior room without a window. We were happy because it was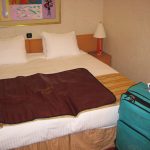 like a dark cave, which we appreciated as we like to sleep late. But I did take a peak at the rooms with a window, they are very nice and romantic. So the choice would be yours, to save money or have a nice view. Our room had ample space, 2 decent closets for hanging clothes, 1 closet with shelves to lay your clothes in. It had a small mirrored desk to work on to work on or a place for the women to put make up on. There was a 24 inch flat screen TV in the room with 10 channels and 3 movie channel. There is one plug in the room, so don't plan on bringing many electronic devices because the plugs are limited. There was a hair dryer and there is a hot iron and ironing board in the laundry room.
After unpacking our bags, we went up on deck to watch the cruise ship leave the port of Miami. We headed to the Lido deck which was deck 9, out of 11 decks. It was a little confusing getting around the ship at first. You need to think of each deck as a long row, similar to train, where you have one car, your restaurant, next car, your pool area, next car, shops to buy things, and so forth. You would walk from one compartment to the next. Once you figure that out its pretty easy to move around. The ship does give you lots of printed material to figure out the ship layout and the activity itinerary of each day.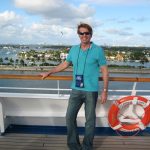 As we headed to the top deck to watch us leave the port, we knew the vacation was about to begin. The wind was really blowing on the deck but it was sunny and warm evening before our departure. It was really exciting once the ship started to head out of the port of Miami because the ship has to turn around which is quite a feat. This ship is huge and it turns 180 degrees to head to the ocean. This is where the ship captain earns his money. Once the ship makes the turn, it starts to head out to sea. We had nice views as we headed out of the port, passed beautiful homes on Star Island and South Beach Miami. Then out to sea we go, the night came up on us as sun light went down over the western horizon. A great start to our 7 day cruise.
7 Day Cruise Vacation
0ur 7 day cruise includes 2 days at sea, then the ports of call, Cozumel, Belize, Rotan, and Grand Cayman. On our first day of sea, we got up late, and the days at sea can be the most relaxing of the vacation, because you can either be busy or just relax and do nothing. By saying being busy, they have events on the ship all day long, dance contest, shopping events, gambling events, poolside events and much more. We choose to relax and sit on the lounge chair. Just a warning, we got up late and getting a prime lounge chair on the deck can be a challenge. After lunch, we had a hard time finding a chair on deck but we did after a while.
We sat through 2 events, hairy chest contest and Ice carving event. Both events kept us entertained while the ship was moving along the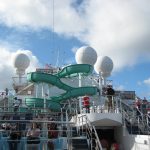 beautiful ocean. It was hard to tell we were moving at all. The ship gave such a smooth ride. I had the heard the horror stories where the ocean was super rough and everyone got sea sick. I still took Dramamine pills every day as a precaution until after the 3rd day and then stopped because I was fine. The music on the deck had strong disco beat but fun to listen to while lounging there. They do have a serenity deck where it quite and no children allowed to play. They do try to cater to everyone's needs, from young to old, to singles to couples and everything in-between.
Carnival Glory
One thing I forgot to mention is about the food, which seems to be a big subject on everyone's mind. The food on Carnival Glory was good. During the day, all kinds of buffets, breakfast, Chinese, Mexican, and regular American. Everyone in my group said they enjoyed the food, most of the items on the menu where a hit. At night was formal dining, which means you sit down at an assigned table and are waited on. The menu at night was always different and the dress was very casual with 2 nights of formal wear. It is important to note, we had a difficult time finding our dining room because it was on the 3rd floor which you needed to take a special aft elevator to get this room. You also need to make sure to get clear directions for the specialty dining rooms. Remember, the cruise is all about food so be careful how much you want to eat. There are places to work out but that might be hard to do on a vacation.
Day in Mexico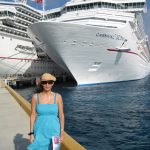 The first day of Port was Cozumel, where you have plenty of activities. You can shop or do one of the many activities, power catamaran ride, Mayan ruins of Tulum, dolphin swim Mexico with lunch, two reef snorkeling by boat, and caverns by jeep and beach combo. We did the Chankanaab Park tour where you get to explore a great national park. There you can snorkel off the beach and see Mayan exhibits. The snorkeling is off the beach, so it's easy to do. The sea at the park is crystal clear where you can see spotted coral and some manmade sculptures, like Mayan structures and statue of Jesus Christ. The statue of Jesus is really amazing because it about 30 feet high and remarkable to see.
The next port of call was Belize; there you need to take a tender, which is a type of smaller boat that brings you from the cruise ship to the land. The open air markets is all around the cruise ship port, which means there is plenty shopping all around you. The open air markets are very vibrant and exciting with sounds and sights. There are many tours to book here too, like, cave tubing, lost world canopy tour, Altun Ha Mayan Site and River Wallace, raiders of the lost Mayan cave, Xunantun Mayan Ruins. We did the Altun Ha Mayan Site and was very pleased with this. Again it is important to note, that before going on a tour, you should remember to take your rain gear; so that when it rains, you are prepared, something which we did not plan for. We had to learn the hard way and pay extra for rain gear to enjoy our tour.
Other Port of Calls
After a nice time in Belize, we headed out to Roatan, Honduras. Waking up in Roatan was a nice treat because the ship had a dock to be tied up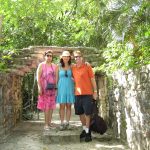 to and we walked right off the ship. This is a beautiful Island with green mountains and golden beaches surrounding the port. I had a chance to go to Anthony Key do the swim with the dolphins program there. This program was spectacular for me but my family did an island tour which they had a lot fun with. The one thing I learned about the hard way is know your cruise time versus shore time. They may not be the same for each port, so you need to be aware of that. I missed my bus and had to take a taxi to Anthony Key. It cost me a little extra, which I was not happy about. It was my fault.
We had to say good bye to Roatan and headed to our next port of call of Grand Cayman. This flat island is a famous British colony which has plenty of wealth and it is very clean. There are many shore excursions here too, from exploring the island by Land and Sea. You need to visit the famous seven miles beach for some of the best swimming in the Caribbean. Sting Ray city is a chance to swim, play and feed these mystical sea creatures. A visit to the famous Boatswain Turtle farm where you get to see how they raise large sea turtles, you will definitely find this place really interesting and unique. Across the street from the turtle farm is the swimming with the Dolphins Grand Cayman facility. Again, you will need to take a Tender from you cruise ship to the island and back to the ship.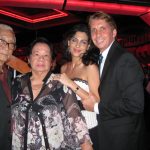 All too soon, our 7 days cruise came to an end and we were heading back to our origin port of Miami. It was kind of bitter sweet to see the port of Miami once more but in summary, a cruise from Miami Florida is a worthwhile vacation. I would recommend a cruise for everyone. Also Miami is a great place to hang out for a few days before and after your cruise, as you get a chance to see this American tropical city and see why its so talked about. I would give thumbs up to my first cruise and definitely will do it again with my family and friends in the future.
Story By
Johnny