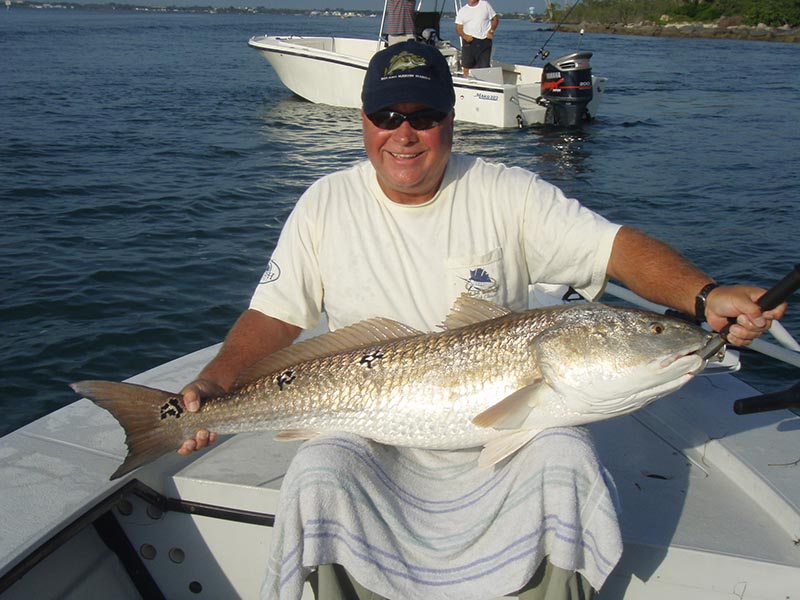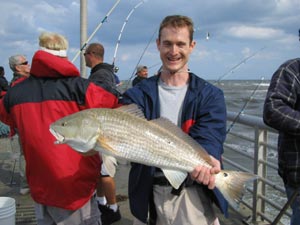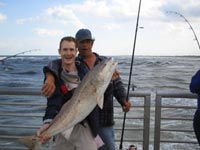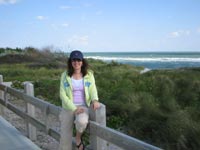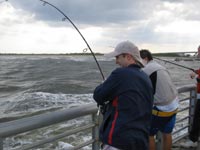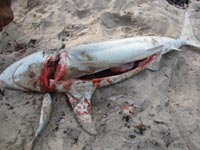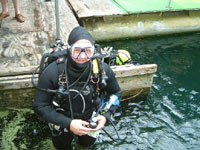 "What are you fishing for?" the man asked me. "Redfish", I responded. "Not with that you ain't, not here", he said with a smirk. I had caught redfish before on a rod and reel that was half the size of the rig currently in my hand and did not foresee any problems today. Not only that, but I also had a bucket of live finger mullet that I had just caught minutes earlier and I knew they were a favorite bait of most fish that inhabit Sebastian inlet. "What do you mean?" I replied indignantly. "Your rod is too short and that reel don't hold enough line to catch a redfish here" he shot back and then continued by asking, "What do you have for bait?" After learning that I had live finger mullet, the man who later introduced himself as Nick, asked for one and then asked me if I wanted to catch a redfish. I said "yes" and handed him a mullet. Nick took his ten-foot surf rod and hooked the mullet on his line. He then sent that mullet – like a rocket launched from nearby Cape Canaveral – half way across the inlet and three times as far as my casts were traveling.
I now was beginning to understand why Nick was not confident in my rod and reel. You need an extra long surf style rod and sufficient line to throw your bait far enough to reach the fish. After making his cast Nick handed me the rod and said, "Start reeling." I started reeling and BAM! Immediately, I hooked a fish and after fighting for almost 30 minutes, I landed the biggest redfish of my life. "Want to do that again?" Nick asked me. In response, I shouted, "Absolutely!" I then handed him another mullet. Just like before, Nick launched this second mullet into the inlet and handed me the rod. Instantly, a fish hit the bait and after another 30 minutes, I reeled in the second largest redfish of my life. This happened a total of four times. After two solid hours of fighting these substantial fish, my arms were worn out and I needed a break. I started giving away my mullet to other fishermen on the pier because I knew, at the rate of one mullet every 30 minutes, I would never use them all.
My wife Loren and I had left Fort Lauderdale and traveled to Sebastian Inlet after Hurricane Wilma knocked out our power and water. It turned out to be a smarter move than we initially knew, because although the water was restored after three days, electricity to our house remained out for over two weeks. We spent part of these two weeks in a small Bed & Breakfast located in Melbourne Beach about 15 miles north of Sebastian Inlet State Park. The park straddles Sebastian Inlet and extends from the Atlantic Ocean on the east side to the Indian River Lagoon on the west side. Visitors can enjoy a wide variety of activities including fishing, surfing, swimming, sunbathing, shell collecting, snorkeling, canoeing, kayaking, boating and camping. However, with the wonderful beauty of the park it would be easy to spend an entire day just strolling the over three miles of pristine beach that is contained within the park. Camping is best experienced from November through May when the weather is cooler and more pleasant.
Sebastian is one of the most productive fishing destinations on the entire east coast of Florida. Common catches for anglers include snook, redfish, bluefish, spanish mackerel, flounder, black drum, jack and a variety of sharks. The inlet can be easily fished from jetties located on either the north or south side of the inlet and from a catwalk that runs under a bridge that spans the inlet. With a boat, canoe or kayak you can explore and fish both in the ocean and the lagoon in addition to the inlet that connects them. There is a boat ramp in the park providing boaters with easy access to the area. There is also a bait and tackle store located near the north jetty that sells fishing licenses, bait and tackle and rents rods and reels.
In addition to fishing, the inlet is equally well known for the quality of its surfing. The inlet's configuration creates a surf break that is very popular with the surfing crowd. Several major surfing competitions are held here annually drawing surfers and spectators from across the country. If the sun gets too hot, visitors can move indoors by visiting two museums in the park. The McLarty Treasure Museum features the history of the 1715 Spanish treasure fleet while the Sebastian Fishing Museum tells the history of the local fishing industry. Waterfront pavilions and the mile-long Hammock Trail provide more shady venues to escape the sun and either picnic or hike.
With a visit to Sebastian Inlet you learn that it is located in an area of Florida known as the Space Coast. This area is home to many other famous destinations including Canaveral National Seashore, Ron Jons Surf Shop and the Kennedy Space Center. The most famous of these, the Kennedy Space Center, provides visitors an opportunity to experience the past, present and future activities of America's space program. Guided tours provide access to space launch operations, launch pads, rockets and incredible technology from both the past and present. Visitors can experience interactive space flight simulators, touch a real piece of Mars, board the Space Shuttle Explorer and spend time at the Astronaut Hall of Fame. For a truly incredible visit, check the launch schedules that are published in advance via the internet, and with a little planning, you can schedule your trip to include the viewing of an actual launch of the Space Shuttle. Maybe the next time I will stay close by at one of my favorite resorts like the PGA National Resort and Spa or the Breakers. I can stay at one these places during the off season, September – Decmeber, when the rates can be really reasonable and be treated like a king after catching all these fishes from the Sebastian pier.
During my visit to the area, however, the fishing was so good that I never escaped the excitement and action surrounding Sebastian Inlet. I made several new friends while fishing on the jetty and hope to see them again soon. By the way, if you ever have the opportunity to travel to Sebastian and catch a redfish, there is no question as to their edibility. In my opinion, the best way to cook a redfish is one of the simplest. Visit Publix or another nearby supermarket and buy Paul Prudhomme's Blackened Redfish Magic seasoning. Cooking directions are included in the packaging. Once you try it, you will quickly understand how Paul and his redfish recipe became so popular. And after visiting Sebastian Inlet, you will likewise understand why it is so popular.
North Beach Windsurfing
Britt Viehman
LOCATION: St. Petersburg Beach, Pinellas Central Florida West
ACTIVITIES: Kite Surfing, Sailing, Windsurfing,
DESCRIPTION: All North Beach Windsurfing instructors are certified by the US Sailing Association of America. Britt Viehman, Mike and Maria are 3 young working professionals who love to windsurf.
352-867-8717
http://www.nbwindsurfing.com
Get More Information on This Adventure!!!
Experience adventures like the one found in this article and others by using TropicalAdventure.com Vacation Planner. Simply fill out our Vacation Planner form and you will receive FREE information about this activity and others that you may be interested in. Click below to sign up.