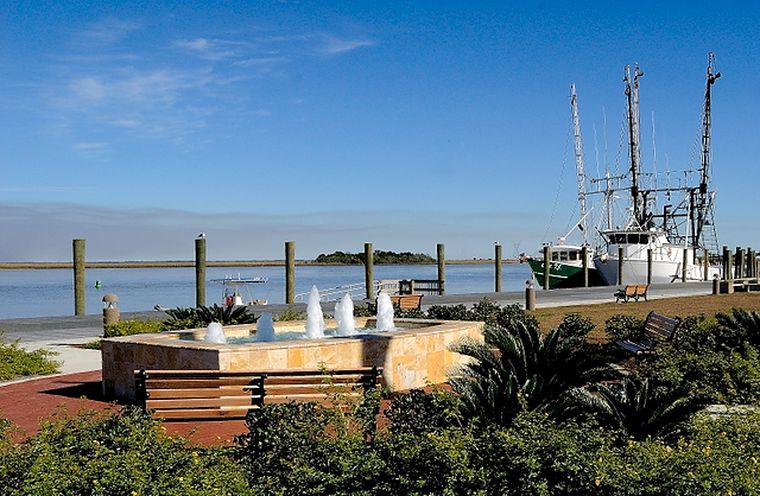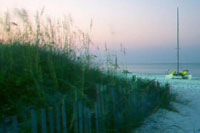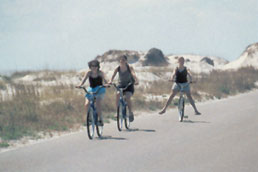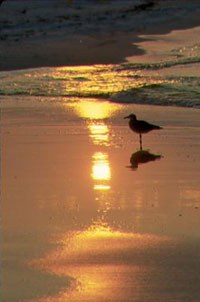 Some may call it "the Forgotten Coast", but a visit to a section of Florida's Panhandle coastline will long be remembered. That section of coast referred to as "forgotten" stretches for about one hundred twenty miles between Panama City and Tallahassee from Mexico Beach to St Marks. It seems the area was omitted from a tourism map of Florida in the nineties. The local chambers of commerce of the affected counties gathered and dubbed their area as the "forgotten coast" and it stuck.
Whether that stretch of coastline was actually omitted intentionally or the creators of the map did not think there was anything of importance there, that fact may never be known. There is, however, things of importance there and is worthy of a visit. It is a different type of Florida that what comes to mind – more natural, less commercialized, more raw, less developed. There are still white sandy beaches, still great restaurants, still good attractions, and still sunshine. There may be more opportunities for historical explorations, great antiquing, and excellent fishing.
There are beautiful beaches from Mexico Beach to St. Joseph Peninsula and around St George's Island. The bay side of the coast changes to salt marsh mixed with some beach areas. There are also pretty beaches along Carrabelle Beach and Alligator Point. U.S. Highway 98 follows the coastline from Panama City to St Marks with the exception of a section of SR 30 that follows the coast to St. Joseph Peninsula and Indian Pass.
Mexico Beach
How could anyone forget Mexico Beach once they have visited? A beautiful stretch of white sandy beaches along US 98, this first stop along Florida's unremembered coast is lined with motels and restaurants. The highlights of Mexico Beach are the opportunities for fishing, swimming and sunbathing. At the extreme western edge of the town, Canal Street takes visitors to Canal Park. The canal allows boaters access to the ocean and is a hot fishing spot. There are bathrooms, covered picnic tables, and a boardwalk along the water. Trout, redfish, and flounder use this canal as the tides come in and out. This canal is also a favorite spot to catch big blue crabs.
Surf fishing here can be both productive and relaxing. The sights and sounds of the Gulf make for a wonderful day at the beach especially if you area catching trout, whiting, mackerel, or even a cobia. Mexico Beach has a pier for angling possibilities. There are also charters available for off shore fishing and sightseeing.
The town has historical ties to early Spanish explorers and settlements. Pirates and buccaneers are said to have walked these beaches leaving legends of buried treasure and of a mysterious fort lying somewhere beneath the shifting dunes.
Residents like to think of Mexico Beach as a "Quiet Alternative". It is a non-commercialized town that calms the spirit yet at the same time offers an abundance of activities to those visiting it.
The US 98 Bypass
Staying on US 98 and heading eastward will bypass St. Joseph Peninsula, Cape San Blas and Indian Pass. Just outside of Port St. Joe take SR 30 to continue along the coastline to Cape San Blas and Indian Pass, both of which have boat ramps, public beaches, and campgrounds. St. Joseph Peninsula State Park has an excellent campground with access to beautiful beaches on one side and boating in St. Joseph's Bay on the other side. The shallow waters of St. Joseph Bay are alive with a variety of marine life – from bay scallops, hermit, fiddler and horseshoe crabs and octopi.
Apalachicola 
At the heart of the Forgotten Coast is Apalachicola sitting on the bay of the same name. This is a bay town with no beaches. Fishing, sightseeing, nature watching and antiquing are the activities that are found here – and plenty of them. Apalachicola Bay is lined with marinas and fishing boats of all shapes and sizes. Charters for sightseeing and fishing are available at numerous locations.
The Apalachicola National Estuarine Research Reserve encompasses over 246,000 acres in Apalachicola Bay, making it is the largest of it's kind in the nation. An educational center offers exhibits of local flora and fauna and aviary and live fish tanks.
St. Vincent National Wildlife Refuge is a 12,358-acre undeveloped barrier island located just offshore from the mouth of the Apalachicola River. Accessible only by boat, St. Vincent provides sanctuary for a number of endangered and threatened species. Bald eagles nest in pines near the freshwater lakes and marshes. Loggerhead sea turtles come ashore to nest on the pristine beaches. Indigo snakes inhabit gopher tortoise burrows in the dunes. Wood storks and peregrine falcons stop here during their migrations. If visitors are lucky enough to witness any of these events, the trip to Apalachicola was worthwhile.
There are excellent restaurants and antique shops scattered along the main streets of Apalachicola and interesting buildings throughout its historical district. Many fine old homes and buildings date back to the 1830s. A scenic walking tour of the town acquaints visitors to sites such as cotton warehouses that housed the city's once prosperous cotton exports during the 1800s and stately antebellum homes nestled amid magnolias. A tour map is available at the Chamber of Commerce office on Market Street. There seem to be as many antique shops in Apalachicola as anything else. They offer a unique perspective and enables visitors to take home a part of its past.
Chestnut Street Cemetery is one of the more significant cemeteries on the Gulf Coast. It was established in 1831 and the headstones help tell the history of Apalachicola. It is located along US 98 — the main street through town.
The John Gorrie State Museum contains a replica of the ice machine created by Dr. John Gorrie in an attempt to cool his yellow fever patients. His invention later became the basis for the ice industry and modern air conditioning. Needless to say, Dr Gorrie was Apalachicola's most notable citizen.
St. George Island 
After leaving Apalachicola crossing the John Gorrie Memorial Bridge, US 98 passes through Eastpoint, a small fishing village noted for its seafood houses and oyster boats. In the center of Eastpoint, a southerly turn onto SR 300 takes visitors to St. George's Island, located just across the bay from historic Apalachicola. St. George Island offers the area's choicest beach vacation accommodations. This twenty-nine mile island is no wider than a mile at it's widest point, providing access to both the seafood rich waters of Apalachicola Bay, and the emerald green waters of the Gulf of Mexico.
At the eastern end of the island is St. George's State Park, which occupies 1962 acres. The state park has nine miles of undeveloped beaches and dunes and is a combination of sandy coves, salt marshes, shady pines and oak forests. Camping facilities are available at the state park. A full service campground is located on the bay side.
Although St. George's Island is one of the more developed areas along the Forgotten Coast, there are no high-rises, no malls, no movie theatres, no fast-food restaurants, no traffic lights and generally no noise. It is a goof place to relax, to enjoy nature, to see fabulous sunsets and to become "forgotten".
Charters for fishing, sightseeing, nature cruises and kayaking are available on the island. One of the most unique charter companies there is called Journeys. They have trips tailored to any need and preference. Anything from short kayak tours to all-day boat trips can be arranged at Journeys. All their trips are customized. Shelling. Fishing. Birding. Dolphin watches. Lighthouse tours (the lighthouse on Cape St. George Island).
Carrabelle Beach
Down US 98 from Eastpoint, Carrabelle Beach offers visitors another opportunity for fun-in-the-sun. This beach and the nearby barrier Dog Island were the training grounds for American troops before the Normandy Invasion during World War II. The public beach is accessible along US 98. Further down the highway, the town of Carrabelle exemplifies the fishing village atmosphere of the Forgotten Coast. Charter boats are available for hire for excellent bay or gulf fishing. The Chamber of Commerce hosts an annual Waterfront Festival, which features a gumbo cook-off along with arts and crafts. One of the most notable attractions of Carrabelle is the "World's Smallest Police Station". It is a telephone booth along US 98. Currently there is a police cruiser parked there to note its location.
Just to the west of Carrabelle on US 98 is the Crooked River Lighthouse. Built in 1895, it is a 103-foot iron structure located along the mouth of the Crooked River and St. George's Sound. There is a sign along the highway, but it is easily missed.
St. Marks 
Finishing up the approximate last third of the journey along the Forgotten Coast, US 98 leaves Carrabelle and passes through Lanark Village, passes the turnoff to Alligator Point (site of a KOA Campground and marinas) and crosses the Ochlockonee Bay. Situated on the bay at the base of the bridge along US 98 is another campground (Holiday Park and Campground).
Holiday Park is located in Panacea and afterward US 98 turns inland. St. Marks is eighteen miles farther down US 98. The entrance to St. Marks National Wildlife Refuge is a short distance past the St. Marks River at Newport. The refuge offers a variety of outdoor recreational activities like hiking, biking, fishing, and wildlife observation. The terrain is primarily slash pine flatwoods, swamps, and fresh and saltwater marshes. There is a lighthouse at the southern end of the main drive through the refuge. St. Marks Lighthouse was completed in 1831. It has survived gunboat battles, landing of Federal troops during the Civil War, hurricanes and tropical storms, and is now on the National Register of Historic Sites.
The refuge is well known for its abundant wildlife due to its varied habitat. Natural salt marshes, tidal flats, and freshwater impounds attract waterfowl, shore and wading birds. The refuge is home to over 2000 American alligators. The extensive pine woodlands offer food and cover for turkeys and whitetail deer. There have been over three hundred species of birds recorded here and ninety-eight species nest in the refuge.
The Unforgettable Coast 
Even this one hundred twenty mile stretch of Florida coastline is omitted from some tourism maps, it could be an unforgettable journey for visitors wanting to sample a different kind of Florida. Like the rest of the Sunshine State, there are white sandy beaches, plenty of opportunities for off shore and surf fishing, great places to shop (particularly antiquing), excellent restaurants and cozy places to park a motorhome. This section of the Florida coast does have differences – less traffic, less noise, more peace and quiet, and maybe less developed beach activities.
But forgotten? Maybe unforgettable.
For more information:
Forgotten Coast Online
http://forgottencoastline.com
Apalachicola Bay Chamber of Commerce
Chamber Office and Visitor Center
122 Commerce Street, Apalachicola, FL 32320
Phone: (850) 653-9419 Fax: (850) 653-8219
E-Mail: info@apalachicolabay.org
http://www.baynavigator.com
http://www.forgotten-florida.com/apalachicola.htm
Mexico Beach Community Development Council 
Mexico Beach, FL
850-648-8196
Carrabelle Chamber of Commerce 
Carrabelle, FL
850-697-2585
Things to do: 
Journeys of St. George's Island
240 E. 3rd Street
St. George Island, FL 32328
850-927-3259
www.sgislandjourneys.com
E-mail: info@sgislandjourneys.com
St. George's Island State Park 
1900 E. Gulf Beach Drive
St. George Island, FL 32328
850-927-2111
Reservations: 1-800-326-3521
http://www.abfla.com/parks/StGeorgeIsland/stgeorgeisland.html
St. Marks National Wildlife Refuge 
Visitor Center
1255 Lighthouse Road
St. Marks, FL 32355
850-925-6121
http://saintmarks.fws.gov
Get More Information on This Adventure!!!
Experience adventures like the one found in this article and others by using TropicalAdventure.com Vacation Planner. Simply fill out our Vacation Planner form and you will receive FREE information about this activity and others that you may be interested in. Click below to sign up.