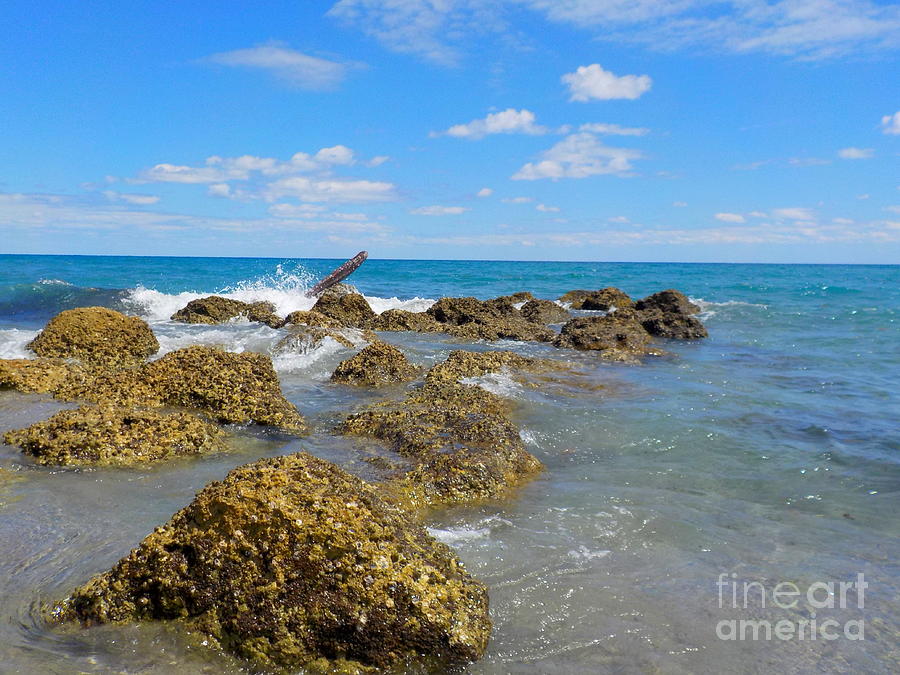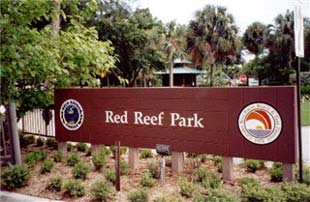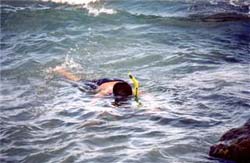 Red Reef Park in Boca Raton, Florida is a beautiful county park that has huge hammock trees for shade, pick nick areas to have a great B-B-Q with the family, but this park is known for it's snorkeling off the beach. This beach has a great set of natural coral rock with in 20 meters off the beach, in only about 6 – 10 feet of water. On a semi calm day the visibility is usually excellent.
On this day I took my nephew and friend to the park to explore the natural reefs. When getting into the park there is only one main entrance to the beach. You will see a major set of rocks in front of you, more rock and reef is exposed on low tide, but that's not the best spot to see the aquatic fish. To find the best spot to snorkel, you will need to go about 25 meters south of the lifeguard stand. Set your blanket down and get your equipment on. I found it's always easier to have the equipment on and walk out into the water. Helpful hint, once in the water, start walking backward. The fins make it very difficult to walk forwards.
Most likely, you will see other people swimming on the coral mounds that are off the shore. If you don't see anyone, then swim out, looking constantly, back and forth, you should see the coral mounds. If you don't, ask the lifeguards exactly where they are, they definitely know. The mounds are about 4 or 5 of them, all running approximately parallel with the shoreline.
These mounds are usually teeming with life, blue tangs, parrotfish, snappers, full of sergeant majors, and an occasional barracuda or two. For the beginner, this a great place to get used to you breathing ability and swimming. Relax and swim from mound to mound until you get tired. For the intermediate snorkeler, you can practice some free diving here. Hold your breath and dive down and look at the mounds in closer depth, you might see a small grouper hanging out under the mound, or see a lobster if you are lucky. The mounds are very colorful and the fish are even better. 
The facilities at Reed Reef Park are very nice, clean bathrooms and plenty of outdoor showers, play area for children, multiple bar-b-que grills and benches to eat. Here are some more facts for you about the park.
The address for Red Reef Park:
1400 N. State Road A-1-A, Boca Raton, Florida
Just 1 mile north of Palmetto Park Road on A-1-A.
HOURS OF OPERATION:
Red Reef Park opens at 8:00 A.M. and closes at 10:00 P.M. seven days per week. The Gumbo Limbo facilities are open Monday through Saturday 9:00 A.M. to 4:00 P.M. and Sunday noon until 4:00 P.M.
PICNICKING:
The picnic area of the Park is equipped with grills, tables and restrooms. Facilities are available on a first-come, first-served basis. Additional facilities are available at Spanish River Park located one (1) mile North on A1A.
TENT AND TRAILER CAMPING:
No individual family tent or trailer camping will be allowed. Red Reef Park is considered principally a day-use area.
FIRES:
All fires must be in self-contained charcoal units. No open or wood fires will be permitted.
PETS: No pets will be allowed in the Parks or on the beach.
SWIMMING: Access to the beach and the Atlantic Ocean are available from designated locations within the Park. Pedestrian traffic is restricted to these elevated walkways. Lifeguards are on duty year round from 9:00 A.M. to 5:00 P.M. Snorkeling is a popular leisure activity at the south end of Red Reef Park.
NATURE:
The walks and heavily foliated areas are favored haunts for a wide variety of small birds. On occasion, larger and more spectacular web-footed birds are observed on the oceanside of the Park. Nature related programming is conducted through the facilities at the Gumbo Limbo Environmental Education Center. Call 561-338-1473 for program information.
SNORKELING: Snorkel the unique rock and reef outcroppings near the offshore area.
FISHING: Surf fishing is one of the favorite pastimes of many Park visitors. However, fishing in designated swimming areas during normal swimming hours (9:00 A.M. to 5:00 P.M.) is PROHIBITED.
So this should help you to come try this great park and discover something different and unusual in South Florida. See you on your next Boca Raton, Florida vacation.
Get More Information on This Adventure!!!
Experience adventures like the one found in this article and others by using TropicalAdventure.com Vacation Planner. Simply fill out our Vacation Planner form and you will receive FREE information about this activity and others that you may be interested in. Click below to sign up.