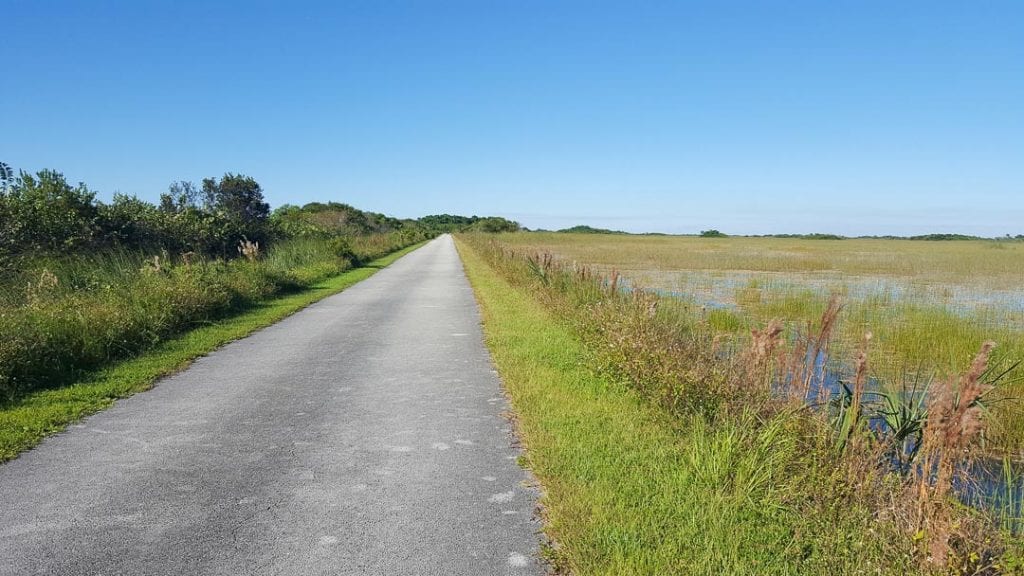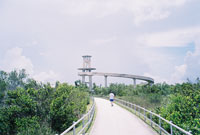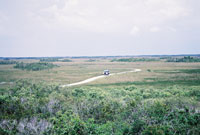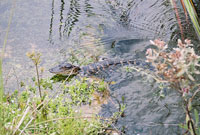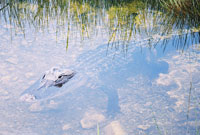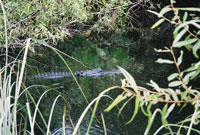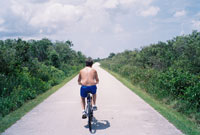 The Everglades, sometimes called the "river of grass," is seasonally dominated by a shallow, slow-moving sheet of water flowing from Lake Okeechobee to the Gulf of Mexico and Florida Bay.
Over the years that I have resided in South Florida I have heard about Shark Valley and the 15-mile bike path that leads to the Florida Everglades. Riding the bike path into the Everglades has been something I have wanted to do for a long time. In July, I finally went through with it.
Cycling the path takes an average of two to three hours, but varies with physical stamina and personal interests. Most individuals should set aside at least four to five total hours in Shark Valley. Remember five to ten mph winds are common and can feel like a wall when you are peddling into it. You will need to take many rests if you are a novice bike rider. The parking lot closes at 6:00 p.m., so be sure to allow enough time. There are no short cuts. If you become tired or are unable to complete the entire 15-mile trip, turn around and return on the same road. Be aware of vehicles traveling behind you.
When riding your bicycle on the trail and in the park keep these things in mind:
Never approach alligators! Maintain a safe distance (10-15 feet / 3-5 m) if you see alligators on the road.

Wear a helmet. State law requires children 16 and under wear helmets. Helmets may be purchased at the tram office.

Racing of bicycles is not allowed. Bicycles at high speeds endanger wildlife and other visitors. The speed limit on the road is 25 mph. Bicycles are subject to the same rules and laws as vehicles.

Be prepared for all weather conditions. In the summer months, thunderstorms can cause hazardous lightning and temperatures can range in the low to high 90s. Take plenty of water!

Travel opposite the flow of tram traffic. Bikes should start behind the Visitor Center and follow the straight West Road. All bikes must come to a complete stop and pull off to the right side when a tram approaches. Wait until the tram has completely passed to continue your trip.

Feeding or harassing any wildlife is illegal. It is dangerous for you and harmful for them.

The collection of any natural object, living or dead is not permitted.

Roller skates, roller blades, skateboards and other similar devices, as well as private motorized vehicles, are not allowed on the Shark Valley tram road
If you do not have your own bicycle, one may be rented at the tram office. Rentals are available from 8:30 a.m. to 3:00 p.m. and must be returned by 4:00 p.m. For more information, call the Shark Valley Tram Office at 
305-221-8455
. http://www.sharkvalleytramtours.com
.
 It is here that you can also pay to take the tram along the path, perhaps in place of biking.
When you have had enough biking, Shark Valley Tram Tours offers two-hour, naturalist led tours through the northern region of Everglades National Park. Visitors on board the open-air tour are introduced to the "River of Grass" and the wildlife inhabiting it. At the midway point of the trip, explorers have the opportunity to stroll up the spiral ramp and of the Shark Valley observation tower, allowing a panoramic view of the heart of the Everglades.
At Shark Valley there is a small concession stand with drinks and a limited menu. You may want to bring your own cooler with some food and drink to keep waiting in your car for you when you return. In addition, its highly recommended to bring sandwiches and snacks in a backpack along with you while you travel throughout the park.
The climate in the Everglades is mild and pleasant from December through April, though rare cold fronts may create near freezing conditions. Summers are hot and humid, with temperatures around 90 degrees (32°C) and humidity over 90%. Afternoon thunderstorms are common and mosquitoes are abundant. Wear comfortable sportswear in winter; loose-fitting, long-sleeved shirts and pants, hat, (Visor or Baseball Cap is best) sun screen, and insect repellent, are recommended in the summer. Checking the weather conditions before you go is a smart idea. For a 24-hour weather service for Miami, Homestead, or Naples, call 305-229-4522. In all conditions, you will want to bring a backpack with an extra shirt and plenty of drinking water.
Visitation in the Everglades is highest from December through April and lowest May through November. You will see more animals during the winter months. Shark Valley is open daily, 8:30 a.m. to 6:00 p.m. The Visitor Center is open daily from 9:00 a.m. to 5:00 p.m.
The cost for Shark Valley is $10 payable at the main entrance. The entrance fee is valid for seven days for single, private, non-commercial vehicles. If you park outside the park, there is a per-person fee for individuals 17 years of age or older when entering by foot, bicycle, motorcycle, buses carrying passengers not on a pre-packaged tours. Residents of Florida should consider taking advantage of the Everglades Annual Pass at $20. The annual pass is valid for one year from the date of purchase. There's no doubt that the Everglades is an excellent experience, so there's a good chance that you will want to return to the park, perhaps several times. Another great deal for seniors is the Golden Age Passport, a lifetime, non-transferable pass available to U.S. citizens or permanent residents, age 62 and older, for a one-time $10 fee. This pass allows free entry to federal fee areas, a 50% discount on camping, and some other park amenities.
I would highly recommend the Shark Valley biking experience to those who are adventurous and would like to see the Florida Everglades from an intimate perspective. While most people take an airboat ride, you will definitely have the chance to see, hear, and experience more by biking in Shark Valley. We saw plenty of alligators, birds, and gorgeous scenery. If you have time while in South Florida, it would be worthwhile to cycle the Shark Valley road, in addition to taking an airboat ride.
To get to Shark Valley take the Florida Turnpike to the exit for SW 8th Street (also known as U.S. 41 and Tamiami Trail). Travel 25 miles west on U.S. 41 to signs marked Shark Valley. From the Naples area, take U.S. 41 (Tamiami Trail) east to signs marked Shark Valley. You will need to provide your own transportation to get there.

Get More Information on This Adventure!!!
Experience adventures like the one found in this article and others by using TropicalAdventure.com Vacation Planner. Simply fill out our Vacation Planner form and you will receive FREE information about this activity and others that you may be interested in. Click below to sign up.