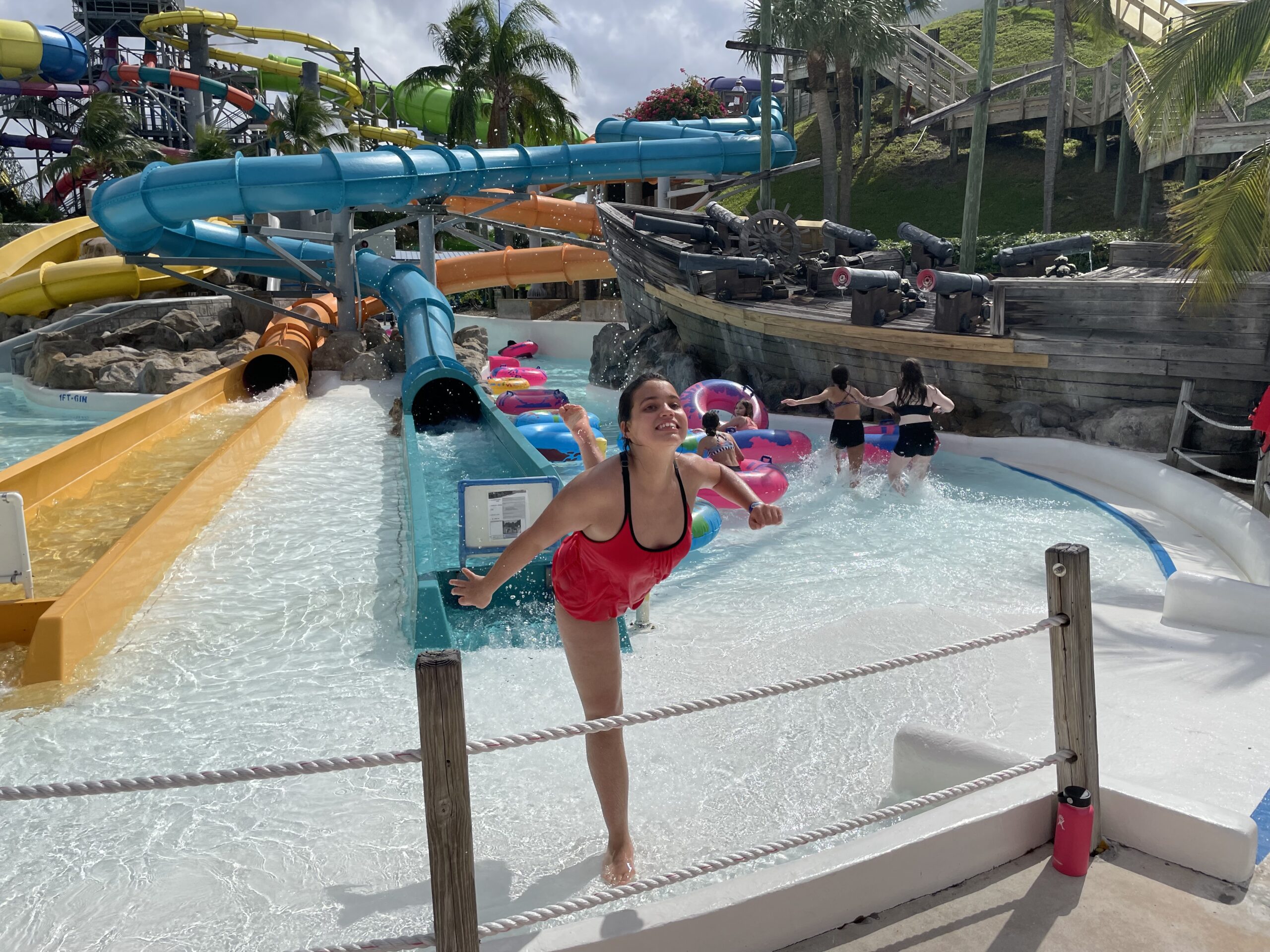 Rapids Water Park: The Largest Park in South Florida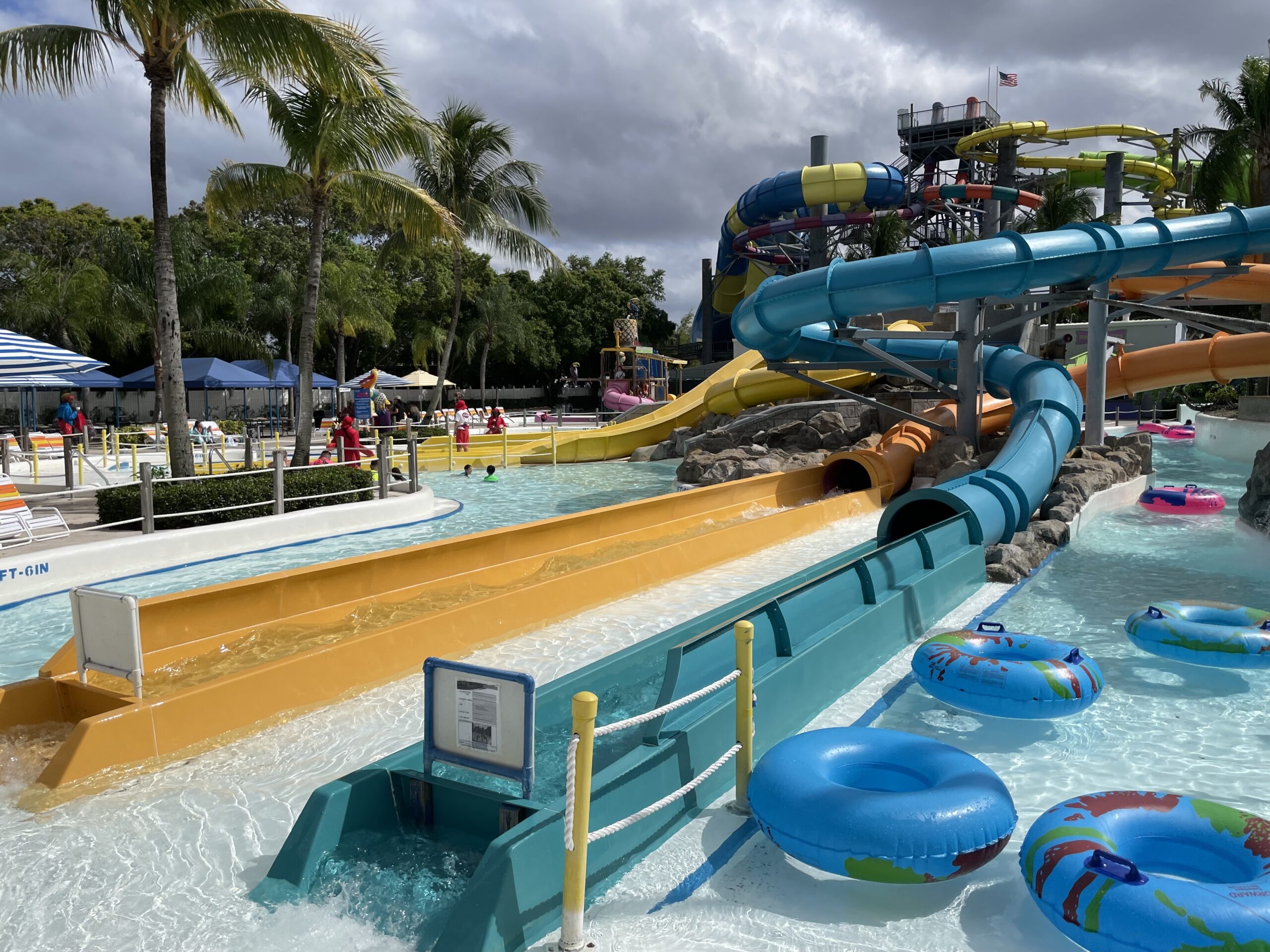 If you're looking for the perfect day trip for your family or even a larger group, then Rapids Water Park in South Florida should definitely be on the bucket list. With such a large facility and many options to choose from, there is truly fun available for people of every age. Before you go on your trip, here is what you need to know about the park.
About the Park
Rapids Water Park is one of the largest water parks in South Florida and has plenty of fun for the whole family. The park spans over 35 acres with 42 of the largest water slides in the state. You'll find attractions with 7 story drops, wave pools, fun treats, and more throughout the facility.
Not only is there fun for the whole family, but you can relax knowing that your children are safe. The facility is staffed with Ellis & Associates certified lifeguards at all times to ensure safe water play. The park also provides personal floatation devices (free of charge) that have been Coast Guard approved.
Rides
At Rapids Water Park, you'll find something for every family member to enjoy. As one of the largest water parks in South Florida, they are known for their amazing selection of rides. They have rides for the biggest thrill seekers, slides for the family to go on together, and even rides for the little ones, too.
Thrill Rides
Big Thunder
Big Thunder is one of the most popular thrill rides in the park. This ride begins with sharp turns through a dark tunnel before taking a 45 degree drop. This drop sends the multi-person raft through a funnel at approximately 20 mph to satisfy the biggest thrill seekers.
Black Thunder
If you are walking through the park, then you definitely won't miss seeing the Black Thunder. This black and white cone-shaped slide will send your multi-person raft through many unexpected twists and turns in complete darkness. It ends with a thrilling drop into a dark vortex funnel, so you won't want to miss it!
Brain Drain
If you love the feeling of a heart-pounding drop, then you'll love the Brain Drain. This ride consists of two 70-ft. tall waterslides that are completely enclosed. Each slide is designed with different slight patterns, but the riders are launched together. The rider stands on a trap door and is suddenly dropped into freefall. Some riders achieve a speed of up to 35 mph before exiting the chute into a pool at the end.
FlowRider
FlowRider is the ride for all people who love surfing. This ride contains a continuous simulated wave system that moves 30,000 gallons of water per minute at a speed of 35 miles per hour. If you want to show off your boarding moves, then you'll love this high-speed surfing experience.
Other Thrill Rides
While these are some of the most popular rides available, there are plenty more to choose from. If you'd like to learn more about the thrill rides and their restrictions, you can read about each one here.
Family Rides
Are you looking for some water-based fun without quite so many drops and turns? You'll love the family rides. While there are many different family rides available, here are some of the most popular:
Baby Blue
Baby Blue is a single rider attraction in which a tube is not required. The rider begins in a dark, enclosed chute and enters a bowl at full speed. The rider will then make multiple high-speed spins around the perimeter of the bowl and gradually decrease speed as they move toward the exit. The exit in the center of the bowl ends in a splash drop landing into a small pool.
Big Red
Similar to Baby Blue, Big Red is a bowl-shaped slide. This ride can accommodate single or double rider tubes. The ride begins in a dark, enclosed chute and make multiple rounds around the bowl at full speed. The tube will gradually slow as it circles toward the exit.
Body Blasters
If you're looking for a ride without mats or tubes, then the Body Blasters are for you! The enclosed flumes blast you through 1,000 feet of drops, dips, and curves and end in a big splash in the deceleration zone.
Other Family Rides
While these are the most popular family rides, there are several more available. Other rides include the Old Yellar, Raging Rapids, Riptide Raftin, Tubin Tornadoes, and more. To read further about the other family rides and their restrictions, you can find the information here.
Kids Rides
Are you bringing little ones to the park? They'll have a blast in the kids rides section! Most of the attractions for children occur in small pools where the family can join or sit close by and watch. Some of the most popular attraction for kids include:
Alligator Alley
Barefootin' Bay
Big Surf
Criss Crossing
Lazy River
Splash Hill
Splish Splash Lagoon
These lagoon-based attractions are great to relax in at the end of the day. Most of them feature small slides, water shooting canons, floating swamp animals, and more. For more information on the attractions for children, you can read more here.
Family Rides
After a long day of play in the water and trying all of the biggest rides, your family will be ready to have snacks or meals. Rapids Water Park offers different options for dining to suit every family's needs.
Snacks and Meals
For snacks and meals, you can check out Big Surf Café and Pelican Bay Café. These snack bars are full-service and offer a variety of snacks and meals. Just a few options included at each café are:
Cheeseburgers
Hot dogs
Personal and Family sized pizzas
Chicken tenders
Sandwich wraps and salads
Chicken quesadillas
Appetizers
Desserts
If you're looking to sit down for your meal, the park also offers a few different locations to choose from. You can check out High Tide Tiki Bar or Pelican Pete's Tiki Bar. At these establishments, you will have a freshly prepared meal from the menu as well as the option for adult beverages for those who are 21 and older.
Kayaks Jacks
If you're hanging out by the Wave Pool, then you can take advantage of the local Kayak Jacks. There you'll find more grab-and-go lunch and snack options such as wraps, fresh fruits and vegetables, and nuts and juices. Whether you're looking for a quick snack or a light lunch, you'll enjoy the healthier options there.
Treats
What is a family water park day without treats? If you're looking to not only satisfy your hunger, but also that sweet tooth, then Rapids Water Park has everything you need. You can get an ice cream cone over at Frosty Creations (located by Old Yellar Slides). They also have several other small stands throughout the park that provide sweets such as:
Dippin' Dots
Funnel Cake
U-do-it Slush Factory
Mini Donuts
Popcorn
Cotton Candy
Frozen Lemonade
+ More
Allergies
While Rapids Water Park has many different food options available, their allergy disclaimer is important to note. The park states on their website that they purchase their food and beverage products from third parties, so they cannot guarantee allergy-free contents.
They suggest that guests who have allergy concerns avoid food or beverages unless they are packaged. If foods are unpackaged, prepared, or handled by the park, then there is a higher risk of contamination with other allergens.
Personal Food, Beverages, and Coolers
Rapids Water Park does allow person food, beverages, and coolers in the event that they are medically necessary. This may include things like foods for diabetics, baby formula for infants, gluten-free foods, or other allergy-safe foods. To bring these items into the park, you'll need to notify guest relations before entering. For safety purposes, no glass containers are allowed.
Shopping
If you've been interested in checking out SeaWorld, park reservations are no longer required. If you want to see marine animal presentations and exhibits, you definitely want to add this on to your Discovery Cove day.
Bringing Groups
While Rapids Water Park is a great family getaway, it also makes a great place for large groups! You can have a group of 20 or even 1,000+. No matter the group you're bringing, you can trust the team of event planners and caterers to host your event. They have the most common group events packages by offer.
Birthday Parties
If you're looking to celebrate the birthday of one of the little ones, then you can purchase one of the birthday packages. The birthday packages are available in two tiers. Both tiers include the following:
10 guests + 1 birthday child free(Adults and children are included in the headcount)
1 hour reservation of birthday pavilion for meal serving time
2 slices of pizza + 1 ice cream cup per guest
Unlimited soft drinks during serving time
Free gift for the birthday child
The second tier of the birthday package includes an additional souvenir cup per guest and a free gift for the birthday child. It is required to book these parties at least one week in advance, and full payment is due when you book to reserve the date. For more information on booking birthday parties, you can read here.
20+ Groups
If you're looking to bring a group of 20+ people, then you can take advantage of the Rapid Water Park discounts if you purchase in advance online. If you purchase your tickets one week in advance, you can expect to pay $34 per person on weekdays, and you'll pay $39 on Saturday, Sunday, and holidays.
You may still receive a discount if purchasing your tickets within 72 hours of arrival. You can expect to pay $39 on weekdays and $44 on Saturday, Sunday, and holidays. If you're expecting to be a part of tax-exempt groups or a group of 50+, you can contact the Rapids' Group Sales Department for further discount discussion.
Schools, Youth Groups, Camps, and Churches
With schools, youth groups, camps, and churches, you can expect to have the same rates applied as the discount for 20+. However, if you're purchasing 50+ tickets at a time, you can purchase the catered option. This includes:
All-day admission
Picnic in the park with a buffet meal
Choice of:

Hot dogs
Cheeseburgers
Pizza
Pulled pork sandwiches
BBQ chicken sandwiches
Please keep in mind that catered events of 50+ people must be booked at least one month in advance. To book a catered option, you'll need to contact the Group Sales Department by phone or email them at eromero@rapiswaterpark.com.
Company Discounts and Events
For company events, you can expect the same rates as booking 20+ people. If booking an event for 50+ people, then you also have the option of catering as stated above. Companies also can take advantage of the E-Discount Program, in which the company can gift employees a one-day admission to the park. The program is limited to companies with at least 25 employees, but these companies can get up to 27% off regular priced admission. Click here for more information on corporate discount access.
Special Events
If you're looking to have a private experience for your group, then you can buy-out the park for certain hours based on your needs. There are 4 different tiers: South Tower, South Tower + Wave Pool, Splash Island, and Full Park Buy-Out.
Pricing for the packages ranges from $8,000 to $60,000 and has time slots ranging from 2 to 5 hours. The smaller packages consist of up to 200 guests, while the full park buy-out consists of up to 2,000 people. If you're interested in learning more about park buy-out options, then you can learn more here.
Tickets & Cabanas
Daily Tickets
For 2022 regular admissions, the regular rate is $49.99 per person Monday through Friday. On Saturdays, Sundays, and holidays, the rates are $59.99 per person. Both rates will include additional tax. Children ages two and under are free, but there are height and weight restrictions on many of the larger rides.
Cabana Rentals
Cabana rentals are available if you'd like a private escape and relaxation place within the park. The rentals are available for $249 plus tax and includes a 10 x 10 Cabana with privacy curtains, a ceiling fan and flat screen TV, a loveseat with two chairs and a table, two lounge chairs, personal food and beverage service, a security locker, and six bottles of water. Cabana reservations must be made in advance online or at the front gate on the day of visit. Each Cabana is limited to six people.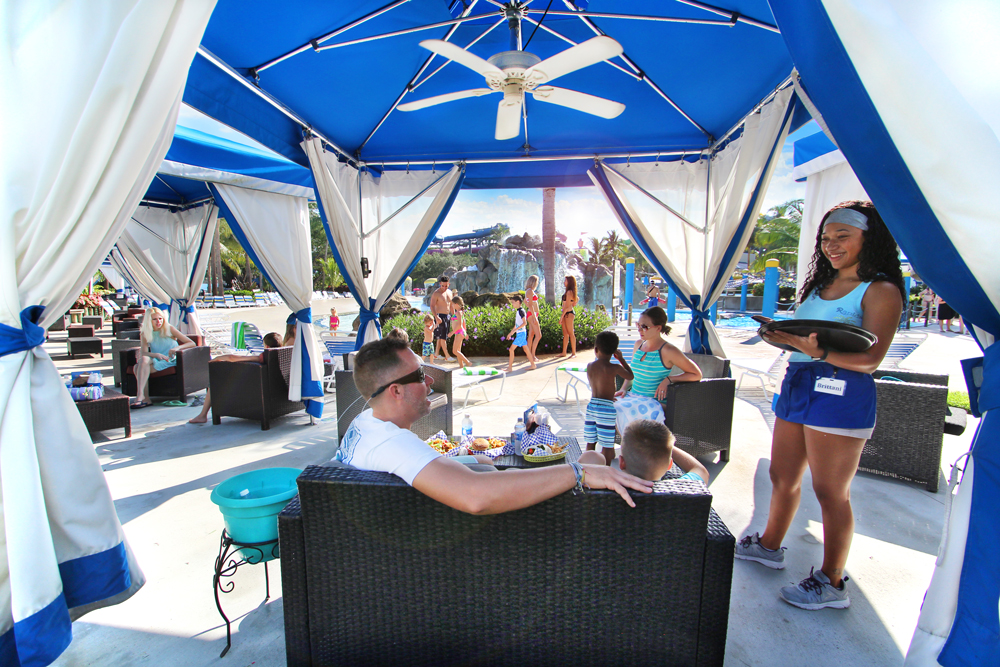 EZ Band
The EZ Band is a perk that comes with the Gold Season Pass (see below). This is a wearable Season Pass that allows you to load money to it online. It replaces a pass card, and you don't need to carry your wallet around to make purchases at the park.
Season Passes
If you plan on regularly attending the park, then you may consider purchasing a season pass to save money long-term. The Gold Season Pass will save you $20 off of the regular price, so you can get the entire 2022 season for only $109.95 plus tax.
For payment options, you can pay in three monthly payments of $36.65 or pay in full. The Gold Season Pass benefits include:
Free regular parking
Free sports bottle with $1.25 unlimited soft drink refills
1 bring a friend free ticket
Unlimited visits to Rapids for the 2022 season
10% off in-park purchases of food, beverages, and merchandise
20% off cabana rentals
EZ-Band wristband
Discounts on tickets for friends
If you'd like to buy a season pass, then you can purchase that here.
Planning Your Trip
If you're ready to plan your trip to Rapids Water Park, it's never been easier! Here are some things that you will need to know before your big fun-filled day.
>Hours
Rapids Water Park in South Florida officially opened in March 2022. Hours differ based on the day and month. For most of June, July, and August, the park is open from 10:00 am to 7:00 pm. The park has dates available from March 2022 to November 2022. To read more about the park's scheduled hours, click here to see the calendar.
Directions
Rapids Water Park is located at 6566 N. Military Trail, Riviera Beach, FL, 33407. Based on if you're coming from the South or North, here are directions on how to get there from the major highways:
Directions From the South:
I-95
North to Exit #74 (45th St.)
45th St. west to Military Trail
Right on Military Trail (north) 1/2 mile
You will see the park on the right-hand side
Florida Turnpike
North Exit 99 (Okeechobee Blvd.)
Okeechobee Blvd. east to Military Trail
Left on Military Trail north 4 1/2 miles
You will see the park on the right-hand side (1/2 mile north of 45th St.)
Beeline Highway (SR 710) Turnpike (Sun Pass Toll Only – No Cash)
Exit Beeline Highway / SR 710E – Go East and turn right onto SR-809 S/Military Trail.
Make a U-turn at Port West Blvd onto Military Trl/SR-809 N.
If you reach Canterbury Dr S you've gone about 0.2 miles too far.
Directions From the North:
I-95
South to Exit 76 – (Blue Heron Blvd.)
Blue Heron Blvd. west to Military Trail
Left on Military Trail (south) 1/2 mile
You will see the park on the left-hand side (1/2 mile south of Blue Heron Blvd.)
Florida Turnpike
South to Exit 109 (PGA Blvd.)
PGA Blvd. east to Military Trail
Right on Military Trail (south)
You will see the park on the left-hand side (1/2 mile south of Blue Heron Blvd.)
Park Map
If you're planning your trip, then you may want to plan out which attractions you'll be going to. The park has a map available online to download as a PDF. Click here to view it.
Park Policies& Restrictions
The park has policies and restrictions in place to ensure the safety of all participants. Some of the policies include wearing appropriate swimwear, utilizing lifejackets for weaker swimmers, having an adult accompanying children under the age of 12, and height and weight restrictions for each ride. You can find the full list of the Park Policies and Restrictions here
Enjoying Your Time at Rapids Water Park
Whether you're a South Florida local or are visiting from out of state, Rapid Water Park makes a great day trip full of fun for the whole family. The park is now open for the 2022 season! With their wide range of attractions and dining options, you truly can't go wrong adding this park to your bucket list.
References
https://www.rapidswaterpark.com/thing-to-do/kids-rides/
https://www.rapidswaterpark.com/plan-your-trip/directions/