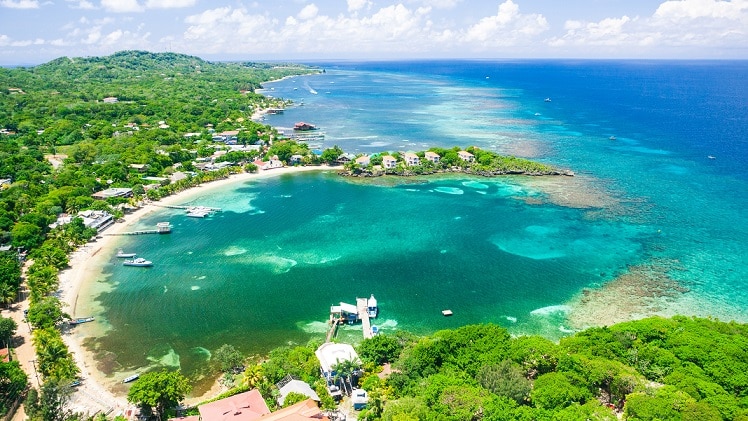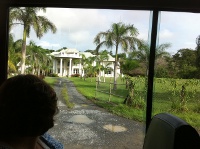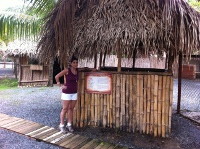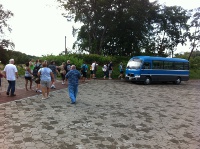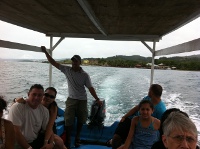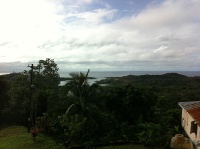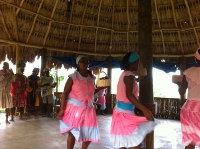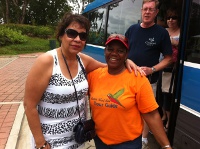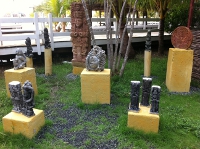 My family and I went on a Carnival Cruise in December 2011. One of the cruise ship stops was the Roatan Island Honduras. Most people I spoke with on the cruise had never heard of Roatan Island. We all thought it would be a small island that was mostly all beaches, but we were all wrong as the Roatan Island has so much more to offer. My husband wanted to the Swim with Dolphins tour, so he did a separate excursion, while we did a shore excurion tour of the island. Roatan Island Honduras is an adventurer's vacation paradise in the Western Caribbean. Roatan has beautiful blue skies, picturesque landscapes, beaches, coves, bays, crystal clear turquoise blue water, and offers mild wonderful temperatures all year round. Roatan is the largest of the Bay Islands and lies 30 miles off the north coast of Honduras and is 33 miles long and 4 miles wide. A paved road crosses the island 75% of its length. This main road leads to all the different destinations and attractions on the island.
We arrived to this charming Castle which set the theme of what would be offered inside. In The foyer area boasts of several expensive suits of Knights Armour which were available for sale. After purchasing our tickets which run approximately $59.00 plus tax per person and children are $38.00 plus tax per person (children under 3 eat for free). We were given paper crowns and escorted to a room where a photographer took our photo. We then climbed stairs and entered the spectacular grand room where the dinner and entertainment would take place. The tables offer bench seating that was set in a stadium arrangement on both sides of the arena. This sunken area also was a stage were the Knights and Horses roamed below the elevated box that served as a secondary stage where the royal family would reside for most of the show.
We chose to do the Discover Roatan Tour. We were transported in a very comfortable air conditioned bus by a small and professional tour operator called Roatan Island Tours with our tour guide Carmen and was a wonderful way to explore the real Roatan. This small tour operator provides expert local guides. Carmen and our driver took real pride in showing us their island paradise. While on the tour bus we were informed by our Tour guide Carmen that the Roatan Island is known around the world for its first class scuba diving and snorkeling. The reef surrounding the island attracts beautiful tropical fish and snorkelers alike. This truly unspoiled island is surrounded by the world's second-largest coral reef, which houses hundreds of varieties of sea life. Roatan is considered some of the best in the world for snorkeling and scuba diving. Dive attractions include shipwrecks, and night diving. Sea turtles, dolphins, and whales swim in the waters of Roatan. There is also deep sea fishing, charter fishing trips on the flats and mangroves, swimming with the dolphins, kayaking, glass-bottom boat tours, jet ski rentals, canopy tours, horseback riding, shopping for island crafts, walking the beach and viewing the butterfly and floral gardens. Roatan Parrots, iguana, and monkeys roams free on this tropical island. An iguana farm east of French Harbor provides a refuge for thousands of iguanas and is open for tourists.
There are several well developed communities with their own attractions, such as Coxen Hole, French Harbour, West Bay, West End, Port Royal, Punta Gorda, Oak Ridge, the Barbareta and Morat Island, Jonesville, etc. Every one of these small towns or communities have their own charm, and it is worthwhile to see each one of them.
Coxen Hole is the largest town on Roatan and is the Capital of the Bay Islands. It is the islands center for politics and commerce, the airport, and the cruise ship dock. It streets are narrow and crowded with people and cars.
Sandy Bay is most of Roatan's cultural attractions they are located in Sandy Bay, such as the Institute of Marine Sciences and the Carambola Gardens and Marine Reserve. Sandy Bay is just across the narrow width of the island from Coxen Hole.
French Harbor is the second largest community on Roatan. It is a thriving business center, with one of the largest grocery stores, banks, real estate offices, shrimp boat docks, and shipping companies. Roatan's fishing trade. Several of Roatan's most exclusive hotels are located here, as well as the island's only Iguana conservatory. French Harbor also features a nice shopping center. It features Wendy's Fast food, Applebees Restaurant, and other businesses.
French Harbor is the second largest community on Roatan. It is a thriving business center, with one of the largest grocery stores, banks, real estate offices, shrimp boat docks, and shipping companies. Roatan's fishing trade. Several of Roatan's most exclusive hotels are located here, as well as the island's only Iguana conservatory. French Harbor also features a nice shopping center. It features Wendy's Fast food, Applebees Restaurant, and other businesses. Punta Gorda has the largest settlement Garifuna people. The Garifuna have a fascinating culture, preserving their African, Carib Indian roots. They beat drums and still speak the Garifuna language.
West End attracts many tourists, with dive centers, hotels, restaurants, and shops. The West End also offers rental properties and condos available for tourists who choose to stay longer on the island.
Our tour headed to the unspoiled East of Roatan, where we found authentic Garifuna villages, fishing towns on stilts, lush vegetation & landscaping, beaches and amazing hill top views of the coral reefs and distant islands. We first arrived at a Garifuna settlement where we got to meet and see the Yubu Garifuna experience and learned how to greet the natives in their own exclusive language. The Garifuna people performed various cultural dancing and music. As I watched the traditional dances performed by descendents of African mixed with Carib Indians, I learned that the men disguised themselves as women to avoid being killed during times of war. The male dancers dances the Jun Ca Nu and the female dancers danced the Punta. We enjoyed the traditional dances that have been handed down from generation to generation since the Garifuna settled in Roatan in 1797.
While visiting the Garifuna settlement we given a complimentary drink by the tour company while we tasted freshly prepared Cassava (Yucca) bread after watching a local Roatan woman prepare the Cassava bread on a mud like stove. We then journeyed to a local village to shop for crafts and art. The Garifuna uses natural materials that are locally plentiful. These crafts can make beautiful souvenirs or gifts and include wood carvings, basketry, embroidery and textile arts, leather crafts and ceramics. We also watched as a local took plantains and smashed them to make the native Machuca. A typical dish, Machuca is made of boiled plantain that is mashed with a local white fish and coconut milk. This dish was truly delicious!
Then we got back on the bus and headed towards Punta Gorda where were heading to take the Boat ride. While back on the bus, Carmen our tour guide continued to educate us about the composition of Roatan. Roatan has a mixture of ethnic backgrounds and cultures. The largest ethnic population in Honduras descended from a mixture of Indians and Spanish. Their language is Spanish. This group is now the largest ethnic group on Roatan. As most visitors to the islands will discover English is spoken by the majority of the old islanders over thirty years of age, and is at least a second language for the majority. The Lempira is the official currency of Roatan, however, they absolutely take United States dollars as payment for goods and services.
We arrived at the dock and took a 15-20 minute boat ride around a part of the island where we received a closer look at the Mangroves, indigenous wild life and huge ship wrecks that is a popular destination for many scuba divers to go to dive. When we got back to the dock we had time to shop and walk thru a mini display of animals indigenous to the island and other cultural aspects of the island. We went back on the bus to head to our final destination. While on the bus, our tour guide Carmen passed around unique items that most people on the tour had never seen before. We were asked to guess what these items were. Most of us could not guess. We found out what a raw cashew, wild locust, ginseng and guava looks like. Then it was time to say goodbye to our tour and we returned to the dock where we lined up to get on a tender to get back to our Carnival Cruise ship.
Our tour went for 3.5 hours, and was packed full with exploring the exotic, undeveloped East end of Roatan while learning about the history of Roatan and the Bay Islands, We boarded an island style boat for a narrated trip around the reefs, keys and visible shipwrecks. We sampled delicious jams made from Hibiscus, Island Plum, Apple, Bananas and other locally grown flowers and fruits. We Watched Garifuna dancers and experienced their culture, music, sampled Garifuna cuisine, and shopped arts and crafts. I took my grandparents on this tour whose average age was 84 and they loved the tour because there was not a lot of walking while enjoying what the island had to offer. I would recommend this tour to families as it is a fun way to learn and be entertained at the same time. My husband also adored and enjoyed his time with Swimming with Dolphins as well and told me it was the most beautiful facility he has had the privilege of seeing.
Get More Information on This Adventure!!!
Experience adventures like the one found in this article and others by using TropicalAdventure.com Vacation Planner. Simply fill out our Vacation Planner form and you will receive FREE information about this activity and others that you may be interested in. Click below to sign up.