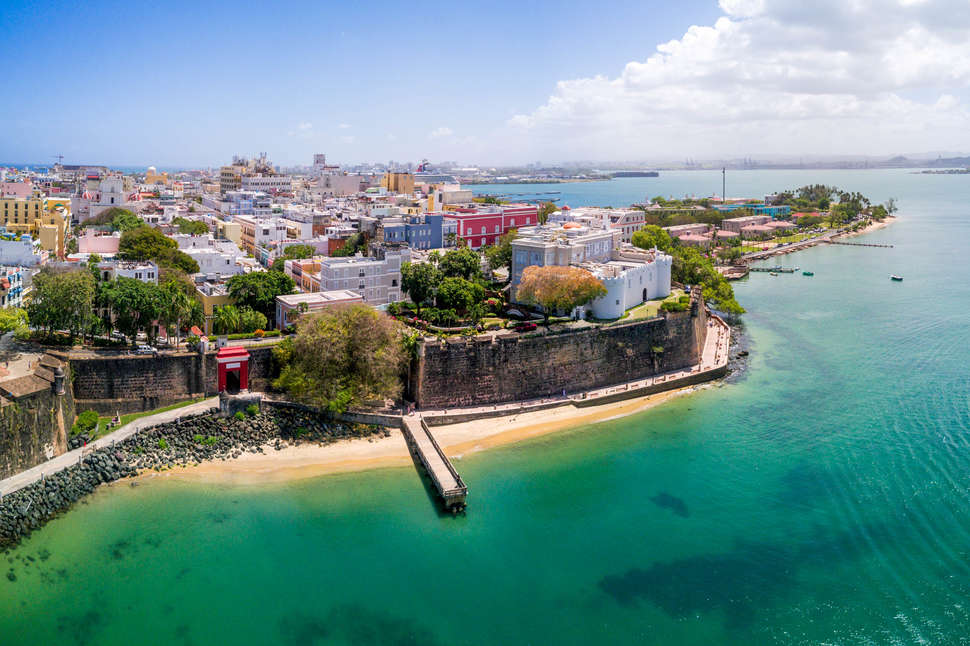 History 
Puerto Rico was once the island of Boriquen. Its inhabitants were the Arawaks. Chris Columbus discovered this raw island in 1493, renamed it San Juan Bautista, and began its Spanish colonization. Eventually it was named Puerto Rico and Luis Munoz Rivera persuaded Spain to grant the colonies autonomy in 1897. With Munoz Rivera as leader, the United States won the island in the Spanish- American war in 1988. In 1917, Puerto Rico was established as a US territory, with its own government.
Environment & Climate
Today, Puerto Rico is a major tourist destination. Its ecology, environment, and personality attract countless travelers every year. Lying between Hispaniola and the archipelagoes of the Leeward Islands, Puerto Rico has a beach for anyone, with the Atlantic Ocean to the north and the Caribbean Sea to the south.
There is more to Puerto Rico than beaches, though. El Yunque, a rainforest in the northeast, is cherished. It is said that this national park receives over a billion gallons of rainfall per year. As one could imagine, wildlife thrives here, as do the standard foliage of rainforest ecology, including the majestic canopy trees.
To the south of the island there is a unique ecological wonder. The Guanica Dry Forest is both coastal and tropical, with an ironic landscape of cacti, evergreens in the hills, and mangrove stands.
Those adventurers seeking a variation of activities should travel northwest. Here they will find rocky ledges, caves, and hills to delight the senses. While climbing, travelers may hear or see coquis, the island's native frogs, who are known for their assertive croaks.
The climate in Puerto Rico is humid and warm throughout the year. The temperatures range between 75-85 degrees Fahrenheit. To escape the hot temperatures, visit the mountain regions. Temperatures are cooler there. Hurricane season is a time to be wary of. The season is between May and November.
Activities 
Since beaches are a main draw of Puerto Rico it is worth noting some of the best. For swimming, the southern coast is the best choice because of its calmer waters. The beach named Boqueron is the most recommended. Punta Guilarte and Flamenco Beach are also worthwhile.
Surfers can find the best waves between Rincon and Isabella in the northwest, during the months of October through April. Windsurfers should visit Isla Verde or anywhere else along the northern Atlantic coast. Beginners can partake in San Juan's Condado Lagoon.
Hiking areas are prevalent, and stunning. Trekking in El Yunque, the rainforest, or Rio Camuy Cave Park is essential. For wildlife enthusiasts, Guanica Reserve is worthwhile. It's here that birdwatchers will be rewarded. Rincon will provide sightings of humpback whales, January through March.
Caving is a sport that takes some skill. Nevertheless, both experienced and beginner cavers can participate in the sport in Puerto Rico. The cave system of Camuy River can be explored with the help of the guides in the National Park. There is a trolley-tram beginners can take to a cave. The tram transports guests to the cave, via a sinkhole.
A unique experience in Puerto Rico remains the viewing of the bioluminescence of Phosphorescent Bay. The bay is located near La Parguera.
Scuba diving is, of course, another popular activity. Great diving is accessible a couple of miles offshore in Puerto Rico. Get too close to the shore, and visibility can be affected by river runoff. Desecheo Island, just west of Rincon, is a must for experienced divers. The island is adjacent to a 5-mile deep submarine canyon. There are numerous other sites that are worth a visit, including Culebra and Vieques islands, Humacao, and La Parguera.
Oceans Unlimited, a tour operator based in Rincon, offers single and multi day dive trips, instruction and charters. They offer various types of packages, including scuba diving, snorkeling, and diving certification.
Oceans Unlimited's trips are fantastic for families. They provide a full day of memorable experiences. Their charters depart at 8:00 am. The boat ride to Desecheo takes about 1 hour, and offers sights of dolphins, and whales in the wintertime, along the way. The day is spent off shore of the island, where guests can dive or snorkel. Desecheo Island is unknown to the masses, but those who know it agree that it is a gem of a dive site. Visibility is 100-150 feet, and depths vary from 20 feet to over 100 feet, which makes it an alluring place for all levels. A buffet lunch with sandwiches, fruit, sodas, and water is served. The day is complete with a relaxing ride back to the dock at 3:30 pm.
Half-day charters to Mayaguez are also available. The Ocean Unlimited web site states, "The local reefs in Mayaguez are abundant with many different types of hard and soft corals, as well as a wide variety of reef fish and even a stray open water game fish from time to time. These sites are excellent for snorkeling, Discover Scuba Diving and training dives. Many of the sites begin in about 15-20ft. Snorkelers can find patches of reef in the 10-15ft range, while divers can drop off the side of the reef system to a maximum depth of 60ft." After a few hours of snorkeling and beginning diving, the captain brings the boat back by 12:30pm.
Oceans Unlimited offers charter to Mona Island for a 3 or 4-day camping excursion. At Mona, divers can dive in the gorgeous waters, snorkelers can do their thing in the blue lagoons, wildlife lovers can look for sea turtles and other species of wildlife on shore, hikers can hike over the rocky hills, and caving enthusiasts can explore. Permits are required to visit Mona Island.
After an action packed day, participants camp on the beach overnight. The expedition is a great value, with all meals and camping equipment provided. Lisa Maddocks of Oceans Unlimited proclaims, "This is a true get-away on a deserted island."
What Else to Do
There are many festivals in Puerto Rico spread among the months of the year. A couple of the most entertaining include the Festival of St. John the Baptist, which takes place in San Juan in late June. The event is full of dancing, music, feasting, and parades. The climax of the festival is a walk into the sea, backwards, at midnight. It is meant to bring about good fortune to those who participate. For some zesty fun, visitors to the island can celebrate Carnival in February.
Lodging
Lodging in Puerto Rico can be varied. There are plenty of Internet resources to help travelers find a location.
Maddocks, of Oceans Unlimited, recommends Parador Perichi's and Joyuda Beach Hotel. Both are government-endorsed properties. They are moderate in price, have restaurants, a pool, and are only about 15 minutes from Oceans Unlimited's boat dock. The Lighthouse Inn is about 10 minutes from their boat dock and has several restaurants on site. A special perk is that these lodges are close to nature, and located in an area quieter than Rincon.
Although there are no marina facilities in the Rincon area, Lisa says, "In Rincon, we suggest the Hotel Villa Cofresi. This is a wonderful beachfront, family owned hotel with a restaurant on premises, pool and beachside cabana bar. Prices are moderate (but great for beachfront
property) and staff makes you truly feel like "family"! This property is about 35-40 minutes from our boat dock."
Dining
San Juan is renowned for its fine restaurants. French, Caribbean, Mexican, you name, you can find it in Puerto Rico, inside or outside of the city. There is even a magazine dedicated to reviewing restaurants and food in Puerto Rico, named "Tables". The magazine is an outstanding resource for finding the right dining establishment for the moment.
When to Go
The question should be when not to go. Puerto Rico can become overwhelmed with tourists during the months of December through April. After the peak season travelers risk Hurricane Season. If a more affordable vacation is on the agenda, then it is important pay attention to the weather reports before and during your visit.
Getting There & Around
Luckily, Puerto Rico is extremely accessible, with major US airlines flying in and out of San Juan everyday. American Airlines maintains a major hub in San Juan. In addition, British Airways serves the island from London and flights depart from Frankfurt on Lufthansa to the island frequently.
The main airport is San Juan's Luis Muñnz Marín International Airport. Like most major airports, there are a plethora of car rental agencies, taxis and buses waiting to transport guests to the island.
When you are ready to begin your adventures across the island, it is recommended to rent a car. Be aware that the locals drive a bit unpredictably, but usually without the rage factor. Watch speed limit signs and remember to drive on the right hand side.
Patient individuals can take on the public transportation system in Puerto Rico. Although affordable and interactive, there are, in general, no set schedules, and many stops on the routes. Flag a publicos down whenever you see one, but be sure to identify it first by the 'P' or 'PD' on the license plate.
Taxis in busy areas are plentiful, and ferries run from Fajardo to Culebra and Vieques islands.
Costs 
Of all of the Caribbean's islands, Puerto Rico comes out ahead in regards to affordability. It is not unreasonable to budget $300 per day with lodging at a more prestigious hotel, and three high quality meals a day. Budgeting down from there, a moderate vacation might cost about $200 per day, and an economy vacation could be less than $100 per day. The off-season, May through November is always more affordable, and specials are easily discovered.
In addition to the peso, most venues accept all major credit cards and traveler's checks. ATMs are also readily accessible in the tourist localities.
Tip about 15% in restaurants, and remember that bartering is not common like in other Caribbean destinations, with the exception of artisan markets.
Whatever the cost, Puerto Rico is a place, not so far away, that takes you away, and truly draws you in.
Visit Tropical Adventure.com Destinations search page to search for other activities.
Get More Information on This Adventure!!!
Experience adventures like the one found in this article and others by using TropicalAdventure.com Vacation Planner. Simply fill out our Vacation Planner form and you will receive FREE information about this activity and others that you may be interested in. Click below to sign up.