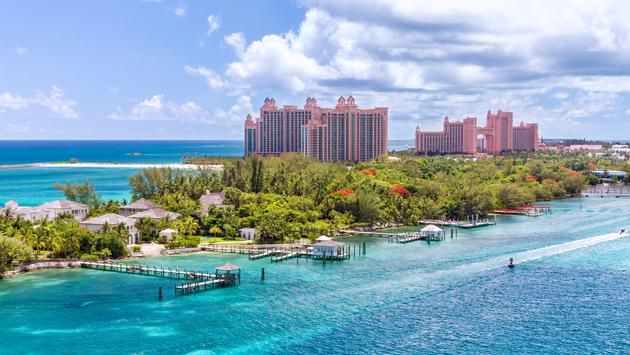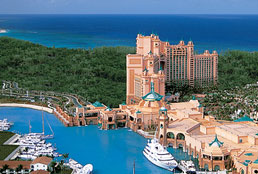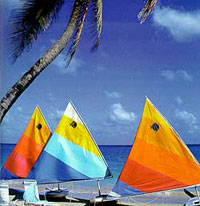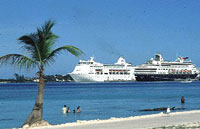 Ahhhhhh, the Bahamas! Who doesn't fantasize about the clear waters of the Caribbean, punctuated with steel drums and a symphony of color? It was the frostbite of winter, when the California rains had soaked our spirits, and SAAD moods prevailed. We decided that traveling was a better choice over another visit to the therapist. We made the right decision!
From Los Angeles, it takes about 7 hours to get to the Bahamas, depending on what island you travel to. A variety of airlines service this destination, with many of them stopping domestically before hopping over to the islands. Despite my efforts, my traveling companion insisted that a stop in Miami qualified the flight as a domestic trip. Were we in for a surprise at the airport! LAX looked like the summer lines at Magic Mountain. I pleaded with one of the airline staff, who scowled and shrugged, but ushered us to the front of the line so that we could make our flight. Thank you Sharon!
You need to allow a good three hours before departing to account for airport security, traffic and the lines for lattes. But believe me, the Bahamas are well worth your test in patience. After landing in Miami, we took a prop plane to Nassau, which was only about an hour away. From the air, the expansive view of clear azure waters revives any weary traveler and we both were invigorated by the time we landed. From Nassau, it's scenic half-hour cab ride onto Paradise Island, where we stayed.
The Bahamas used to be British occupied, but for a few decades, these islands have operated independently, with about 85% of the revenue generated through tourism. According to one of the locals we met on the airport shuttle, offshore banking is the other primary industry, for those of you looking to park some of your undeclared assets.
Paradise Island is one of the more popular islands in the Bahamas, most likely because it is also the home of the renowned Atlantis Resort, which is a gold mine for shareholders. Although there are many other pristine resorts in adjacent areas, this one is one of the most popular, attracting the bold and well heeled beautiful. The ratio of guests to employees at the resort is about 4 to 1, with the lobby humming 24 hours a day with employees eager to please. After checking in, we were directed to our room at the far end of the resort, with our luggage soon to follow.
For those of you unfamiliar with this "city," Atlantis is by far, the most dominating force on Paradise Island, and because of its popularity, is growing like a well-watered weed. If you combine the likes of Sea World, Disneyland and Las Vegas, you can get an idea of the amplitude of the Atlantis. Indeed, it could qualify as one of the wonders of the world on its architecture alone. It's definitely worth a visit, even though it puts the "E" in expensive.
Many celebrities, who relish its cache and opulence, frequent Atlantis. Most of them stay in the exclusive Royal Towers that loom above the grounds like the Taj Mahal. These salmon colored towers also house the renowned "Dig," which is an architectural masterpiece for underwater viewing. Here you can witness the habitat of manta rays, shark, lobster and other sea life as they parade beneath the hotel in an aquarium the size of Chicago. There are several additional towers in which you can stay which are far more modest in stature, with the least expensive Beach Towers starting at around $370 a night.
Couple these prices with the 12% resort tax, the automatic gratuities paid to the service staff on a daily basis, and you can see that the Atlantis is not for the faint of heart. Even those who choose to visit for the day are charged about $100 a person. However, for this price, you are immersed in a marine paradise that virtually enables you scuba-dive without getting wet. The underwater aquariums that meander throughout the Atlantis showcase a wide variety of sea life. Several times a day, you can participate in the shark, ray and turtle feedings, which are informational and entertaining.
Since we were paying for our own trip, we opted for the least expensive rooms so that we could spend the bulk of our money on restaurants and other activities, which are in abundance at the Atlantis Resort and on Nassau. Pool side, you can rent kayaks, water tricycles and rafts. If you want to swim, you have your choice of salt and fresh water pools.
If you are a gambler, their casino, located in the Royal Towers can keep you busy 24 hours a day. We played a few of the slot machines, and managed to make a small $27 profit. I can never understand the draw of slot machines. Their twanging reminds me of a bad country western tune.
There is also a time-share at the Harbourside Resort across from the Atlantis for those wanting to spend extended periods there. They must be selling well, as there are several phases already occupied, with a few more under construction. We went on their escorted tour, and found the rooms particularly charming, and well kept, with each of the developments fashioned in a rainbow of colors.
If you have kids, you'll definitely want to ride the water slides, which catapult you down a replica of a pyramid at about 60 miles an hour. For less adventurous souls, you can ride the inner tubes that funnel you through shark-infested waters. Since the water was a bit on the cool side for us, we opted to enjoy one of the many pools that grace the grounds of the Atlantis. Some of the better shopping bargains can be found by going over the bridge into Nassau. We took a cab into town for dinner one night and were surprised that cabs charge on a per person basis. Our $16 fair for a 5-minute trip was an expensive lesson. We then found out from locals that you can easily walk over the bridge into town, or ride the ferry for about $2 a person. The bus system in Nassau is fairly reliable as well, and far less expensive.
One of our Bahamian companions suggested visiting the Ardastra Gardens, on the far side of Nassau. This makeshift "zoo" sports a flamingo show that is world-renowned, with the birds marching in formation to the commands of the trainer. There is also a parrot sanctuary in which tourists are allowed to enter and mingle with the birds. We were each given small pieces of fruit, and soon found ourselves participating in a tropical version of Hitchcock's "The Birds." They were harmless though, eating the fruit out of your hand, and parking themselves on your head and shoulders.
If you have the chance, the dolphin excursion is well worth the expenditure. We took a boat to an adjacent part of the island to swim with the dolphins in Nassau – Paradise Island, and engage in the "foot push" in which two dolphins propel you from behind through the water at about 35 mph. Who needs an amusement park? Don't forget to buy the video. It's well worth the $48 dollars. You can also purchase varying packages of photos, which are a great value.
There are many dining options on Paradise Island and in Nassau. I'd suggest staying away from the pricey restaurants at the Atlantis Resort. One couple by the pool confessed that they paid $80 for a bottle of Woodbridge, and that their steak was marbled with a lot of fat. It's always best to ask to locals where they eat, as you'll often get to sample some of the regional fare, which is quite delicious, and relatively affordable. Conch, pronounced "konk" is a local delicacy, served in soups, salads and as fritters.
All in all, Nassau and Paradise Island are great tropical destinations, if you don't mind the tourist version of the Bahamas. In retrospect, we wish that we had visited some of the outlying islands so that we could better sample a less adulterated Bahamian experience. Maybe next time 'mon!
Getting there: Most of the major carriers fly to Nassau, often stopping in Miami, Ft. Lauderdale or Dallas Ft. Worth. Fares start around $500 per person and up during the high season, which is during our winter months.

Where to stay:
Atlantis Resort
Paradise Island
A whirlwind resort with something for everyone. Enjoy spectacular views of abundant sea life from the caves that meander through the property.
Rooms start at around $370 a night during the high season, and escalate up from there. Additional fees include a 12% resort charge and gratuities (about $15 a day) for maid service.
www.atlantis.com
1-888-528-7155
Comfort Suites–
Paradise Island Drive-Paradise Island
Adjacent to the Atlantis Resort, The Comfort Suites Paradise Island is modest, yet first-class, all-suites, hotel located adjacent to the Atlantis Resort and Paradise Island Casino. Not as opulent as the Atlantis, all guests still have use of the Atlantis' recreational facilities and its private beach. The Comfort Suites Paradise Island has been rated Three-Diamonds by AAA.
Rooms: $295-345 during the high season
www.choicehotels.com
1-877-424-6423
One & Only Ocean Club
Paradise Island
From $450 a night
Cradled between pristine beach and gardens inspired by the romantic grandeur of Versailles, One & Only Ocean Club is on the eastern end of Paradise Island. As an alternative to the Atlantis Resort, this exclusive place caters to those demanding privacy and serenity while visiting the island.
P.O Box N4777, Nassau
www.oceanclub.com
1-800-321-3000
Where to Eat:
Murray's Delicatessen
Atlantis Resort-Paradise Island
One of the more reasonable eateries at the Atlantis Resort, situated next to the Marina. Food is good, ample, and a bargain compared to other restaurants within the resort.
Dinner for 2: Approx. $35
Open 7 a.m-10 p.m. daily
# Phone: +1 242 363 3000
The Poopdeck at Sandyport
Sandyport Marina Village,
West Bay Street, Nassau
Local hangout sporting a variety of "conch" delicacies which are the rage in Nassau.
Dinner for 2: Approx. $75-$100
# Phone: +1 242 327 3325
eastbay@thepoopdeck.com
Fish Frys
West Bay Street, (Arawak Cay), Nassau
Very festive atmosphere frequented by locals. For a "backyard Bahamian flavor," this locale is a great hangout when you're in between festivities. Bring your appetite, and leave full without having to take out a second mortgage on your home
# Phone: +1 242 323 2227
Get More Information on This Adventure!!!
Experience adventures like the one found in this article and others by using TropicalAdventure.com Vacation Planner. Simply fill out our Vacation Planner form and you will receive FREE information about this activity and others that you may be interested in. Click below to sign up.