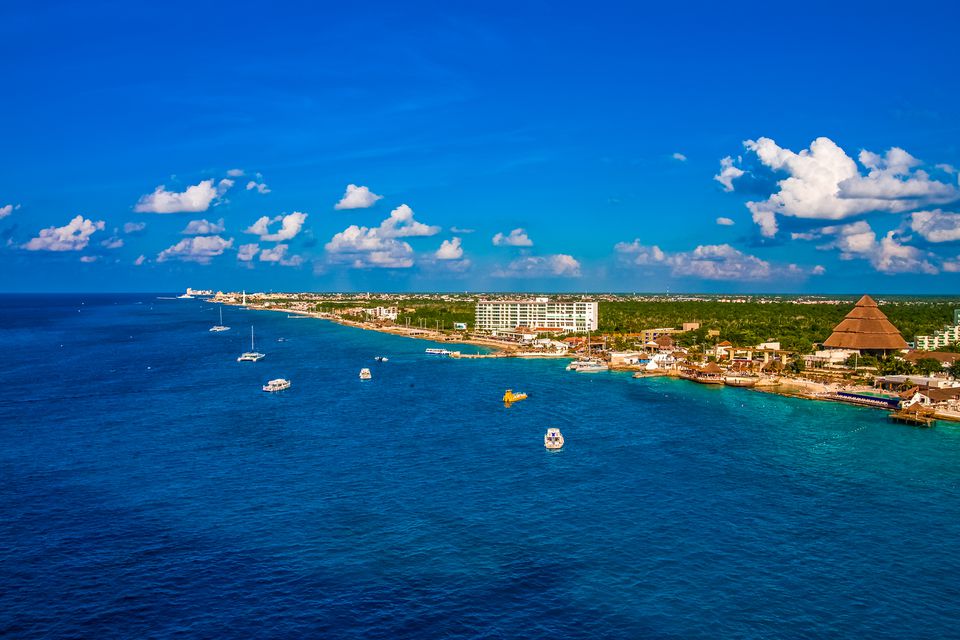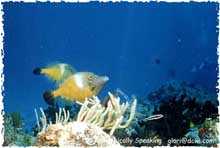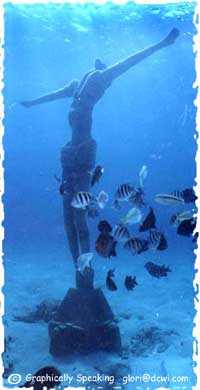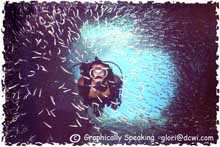 Until 1961, Cozumel was a sleepy little fishing village. Then, a television documentary by noted diver and nature lover, Jacques-Ives Cousteau, showed the world the beauty of our island waters. Today the very mention of Cozumel stirs images of tropical fish, aqua blue waters, and white powdery beaches. Even though hotels, restaurants, and other business have sprung up to serve tourists, when you visit Cozumel you'll still feel as if you're light years away from the rest of the world.
It's a good bet that it was Cozumel's natural beauty which attracted the Maya centuries ago. This great culture of warriors ruled from Campeche to Guatemala 2,000 years before the arrival of the Spanish explorers. They inhabited Cozumel from 300 A.D. to 1500 A.D. and remains of the Maya civilization are evident at San Gervacio (pronounced san-her-ba-see-oh). This was probably a capital city during ancient times. Today, it's the island's largest existing archaeological site. Covering an area of about 10 acres and situated in a beautiful, cool forest, this park and restoration project give us glimpses into the ancient Maya civilization. Guides cost from $12 to $20 for a group, or you can tour the area on your own.
Although San Gervacio is one of the lesser-known Maya sites, legend has it that this was once a sacred place where women journeyed to worship Ixchel, the goddess of love and fertility. Religious temples were dedicated in her honor and in return she sent her favorite bird as a sign of gratitude. For this reason, the Maya named the island Cuzamil-Pectin or -The Land of the Swallows."
Cozumel is the largest inhabited island in the Mexican Republic and the oldest in the Caribbean group. Nestled just 12 miles off the eastern coast of the Yucatan Peninsula, it's surface is approximately 80 percent jungle. The rest of the area constitutes San Miguel, a town of about 50,000 inhabitants. The island of Cozumel is actually a limestone plateau, measuring only 34 miles from north to south; nine miles east to west. BUT, don't let land size fool you. Flat and lacking significant rivers or hills, Cozumel harbors an underground network of fresh water rivers which honeycomb the porous limestone, forming "cenotes" or sink holes. These provide some of the most beautiful cave and cavern diving in the world. Many of these caves are highly decorated and when you enter them, you feel like you're floating through the finest dry cave you have ever seen. These underwater environments are unique, each with its own particular marine/cave life.
The subtropical climate, with temperatures ranging from 70-85 degrees F, creates a perfect environment for all kinds of sea life, and Cozumel is famous for having the second largest reef in the world. Spectacular reefs, not wimpy ones, surround the island. There are 26 classes of corals identified in Cozumel, surpassing the 22 reported for the northeastern coast of the Yucatan. You don't have to be a diver to enjoy this underwater scenery. Because of the clarity of the water (100 to 200 feet visibility), you can simply put on a mask and snorkel, jump in, and you'll feel as if you've been dropped into a tropical fish tank!
As a result of efforts by local activists, most of the reefs are now within a marine refuge. In 1996, The National Marine Park of Cozumel Reefs was created. This covers most of the reef system from north to south, along the east side of Cozumel. The area consists of 11,987.5 hectares, a great part of which includes humid soils, estuaries, mangroves, and rocky and sandy beaches which support important biological communities. Migratory and resident birds live here. In the National Marine Park, you'll find mountain coral, soft coral, brain coral, star coral, finger coral, leaf coral, elkhorn coral, stag horn coral and gorgonians. It is also home to tube worms, feathered annelida, anemonae, crabs, reef shrimp, mollusks, echinoderms and sponges, plus 500 fish species.
You are prohibited from taking, breaking, or damaging any underwater organisms. Recently, the Cozumel dive operators through ANOAAT (Aquatic Sports Operators Association) and the Cozumel Reefs Marine Park require every diver and snorkeler who visit the marine park by boat to pay $2 USD. This will be used for the protection of the marine environment and the fragile ecology of the reef system. The hope is that this place will remain beautiful for generations to come, just as it has been special for many generations past.
CHANKANAAB PARQUE NATURAL
(Chankanaab Nature Park)
Chankanaab means "small sea." This saltwater lagoon and botanical garden, within the marine park, boasts a world-famous ecosystem. The government has made it into a beautiful wildlife sanctuary and an archaeological park. You can swim in the ocean, underwater caves, offshore reefs, and in a protected bay. It's a great place for snorkelers and divers to see the diverse marine life of the reefs without venturing out into the ocean by boat. More than 60 species of fish, coral, turtles, and other marine life live in the lagoon, close to shore. In addition, there are several statues, such as the famous Jesus statue by Jacques Cousteau, for divers to enjoy.
Within the park, The Dolphinarium is a place where you can watch trained dolphins perform. You can even go swimming with the dolphins Cozumel . To do this, sign up at the Discover Dolphin booth. Or, divers can arrange to dive with the dolphins in the open ocean (sign up at Chankanaab Sports located inside the park).
The park's botanical garden is home to some 450 native and 350 non-native tropical and sub-tropical plants. For visitors interested in archeology, there is an interactive educational museum. A tour through the small history museum takes only a few minutes and is definitely worth a visit. Scattered throughout are reproductions of Maya ruins and typical living quarters. (If mosquitoes are particularly attracted to you, consider buying insect repellent at one of the park's shops before you venture on the nature walk into the jungle.)
Chankanaab Nature park is located on the main road, Avenue Rafael Melgar, about five and a half miles or a ten-minute drive south of San Miguel. A taxi costs around 70 pesos (about $7 USD). Admission is about $7 USD, depending on the season.
Note: Because the reef's ecological system is extremely fragile, park rules forbid you to wear tanning lotion, feed the fish, or touch any of the underwater specimens.
Get More Information on This Adventure!!!
Experience adventures like the one found in this article and others by using TropicalAdventure.com Vacation Planner. Simply fill out our Vacation Planner form and you will receive FREE information about this activity and others that you may be interested in. Click below to sign up.