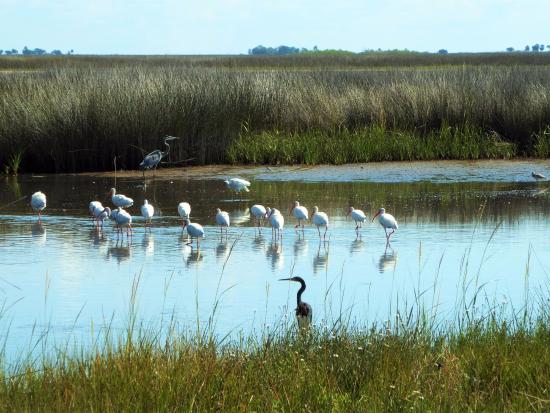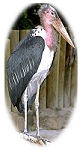 St. Mark's National Wildlife Refuge is one of my very favorite birding hot spots. It is located on the Florida Panhandle just south of Tallahassee. The 65,000 acre refuge supports many different habitats from freshwater swamps to salt marshes, from pine forests to estuaries. There are many attractions here for birders and other wildlife enthusiasts.
There is a large nesting population of Bald Eagles and most of Florida's waders can be found here. Many birders come to St. Mark's in the winter to see the impress numbers of ducks and geese that stay at the refuge. The refuge checklist contains 30 species of waterfowl including such rarities as Eurasian Wigeon and Cinnamon Teal. Other attractions include an incredible shorebird migration. Tens of thousands of Willets, Dowitchers, Godwits, Plovers, Sandpipers, and more come through every spring and fall. And May, June and July bring on the nesting season. Some of the more notable breeders include Osprey, Clapper Rail, Purple Galinule, A. Oystercatcher, Black-necked Stilt, Least Tern, and Gray Kingbird to name only a few.
To reach the refuge from Tallahassee go south on Hwy. 363. When you come to Hwy. 267 (there is a blinking light on the corner.), turn left onto 267 South. Follow 267 until it dead ends into Hwy. 98. Turn left onto 98 East. Take your first right after going over the St. Mark's river. This is Hwy. 59 or Lighthouse Rd. After about four miles, you will come to the visitor's center on your right. Here you can pick up a map of the refuge and bird checklists. There are bathrooms and a gift shop inside. Also, be sure to check the wildlife sightings list in the foyer. There is a short nature trail behind the visitor center that can be worth a look especially in April when spring migration is at its peak.
After your stop in the visitor's center, continue down lighthouse road. Two places that you want to be sure to check are Headquarters Pond and the Lighthouse Pool (see the map that you picked up at the visitor's center). Headquarters Pond has a wonderful viewing platform that overlooks an enormous wading bird rookery. From the platform look to the far right (southeast) corner of the pond for a large pine tree that contains an eagle's nest. The lighthouse pool is excellent for shorebirds, gulls, terns, ducks and more. Black Skimmers can often be found here.
Of course there are many other great birding spots at St. Mark's, but unfortunately I only have space to cover a few in this newsletter. If you want more on St. Mark's, look for my upcoming book The Birdman's Guide to Florida, Volume 1, The Panhandle.
Day and weekend trips can be arranged to the refuge through Nature Tours by Alan. The author of this article would be your guide to an outstanding birding experience.
Get More Information on This Adventure!!!
Experience adventures like the one found in this article and others by using TropicalAdventure.com Vacation Planner. Simply fill out our Vacation Planner form and you will receive FREE information about this activity and others that you may be interested in. Click below to sign up.