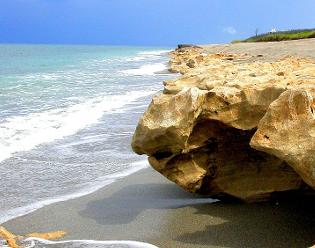 A person emailed me about Blowing Rocks Preserve on Jupiter Island Florida and it has been a long time since I have been there.  Its a great place to watch nature at work, with blowing and slashing water.
The preserve was named for its rocky Anastasia limestone shoreline – the largest on the U.S. Atlantic coast. During extreme high tides and after winter and summer storms, seas break against the rocks and force plumes of saltwater up to 50 feet skyward. It's an impressive sight.
Here is video to see the waves in action.

Here is little map of where the location is:
Its not a great place to go swimming because the rocks can be quit dangerous, so keep that in mind. Any feed back from any of you out there?
God Bless,
Johnny