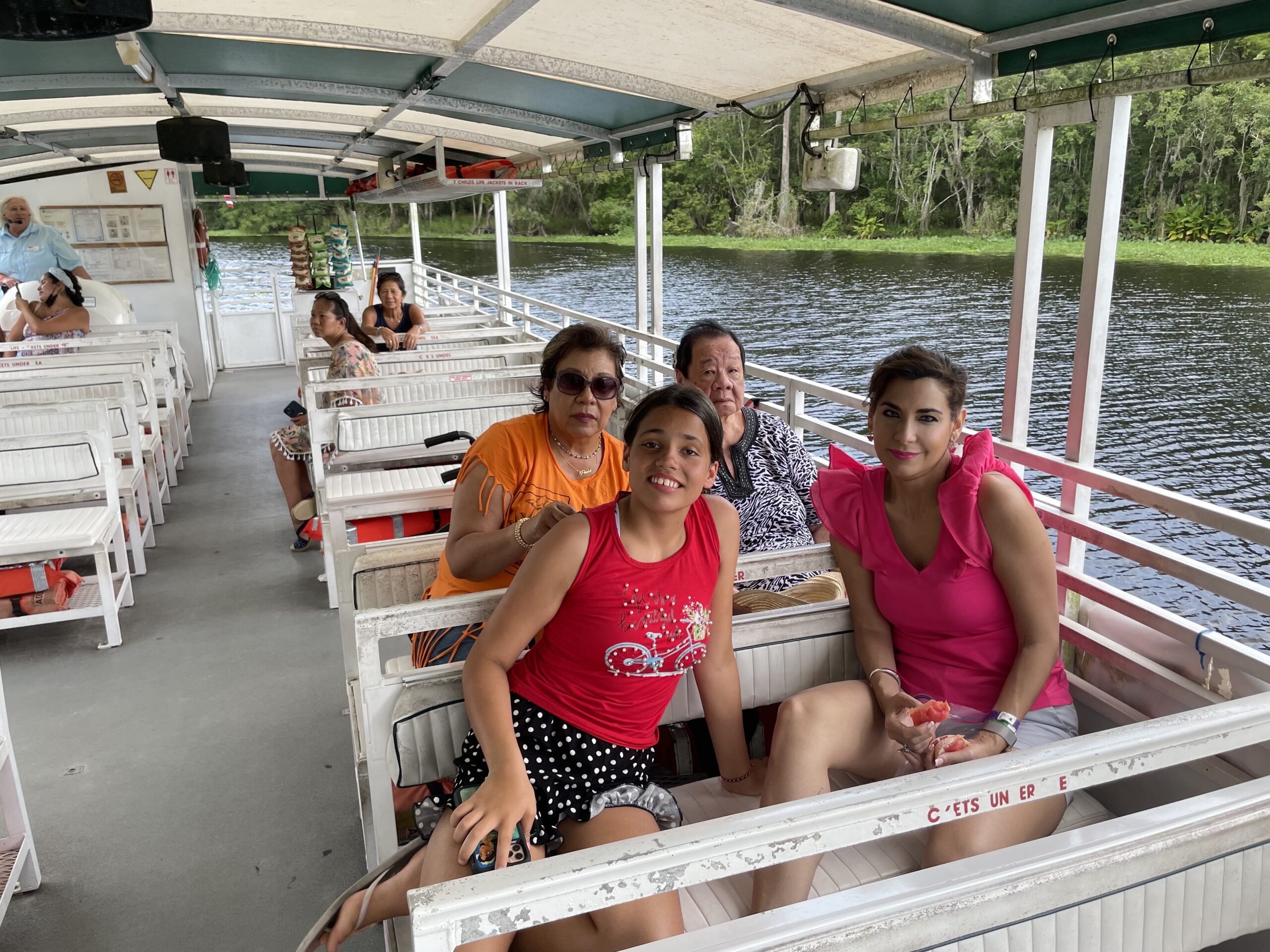 Explore the Wild at Blue Spring State Park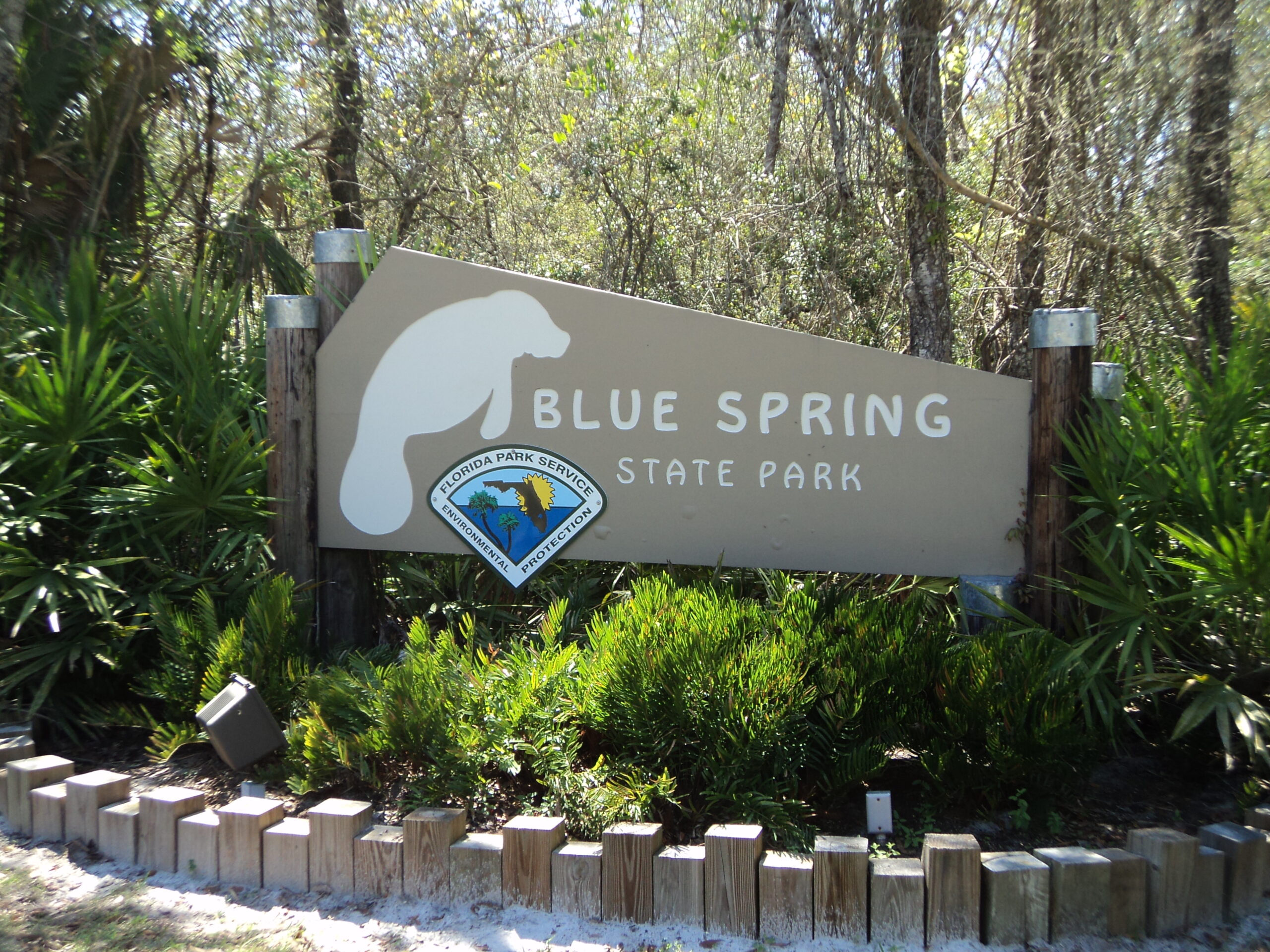 Are you craving some outdoor adventure that is friendly for people of all ages? Look no further! If you're a state local or thinking of vacationing in Florida, then you don't want to miss Blue Spring State Park. Located just over 30 miles from downtown Orlando, the Park is full of activities for everyone and creatures that you'll want to see!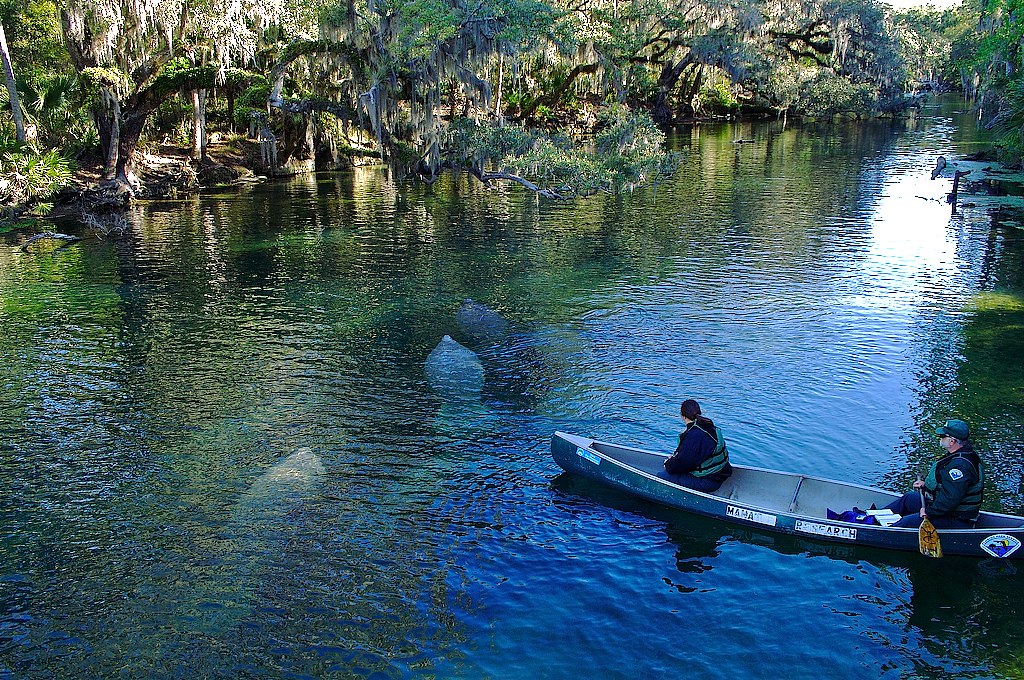 About Blue Spring State Park
Before Blue Spring became one of the state parks, it was home to the Timacuan Indians for hundreds of years. The Indians utilized the area's natural springs, river, swamps, and uplands to gather everything they needed to survive.
As pioneer settlers began to move into the area in the 1800s and they began to purchase more land, the area became more populated. A Gold Rush prospector turned orange-grower name Louis Thursby purchased the Blue Spring in the mid-1800s, which led to the Spring becoming increasingly popular. The area was filled with steamboat activity, which shipped tourists and goods.
In the 1970s, a documentary called 'The Forgotten Mermaids' was filmed locally to shed light on the importance of the manatee population and wildlife. In 1972, Blue Spring became a State Park to preserve the pristine beauty of the area and protect the local wildlife.
Now, the Park is a place to enjoy beautiful scenery, camping, canoeing and swimming, seeing a variety of birds and other creatures, and more. With refreshing 72-degree waters of the Blue Spring, you'll find that you never want to leave!
Experiences
If you're looking to enjoy some outdoor fun year-round, then you'll love Blue Spring State Park! The Park has many different activities available for everyone in the family to enjoy. Here are some of the options for you to choose from:
Family Fun
Camping
The most common reason people visit the Park is for camping purposes. The campground has 51 campsites located in the sand pine scrub and within walking distance of the spring. Each site can hold recreational vehicles up to 40-feet-long. There you'll have access to a picnic table, water, electricity, and a grill. A dump station is also available in the park.
Fishing
One of the many outdoor activities that visitors enjoy during their stay is fishing. While fishing is not permitted in the Blue Spring Run, visitors are allowed to fish from the fishing dock on the St. Johns River. Please note that there are rules and regulations regarding fishing. All fishing within the park must conform to regulations concerning size, number, method of capture and season. A fishing license may be required. More information is available at the Florida Fish and Wildlife Conservation Commission's Fishing in Florida.
Hiking
If fishing isn't an activity that you're interested in, then you'll love hiking and seeing the beautiful scenery! There is an accessible boardwalk available that leads visitors on a self-guided tour through the lush hammock to Blue Spring. Pine Island Trail is 3.6 miles long (one way) and will take you through various environments. For more information on trail conditions, please check the trail head upon arrival.
Swimming, Snorkeling, and Diving
If you'd like to enjoy the crystal-clear waters of the Spring, then you have the option to swim and snorkel! Please note that swimming with the manatees and climbing banks/trees is not permitted for safety reasons.
If you are a responsible, certified scuba diver, then you have the option to suit up and dive in! For optimal safety measures, these are the requirements for scuba diving as established by the State Park:
All divers must show proof of certification before diving and leave certifications visible on the dashboard of the vehicle
All divers must have a dive buddy and remain together for the duration of each and every dive
Cavern and cave diving is available only to certified cave divers
Open water divers are permitted to 50 feet
Open water divers are not permitted to carry lights
Instructors conducting a class must have a commercial dive permit
Divers dive at their own risk
No solo diving is permitted
Dives cannot extend past 5 p.m.
Swimming after hours is prohibited
No scooters (DPVs) or all-terrain vehicles (ATVs)
No fishing
Divers must keep a distance of 50 feet between themselves and manatees
For those seeking a guided underwater experience, Florida Dive Company offers a Scuba Discovery tour that allows participants to experience what it is like to breathe underwater and see wildlife in its natural habitat. For more information, availability, costs and reservations, call 386-663-8030 or visit Florida Dive Company.
Paddling & Tubing
For those who would like to explore the beautiful Blue Spring Run and St. Johns River, the option to rent boats, tubes, canoes, and kayaks is available! Please note that water-related activities are closed from approximately mid-November through March to provide a safe refuge for the manatees. For more information on rentals, please continue reading below.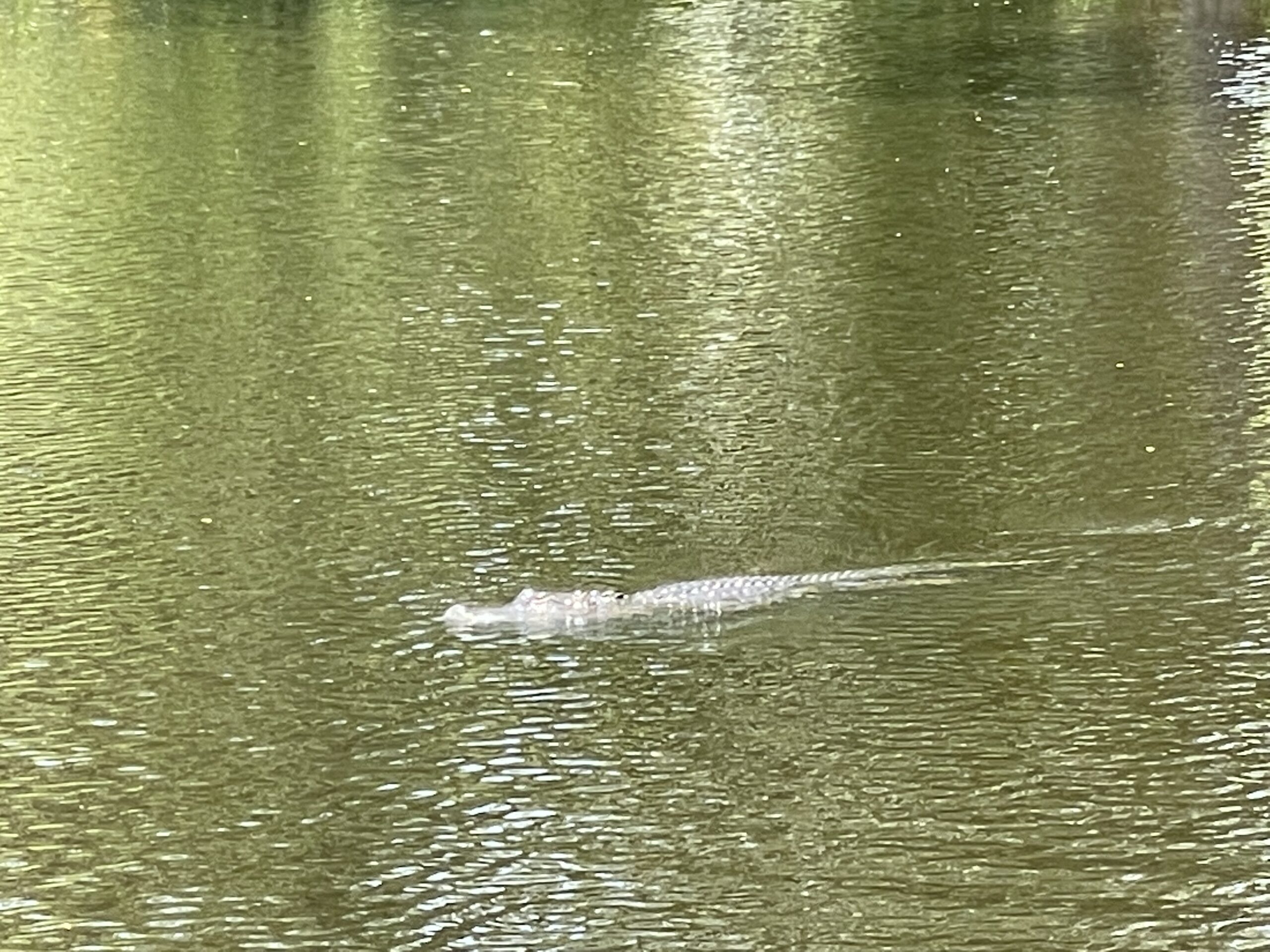 Rentals
If you're interested in getting on St. Johns River, then you have many different rental options available! You can start your trip with a St. Johns River Nature Cruise, where you'll enjoy a ride on a boat and see all sorts of wildlife. Common things to see on the river include wading birds, manatees, aquatic plant life, cypress forests, and alligators.
Another available option is the Guided Segway Tour. If you prefer to see the beauty of the area while staying on land, then you'll love this 1.5-hour tour. You'll begin with a 10-minute tutorial on how to ride the Segway, and then you'll take the tour at a slow pace to enjoy all of the scenery and wildlife. The experienced tour guides will take you into the back country where regular park visitors are not allowed. Please note that riders must be 14 years of age or older and between 100 and 260 lbs.
Are you wanting to get closer to the water on a tour? Try a Guided Kayak Tour! Tours depart at 9 a.m. sharp and last approximately 2.5 hours. You'll take on the St. Johns River while getting an up-close and personal view of the wildlife. These group tours are small (up to 10 guests per guide) to allow more special attention for guests, so be sure to book soon! Participants must be 12 years of age or older.
If you are just looking to hit the water on your own time, then you also have the option of renting kayak for one, four, or six hours. For more information on rentals and where to book, visit the Rentals Page.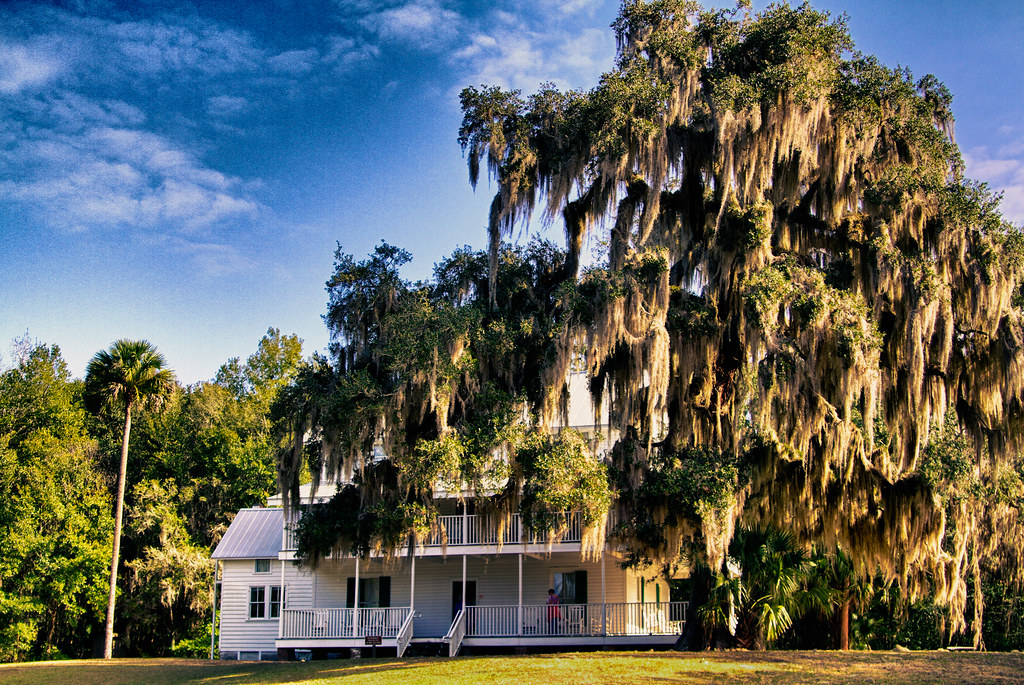 Private & Group Tours
Are you wanting a more private experience for your group? Blue Spring Adventures also offers Private Boat Charters and Wildlife and Vegetation School Charters. For Private Boat Charters, the price is $900 for up to two hours. Additional hours are $200 per hour, and the boat can hold up to 50 passengers.
If you're looking for more outdoor education and fun, the Wildlife and Vegetation School Charters may be for you. The Price is $14 per person for 1 hour. There is a minimum of 15 participants, and a maximum of 50 participants. Junior conservationists will receive a one hour "curriculum" that they will remember as a fun learning opportunity experience. This option is great for those who'd like to see a variety of birds, reptiles, mammals, flora and fauna. For more information on these Charters, please visit the Rentals Page.
Other Events
As a frequent place for visitors and tourists to enjoy the local Spring, the State Park hosts a variety of different events such as guided hikes, tours, and more. These events change frequently and are offered based on the time of year, so you'll want to check out the Events Page. There you can search by park, date, time, and more to find the most up-to-date information.
Plan Your Visit
Now that you know a little about the sights and things to do, it's time to get to planning your trip! Here's what you can expect for available amenities, dining and retail, hours, fees, and more.
Amenities
Blue Spring State Park has a wide variety of amenities available to make your stay as comfortable as possible. In addition to the camping and cabin amenities below, the State Park has nature trails, parking, playgrounds, restroom facilities, RV hookups, shower stations, picnic pavilions, grills, and more available for you to use at your convenience.
Camping
Camping spots are available at a rate of $24 per night (plus tax). Additionally, there is a nonrefundable $6.70 reservation fee and a $7 nightly utility fee for RVs. Of course, this utility fee does not apply to tent camping. The utility fee does include water and electricity use.
Florida residents who are 65 years of age or older, hold a Social Security disability award certificate, or a 100% disability award certificate from the federal government are permitted to receive a 50% discount on current base campsite fees. (Reservation fee and utility fee are excluded.)
Cabins
If you don't have an RV or prefer not to camp in a tent, then there are cabins available for renting at Blue Spring State Park. You can rent a cabin for just $95 per night plus tax, plus a nonrefundable $6.70 reservation fee and a $7 nightly utility fee. There are six two-bedroom cabins located in a shady oak hammock near Blue Spring.
Cabins accommodate up to six people. One bedroom is furnished with a double bed, and the second bedroom is furnished with two single beds. Although the cabins have room to accommodate six people, they have only these three beds. Guests are welcome to bring cots and linens to accommodate two additional people if needed.
Each cabin is equipped with a gas fireplace (for use November through March), central heating and cooling, bathroom, fully equipped kitchen with stove and refrigerator, screened porch, outdoor grill and picnic table.
Linens, pillows, blankets and towels plus cooking and eating utensils are provided. Linens are not changed daily. Two vehicles per cabin are permitted. For the guests' relaxation, televisions and phones are not provided.
Cabins do require a minimum of a two-night stay, and reservations can be made up to 11 months in advance. Pets are not permitted in cabins, but service animals are welcome. To book your stay, visit the Make Your Reservation page.
Hours & Fees
The Blue Spring State Park is open from 8 a.m. until sundown 365 days a year for you to enjoy. If you are planning to arrive after sunset, then you'll need to call the park on the day of arrival for the gate combination and instructions.
For a day admission of a single vehicle (with 2-8 people), the cost is $6. The cost for a single occupant vehicle is $4. The cost for pedestrians, bicyclists, extra passengers, or passengers in a vehicle with a holder of the Annual Individual Entrance Pass is $2.
Directions & Contact Information
The Blue Spring State Park is located at 2100 W. French Ave., Orange City, FL 32763. The park is just over 30 miles, or a 45-minute drive, from downtown Orlando. If you'd like directions from your current location, click here. To contact the park for more information, please call 386-775-3663.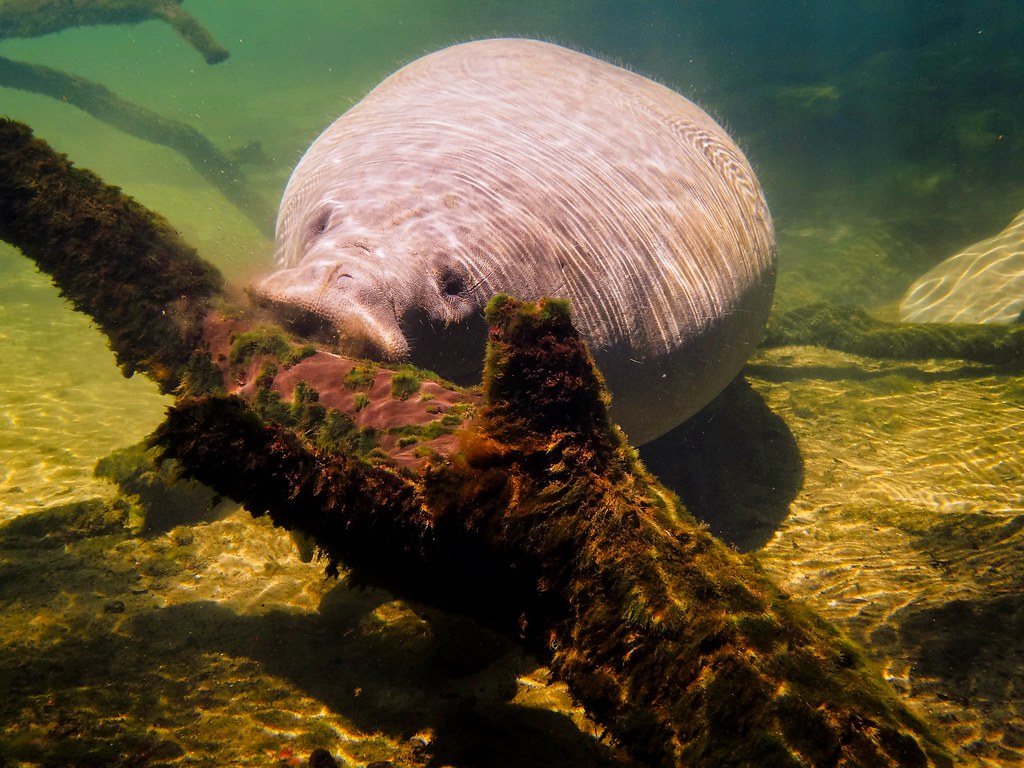 Dining & Retail
At the heart of the State Park, you'll find all of the places to rent and purchase. The Gift Shop is available on the left side of the concession building that is just off of the boardwalk. It is open from 9:00 a.m. to 3:00 p.m. daily, and you can find all things manatee here!
For dining options, you can find your yummy treats and evening meals at the Blue Spring Canteen. The Canteen is in the Camp Store on the right side of the concession building just off of the boardwalk. This will be where you can purchase food and drinks. There are plenty of outdoor picnic tables and a gazebo to enjoy your camp food and snacks! The Canteen is open from 9:00 a.m. to sunset. Below are some items available on the menu:
Entrees:
Hamburger
Cheeseburger
Pulled pork sandwich
Grilled chicken
Meatball sub
Sausage sub
Nathan's hot dog
Nathan's chili cheese dog
Corn dog
Sides:
Mac & cheese
Pulled pork mac & cheese
Bowl of chili
Soup of the day
Salted pretzels
Side of cheese
Cheesy nachos
Chips
Kids (comes with chips or fruit):
Nathan's hot dog
PB & J Uncrustable
Mac & cheese
Corn dog
Drinks:
Fruit smoothie
Soda
Water
Coffee
Energy drinks
Ice Cream:
Dippin' dots
Assorted ice creams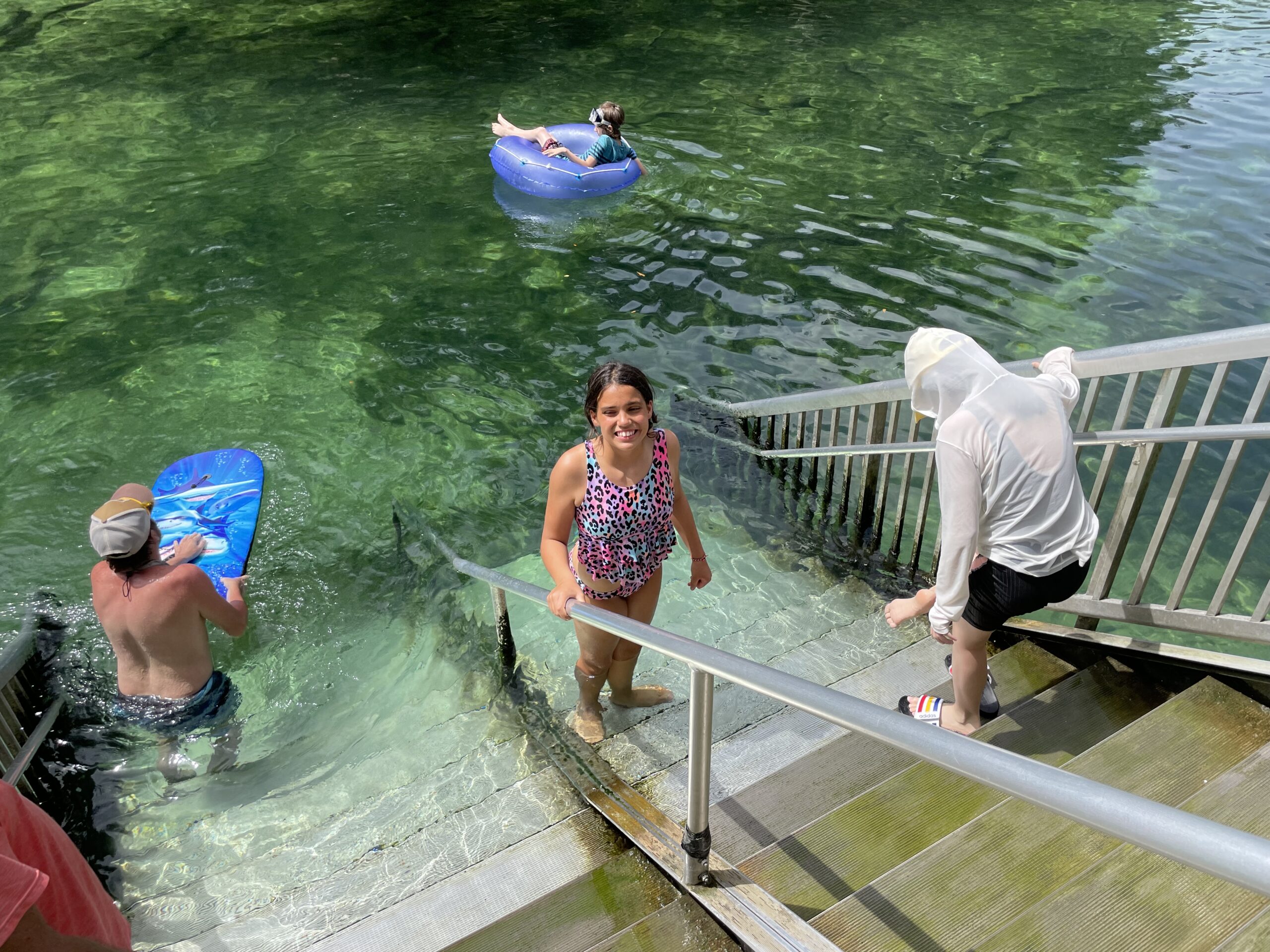 Accessibility
Blue Spring State Park has done a great job of making a variety of amenities accessible to all visitors. The amenities that are accessible are:
Boat tours
Fishing dock
First floor of Thursby House
Picnic facilities with tables and grills
Concession for food and gift shop
Interpretive exhibits
Campsites with concrete pad, picnic table, ground grill and nearby restrooms
Cabins for overnight accommodations
Restrooms
Service animals are also welcome in all areas of Florida State Parks.
Local Weather
Not sure what time of year you'd like to visit the State Park? Luckily for you, the weather is typically great year-round! Here are the average high and low temperatures that you can expect in the area for each month of the year.
January 70° / 44°
February 72° / 47°
March 77° / 51°
April 82° / 56°
May 86° / 63°
June 90° / 70°
July 91° / 72°
August 91° / 72°
September 89° / 70°
October 83° / 62°
November 77° / 53°
December 72° / 48°
Other Tips for Your Visit
Before you make your trip to Blue Spring State Park, there are some other things that you should know. Here are some tips for your trip that might be helpful!
Know Before You Go
Before you go, you should keep in mind what season that you are going in. During periods of high visitation, visitors may experience long lines to enter. The park frequently reaches capacity during these times and may temporarily close. Closures occur intermittently and may last several hours. Visitors with camping or boat tour reservations will be admitted to the park while it is closed, but pedestrians and bicyclists will not be allowed to enter until the park reopens.
Arrive Early
Since the State Park frequently reaches capacity during the week and on the weekends, it's best that you arrive early. This will better guarantee your spot in the park and help you avoid long waiting lines. Please note that both winter and summer months are typically busy for the Blue Spring.
Park Rules & Regulations
As with any public State Park, there are rules and regulations that you must abide by when visiting. Here are the rules as established by Blue Spring State Park:
Florida State Parks are open from 8 a.m. to sunset every day of the year. Many museums, visitor centers and historic sites may be closed two days per week, usually Tuesday and Wednesday. Hours may vary, so check the park's page for details.
Most state parks require an entrance fee. Additional user fees may apply for activities such as camping, canoe rentals and tours.
All plants, animals and park property are protected. The collection, destruction or disturbance of plants, animals or park property is prohibited.
Pets are permitted in designated areas only. Where allowed, pets must be kept on a hand-held leash no longer than six feet and be well behaved at all times. Service animals are welcome in all areas of the parks.
Fishing, boating, swimming and fires are allowed in designated areas only. A Florida fishing license may be required.
Fireworks are prohibited in all Florida State Parks.
Hunting is prohibited in Florida State Parks. The state reserves offer special hunting seasons.
Alcoholic beverage consumption is allowed in designated areas only.
Hammock use and any other associated lines may be attached to trees that are a minimum of 12 inches in diameter measured at chest height and using a minimum of 1-inch-wide flat web straps. Some parks may provide hammock posts instead of trees.
Florida's state parks are committed to providing equal access to all facilities and programs. Should you need assistance to enable your participation, please contact staff at any ranger station or call 850-245-3076 (voice) or 711 (Florida Relay Service).
State Trails Etiquette
Along with rules and regulations, the State Park has established a proper public trails etiquette. These guidelines have been established to preserve and protect the wildlife as well as others.
Bicyclists and in-line skaters yield to other users; all trail users yield to equestrians.
Obey all trail rules posted at trailheads.
Stay to the right except when passing.
Pass slower traffic on their left; yield to oncoming traffic when passing.
Give a clear warning signal when passing.
Always look ahead and behind when passing.
Travel at a responsible speed.
Move off the trail surface when stopped to allow others to pass.
Yield to other trail users when entering and crossing the trail.
Keep pets under control on a maximum 6-foot leash; walk them along the edge of any shared-use trail.
Do not trespass on private property.
Do not disturb wildlife. All animal and plant life is protected in Florida State Parks.
Watch out for traffic at road crossings. Obey all traffic signals.
Helmets are required by Florida law for cyclists and equestrians under the age of 16 and are recommended for all ages.
Equestrians should carry a copy of a negative Coggins test. (Chapter 5C-18.010, F.A.C.). Without documentation, you could be subject to a fine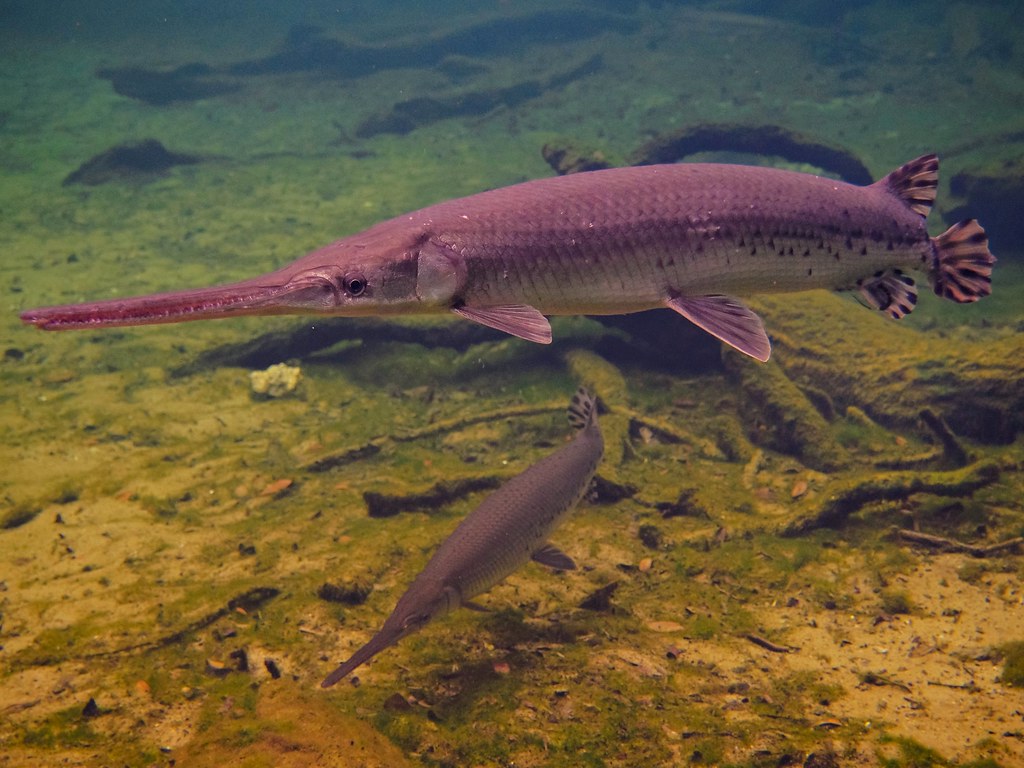 Blue Springs State Park: An Amazing Outdoor Experience
If you and your family are looking for amazing outdoor exploration and fun, then you can look no further! With all that Blue Springs State Park has to offer, you can bet that every family member will have an activity to enjoy. To learn more about the park, visit their website and schedule your trip today!