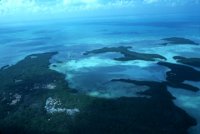 The trip from Belize City to Ambergris Caye takes 15 minutes on a puddle jumper and about 1 hour by boat. The flight over beautiful emerald green water is breath taking. The islands that run along the mainland are called Cayes pronounced Keys, are contained by the Great Barrier Reef, which makes for spectacular snorkeling and diving.
If you have ever seen the movie Mosquito Coast with Harrison Ford, you might recognize this river. It is the Belize River and spans many winding miles. I took a boat trip down the river for about an hour before we docked and began our trek into the jungle, heading towards Mayan ruins. The river is alive with wildlife and occasional fishermen.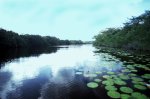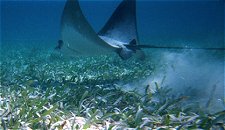 Snorkeling off the coast of Ambergris Caye I got to swim with nurse sharks and plenty of different rays. The spotted Eagle ray is a rarer sight, but I saw this elegant and graceful creature swimming along in the distance and swam as fast as I could to catch up with it.
Villages in Belize are spread out all over the place and are marked by wooden houses built high on stilts. Apparently, the houses are built that way so that they don't decompose after so many rainy seasons. My guess was that the height also kept out unwanted creatures, like some of the poisonous snakes they have in the jungle.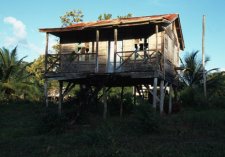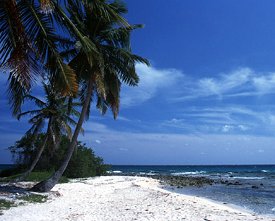 This beautiful island couldn't have been more than 100 feet in diameter. My guide brought us here for lunch after a day of watching wild Manatee and dolphins. This is the closest I had ever come to a deserted desert island. The sand was pure white and the surrounding waters warm and emerald green. It was simply paradise.
Belize is a much poorer country than its neighbors Mexico and Guatemala. Most of the Mayan ruins that Belize has are not excavated, but the few that are are exciting to see. This is a picture of a sun temple at a place called Altun Ha. The trek up the temple will take you just above the tree line, and offers an expansive view of the surrounding jungle.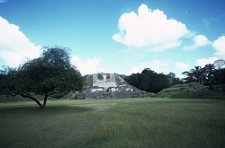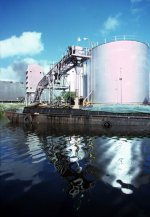 Sugar is one of the main exports of Belize. This is a photo of a sugar factory that lies along the Belize river. The sugar is exported raw, and refined only once it reaches its destination. Therefore the sugar one gets in Belize isn't as sweet as I was used to.
A face carved into the base of a Mayan temple at Lamanai.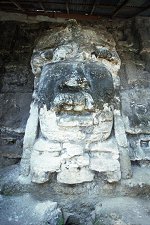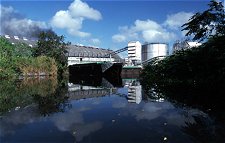 A detail of the Sugar Factory along the Belize River.