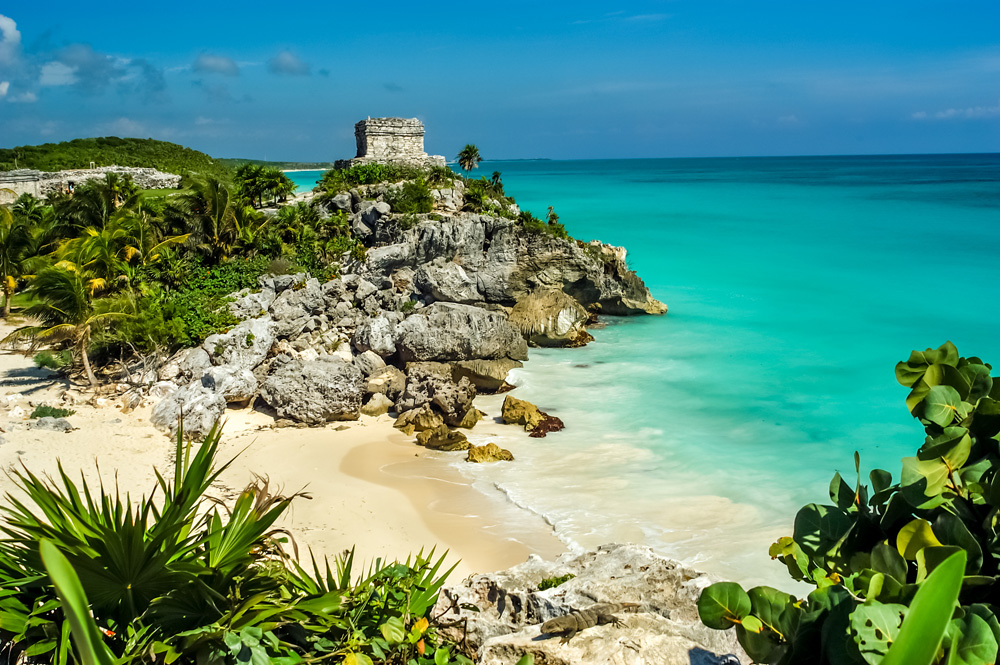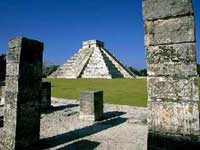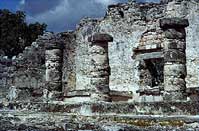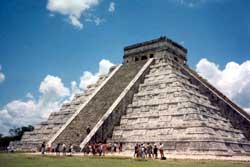 Airplane Wrecks, Cenote Car Wash, Descending God, Columbia Gardens, Barracuda Wall. What do all of these ear-catching words have in common? You can see them all in Mexico's Yucatan state of Quintana Roo.

The semitropical, scubby-jungled Quintana Roo became an official state in 1974. The state is a dichotomy of sorts, with the Americanized party atmospheres of Cancun Mexico and Cozumel Mexico on one hand, and the archaeological marvels of the Maya ruins only a stone's throw away. Make sure you get a map of Mexico before you venture out.
One of the characteristic ecological features of Quintana Roo feature a lack of surface rivers and streams, but enormous wells of cool, deep blue water called cenotes, where the ancient Mayans obtained a great deal of their water supply.
If you are having trouble finding time and cash to get to Australia you now have reprieve. The second largest chain of coral reefs runs between Quintana Roo's mainland coast and the islands of Cozumel and Isla Mujeres. Its here that divers come to explore 19th century wrecked galleons, where English pirates left their footprint.
The resort cities of Cozumel Mexico and Cancun Mexico are both located in Quintana Roo. Today, Cozumel is a major cruise port, where the coral is suffering from modern day crashes. The waters off of Cozumel offer underwater visibility of 80-100 feet and temperatures of 80o Farenheit. There is 67,133 acres of marine reserve, presenting white, lavender and pink corals, sponges, electric blue angelfish, hot pink wrasse, yellow butterfly fish, and red grouper. Museo de la Isla Cozumel is in the island's oldest hotel, where reef and community history exhibits are displayed. Again, always have a map of Mexico before you travel around.
Cancun Mexico, the land of the all-inclusive vacation, also offers some adventure activities such as parasailing, snorkeling, sail boarding, personal watercrafting, boogie boarding, fishing, diving, and skin diving tours. After a boogie boarding session you can take a 2-3 hour drive to visit the Maya ruins in Tulum or Chichen Itza, where you can also snorkel in sink holes, dive underground rivers, or visit the historic city of Vallodolid or Merida.
Riviera Maya is the coast along Highway 307. If offers many diversions on the way away from the bustling resort cities. There is a reef a short distance offshore in the undeveloped town of Puerto Morelos, 22 miles south of Cancun. Tres Rios is a natural park with rivers where travelers can swim, snorkel, and canoe. On shore at Tres Rios adventurers can horseback ride, bike, and trek on jungle trails. An authentic family experience can be found at Xcalacoco, where locals are still serving authentic fish dishes to campers. Xcaret, only 5 minutes south of Playa del Carmen is a great educational resource, with an aviary, museum, botanic gardens, and butterfly pavilion. You can also get some exercise snorkeling in underground rivers, hiking through caves, riding horses and swimming with the dolphins. Xel Ha boasts the coast's first eco-park, preserving native tropical trees and an aquamarine cove. Isla Mujeres offers a few scattered ruins, with a 5-mile long limestone shelf favored by escapists. Even though you cannot spend the night on Isla Contoy, you can certainly enjoy snorkeling, or spotting pelicans, cormorants and flamingo, all part of about 100 species of birds on the island.
You'll find signs of Quintana Roo's history in the cities of Tulum and Si'an Kaan. Picture an alabaster limestone castle stop a grassy buff and you've had a glimpse of the character of Tulum. The castle actually exists and is protected by a 3,000-foot long wall built some 600 years ago, when Maya sailors used the castle for light to reach land. This area of the Yucatan is the most accessible archaeological site. Hoards of tourists arrive each morning. Thankfully, the government has developed prescribed paths around the site in order to protect the remains. Tulum was used as a major trading center between AD 1100 and the Spanish Conquest. The wealthy merchant class worshipped the Descending God. You can view a portrait of this God above the doorway of the Descending God Temple.
Lynn Troldahl Herschberger explains, "Tulum is mystical, magical and without question the most beautiful place I have ever been. It is an ancient Maya ceremonial and religious center, on the coast of the Caribbean. The limestone coast forms a cliff overlooking much of the white sand beach and the view is breathtaking." But, she says, "The ruins at Tulum are well preserved though not very important architecturally. It is a late Maya city put together with much mortar, and the carvings on the exteriors of the buildings are barely readable."
Canals are dotted with shrines in the mangrove lagoons, south of Tulum. These are the canals that the Maya used to travel to and from work and home long, long ago. The shrines are protected in the Reserva de la Biosfera Si'an Kaan. The Reserve is the last expanse of undeveloped land on the Caribbean coast. Si'an Kaan is comprised of 62 miles of beach, 2 bays, fresh and saltwater lagoons, and the Punta Allen Peninsula. The area is protected by UNESCO as a World Heritage site, helping to conserve the Maya heritage.
You can join a fishing lodge in Si'an Kaan for a day of sustainable fishing, or you can use the non-profit organization Amigos de Si'an Kaan to explore Punta Allen. This organization works closely with park officials in order to efficiently and effectively transport visitors through the protected area. As for wildlife, there are 350 species of birds in the lagoons of Si'an Kaan, in addition to snook, tarpon, bonefish, herons, and sea turtles.
There are many other places to visit in the state of Quintana Roo; some less-traveled areas. For example, Chetumal is the peaceful capital city of Quintana Roo where travelers can swim with manatees. Coba, a city situated in the dense jungle, is an 81 square mile archaeological site. The physically fit can climb 120 steps at the Nohuch Mul pyramid, while viewing wild parrots and squirrel monkeys. Among the vegetation in Coba you can find other remains of small pyramids, temples, ball courts, and ornate stelae, which are carved life size depictions of kings and queens along with lengthy hieroglyphic texts. At Peninsula Xcalak experienced divers can visit a 24-mile long reef lined with shipwrecks, the Banco Chinchorro.
The state of Quintana Roo offers much to the laid back and energetic traveler. A great Mexico vacations from anicient ruins to swimming with the dolphins in Mexico. Tropical Adventure.com's tour outfitters Mayatour can assist either type of traveler with multiple day trips among the Yucatan. Visit TropicalAadventure.com destinations page to visit Mayatour's web site for more information, or to reserve your trip today.
Get More Information on This Adventure!!!
Experience adventures like the one found in this article and others by using TropicalAdventure.com Vacation Planner. Simply fill out our Vacation Planner form and you will receive FREE information about this activity and others that you may be interested in. Click below to sign up.