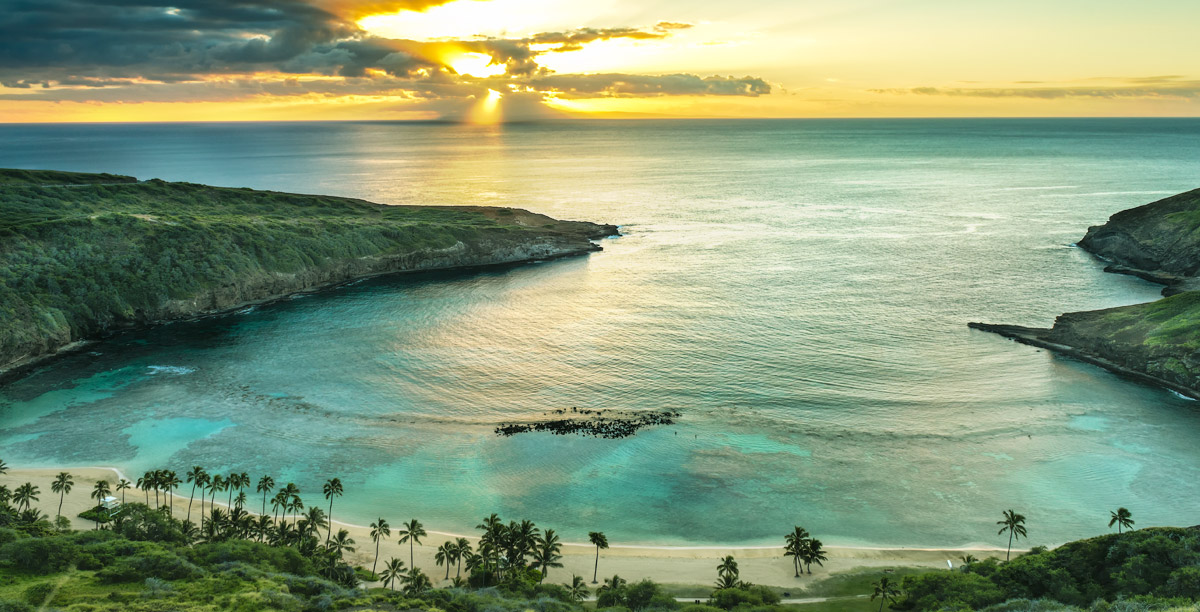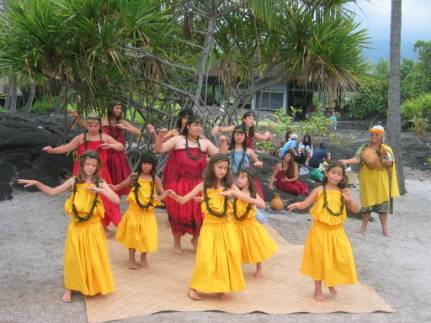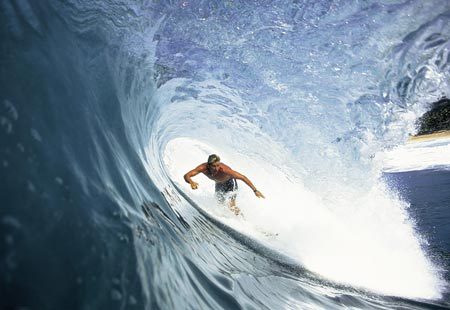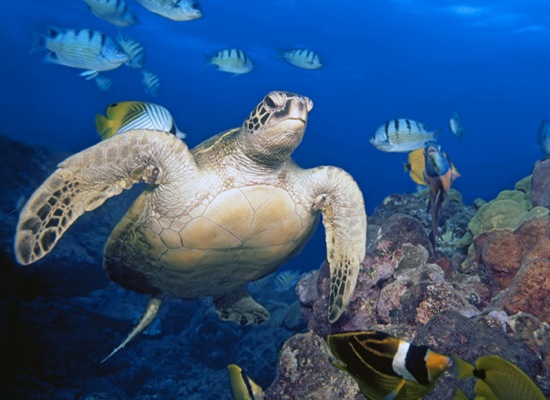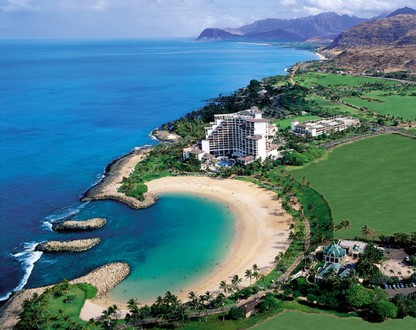 A calming oasis can be found on Oahu; you just need to know where to look. There are many resorts located outside of Waikiki that offer less crowded surroundings. Natural beauty can be found in the two mountain ranges (the Koolau and Waianae ranges) that make up Oahu…some great hikes are just a 15-minute drive into the mountains from Waikiki. Secluded white sand beaches, funky beach towns, pounding winter surf on the North Shore…all of this can be found on the other parts of Oahu.
So, enjoy Honolulu and all it has to offer. The majority of visitors to Oahu stay near Honolulu and the beaches of Waikiki. The rest of the island is less visibly touched by tourism, with only a few B&Bs among the houses and natural sites on the Windward Coast and the North Shore.
But if you don't see the North Shore during the winter when monster waves pound the shore, if you don't take a drive through miles of pineapple fields, and if you don't take time to visit some of the white sand beaches outside of Waikiki.
History
The Hawaiian Islands are located in the central north area ofthe Pacific Ocean. The main group of islands include: Niihau, Kauai, Oahu, Molokai, Lanai, Kahoolawe, Maui, and Hawaii. As early as 1,000 A.D. these islands were occupied by the Polynesian. Hundreds of years later, many other settlers arrived on the islands.
Archaeologists have found that the islands of Nihoa and Necker were inhabited earlier than any of the other. The Tahitian Polynesians rediscovered the islands throughout the 14th and 15th centuries. They primarily lived on these islands isolated from the rest of the world.
Captain Cook spotted the island of Oahu on January 18, 1778. He named the island, the 'Sandwich Islands'. Throughout the 19th century this name stuck. The word of the beautiful islands spread, and traders from Europe and Asia began to visit. Many people remained to claim their permanent residency.
Starting in 1778, the fur trade, between Asia and the Americas helped to set a well-established port of call on the islands. More and more ships arrived at the Hawaiian Islands each year. Over the next forty years, the islands were consolidated into the 'Kingdom of Hawaii'. King Kamehameha was influential to the integration of the islands. He also led the way in the agricultural industry. Over the years that followed, both Russians and New England missionaries made Hawaii their home.
The Kingdom of Hawaii was proclaimed a sovereign state in the late 1800's and eventually recognized as such by France, Great Britain, and the United States. After years of being a monarchy, and enduring strife and U.S. disapproval, a republic was established, modeling the U.S. In 1935, Hawaii was considered for statehood but the process was delayed by World War II. Finally, on March 11, 1959, the islands were approved for U.S. statehood.
Culture 
The Hawaiian culture is inviting and energetic. The well-known hula performance remains a main-stay tradition. Hula aside, you will find unequaled modern and ancient art in Oahu. To view this special art, visit Nohea Gallery and Livingston Gallery. There are a multitude of museums to visit, including the Bishop Museum, and the North Shore Surf and Cultural Museum. Attending festivals are the best way to experience Hawaii's authentic culture. The island of Oahu is host to many of the musical and cultural events. Seek out the Samoa Festival in May, Pan Pacific Festival, King Kamahemeha Celebration, and the Aloha Festivals Oahu. These events present all spectrums of culture including arts, conventions, festivals, concerts, exhibitions, shows, street parties, parades, and more.
Climate
Hawaii's temperature is very stable due to the fact that it's surrounded by the vast warm waters of the Pacific. Air blowing from any origin, even a cooler place, has a chance to warm as it flows across this ocean. The water offshore ranges from 76 to 81 degrees Fahrenheit. The air temperature on the island of Oahu averages between 78 degrees in August to 72 degrees in February. These narrow temperatures make Hawaii a reliable destination any time of the year. The windward, or northeast, side of the island tends to be a bit cooler and wetter, and the highest temperatures hardly ever reach 90 degrees. The leeward side of the island can exceed 90 degrees several days during the year. At altitude the temperatures can be much cooler, and can even snow above 8000 feet.
Rainfall averages about 25 inches each year in Hawaii. Winter brings the most rain, and the windward side of the island receives much more precipitation than the leeward side. The closer you are to the mountains, the more chance you have of getting wet. Remember, in the rainy season, floods are not uncommon around rivers, and on the windward side of the island. If you want to stay dry, spend your vacation on the leeward side of Oahu, and visit in summer.
As mentioned above, snow can occur at elevations above 8000 feet.
Winds on Oahu can be gusty and strong because of their route over mountains and through valleys. Winds are usually about 12 miles per hour or more.
What to Do
Be sure to plan ahead when it comes to activities in Hawaii. There is just so much to do on Oahu that you want to ensure you get to do the things you really want to.
Oahu's helicopter tour is a must. In minutes after take off, you will find yourself floating above impressive and intricately woven canyons, where lengthy waterfalls cascade down hundreds of feet just before your eyes. There are many geographic and historic sites to see along the way. The pilots are trained to guide you through all of the intriguing details of each special sight.
Back on land, there are bountiful outdoor activities. There is an adventure for every soul. ATV tours, dolphin encounters, horseback riding, hummer tours, island tours, parasailing, sky diving, snorkeling, scuba diving, sport fishing, sting ray encounters, submarine tours, sunset cruises, surfing, whale watching, sailing, shark encounters, eco-tours, and luaus.
Some activities in Oahu are more adventurous than others. Swimming with sharks is specially made for the adrenaline-junky. Step into a cage that floats just above the surface of the water. 20 minutes seems like a lifetime, as sand bar sharks and Galapagos sharks circle your cage. Up above, the crew throws bait into the water to ensure a visit from these stealthy creatures. Brave enough? Then check out North Shore Shark Adventures or Hawaii Shark Encounters.
If you're looking for a more mystical experience, try the night snorkel and Hanauma Bay. On a clear night, you'll have an amazing view up above, a sky illuminated with stars. Below, you wonder what's all around you, while using your flashlight to spot a school of fish here and there. You may see a school of needlefish, or a parrotfish sleeping in its cocoon. If you are a night owl and still not satisfied, call Ocean Concepts, Aaron's Dive Shop, or O'ahu Dive Center for a night shipwreck dive around one of the many mysterious wrecks surrounding the island.
Swimming with the Dolphins in Oahu are an intimate and soulful experience for all ages. The sessions allow for as much touching of the dolphins as you'd like. In addition, you'll be given masks so that you can watch the dolphins' escapades underwater.
When you are ready for a break from the water, consider a hike from Wa'ahili Ridge to Mt. Olympus. It's a tough hike, with 2600 feet of elevation gain and 5 ¾ miles of hiking, round trip. There are some dangerously steep and exposed areas, but well worth the trip. You'll be rewarded with awe-inspiring views (pending good weather) of the windward side of the island. You'll have a view of Coconut Island, Kane'ohe Bay, all the way to Bellows Beach south of Kailua.
When you are ready for an activity that doesn't include braving the natural elements, be sure to visit Pearl Harbor. The history there is important and substantial. If dive performances are your thing, Waikiki has a fantastic illusionist show that stars John Hirokawa, called The Magic of Polynesia.
Where to Stay 
One of the most important decisions you will make when planning your trip to Oahu is what lodging you choose. Oahu has many options. They include: hotels, bed and breakfasts, condominiums, and single-family homes. For two to four people, condominiums and bed and breakfasts can be a great value. Larger parties should shop for a home to rent.
The Waikiki Joy Hotel is a small hotel with nice amenities, including a pool, sauna, fitness room, restaurant, and Wi-Fi in the lobby. All rooms have Jacuzzi bathtubs and Bose stereos. This resort is well-maintained, clean and fresh, and is conveniently located just 1 ½ blocks from the beach in a quieter part of Waikiki. Rates range from $175 to $310. Ask for a discount rate when you call for reservations.
The Royal Hawaiian Sheraton is one of the true gems in Waikiki, mostly due to the ever-valuable location, location, location. The historic resort, built in 1927, is situated in perhaps the best location of any resorts in Waikiki. The Royal is one of the first hotels ever built in Waikiki, so the developers had their pick of land. The Royal's beach boasts great for surfing, and nice sandy beaches. Also, the resort is in the heart of Waikiki, yet set back from Kalakaua Avenue, a busy main street. The grounds of the resort match its peaceful location. The landscape includes mature trees and room to walk. You have your choice of room types and prices. The rooms in the original low rise building have recently been upgraded. For about $30 more, invest in a 'luxury' category room, and enjoy a sizeable pad. If your priority is to have an ocean view, then rent a room lower to the ground level. The buffet breakfast is great and the Mai Tai Bar is a treat. The service and entertainment could be better here, and the rates could be lower, but it's a special opportunity to stay at this historic resort in its amazing location. Ask for the 'escape rate' if you call for a quote.
For more of a family feel, consider the Ilima Hotel. With only 98 rooms, this hotel is only 2 ½ blocks from the beach, and can feel like home away from home. Local calls and parking is free, all rooms have full kitchens, are spacious, and some include hi-speed Internet access. Rates for single rooms start at $137. Discounts are available at 'Ilima.
Making your way outside of Waikiki, you will find slim pickings when it comes to lodging. One resort on the North Shore is worth mentioning, though – Turtle Bay Resort. This place is a monster, with 443 rooms, 3 pools, a keiki pool, 2 spas, 10 tennis courts, a fitness room, 2 golf courses, 5 restaurants, 23 conferences rooms, Wi-Fi, valet parking, room service, day spa, children's programs, and luau. Why would you need to venture back to Waikiki when staying at Turtle Bay? Just beware that prices are on the high end at around $400-500 per night. Nevertheless, guests should never have to pay rack rates. Always ask for their best discount.
What to Eat
Oahu has so many restaurants that this section will not do anyone justice. The majority of your choices should come via recommendations from any friends you know who've visited, and the locals as you mingle during your vacation. There are a few restaurants that stand out from the rest, keeping in mind that not everyone feels the same, and that one may have a bad experience due to a number of variables.
On Waikiki, the Hanohano Room stands out because of its offering of compelling views. The restaurant is on the 30th floor with a huge glass wall. They serve seafood and steak and have decent service. Men are asked to wear collared shirts and long pants.
Duke's Canoe Club offers an authentic Hawaiian experience. Take your pick of tables that overlook a pool, or the beach. Koa wood adorns the restaurant, and the food is consistent and good, with a Pacific or Asian twist. Breakfast here comes highly recommended.
Getting away from the chain restaurants on Honolulu is tough, but possible. Bistro at Century Center is a no-brainer. The food is outstanding, the service is impeccable, and the atmosphere is very elegant. The prices are high, but well worth every penny. Try the Steak Diane or the osso buco. Yum!
Loved by the locals, Kaka'ako Kitchen in Honolulu has a large menu full of American and Asian influenced dishes, including tempura chicken and fish, stir fry, ahi wraps, and much more.
Getting There and Around
Purchasing airfare to Hawaii is best done by working through a wholesaler, such as Pleasant Holidays, one of the largest agencies. Shop around for packages that include air and hotel. Flights into Oahu land at Honolulu International Airport. If you happen to fly into any neighboring islands, use Aloha, Hawaiian, Go!, or Island Air for inter-island flights.
Getting around Oahu is best done via bus, taxi, shuttle, or by renting a car, or motorcycle. About 30% of visitors to Oahu use The Bus, Oahu's trusty bus system. You can find bus schedules throughout the island, especially at kiosks. Bus rides are only $2 one-way.
Car rentals in Hawaii have the potential of being more affordable than anywhere else in the country because the competition is fierce, and the demand is low. Many travelers stay in Hawaii without a car, but the experts recommend renting a car, or some other vehicle, for at least a part of your stay.
If you decide to get around via shuttle, remember to book ahead of time when possible in order to get cheaper rates. Oahu Airport Shuttle and Waikiki Shuttle are readily available.
Oahu is known to have very confusing roads and highways. The roads change names quickly, and have illogical flow patterns. Getting off a freeway doesn't necessarily mean that you can get back on it. Sometimes you may have to drive in the opposite direction you want to go in order to get onto a highway. Traffic is bad in Honolulu and Waikiki, so it's helpful to drive into the cities in the morning and away from the two in the afternoon.
Get There, and Get There Soon
Now is the time to visit Oahu. There has been a renewed sense of the authentic Hawaiian culture, which is proudly projected by the locals. The Hawaiian culture has captivated and dazzled many visitors. There is no doubt that you will be charmed too. To find out the best deals to Oahu, Hawaii, please check out Expedia travel for information.
Get More Information on This Adventure!!!
Experience adventures like the one found in this article and others by using TropicalAdventure.com Vacation Planner. Simply fill out our Vacation Planner form and you will receive FREE information about this activity and others that you may be interested in. Click below to sign up.