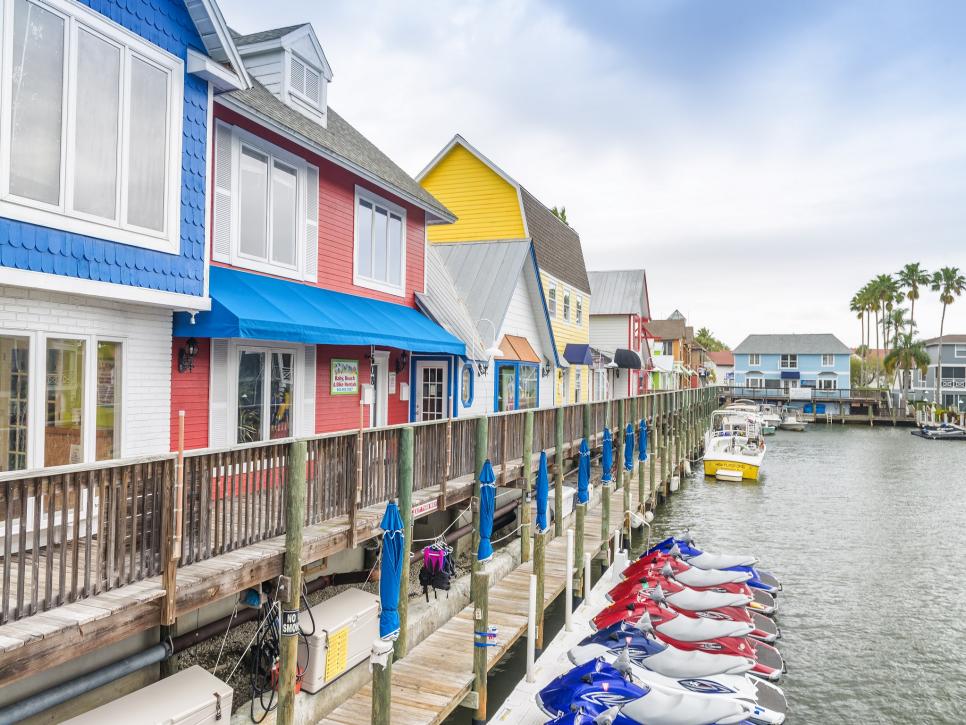 The first week in May heralded the last week of classes and final exams and the day after I headed north on Highway 19 for a desperate need of getting away from it all and rest and relaxation. I found it in this quiet, out-of-the-way, beautiful spot named Cedar Key. A must for anyone who loves Florida's history and Nature Coast, Cedar Key is a serene, friendly place with breathtaking views and some of the best food in Florida.
My first stop after the 20-plus mile trek on Highway 24 from Highway 19 was Pirates Cove and my cabin. A pet-friendly place (there is a pet deposit), resident cats greet guests with a hearty "meow, matey," and have been known to assist as guides in exploring this bayside wonder. I was lucky. I called at just the right time and got the best view in the place – complete with a screened porch overlooking the bay. After introducing Bellamy Starr and Taco to the cabin first, I unloaded the truck and headed for the porch to begin some serious sit-down time, reveling in the spectacular view, the gentle breeze, and a favorite book and jigsaw puzzle. Cedar Key now boasts excursions by boat for nature and Gulf lovers in general. Lady Pirate Boat Tours include scenic island tours, drop-offs for picnics and special charters. Others are available as well, located within the dock area of Cedar Key.
Somewhat familiar with the place, I had no trouble deciding where to have dinner that first evening. I have yet to have a bad meal in Cedar Key, and have visited almost all the restaurants there through the years. Down on the docks at the Red Luck Café was a definite choice. The food is excellent, as is the wait staff. If you decide to check the Red Luck Café out, be very hungry when you do. And, the Red Luck Café has a colorful history all its own. The story of the smuggler in the early 1800's and his true love makes for fascinating reading, and diners should definitely pick up a copy of this story as a memento. My mom came down for the weekend and Saturday evening was an excellent choice for the Seabreeze for dinner.
Fantastic view and food. Sunday morning, we opted for a more downhome style breakfast and stopped in Annie's Cafe, right on Highway 24 before entering the downtown area. The creaking of their screen door as you entered brought a flood of Old Florida memories back to me, and I just enjoyed kicking back and enjoying the atmosphere. The food and service did not disappoint us, either. Great place for breakfast and lunch.
Several legends float around Cedar Key, including one of The Headless Horseman of Seahorse Key", a perfect story for Halloween, complete with La Fitte, the pirate, a treasure fortune on the island, and, of course, a moonlight night. Pirates Cove boasts their own pirate story, entitled Old Pete of Pirates' Cove", written by Ruth Stovall of Port Charlotte, Florida, a visitor to the Cove in 2001. This tale Includes the story of lost love. Copies are available at Pirates Cove.
Downtown Cedar Key is a definite must for a walking tour of Old Florida at its best. The local Historical Society operates a museum right on the corner of Highway 24 and their main street and is a must to visit. The museum is home to an abundance of exhibits, pictures and displays, some dating back to 1775. You can enjoy Cedar Key history on the half shell while visiting their museum.
A close-up view of the old Thomas Guest House is a must. You can't miss this one, located Gulf side near the restaurants. The Historical Society of Cedar Key offers memberships to all its visitors, and you do not have to be a resident to become a member. The beautiful historic Andrews House ballroom is available for special events, meetings, workshops, and conferences. Mom and I took a tour Sunday afternoon of the Cedar Key Museum State Park and history lovers will find this park invaluable in learning more about the area's rich history. The St. Clair Whitman house is located on the grounds of the park and has been restored. The house belonged to a major benefactor to Cedar Key's history and museum and was a successful businessman in the community. The grounds are landscaped with native sand pine, slash pine, red cedar, live oak, sabal palm, saw palmetto, yaupon and counties.
The area holds a vital place in Florida's history. Cedar Key, settled in the early 1804's, it was flourishing by 1861, with a railroad system traveling as far away as Fernandina. There were blockade runners during the War Between the States, salt was locally made for the troops, and it was eventually attacked by the Federal force by sea and captured. The major industries after the War included cedar (pencil manufacturing), pine and cypress, with fishing becoming a major industry later. The area hosts a number of clam farms, helping to revitalize the community's fishing industry in a new way.
All visitors to the area should pick up The Cedar Key Guide," and the local newspaper, the Cedar Key Beacon. Both make for interesting reading and additional information, and the Guide includes valuable coupons. Be sure and drop by the Cedar Key Chamber of Commerce as well to say, "hi," and obtain even more information.
Cedar Key is located in Levy County on Highway 24, off Highway 19 North, about 40-50 miles north of Crystal River. Highway 24 is accessible at Otter
Creek.
Get More Information on This Adventure!!!
Experience adventures like the one found in this article and others by using TropicalAdventure.com Vacation Planner. Simply fill out our Vacation Planner form and you will receive FREE information about this activity and others that you may be interested in. Click below to sign up.