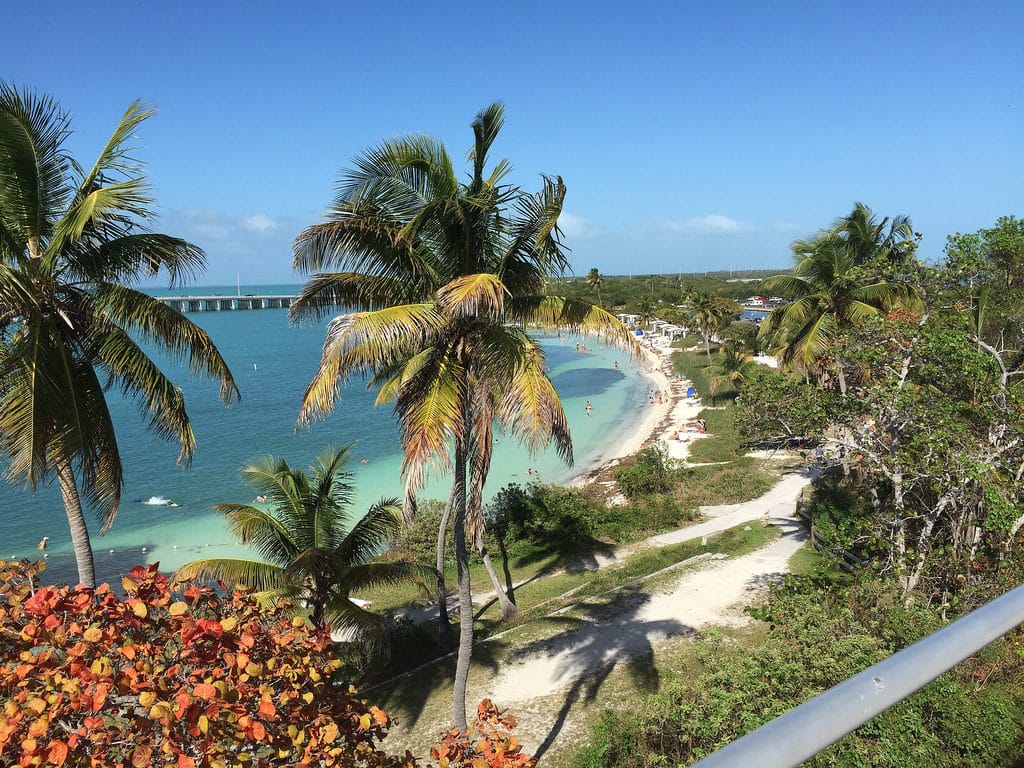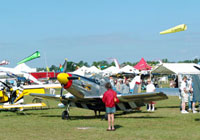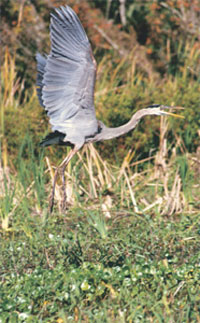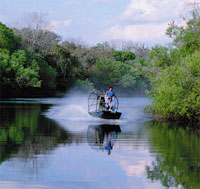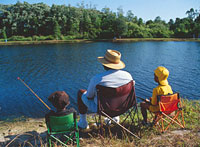 Ideally situated between Orlando and Tampa, Central Florida is one of the state's best-kept secrets. There are over 500 lakes in which to play and get close to nature. Well-kept gardens to admire. Museums and great places to eat. Campgrounds in the most ideal settings. Spend a weekend. Spend a month and be in the midst of some of Florida's best nature.
One of Central Florida's largest counties – Polk – is blessed with an incredible number of lakes – 554 to be exact. Canals that were built originally for transporting oranges, the area's largest crop, connect many lakes, making them more accessible for recreation. Fishing, boating, and water skiing are popular pastimes in many of the lakes.
Cypress Gardens once had spectacular shows with stacks of water skiers gracefully skimming across lakes in Winter Haven. Lake Eloise was the site of the first water ski exhibition in 1943. Its purpose was to entertain military troops. The show caught on and continued until 2002. The gardens were closed for over a year, but got a huge facelift. Now the shows will continue and Cypress Gardens will have even more attractions than previously. From beautifully landscaped gardens to roller coasters, there will be plenty of things to do at the new Cypress Gardens.
Lakes A-Plenty
Fishing is a very productive sport in Central Florida. It claims the nickname of "Bass Capital of the World". Its many freshwater lakes and rivers provide excellent habitat and cover for largemouth bass, bream, crappie, and catfish. There are several popular lakes. Lake Kissimmee is in the eastern part of Polk County and has almost 35,000 acres. It is a good bass and black crappie lake. Connected by a canal to this one, Lake Hatchineha with 6000 acres has a good population of largemouth and bluegill.
The 5000-acre Crooked Lake is six miles south of Lake Wales. Lake Weohyakapka (nicknamed Lake Walk-in-the-Water) contains 7000 acres. Both are good bass producers. The Winter Haven Chain of Lakes is a group of sixteen canal-connected lakes known for its good fish populations. Numerous boat ramps provide access. The Central Florida Visitors Guide gives excellent information of access points and boat ramps to the lakes of the county. There are several outfitters that can provide guide service on the many county lakes.
Parks and Gardens
One of the most unique and convenient spots in Central Florida is the Oak Harbor RV Resort. It is located on the 1000-acre Lake Lowery in the northeastern part of Polk County. Oak Harbor is unique because it is a seaplane base offering plane rides, fishing packages, and a great place to park the RV in addition. There are 125 RV sites – 35 are lakeside. Greg Anderson runs the place and says his father started the business as a fish camp. It has been a seaplane base since 1970. The RV park was added to offer visitors that extra convenience. Oak Harbor has cabins for rent also. Packages are available that include seaplane rides and fishing excursions. See their website for details.
Nearly all the major attractions of Polk County are centered around or are located near one of its many lakes. That also holds true for the appropriately named city of Lakeland, since there are several large lakes within its city limits. Along Lake Mirror, Hollis Gardens is one of the county's most scenic locales and has an incredible varied assortment of plants. The gardens are arranged in themed divisions, which the park calls 'rooms'. There is a Yellow Room for all that colored plants. A Tropical Room is a shrub-lined division with a variety of exotic plants. And the list goes on. For being only an acre and a half, Hollis Gardens is a very picturesque park situated beside a lake in downtown Lakeland. A bonus — the garden is free to tour.
Another garden paradise is the Historic Bok Sanctuary. It is near Lake Wales in the southeastern part of the county. The gardens surround a 205-foot tower that houses a 60-bell carillon, which offers a daily recital filling the gardens. Also on the grounds is a museum that explains the creation of the gardens and Edward Bok's dream. The early twentieth century Pinewood Estate shares the grounds.
In the north central part of Polk County, the Fantasy of Flight is an unusual museum with the largest private collection of vintage aircraft. It is arranged by different eras of aviation telling the story of flying. Actual aircraft, like a B-17 Flying Fortress, a B-24 Liberator, and a Japanese Zero, and an accurate replica of the "Spirit of St. Louis" are there. To get to the Fantasy of Flight, take Exit 44 along Interstate 4.
Outdoor Ops
Wetlands support a variety of wildlife. The Circle B Bar Reserve in central Polk County is a 1267-acre tract that preserves a section of wetlands to give visitors a look at its diverse nature. Hiking and horseback riding trails wind through the property. There is a section of hardwood forests where mainly live oak trees provide shady spots for air plants. The live oaks support Spanish moss and resurrection ferns. Various wading birds frequent the marshes of Banana Creek.
Central Florida is birdwatcher's paradise. The lakes offer habitat for waterfowl and shore birds. The wetlands give shelter to wading birds and a wide range of other species. The endangered whooping crane and wood stork have been reintroduced into Polk County's preserves. The wetlands are preferred by the wood storks. The whooping cranes might be spotted in the Kissimmee Prairie in the eastern part of the county.
There are more ways to enjoy the near perfect weather of Central Florida. For the golfer there are over 500 holes on many historic courses scattered throughout the county. Some of the courses were designed in the 1920s and are still popular. A visit in the springtime might catch professional baseball training camps in full swing. The American League's Detroit Tigers uses Joker Marchant Stadium in Lakeland. The Cleveland Indians plays at the Chain of Lakes Park in Winter Haven. Other major league baseball team use sites in nearby locations at Orlando (Atlanta Braves), Kissimmee (Houston Astros), and Tampa (Tampa Bay Buccaneers).
Getting around Polk County is easy. Interstate 4 connects Orlando to Tampa and cuts through the county in an east west pattern. The north south main route is U.S. Highway 27. It passes through the middle-eastern part of Polk County. U. S. Highway 98 runs from the northwest corner of the county to the southeast, taking a turn in the midsection near Fort Meade. The main towns of Polk County are Lakeland, Winter Haven, Haines City, Polk City, and Bartow, the county seat.
Central Florida has a lot going for it – ideal weather, countless opportunities to enjoy outdoor recreation and its good nature, plenty of RV parks, and an excellent location between Tampa and Orlando. Visit Polk County and discover one of the best-kept secrets of Florida.
For More Information:
Central Florida Visitors and Convention Bureau
600 N. Broadway, Suite 300
Bartow, FL 33830
(863) 534-2500; (800) 828-7655
www.sunsational.org
Lakeland Area Chamber of Commerce
35 Lake Morton Drive
Lakeland, FL 33801
(863-688-8551
www.lakelandchamber.com
Winter Haven Chamber of Commerce
401 Avenue B, NW, P. O. Box 1420
Winter Haven, FL 33882
(863) 293-2138; (800) 871-7027
www.winterhavenfl.com
Cypress Gardens
6000 Cypress Gardens Boulevard
Winter Haven, FL 33884
www.cypressgardens.com
Oak Harbor RV Park
100 Oak Harbor
Haines City, FL 33844
(877) 956-1341; (863) 289-6661
(863) 956-1341
www.oakharbor-rv.com
Hollis Gardens
702 E. Orange Street
Lakeland, FL 33801
(863) 603-6281
Fantasy of Flight
1400 Broadway Boulevard
Polk City, FL
(863) 984-3500
Get More Information on This Adventure!!!
Experience adventures like the one found in this article and others by using TropicalAdventure.com Vacation Planner. Simply fill out our Vacation Planner form and you will receive FREE information about this activity and others that you may be interested in. Click below to sign up.