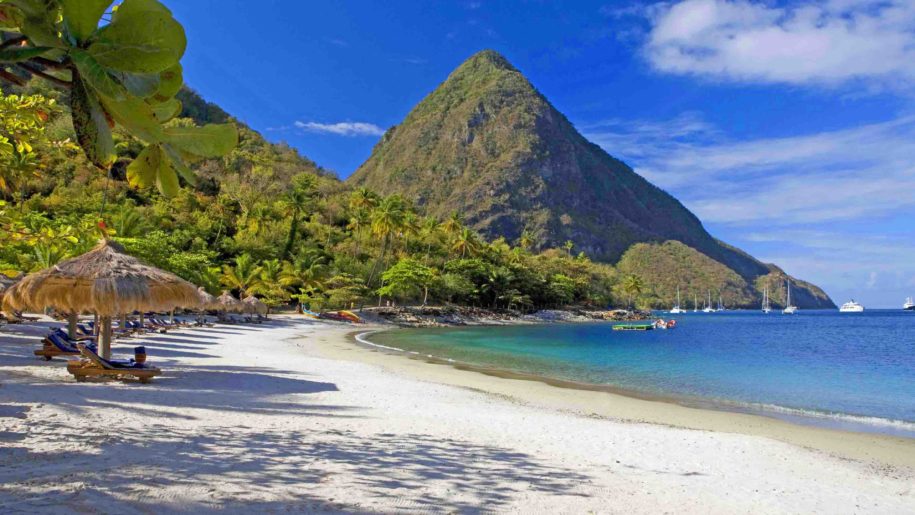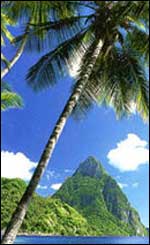 Alive! This is the best the word to describe the island of St. Lucia. The tear-drop shaped island is part of the Winward Islands of the Caribbean, and is nestled between Martinique and St. Vincent islands. St. Lucia is a flourishing and diverse island with thick rain forests, mountain peaks, beaches, rare wildlife, and brilliant foliage.
The island is small, at only 27 miles by 14 miles, but very fertile. Farming is fabulous in St. Lucia. Banana, sugar cane, coconut, and cocoa are all staple harvests of the island. From the Pitons, or mountain peaks, travelers can view an abundance of plantations and groves.
St. Lucia has an exciting past. She can boast many a man that fought for her, beginning as early as the 16th century. The "Fair Helen of the West Indies", as she was adoringly nicknamed, was a prize possession because of her cultivation potential, and changed hands 14 times between the French and the British. Guess who won? That's right. The British. Today the island is a member of the British Commonwealth.
The lush island maintains a bit of her French character, today, though. Creole cooking, Creole architecture, and lots of Creole style partying make the island stand out in the crowd of the smaller islands in the Lesser Antilles. The island offers the pre-Lenten Carnival, Friday night jump-up street party at Gros Inlet, and the ten day Jazz Festival in summer.
Travelers are also sure to find a taste of the African culture. "Evil spirits are banished by the beating of drums, and houses are made safe by magical wreaths of thorny acacia and special herbs," describes National Geographic Traveler.
To experience some of St. Lucia's history, visit Pigeon Island National Historic Park where Captain Jambe de Bois rested his weary pirate legs. In the park today you can visit and view military ruins of Ft. Rodney where Admiral George Rodney built and managed a naval base lookout in 1778.
Adventure activities abound south of the capital city of Castries. St. Lucia's Pitons, or volcanic peaks, soar above the lush land near the town of Soufriere.
Soufriere can be your base as you take time to explore St. Lucia's marine park, "drive-in" volcano and sulphur springs, mineral baths, a working cocoa plantation, a rain forest reserve at Morne Fond St. Jacques, or the world underwater via a scuba dive along the coast. For the best snorkeling and diving visit Anse Chastanet Marine Reserve. You'll see giant sponges, huge sea fans, corals, octopuses, squids, starfish, and even "The Thing", a purple worm that grows up to 15 feet. The Pinnacles, or underwater "peaks", rise out of the water from 50 feet below the surface to 15 feet from the surface. Here you'll see schools of fish and gorgonian fans, among many other sea creatures.
Hike the diverse path of the Eastern Nature Trail where you'll scoot past cactus, forest, beachfront, caves and arches. The trail ends at Fregate Nature Reserve comprised of two huge rocks where frigatebird nests are well protected.
Maria Major Nature Reserve is in the southern part of St. Lucia. Travelers may run into Kouwes, the world's rarest snake, or lizard known as zandoli te – 11 inches long with a bright blue tail, yellow belly, and dark blue back. Also, look out for geckos, terns, ground doves, Caribbean martins, and red-billed tropical birds.
St. Lucia Forest Reserve is where the rain forest rules. It's a very popular, commercialized place, but worth a trip to see the jacquot. This endangered St. Lucian brilliantly colored parrot was, thankfully, brought back from extinction in the 70's by a tremendous act of conservation. The jacquot is not the only bird to be seen in the Reserve. The white breasted thrasher, St. Lucia oriole, and St. Lucia wren can also be enjoyed.
Travelers can also fish for mackerel, dolphin, and sailfish in the North of St. Lucia, and horseback ride along the beach.
A visit to St. Lucia can bring a smile to your face, a spring in your step, a sigh of relief to your breath, and, perhaps best of all, a lift to your adventurous spirit!
Tropical Adventure.com offers great hotel and diving packages through Marigot Beach Club. Visit our Adventure Activities search for more information, or to book your St. Lucia vacation.
Get More Information on This Adventure!!!
Experience adventures like the one found in this article and others by using TropicalAdventure.com Vacation Planner. Simply fill out our Vacation Planner form and you will receive FREE information about this activity and others that you may be interested in. Click below to sign up.