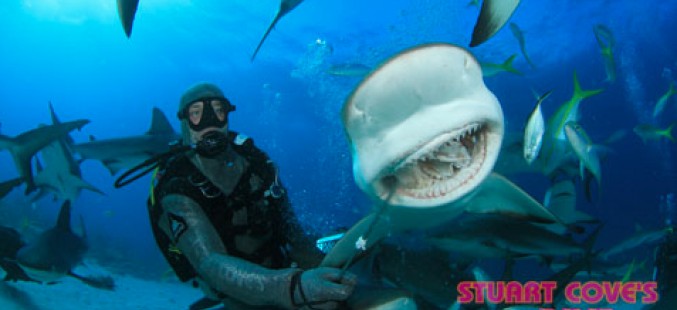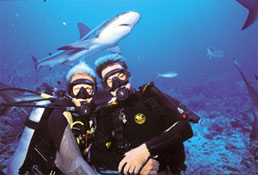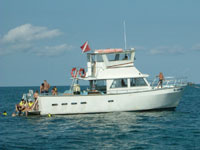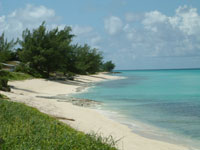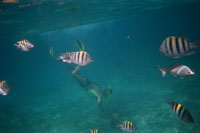 Nassau, Bahamas is a place of unforgettable charm and also the home of Stuart Cove's Dive Shop. The town's personality speaks of its historic nature and, at the same time, exudes modern energy. There is a dynamic downtown area chock full of options for shopping, where the government sets forth its structure. The waterfront serves the tourist population well, as does Bay Street, located only one block inland.
Culture
The culture of the Bahamas is heavily influenced by the lifestyles of the African slaves who were brought over long ago. Obeah, is a very prominent 'folk' religion in which the followers adhere to a system of beliefs that speak of the interactions between the spirits and the living. Most Bahamians belong to "mainstream" Christian denominations. Those who do belong to a Christian church are very serious about their practice.
Bahamians are English speaking, for the most part. Some speak Creole, and other talk in a language called patois. Music is an important part of the Bahamian culture, and they have managed to create their own forms of music, including 'rake n scrap', and a type called goombay.
Environment
The Bahamas is a part of North America, geographically, and part of the Caribbean, politically.
The archipelago stems from an underwater mass, which gives rise to about 700 islands and 2500 small cays. The connection of land stretches far, some 750 miles. The highest point on the Bahamas is only about 200 feet above sea level.
The islands are, for the most part, surrounded by coral reefs and sandbanks, and have barrier reefs along their eastern Atlantic shores. These reefs offer protection from the pounding of waves. The sand of the shore carries across a pinkish tint.
Another geological characteristic of the islands is its sinkholes. They are called 'blue holes', but are essentially just pits filled with water descending down some 600 feet, leading to underground caves.
The climate of the islands is dynamic. To the south of the islands, travelers will find a dryer and less vegetated region. Cacti are plentiful. In more lush areas, Bahamian mahogany, pine forests, ferns, palmettos, and over 1300 other species of plants can be found. There are, of course, mangroves thriving along the shorelines. Flowers, such as the Pride of India, are also prevalent. The Pride of India is an immense tree that becomes a mass of lavender when in bloom.
The islands of the Bahamas lay claim to numerous endangered land mammals, such as bats. Other species include horses, donkey, feral cats, and wild boar. One unique mammal to look for is the hutia, which is a rodent similar to a guinea pig, but about the size of a cat. Fourty-four species of reptiles can also be found, often sunning on rock, including the curly-tailed lizard.
Off land, there is plenty of wildlife giving energy to the sea. Atlantic bottle-nosed dolphins, humpback and blue whales make these waters their home. The more elusive spotted dolphins are also present in the tepid waters.
What to Do
There seem to be an unlimited amount of things to do in Nassau, as well as surrounding areas. Its almost a given that travelers will plan a repeat visit to the islands.
One of the more popular activities is the Swimming with the Dolphins Nassau Bahamas tour, where you actually go into the water with bottlenose dolphins and play and swim with them. They have deep and shallow tours.
For a taste of the true culture, visit the remote Cat Island where islanders can be found playing Obeah, practicing bush medicine, and weaving baskets. Some of the most attractive beaches are found here, with pink-sand and creeks running onshore.
Stella Maris is the place to begin a fishing excursion. Bonefishing seems to be the most popular, because the species can be caught year round, but are a challenge to hook. Fishing for bonefish can be done right from the sandbanks in the clear waters offshore. In addition to bonefish, tuna, wahoo, and marlin are sought after.
Snorkeling, parasailing, water-skiing, windsurfing, and sailing can also make for an unforgettable day off of Nassau. Travelers can usually find opportunities to arrange these activities through the resorts in town. Get to the southern end of the cape at the reef garden for snorkeling.
Bird watching near Nassau, like most other tropical destinations, is rewarding. Over 200 species of birds call Bahamas their home. Visit Man-O-War Cay, Armbrister Creek and Inagua National Park for birdwatching, but the best bird sightings are known to be at Great Inagua.
Not surprisingly, scuba diving is a natural choice for adventure activities in Nassau. Some great dive sites include Razorback where a limestone ridge rises and plunges into the Tongue of the Ocean, and Clifton Wall, to the southwest of Bahamas. Brain, elkhorn, and staghorn corals can be found near Hope Town to the North.
Dive Bahamas
When it comes to scuba diving, Stuart Cove's Aqua Adventures does not miss a beat. Owner Stuart Cove has years of unique experience in the field of scuba diving. His credibility has been proven time and time again over the years. His aptitude was first qualified when he was hired as a stunt diver for the film "For Your Eyes Only", James Bond's 1977 blockbuster film. It was during this time that Cove earned his reputation as a top-notch dive instructor, and 'shark wrangler'. Following this brush with fame, Stuart bought his first dive boat on New Providence Island, which he used to open his dive operation. Starting out small, in 1978, Cove had time to establish his business the right way. He focused on customer service, and diversification. By 1983 he was offering alternative water sports, such as water-skiing. Cove also held out his commitment to customer service by shuttling travelers from their hotels to his dock. The convenience proved successful for him. His business grew, and as it grew Cove grew with it. He purchased a 54-foot flat top dive boat, named 'Black Coral'. He also hired an operations manager, Michelle Berlanda. Together, they worked as film production coordinators on another Bond blockbuster, 'Never Say Never Again'. Stuart Cove's web site states, "As part of those responsibilities Stuart personally certified Mr. Connery and Ms. Bassinger as divers in order for them to complete their rolls. In addition, Stuart choreographed underwater fights and again lead the 'shark wrangling' team." In 1992, Stuart Cove was awarded further for his hard work, and was accepted as the South Ocean Golf Beach & Dive Resort's official dive operator. In 1994, Stuart and Michelle married, and today they remain a strong alliance, both personally and professionally.
Over the years, Stuart Cove has become a comprehensive adventure water sports operation. There are many components to Stuart Cove's Aqua Adventures. They are all very complimentary to one another. Dive Bahamas is Stuart Cove's award winning dive center. All scuba dive tours, courses, and variations of deep-water activities hale from here. Snorkel Bahamas is Stuart Cove's renowned source for snorkel adventures. Cove states, "Billed as the worlds most exciting snorkeling adventure, Snorkel Bahamas offers its guests the chance to visit 3 locations on a single voyage." SUB Bahamas is a premiere activity, which involves an underwater vehicle, of sorts. Cove describes it as a motorcycle with a giant bubble on top. Adventurers sit in the vehicle looking through the bubble, as fresh air is pumped into the area. Fin Photo is Stuart Cove's photography and videography business, of the underwater nature, of course. Guests use this service frequently to capture and preserve their special moments.

Stuart Cove's dock is located on the ocean, which makes for convenience, with some of the most memorable dive sites within 10 minutes reach.
One of the things that Dive Bahamas is known for, is its role in 'Flipper', the Elija Wood film shot in 1995, right at Stuart Cove's dock, after it was made into a Bahamian fishing village studio. Since then, Stuart Cove and crew have used the set to film both documentaries and news clips.
On site, Dive Bahamas hails a boutique selling wet wear, gifts, and scuba and snorkeling gear. The facility also houses Fin Photo, a rental department, gear storage, and a maintenance garage, and newly renovated bathrooms, built around customer suggestions.
Stuart Cove is proud of his fleet of vessels that is the soul of his operation. Via the Dive Bahamas' web site interested parties can find an entire chart detailing each of the vessels in operation, and their maximum capacity. If you need a private charter of one of the vessels is available also.
Dive Bahamas also works on the front end of the scuba diving experience. They are a PADI Gold Palm, Universal Referral, and SDI training facility, which means that they can certify individuals to scuba dive. Their facilities are equipped with a classroom to host courses. Not only do they teach courses in scuba, they also go above and beyond and initiate courses in other complimentary subjects, such as 'Underwater Photography' and 'Shark Awareness'.
Dive options are plentiful with Dive Bahamas. There are the daily Morning 2-tank dives, which explore the natural wonders surrounding New Providence Island. There are the hotel packages and dive only packages, which strive to show the guest a bit of the best, with a dive to a wall, and a shallow reef or wreck dive. "You may explore a 100 foot freighter in 50 feet of water; or the famous James Bond wreck in 40 feet of water or you may dive on the Cessna used in the filming of JAWS. We decide on the specific site we will be diving on the actual dive day. This keeps us flexible and gives us an idea of what the best weather conditions are and what everyone on the boat would prefer to do," describes Cove. In addition to these wonderful options, there are afternoon 2-tank dives, similar to the morning dives, All Day Diving Programs, discounted multiple day dive packages, and, with a minimum of six divers, a night dive at one of the mysterious ship wrecks. Outside of the usual dive days, there is also a very special program called Stuart Cove's Shark Adventure, custom made for adrenaline junkies.
There are numerous sites where the shark dives take place, including 'Shark Wall', 'The Arena', or the 'Runway Wall/Runway'. These are all great locations for the Caribbean Reef Sharks to swarm. The first time out, guests will do a free swim at a wall. During these free swims, the sharks are expected to follow divers around, as they pace waiting for the food to be thrown out for them. It is important to note that no bait is tossed out at this time. It's on the second shark-feeding dive when that happens. The divers place is knelt down on the sand bottom, while watching as professional shark feeders place a bait box, release the food, and try to manage the sharks' movement. Divers beware. The sharks do come very close.
Stuart Cove explains how this daring program got started, "Since I began my career in diving over 20 years ago, I have first observed and then interacted with the shark population around the island of New Providence. Those early experiences paved the way for our participation in Hollywood blockbusters such as "Never Say Never Again" and "Jaws IV: The Revenge" where I worked as the films "Shark Wrangler". The outgrowth of those experiences led to the development of our Shark Adventure™ dives which we offer regularly."
Stuart Cove also teaches experienced divers to become professional shark feeders, and photographers of those amazing creatures.
Snorkel Bahamas
Just imagine, a short trip (provided by Stuart Cove) from your hotel in Nassau to Stuart Cove's dock is all that stands between you and the plethora of surprises of Stuart Cove's Snorkel trips. There are normally three different snorkel locations, the first being a visit to a shallow reef, at a depth of 15-25 feet. The best choices are reefs such as Nari Nari, Schoolhouse, Little Elvis, and Goulding Cay.
The second snorkel site is usually a shipwreck, either a massive tanker, or one of James Bond's wrecks, placed there for the movie set. The tanker, Carib Breeze, has a mast that reaches to just eight feet below the surface of the water.
The third stop over is the most daring. It involves a dip in shark infested waters. Those who are up for the challenge, snorkel with Caribbean Reef Sharks. Cove explains, "When you visit as a snorkeler – a bait box is lowered on a rope to a depth of 40 feet. That box creates a scent trail that will attract the animals to the area. However, because the scent is at depth – the sharks stay close to the bottom. We then enter the water snorkeling and stay on the surface observing these magnificent creatures in their natural environment from above. Once you exit – you will be able to debunk the myths created by Hollywood first hand."
Extreme Adventure™ – Wall Flying™
Stuart Cove's also offers several unique adventure opportunities, including what he calls his Extreme Adventure™ – Wall Flying™. This activity is actually a trip aboard a DPV, or diver propulsion vehicle. It takes riders through the waters' depths at high speeds. In team formation, adventurer seekers will be swept away to all sorts of nooks and crannies of the ocean. The Stuart Cove's web site exclaims, "Watch out – because you will also swoop through coral valleys and disappear in small caves along the edge of the wall…This all day trip will give divers a chance to experience some of the "Out Islands" of the Bahamas. Your daylong trip begins by crossing to the other side of the Tongue-of-the-Ocean and visiting Andros Island. This is approximately a 25 mile voyage and takes approximately 1 1/2 hours." Reaching depths of 130 feet at times, the DPV takes guests to "blue holes", and walls where coral glows with color, and fish swim.
SUB Bahamas
Designed in the 1990's, the 'SUB' machine is like no other. 'SUB' stands for Scenic Underwater Bubbles. As mentioned, a 'SUB' looks something like a motorcycle, with the addition of a large bubble structure on top, where the passenger's head goes, and into which air is pumped. You don't need a certificate, or any other formal education to operate a SUB. Stuart Cove provides a short lesson on how to drive the contraption. Students are quickly taken out for their money's worth of fun. In the water, SUB pilots are escorted down 20 feet, before set free to explore solo. Safety is a priority with the SUBs and one way that is ensured is with the use of buoys attached to the machines preventing the vehicle from diving too deep. With the use of an underwater camera, photos can be taken inside the bubble as well. Although no experience is necessary to enjoy a SUB, there are some minimum requirements to meet before being approved as an operator, one being you must be in good general health.
When to Go
Whether it is by plane or cruise ship, the Bahamas is easily accessible and affordable from Florida. Its accessibility from Miami, Ft. Lauderdale and Orlando mean ease of travel for international visitors also. Nassau is known to be the most popular port of calls in the Caribbean, so its no problem finding the islands via this route of travel.
Mild temperatures are a mark of Nassau, and bring people from around the world, all year round. In the summer months of June to August, the water temperatures are comfortable enough for one to spend an entire day in it. Winter months can be chilly to the north and west of the islands. Rain is prevalent May through November, when hurricane season threatens.
How Much
The busy season in Bahamas is usually December through April. You can bet that prices will be highest during this time.
On average, Bahamas isn't the cheapest destination you can find. You should expect to pay about $200 per day for a pampered holiday, $100 per day for a less luxurious time and up to $70 for a budget vacation.
If an active vacation is what you are looking for, Stuart Cove's Aqua Adventures is a great value. Most of their prices include hotel transfers, and the gear necessary for the activity. For instance, the snorkel trips include complimentary transfers from your hotel or cruise ship, mask, fins, snorkel and a snorkeling vest. The price for a full day of delight is $48 for adults and $24 for children 11 and under.
No matter the dollar amount, the memories created with Stuart Cove's Aqua Adventures are sure to be priceless.
Stuart Cove's Aqua Adventures
Stuart and Michelle Cove
800-879-9832 tel: 954-524-5755
http://www.stuartcove.com
Get More Information on This Adventure!!!
Experience adventures like the one found in this article and others by using TropicalAdventure.com Vacation Planner. Simply fill out our Vacation Planner form and you will receive FREE information about this activity and others that you may be interested in. Click below to sign up.