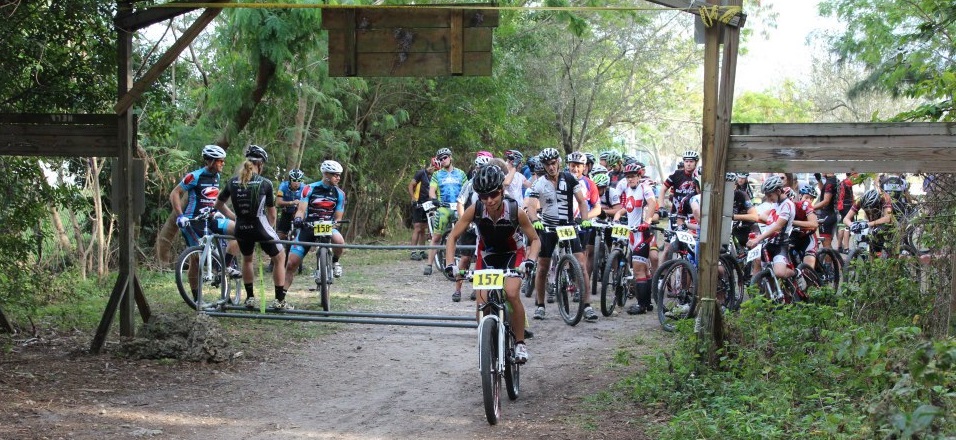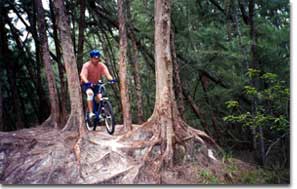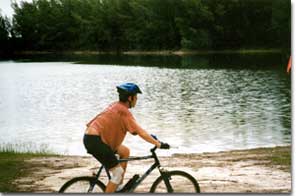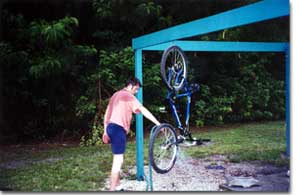 Quiet Waters Park is a great place to trail ride for all skill levels of mountain bikers. Falling is expected at some point on most trails, but if you are a novice and watch your speed, you should have no problem managing the trail at Quiet Waters Park. As a self-employed beginner with no health insurance and no interest in breaking an arm or leg, I chose to ride at a reasonable pace and extend my cardiovascular experience. This 3 to 4 mile loop is a great workout no matter what level rider you are. As your riding capabilities improve, just increase your speed to keep your heart pumping.
The bike trails at Quiet Waters Park are tree lined and protected from the heat of the South Florida sun, keeping your entire ride fairly cool. There are only a few areas along the trail that are not shaded where you will find total sun exposure. The remainder of the trail is beautifully landscaped with tropical plants and great views of large man-made lakes. At one time, this park was actually mined as a rock quarry leaving large crater-like holes that filled with rain water to become the lakes we see today. There are a few technical sections of the trail, including one at the start, though majority of the ride is straight runs and curves. Don't forget to watch for the occasional tree root or low-hanging branch. 
Park volunteers do a great job maintaining the trails and have even complied with rider requests to add more challenging side trails. Alternate paths have been built, including a 6-foot wooden ramp that can give you that "flying" feeling, and an area with man-made hills of sand and stone. You will enjoy watching more experienced riders tackle these additions or may even choose to challenge the laws of gravity for yourself.
The trails at Quiet Waters Park are perfect for all levels of mountain bikers, though primarily suited for families and beginning riders. If you are planning to visit South Florida and find yourself searching for some Broward County fun, rent mountain bikes and helmets from a local outfitter and test your "pedals" at the trails of Quiet Waters Park.
Other park amenities include a small beach and water park, tow-rope water skiing, camping (the park will provide tents) and large picnic and concert areas. So, bring your friends and family and tell them you heard about it on Tropical-Adventure.com.
Quiet Waters Park
401 S. Powerline Rd., Deerfield Beach, FL 33442
(954) 360-1315 · Fax: (954) 360-1349
Facilities
The following is a list of available facilities at Quiet Waters Park:
(Call the park for fees unless otherwise noted)
Boat Rentals
Canoe, rowboat, and paddleboat rentals. Children under 12 must be accompanied by an adult. (Fee)
Campground
"Rent-A-Tent" package: Sixteen pre-setup tents with equipment (seven sites available for campers with their own tents). (Fee)
Fishing 
"Rent-A-Tent" package: Sixteen pre-setup tents with equipment (seven sites available for campers with their own tents). (Fee).
Pavilion Picnic Area
Pavilion and large picnic area for groups of 400 or more. Amenities include two large grills, tables, electricity, restrooms, open playfield, horseshoe pit area and separate parking.
Picnic Areas
Tables/grills throughout the park available on a first-come, first-serve basis.
Picnic Shelters
One 150+ capacity, six 50+ capacity and two 40+ capacity, all with grills, water and tables. Reservation fee and deposit required.
Playground
Near the concert area, snack bar and water-ski concessions.
Primitive Group Camping
Reservations can be made by non-profit groups only, by an adult 18 years or older. All groups of youths under 18 must include one adult per every 10 youths. Campers must bring their own equipment, including tents and other supplies. (Fee)
Ski-Rixen Water-Skiing
Cable water-skiing.
Snack Bars
At Splash Adventure (open seasonally).
Splash Adventure
A high-tech, interactive children's water playground. Open seasonally. Fee.
Swimming Beach
Open seasonally. Lifeguard. Fee.
Get More Information on This Adventure!!!
Experience adventures like the one found in this article and others by using TropicalAdventure.com Vacation Planner. Simply fill out our Vacation Planner form and you will receive FREE information about this activity and others that you may be interested in. Click below to sign up.