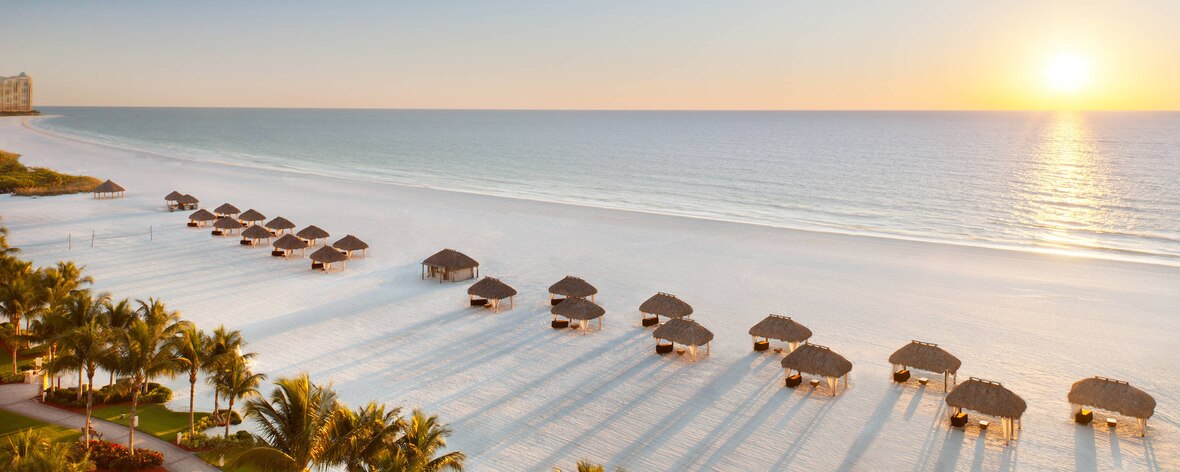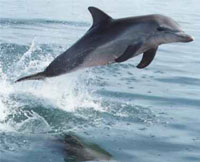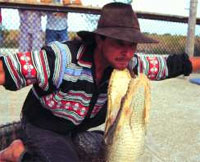 Collier County, located along the "Paradise Coast" of Florida, is among the top tourist beach destinations in the nation, and possibly the world. The county includes the beautiful Macro Island, the wildness of the Everglades, and the mystique of Naples. The area is located at the Southwestern tip of the Gulf Coast. Although Naples is known for its high class shopping, and international cuisine, it is becoming better known for its natural wonders. Its here you can find memorable bird watching, educational eco-tours, and other ways to appreciate nature.
HISTORY
Collier County is part of historic Southwest Florida. The land was shaped by the Ice Ages, which reveals itself in the layer of limestone and sandy sediment underneath the area today. It's interesting to think that just 25,000 years ago, the southern tip of Florida was submerged under water.
In addition to the geological indications of the county's history, there are fossils discovered that uncover the life that roamed the area after its rise above the ocean. Mammoths, bison, deer, wild horses, mastodons, and even camels inhabited the area some 10,000 years ago. Back then the climate was favorable for them. Slow changes in both climate and vegetation led to their extinction.
It was around 10,000 years ago, also, that the first human beings reached today's Collier County. These people were called Paleoindians. The Calusa Indians came next, well before Columbus. Ruled by one chief, this community thrived, reaching numbers of 10,000 or more. They formed a military alliance, built temples and other buildings out of the earth, and even developed a system of canals. Within the community there were artisans who were inclined to create masks and wood carvings for ceremonial use.
Of course, the Spanish had their take of the region. In 1513, Juan Ponce de Leon discovered and claimed Florida for Spain and subsequently led the first recorded European exploration of the Gulf coast. In 1521, Ponce de Leon colonized Southwest Florida before being killed by Calusa warriors. Eventually, years of warfare, enslavement and epidemics put down the Calusa Indians, along with their culture.
THINGS TO DO
Collier County is not lacking in things to do, places to see, or people to meet. Some visitors' first stop is to the Naples Fishing Pier. The pier is an amazing site as it stretches 1,000 feet into the Gulf of Mexico. A visit to the very popular pier will reward guests with awe-inspiring sunsets. Fishing enthusiasts can take a boat from the pier out to the Gulf for half-day and full day expeditions. Those looking for a more leisurely day can rent boats to take into Naples Bay, the surrounding inland waters, and into the Gulf.
The waters of the Gulf are usually calm and warm – great for swimming. Swimmers may be entertained by dolphin frolicking or feeding. The Everglades is close enough to be considered one of Naples' attractions as well, where adventurous visitors can take a swamp buggy or walking tour. Wildlife viewing is another major attraction in the Naples area, as well as shelling, air boating, and agricultural tours.
Nature Centers
Audubon's Corkscrew Swamp Sanctuary is an 11,000 acre preserve, owned and operated by National Audubon Society, that offers a 2 1/2 mile boardwalk with a welcomed surprise around every corner. Hikers will behold gigantic cypress trees, draped with Spanish moss, alligator holes, and, quite possibly, their inhabitants. The area is a birdwatcher's paradise. Located on site, the Blair Audubon Center maintains creative exhibits and productions to demonstrate the history and life of the cypress forest within the sanctuary. The sanctuary is located north of Naples off of Sanctuary Road.
Also just North of Naples sits an 800 acre estuary, the Cocohatchee Nature Center. Here you can hop aboard a 40-passenger boat for a day to take part in an entertaining narrated tour viewing the amazing landscape and life of the Paradise Coast. While out on the water passengers are sure to observe dolphin pods and a protected manatee or two. If non-motorized vehicles are more your speed, rent a kayak or canoe at the Center. If fairy tales are what you are made of, then consider a sunset cruise. Cochatchee is located off Highway 41 just south of Wiggins Pass Road and north of Immokalee Road.
Beaches & Parks
In Collier County there are a plethora of parks and beaches. You have your pick between National parks, State parks, and city and county parks.
The most popular shoreline, Naples Beach, was rated as one of Yahoo! Travel customers' top ten favorite beach destinations in the United States. It offers dozens of white sandy shores and expands more than ten miles, with access points for the public at the end of most streets throughout the city. Thanks to the limited parking and facilities, the area keeps a quiet, low key environment.
Clam Pass Beach Park is a prime example of Naple's finest beach. ExploreNaples.com says, "The Park consists of 35 acres of mangrove forest, coastal dunes, and 3200 linear feet of beach on the Gulf of Mexico. There is a boardwalk, which provides access to the beach through a mangrove forest. The boardwalk is about three quarters of a mile long and can be walked or you can catch a ride on a free tram that runs continuously throughout the day." The park is located off Highway 41 near Pine Ridge Road, and open from 8:00 am to sundown.
Big Cypress National Preserve, designated a U.S. National Park, is an ideal locale for those looking for some fresh air and great exercise. Hikers can take the Tree Snail Hammock Nature Trail, a short, self-guided trail located on Loop Road. Or, take the Florida Trail and trek on any of the 31 miles of trail accessible from the preserve.
Scenic drives are lovely in any season at Big Cypress. Along the way, wildlife is sure to be detected. The Loop Road can be traveled for 26 miles of dazzling scenery. Big Cypress National Preserve can be accessed via I-75, state road 29, and U.S. 41.
Shelling
Shelling has become a celebrated activity. Collectors flock to Florida's coastline where the sands are full of unique shells like fig shells, lightning whelks, sand dollars, and angel wings. The small islands off the coast of Collier County are splendid shelling. Tropical Adventure.com's tour operator, Naples Water Tours, offer tip-top shelling trips.
Wildlife Viewing
Whatever you do, wherever you are, in Collier County there are opportunities to view wildlife. You only need to keep your eyes and ears open and available to the experience. Bottlenose dolphins are abundant in the estuaries around Naples and Macro Island. The endangered Florida manatees are also seen swimming in the warm parts. Thousands of tropical bird species exist both near to and far from the sea.
The Florida panther, the state's official animal, calls Collier County's forest home. Although rare, sightings have occurred in the Fakahatchee Strand Preserve State Park and along the Loop Road in Big Cypress National Preserve. Dear, otter, squirrels, and even black bears inhabit the forested area.
Bird Watching is a tremendously popular activity in Florida. Naples, Macro Island and the Everglades are known worldwide for their awe-inspiring array of birds. There are thousands of bird species, but some stand out in the crowd. The wood stork is one of the endangered and it uses Corkscrew Swamp Sanctuary as its primary nesting site. You're likely to see wood storks in fall, winter and spring. Other birds that frequent Collier County are the delicate swallow, bald eagles, ospreys, colorful painted buntings, brown and white pelicans, gulls, terns, sandpipers, plovers, herons, warblers and summer tanagers, most of which are found soaring along the coast line. There are some that are a bit more elusive, such as the Roseatte spoonbill with their pink bills, as well as the Bald eagle, which has made a come back in Florida, but is still hard to spot.
Naples Water Tours offers canoeing and kayaking trips; a rewarding way to bird watch in the area. A visit to the Ten Thousand Islands will reveal numbers of bird life in the air and along the shores of the islands.
Boating
Visitors to Collier County often come to encounter the water. Sailing is one elegant way to become intimate with the peaceful waters of the Gulf Coast, not to mention the outstanding wildlife. Sailboats Unlimited, based out of Naples, holds high standards. They are experts in their fields, offering crewed sailing charters, bareboat sailing charters, yacht deliveries, yacht maintenance, and certified sail instruction at any level. Those travelers who have the time to take a mini-vacation should consider a multi-day bareboat charter, while those with less time to spare might want to try a crewed sailing charter for a 2 hour "taste of sailing", a half day, or full day excursion. A sunset or moonlight cruise is awaiting those searching for romance. Bring your camera and take a snapshot of dolphins and sea turtles.
There are certainly other ways to discover the waters. Whether it is via motorboat, yacht, wave runner or parasail, voyagers can take as long as they want, and see just about anything they set out to see.
FAMILY FUN
Collier County really does have something for everyone, even children. Naples Water Tours, for instance, holds sea day camps for children to learn about the local Eco-system.
Fishing 
Fishing in the Gulf is a very beloved activity. Backcountry fishing in the mangrove estuaries is a welcomed challenge for many. Naples Water Tours can navigate journeymen through the shoals and shallows of the estuaries for some splendid backwater fishing to catch mangrove snapper and snook, among other fish species.
Of course, deep sea fishing is available through many charter services in the county. Grouper and snapper are hot ticket items out on the open ocean.
Golfing
Another popular activity that is great for the whole family is golfing. Paradise Golf Academy, out of Ft. Myers, offers 1 to 5 day programs and lessons on a historic course in Naples, or at Stoneybrook, a championship golf course in Collier County.
Their 2-Day program offer videotaping and swing analysis, as well as lessons with a pro. Their 3-Day Executive program includes the addition of a short and long game review and drills. Their 5-Day Premier package includes all of the benefits of the 2 and 3-day lesson plus range instruction and an outstanding 9-Hole Playing Lesson with a pro.
They also offer a Masters Program, with a 1-to-1 student to pro ratio, and a Corporate Golf Program, where they provide custom quotes perfect for company meetings or incentives.
ACCOMMODATIONS
Staying in Collier County is a treat. There is something for most everyone. Whatever your taste, or preference, there is sure to be a hotel, inn, bed and breakfast, or lodge to meet your desire and your budget. Visit from May through December, the down season, and you'll get to take advantage of reduced rates.
Naples Water Tours is located at a bountiful resort called the Charter Club Resort overlooking Naples Bay and situated on a popular corner – Tenth Avenue South and Tenth Street South. The resort is a perfect choice for families. It offers 33 character-rich cottages, each comprising 1,240 square feet of living space, including 2 bedrooms, 2 baths, gorgeous furnishings, televisions and VCR's, kitchens and dining areas, wet bars, and washers and dryers. The activities are never ending at the resort. Guests can charter a boat, hire a bicycle or canoe, go fishing, swim in the pool, or just soak in the hot tub. Children have an abundance of options as well, from romping on the playground to wading in the water. Waterside restaurants and shopping are within walking distance from Charter Club Resort.
DINING
There are a plethora of restaurants in Collier County. Once again, there seems to be something for everyone. Rick Clouston, owner of Naples Water Tours, says, "Pippins comes to mind for quality and price, but a real deal is found on Tuesdays and Thursdays when at the Charter Club Tiki Bar and Grill." From what Rick says, the Tiki Bar offers shrimp scampi or a New York strip dinner for $15 per person. You should hurry to dinner, though. The restaurant tends to run out of the special before too long.
HOW TO GET THERE
If you happen to be driving to Collier County, you can take I-75, also known as Alligator Alley. There are three exits to Naples, off I-75. To get to downtown Naples travelers should take Exit 101 to SR 84. This is the exit that takes one to Old Naples, and is the best exit for shopping, the Naples Pier, art galleries, and fine restaurants. Marco Island can also be accessed off of Exit 101. Naples, Marco Island, Everglades City and Immokalee can be reached from Miami via U.S. Highway 41. This road is also known as the Tamiami Trail and is a National Scenic Byway and Florida Scenic Highway. Traveling along this highway will take drivers for a two-hour ride through the Everglades and Big Cypress National Preserve, among other attractions and sites.
If you are flying to Collier County, you will want to fly into Southwest Florida International Airport (RSW), just 40 minutes north in Fort Myers. You can bet that most major domestic airlines will get you there. A massive expansion of the airport is expected to be completed in 2005, and will include an expanded terminal and new runway.
For flying within the county, the Naples Municipal Airport offers commuter and direct flights to and from nearby international airports. If needed, travelers can book a private charter and/or take one of the scheduled flights to Miami or the Florida Keys.
Everglades National Park Gulf Coast Visitor Center
SR 29
Everglades City, Florida
Phone: 239-695-3311
Website: http://www.nps.gov/ever
EVENTS
6:00 PM – 09:30 PM
Friday Nights at the Inn
A tropical party held at the Inn at Pelican Bay, complete with reggae music, dancing, hors d' oeuvres, and tons of friendly people.
Vanderbilt Beach Blvd
Phone: 239-597-8777
Featured Outfitters:

Naples Water Tours
LOCATION: Naples, Collier South West Florida
ACTIVITIES: Beach Fun, Bird Watching, Boating, Canoeing/Kayaking, Dolphin Encounters, Eco-Tours, Eco-Tours (Water), Fishing, Fishing – Salt Water, Groups 10+ Water, Guided Expeditions, Jetski Rentals, Manatee Encounters, Marine Mammal, Nature, Sightseeing, Snorkeling, Tour Operator
DESCRIPTION: We specialize in dolphin watching and tours into the mangrove forest to a secluded island paradise. We also do jetskis, tubing, skiing, sunset cruises, parties, weddings, sightseeing, fishing, and much, much more.
WEBSITE: www.napleswatertours.com

Paradise Golf Acadey
LOCATION: Naples, Collier South West Florida
ACTIVITIES: Golf, Golf School
DESCRIPTION: A full service golf school offering 1, 2, 3, and 5 day golf school packages. Featuring a maximum 3 to 1 student to pro ratio, 5 1/2 hours of daily instrucion, daily video analysis, a daily 9-hole playing lesson with your professional, unlimited golf and range balls, and lunch is served daily.
WEBSITE: www.paradisegolf.net

LOCATION: Naples, Collier South West Florida
ACTIVITIES: Boat Charters, Groups 10+ Water, Sail Lessons/School, Sailing,
DESCRIPTION: Since 1985 we have specialized in crewed sailing charters and bareboat sailing charters, yacht deliveries, yacht maintenance, and certified sail instruction at all levels. We offer an excusive Sailing Club!
WEBSITE: http://www.sailboatsunlimited.com/ 
Get More Information on This Adventure!!!
Experience adventures like the one found in this article and others by using TropicalAdventure.com Vacation Planner. Simply fill out our Vacation Planner form and you will receive FREE information about this activity and others that you may be interested in. Click below to sign up.