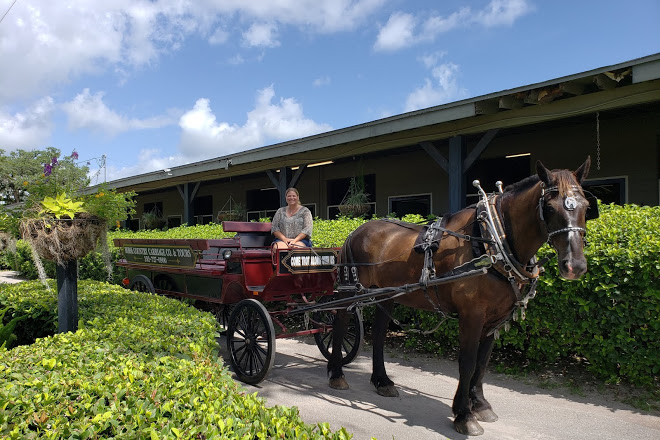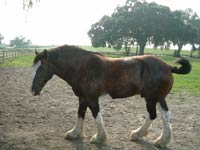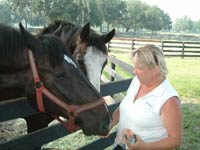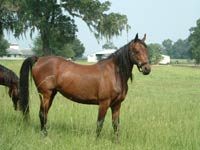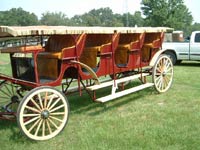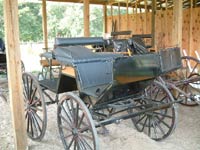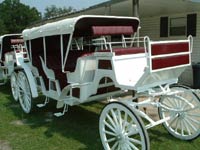 The philosophy of "love what you do and you never have to work a day in your life" fits for Mary Garland, the owner of Ocala Carriage and Tours based in Ocala, Florida. Mary has a passion for horses that started when she was six years old on her grandfather's ranch. Originally, she came to Florida with no intention of getting into the horse business. She moved to Fort Lauderdale, where she had a sales career but as fate had it, someone mentioned the city of Ocala and how it's known as the horse capital of the world. This sparked Mary's interest and she, subsequently, visited Ocala. It didn't take long for her to realize that she was meant to live there. Soon, she sold everything and moved to Ocala to start her business.
In 1996, Mary turned her passion into a career and started running horse drawn carriage tours through the beautiful countryside of Ocala. Today, her tour will take you on a Clydesdale's drawn carriage or trolley wagon, depending on the group. Mary's passion is obvious when she talks about the area. She notes that Ocala is the "Horse Capital of the World." Horses are big business in Marion County. Between 45 and 50 different breeds are represented in the area. Nearly 29,000 residents are employed in the county's Thoroughbred industry alone.
The facts are that in 1999 the U.S. Department of Agriculture put its seal of approval on promotions using that label. In 1997, the USDA's Census of Agriculture reported that Marion County led all U.S. counties in total number of horses and ponies in residence, cut-off year for the five-year census. Furthermore, the county ranked third nationally (behind two counties in Kentucky) in total value of horses sold.
More than three-quarters of Florida's 600 Thoroughbred breeding and training facilities are located in the Ocala area. The county is one of only four major Thoroughbred centers in the world, and is equal to Lexington, Kentucky; Newmarket, England; and Chantilly, France.
Florida Thoroughbreds finish first in 20 percent of the foremost stakes races in the U.S. and are counted among Triple Crown, Breeders' Cup, Belmont Stakes, Preakness and Kentucky Derby winners. The Thoroughbred industry's economic impact on the state is considered to be in excess of $1 billion dollars annually, and the exciting horse sales at the Ocala Breeder's Sales Complex run into the millions.
More than 200 farms and training centers are devoted to breeding, training and showing other breeds such as the Paso Fino, Missouri Foxtrotter, Arabian, Morgan, miniature horse, quarter horse, hunter/jumper, and the gentle giants, draft horses. A newly registered breed, the Gypsy Vanner, makes its home in Marion County. Champions from all breeds are available for breeding purposes, and bring back top place prizes from national and international horse shows.
These are some impressive facts, and they just keep going on and on. Marion County's own Silver Charm won the Kentucky Derby and the Preakness Stakes in 1997. Another Marion County raised and trained horse, Real Quiet, also won the first two thirds of the Triple Crown in 1998. The last Triple Crown winner "Affirmed", in 1978, was born in Marion County at Harbor View Farm.
Mary's carriage tour will give you an opportunity to view and possibly interact with these different breeds of horses. The hour-long tour will give you plenty of opportunity to take pictures of your favorite breeds of horses in their natural environment.
Reservations are a must for the trips with Ocala Carriage & Tours; so make sure to call early. There are carriage rides for special events like weddings, birthdays, grand openings, and more.
Rates are $95.00 for 4 Adults and a couple of small children. This number usually fills one carriage. For larger groups of 10 or more people, the rate is $22 per person. Ocala Carriage & Tours is open 7 days a week.
Ocala Carriage & Tours
Mary Garland
352-867-8717

Places to stay:
Ramada Inn and Conference Center
352-732-3131
Other Area Attractions:
New England Shire Centre
This is the largest Shire farm in the world.
877-996-2252
Austin Carriage Museum
Great horse drawn carriage museum
352-750-1763
Get More Information on This Adventure!!!
Experience adventures like the one found in this article and others by using TropicalAdventure.com Vacation Planner. Simply fill out our Vacation Planner form and you will receive FREE information about this activity and others that you may be interested in. Click below to sign up.