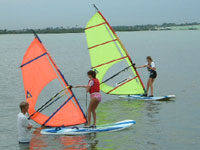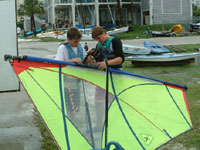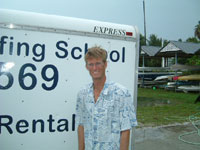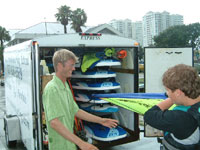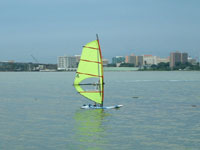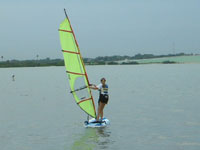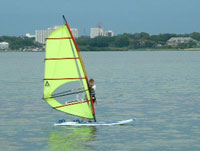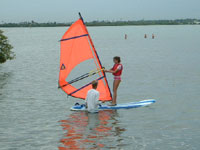 If you're looking to get away from the bite of winter, to bask in warm sun and surf, North Beach Windsurfing School and its owner, Britt Viehman are awaiting your arrival. Located in Tampa Bay, Florida, North Beach Windsurfing School teaches and assists all levels of windsurfers. From those just testing their skill, to those who want to progress to the next level, Britt and his staff will put all their energy into equipping each visitor with the techniques and skills to become an excellent windsurfer. Britt and his staff are passionate about the sport. Not only do they really care about what they are teaching; they are very capable instructors as well. Britt has 12 years of surfing and teaching experience, and is U.S. Sailing certified, as are his comrades.
North Beach offers multi-day windsurfing lessons and clinics. Beginners can take a 4-hour lesson, using a three-foot wide board and lightweight sail. The lessons teach sailing straight across, up and downwind, as well as turning so that surfers will be able to get back to shore when necessary. The drills start on land and progress to the water. Small group and private lessons are available.
Britt respects beginner windsurfers, for just getting out and trying it. He says, though, the people who make the most significant impression are those who are very determined to show that they can be successful at windsurfing. These people, Britt says, usually catch on and develop quickly. One could guess it's due to their determination.
Britt's most memorable experience with a beginner is, without a doubt, with Ms. Cleo Robertson. He says, "In October, I was blessed to have Cleo Robertson come out and go windsurfing a bunch of times. She had tried to learn somewhere else and had a miserable time. However, at a raffle for the Women's Club, she bid on a windsurfing lesson with me. She won it and came out for her lesson. I remember that we would take a break every ten or fifteen minutes so she could rest. It was completely fine. After all, after waiting 66 years or so to learn windsurfing, taking a break is not bad. She felt more relaxed and confident when I was riding on the front of her board and she would get aggravated when she made a mistake. Thinking she was doing great, I tried to reassure her. She would say 'I know, I just want to be perfect.' 'Good luck,' I would say." To make the experience even more memorable, Ms. Robertson brings her dog, Rhino, on the board with her.
Advanced windsurfers are invited to take a private lesson with Britt. The instruction involves the use of land simulators for balance and technique. Learn to carve jibe more effectively and use your harness efficiently.
While lessons are designed to show you how to windsurf, Britt's clinics demonstrate why windsurfers do what they do. For the intermediate, a Sail Easy Clinic is the way to go. Attendees will learn tacks and jibes as well as weight transfer, among other fundamentals.
For beginner lessons and clinics, North Beach Windsurfing School provides the equipment at no additional cost. Advanced lessons come with, or without equipment. They use the latest and greatest gear from such reputable companies as Fiberspar and Starboard. Visitors can rent gear on-site, if needed. Group sizes are kept to a minimum so each participant will have ample personal attention.
Britt has a clinic approaching next spring. The clinic is appropriate for beginners or intermediate surfers, and is made up of three-days of classes over a weekend. Britt expects that the Beginners Clinic will catapult participants to an intermediate level.
A Beginner Lesson package includes 3 hours of instruction and a free rental for the next day or next visit. Costs are reasonable and a tremendous value. A private lesson is $150 and a small group of 2-4 people is $100 each. Britt declares, "Basic skills are learned quickly, and in the first hour people are sailing around. The remaining time is spent learning more basic skills."
North Beach Windsurfing School can help individuals of all ages add more purpose to their lives, through the learning of windsurfing as a new sport, or the development of skills and techniques in the sport today. Visit Tropical-Adventure.com Windsurfing section to learn more or arrange your visit with North Beach Windsurfing School.
North Beach Windsurfing
Britt Viehman
LOCATION: St. Petersburg Beach, Pinellas Central Florida West
ACTIVITIES: Kite Surfing, Sailing, Windsurfing,
DESCRIPTION: All North Beach Windsurfing instructors are certified by the US Sailing Association of America. Britt Viehman, Mike and Maria are 3 young working professionals who love to windsurf.
352-867-8717
http://www.nbwindsurfing.com
Get More Information on This Adventure!!!
Experience adventures like the one found in this article and others by using TropicalAdventure.com Vacation Planner. Simply fill out our Vacation Planner form and you will receive FREE information about this activity and others that you may be interested in. Click below to sign up.