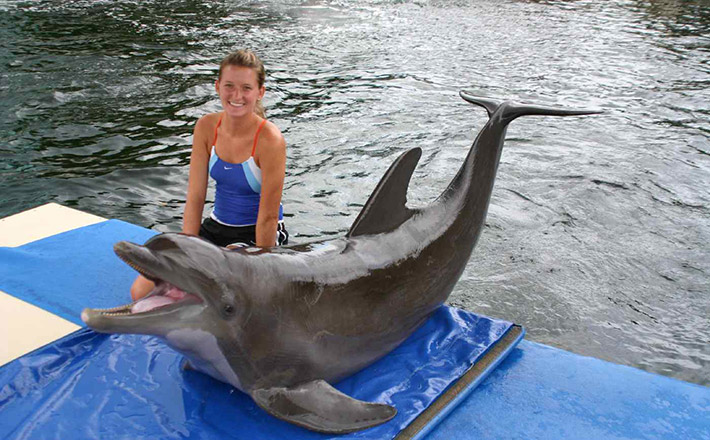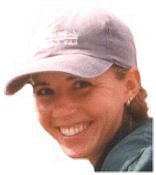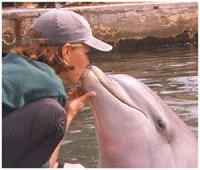 Nicki LaPierre is a perfect example of how determination and a little hard work can lead to
finding your dream job. Nicki, a slender a 24 year old with a great tan, found her dream job three years ago as a dolphin handler in the beautiful Florida Keys. Her cheerful attitude clearly displays the passion she has for what she does. She always has a smile on her face, and that smile gets even bigger when she's around children. She commands the respect of all the participants in the dolphins swims by the emotion and excitement she exudes when she talks about the beauty and grace of her dolphins. But her greatest skill is in the way she interacts with the dolphin – she love them and they love her.
It all started when Nicki was only seven years old. Her parents gave her a dolphin necklace and her love for dolphins began. From that moment she knew that the marine mammals were going to be special in her life. In high school, she was attracted to any subjects dealing with the ocean or the outdoors. Once, while vacationing to Florida, her parent took her to Sea World in Orlando. It was during that visit that her love for dolphins strengthened and this convinced her that her career would somehow involve dolphins.
After high school in Centerville, Virginia, Nicki went to University of Tampa, to study Marine Biology. Her freshman year proved to be a difficult one as she watched many of her classmates drop out or switch majors. The courses were very tough, but with a little encouragement from Dr. Rice, one of the college's guidance councelors who recognized her strong will, she was able to stay focused and study hard. Even though Nicki knew the odds of working with dolphins were against her, she kept going, and remembers how valuable Dr. Rice's support was. Since there were no specific programs at the college for dolphin handling or care giving, Nicki knew her best chance was to try and get an internship. She spent one semester interning with dolphins in the Florida Keys, and that semester changed her life forever.

Nicki states, "some people have a glamorous idea of what an internship is, they think its a vacation, time away from school, but its not like that at all. Its definitely hard work, and you don't get paid, it was a real eye-opener." Nicki remembers those times fondly, she had a lot of fun and made new friends. Nicki impressed the dolphin people in the Florida Keys so much that they offered her the first dolphin handler position that became available. Nicki recognizes that without her perseverance in college and the internship, she probably wouldn't be where she is today.
Nicki is proud to be one of the youngest dolphin handler around and happily admits that she is living her dream. She realize that she's living a charmed life, being able to help people, making them smile, and of course working with the dolphins. Nicki has learned a lot up to this point, both from other more experienced trainers, and from the dolphins. Not everyone can be successful with the dolphins, they need to get to know and develop a relationship with their handler. The dolphins must accept and trust the handler. Even though she is not in the water all the time, she feels she has been accepted into the Dolphin's world and is part of their family. Nicki loves her job with a passion that's rare, and tells us that she doesn't see herself giving it up any time soon. Her future plans include working with special needs children and the dolphins.
Nicki final words for everyone, "do what you truly desire and follow your dreams."
Thanks Nicki, for letting Tropical Adventure tell your story!
Get More Information on This Adventure!!!
Experience adventures like the one found in this article and others by using TropicalAdventure.com Vacation Planner. Simply fill out our Vacation Planner form and you will receive FREE information about this activity and others that you may be interested in. Click below to sign up.